Looking for a full review of WP Simple Pay?
Integrating Stripe into your WordPress site is one of the easiest ways to accept credit card payments. But what if you want more? What if you need more currencies, languages, and payment types?
WP Simple Pay can help you make the most of Stripe payments.
In this article, we're going to put the plugin to the test and get to the bottom of these questions.
Let's dive in.
A Quick Overview of WP Simple Pay

WP Simple Pay is exactly what it sounds like. It makes online payments simple on your WordPress site. It's easy to use, highly reliable, and requires zero coding to set up.
The best part? WP Simple Pay helps you focus on creating products and selling them without having to worry about accepting payments from across the world.
All customer and payment information is stored on your Stripe account, not on your WordPress website. As a result, the plugin won't bloat your site like other alternatives. WP Simple Pay offers the simplest way to add Stripe payments to your WordPress site.
And setting up WP Simple Pay is super simple.
Let's take a quick look.
How to Set Up WP Simple Pay
WP Simple Pay is just like any other WordPress plugin. All you need to do is install it and activate it. If you're not sure how to do that, check out this article on how to install a WordPress plugin.
Start by heading over to WP Simple Pay and choose your plan: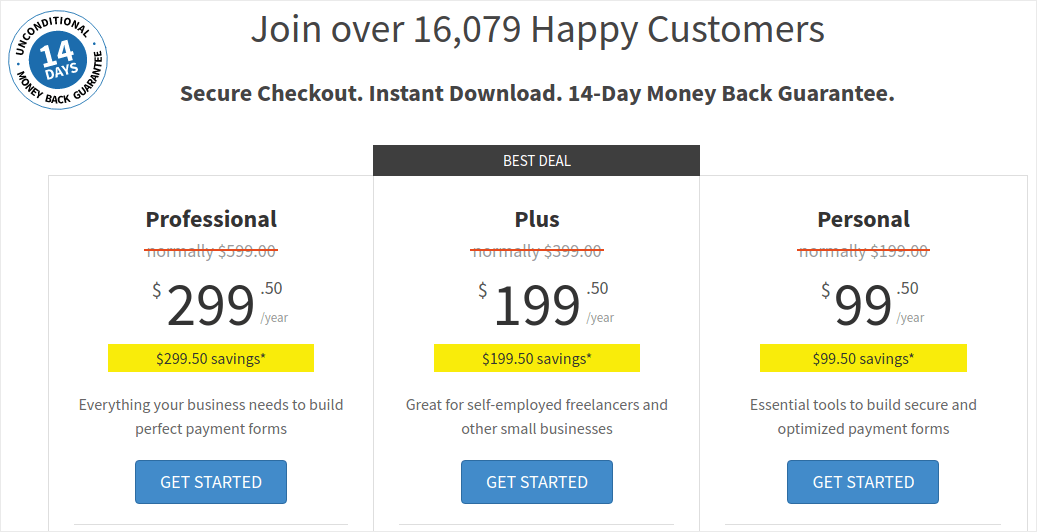 Once you've installed the plugin, on your WordPress dashboard, head over to WP Simple Pay » Settings and paste in your license key:

When you're done, click on Activate.
Then, go to the Stripe tab and click on Connect with Stripe:

And that's it. You're done setting up the plugin. Next, you should explore the different features of the plugin.
What Can WP Simple Pay Do for Your Brand?
WP Simple Pay helps you create simple forms to accept payments for your products. You can create instant payment forms and a bunch of flexible payment types to go with it. The most impressive part is that everything is easy to set up and easy to use for your customers.
Let's go over each of these features and break down what makes the plugin awesome.
#1. Payment Form Builder
You can create a custom payment form in a few clicks with WP Simple Pay. And you can choose different form types such as:
Embedded forms: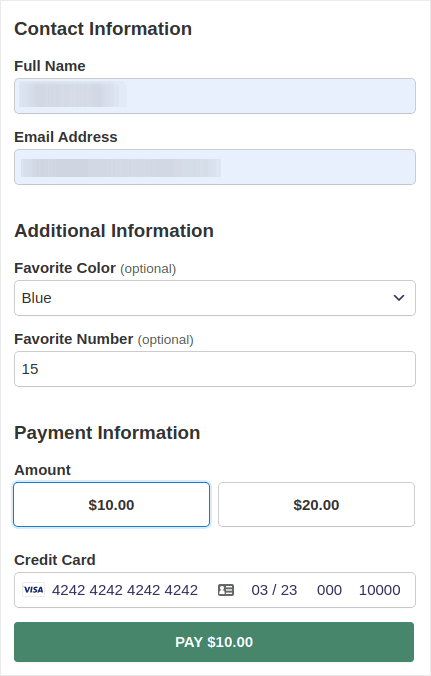 Or a pop-up payment form: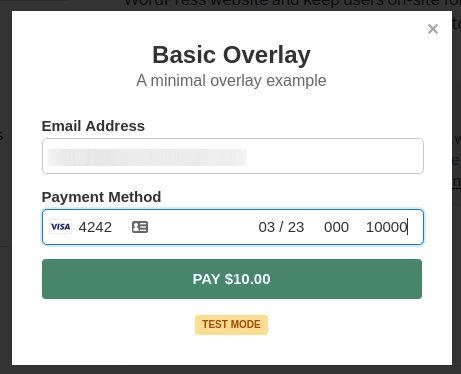 And it takes literally 5 minutes to create a payment form right from your WordPress dashboard.
#2. Stripe Checkout Payment Pages
If you're not interested in creating a custom payment form, you can use the default Stripe payment form as well: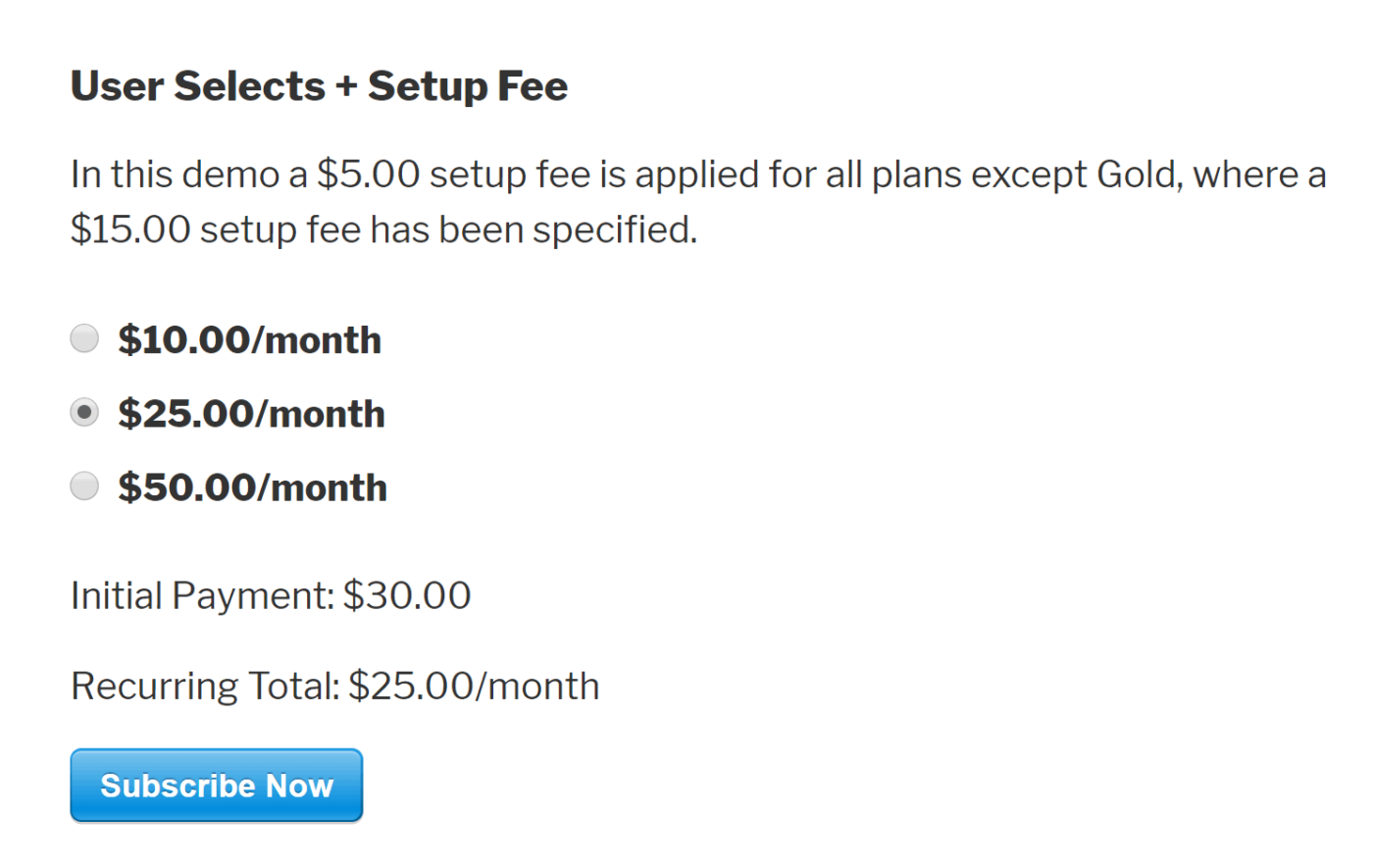 It's simple, elegant and you can set up both recurring and one-time payments using the default Stripe payment form.
#3. Custom Amount Payments
You can set a one-time amount for your products. Or, you could specify minimum and default amounts for "pay what you want" models.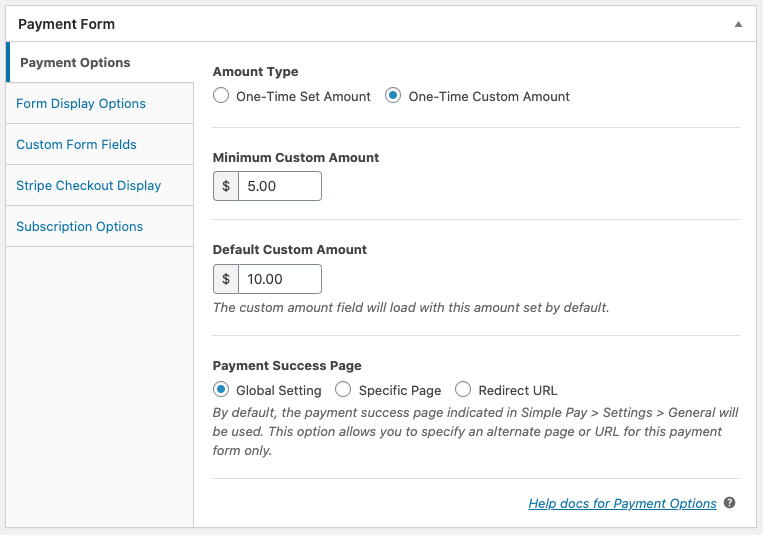 #4. Add and Customize Subscription Options
Setting up subscriptions is super easy with WP Simple Pay. You can add a custom amount option, charge a setup fee, or offer free trials.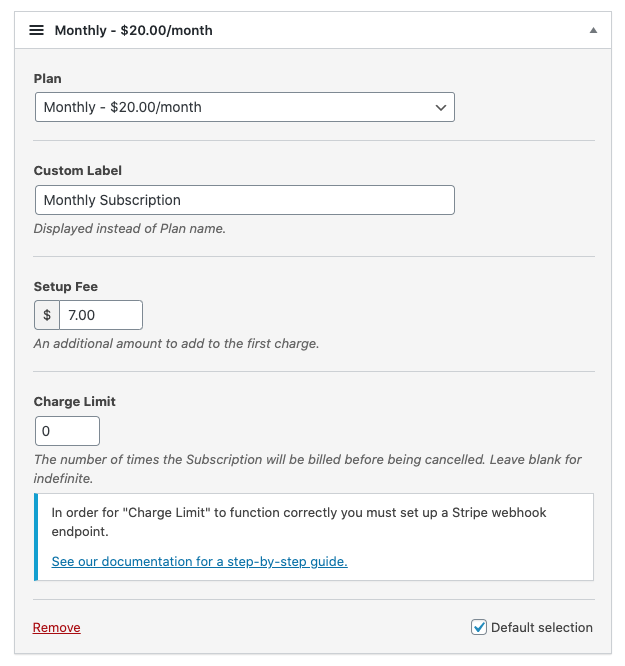 You can even set up installment plans to end subscriptions after a specific number of charges.
#5. Offer Discounts with Coupon Codes
Of course, you can create discounts on WooCommerce and Easy Digital Downloads. But WP Simple Pay makes it super easy to create coupon codes for subscription payments.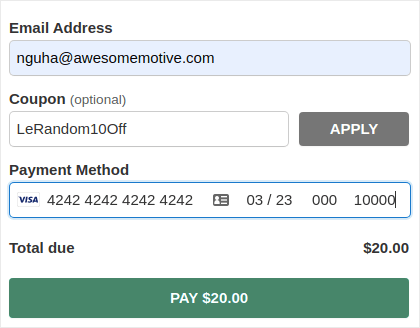 #6. Alternative Payment Methods
Besides the usual credit card payments, you also get to set up several alternative payment methods. You can accept payments using Apple Pay and Google Pay: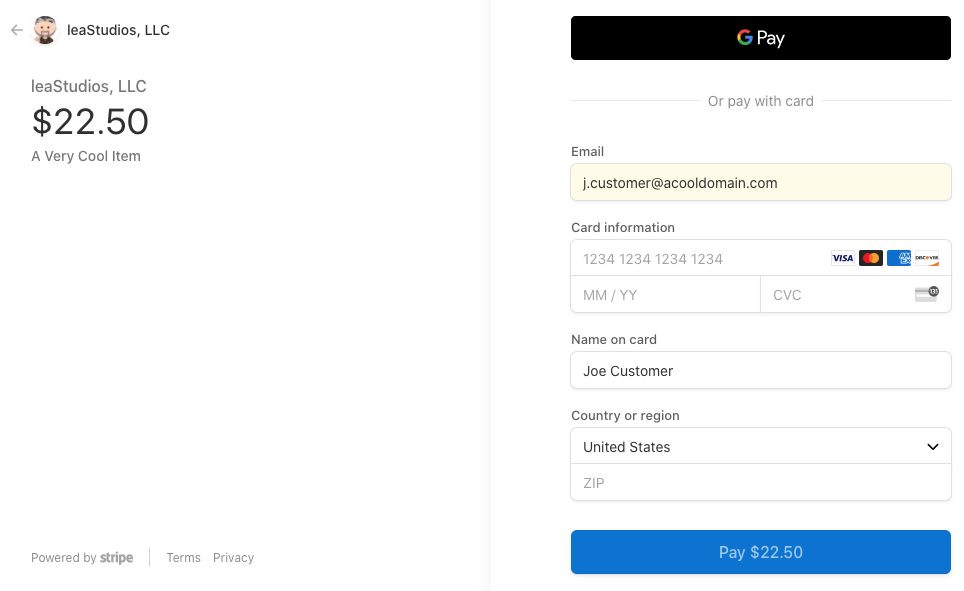 Or, you could even accept ACH Debit Payments: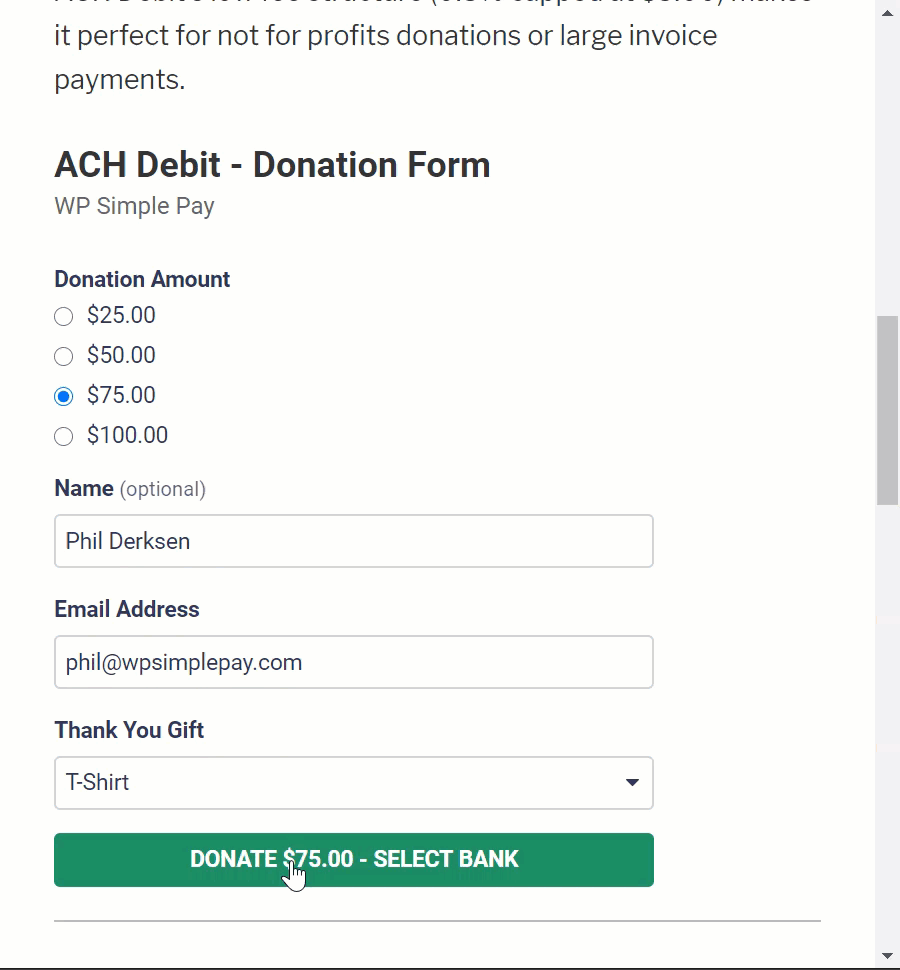 WP Simple Pay can also help you accept payments using:
iDEAL
SEPA Direct Debit
Alipay
Bancontact
giropay
Przelewy24
And more!
#7. Customized Payment Confirmation Details
The worst part about most payment processing software is that they send out horrible templated email responses. And there's not a lot of stuff you can edit in that email. So, the emails that get sent out feel completely off-brand.
With WP Simple Pay, you can create a custom template for payment confirmation emails.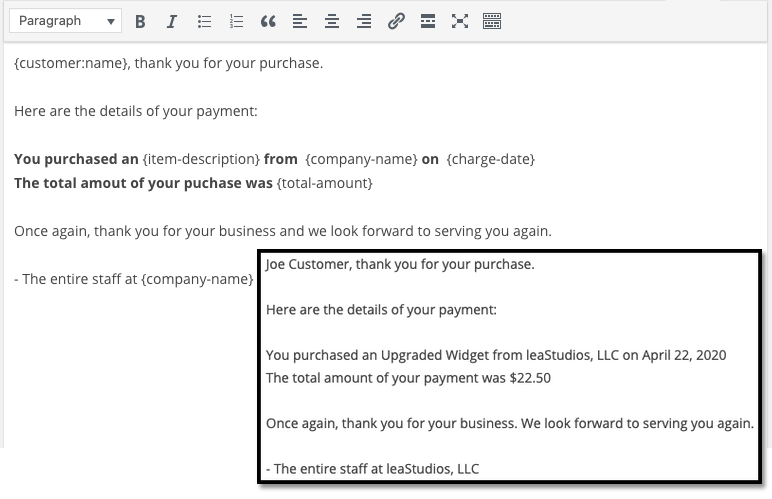 To stay on-brand, you can simply create a template that fits your brand's messaging and style. If you want to get fancy, you can even send out extra information such as license keys using custom fields.
#8. Location and Currency Settings
Another major problem with many Stripe plugins is that you can only accept payments in your local currency. This is not a problem caused by Stripe. Stripe accepts 30+ languages, 45+ countries, and 135+ currencies. The conflict comes from poorly coded plugins.
So, if you're in India, by default you HAVE to create payment forms that accept payments in INR even if you want to price your product in USD.
With WP Simple Pay, you can set your local language and currency as well as preferred currency.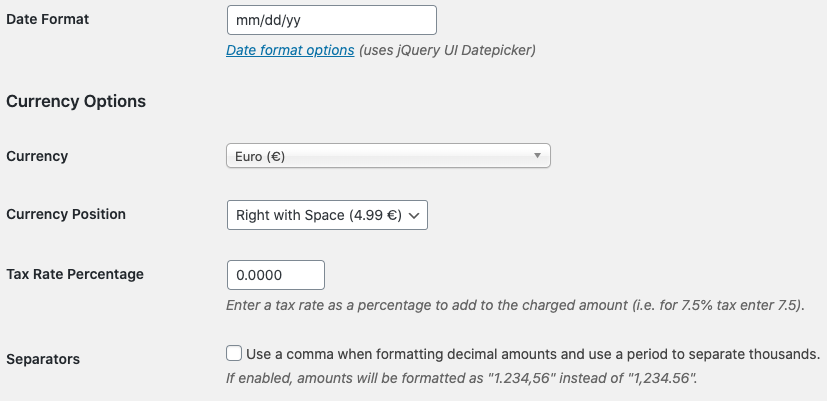 It's that simple!
Pricing
There's just one final consideration before we hand in our final verdict.
How much does WP Simple Pay actually cost?
Actually, it's pretty affordable: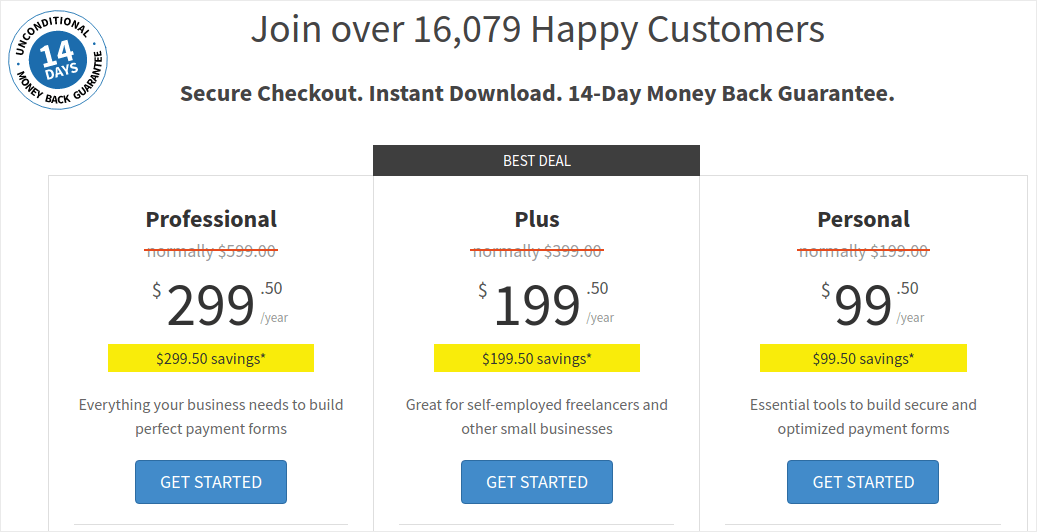 You can get started with the Personal plan at $99.50/year. And if you need more features or if you need Stripe payments for multiple sites, get the Professional plan at $299.50/year or the Plus plan at $199.0/year.
WP Simple Pay also has a Lite version which is completely free. So, if you want to get a feel for the plugin before you buy it, go check it out. But if you're serious about growing your business, we recommend getting one of the paid plans.
Final Verdict
Is WP Simple Pay the #1 Stripe payments plugin for WordPress?
Our verdict: Yes, it is.
The sheer amount of advanced features you get even with the Personal plan is amazing. If you had to custom-develop that for your site, it would cost a ton of money. And you don't even get a lot of the subscription payment features with many Stripe plugins out there.
So, if you're serious about making money on your site, we recommend using WP Simple.
And while we're talking about making money, you should also set up push notifications on your site. You can use push notifications to grow your traffic, engagement, and sales on autopilot.
Just take a look at these resources and you'll see what we mean:
We recommend PushEngage to get started with your push notification campaigns. PushEngage is the #1 push notification software in the world.
So, if you haven't already, get started with PushEngage today.