Looking for a review of Easy Digital Downloads?
Creating a digital product is super easy. But when it comes to selling them online, things can get complicated really quickly. This is where an eCommerce plugin like Easy Digital Downloads can help a LOT.
But is it worth the price?
Can't you just install WooCommerce and run with it?
In this article, we answer these questions and more. We put Easy Digital Downloads to the test so that you don't have to.
Let's dive right in.
A Quick Overview of Easy Digital Downloads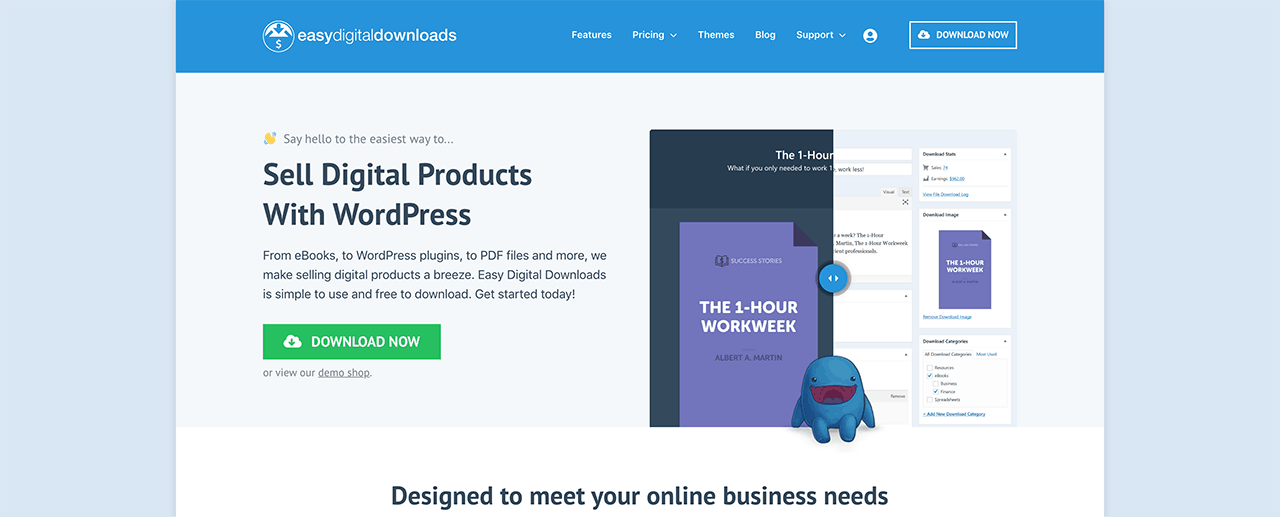 Easy Digital Downloads (EDD) is designed to sell digital goods. One of the first questions that we had, and that a lot of other people have is why can't you just use WooCommerce for free? It's simple. WooCommerce wasn't created with digital products in mind. On the other hand, physical products are more of an afterthought with Easy Digital Downloads.
So, if you're looking to sell any digital product and want to set it up quickly, Easy Digital Downloads is your safest bet. We'll talk about how easy it is to set up EDD later in this article, but it's important to understand that it was created to be a simple, easy-to-use software.
And if you ever need more advanced features, you can simply install an add-on. Most of these features will cost you a LOT of money in WooCommerce. But you can get these add-ons as part of your EDD plan.
What's even more incredible is the fact that Easy Digital Downloads is 100% compatible with any WordPress theme. With WooCommerce, you would need themes with eCommerce compatibility. In any case, if you need a theme to get started with, EDD offers free themes you can use as well.
How to Set Up Easy Digital Downloads
Now that we know a little bit about why you would want to use Easy Digital Downloads, it's time to check out how to set up the plugin. First, go ahead and install the plugin. If you're not sure how to do that, check out this article on how to install WordPress plugins.
Then, head over to your Easy Digital Downloads dashboard and head over to License Keys and click on Manage Sites: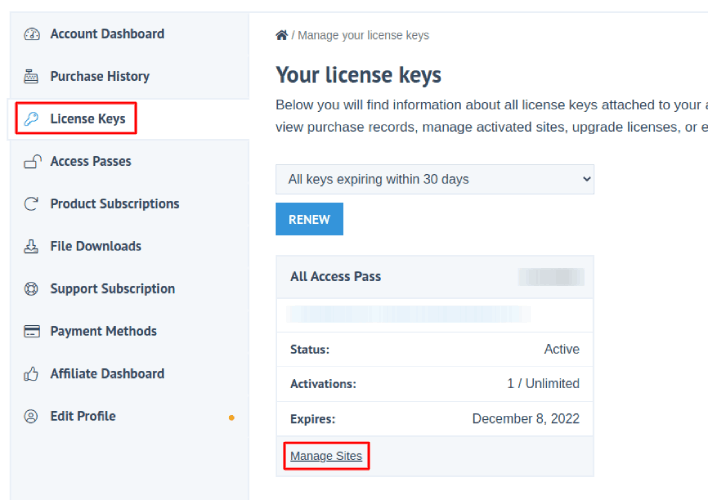 And add your site to the dashboard: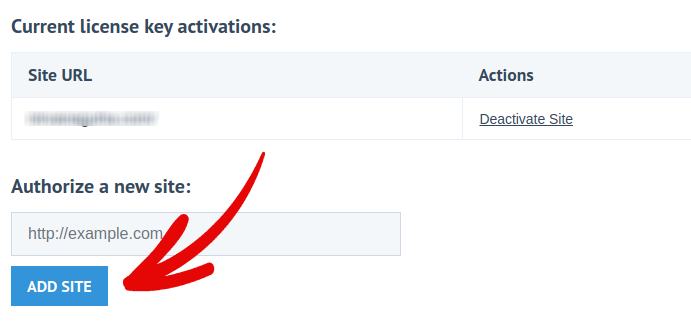 After that, all you have to do is set up your payment processor. Click on Downloads » Settings and then click on the Payment Gateways tab to choose and set up your payment gateway.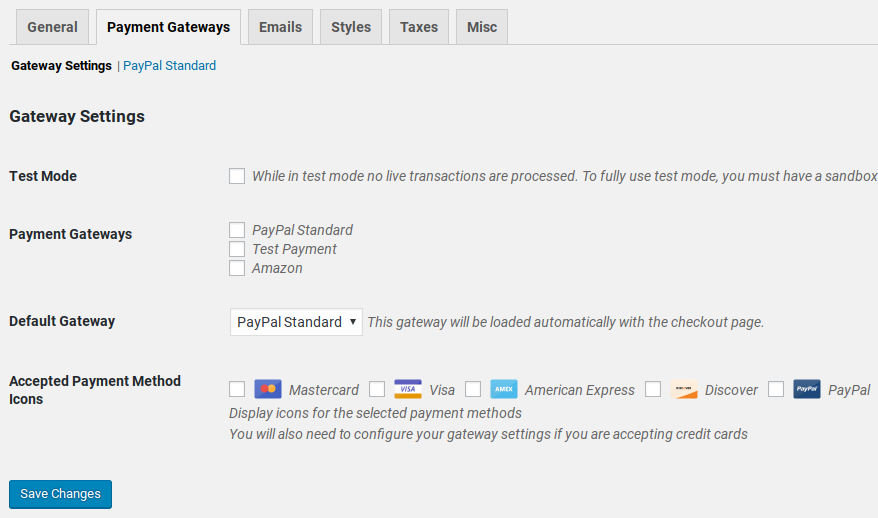 As you can see, this is fairly straightforward.
Once you're done setting up your payment processor, simply create a new digital product and start selling!
What Can Easy Digital Downloads Do for You?
In our overview, we mentioned that Easy Digital Downloads has way more functionality to offer for digital products than WooCommerce. But what does that mean?
The core reason why EDD is so much more powerful is its huge library of extensions and add-ons that you can add with a few clicks. Unlike WooCommerce, you don't get a mega bundle of functions that you'll never need while missing some functions that you do need.
So, what exactly are these epic add-ons and how can they help you?
Let's take a look.
#1. Payment Gateway Integration
One of the most difficult things to do when you're just starting a new business is dealing with technical issues. This becomes especially hard when the technical issues are related to how you accept money for your goods.
With Easy Digital Downloads, that's never an issue.
Right out of the box, you get integrations for Stripe, PayPal, and Amazon Pay. But that's not all.
You can install extensions for a lot of different payment gateways: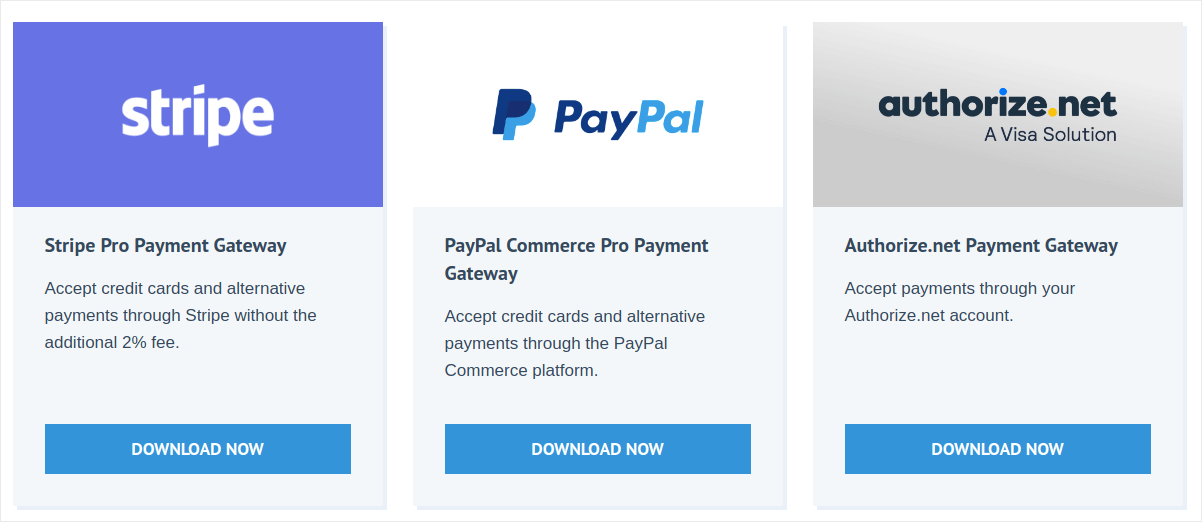 And they were all built specifically for EDD. So, you're not getting any technical issues with your payment gateways.
#2. Create Software Licenses
Lots of people think of ebooks when you first mention digital products. But software is just as much a digital product. And a very popular way to price software is by creating a licensing program.
Easy Digital Downloads offers a complete license key generation, activation, and checking system. The extension makes it super easy to license your software without having to spend a ton of money in custom development.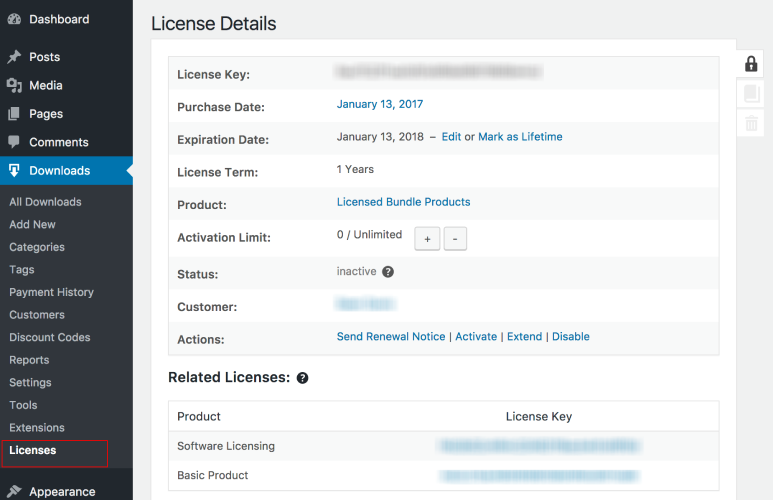 The best part? Your software doesn't even have to be built on WordPress. You could license games, if you wanted to!
#3. Set Up Recurring Payments
You know how certain software can be set up for autorenewal?
It's really easy to do the same for your digital goods using Easy Digital Downloads. In the Pricing Options for your product, just enable Recurring Payments: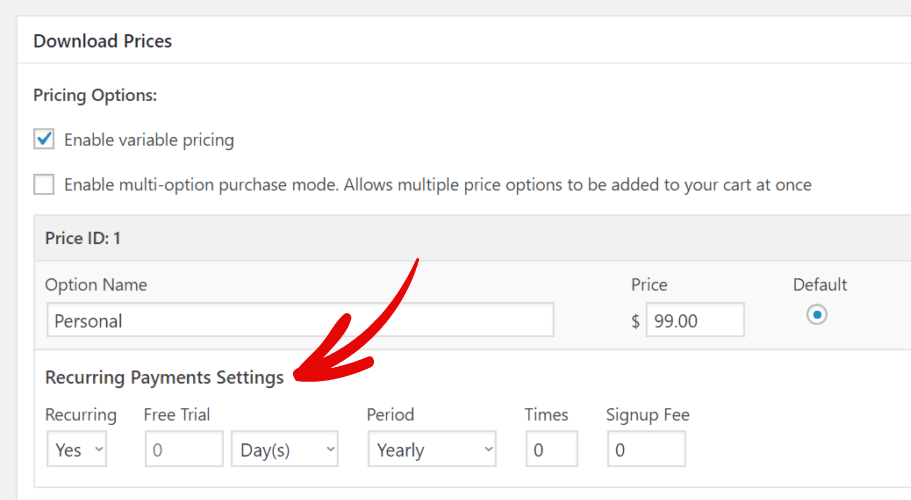 The Recurring Payments feature is super useful for selling subscription software and e-learning plans.
Billing is automated, which means no more hassle of requesting a renewal payment or sending invoices every month or year. And selling subscriptions can take away some of the fear, uncertainty, and doubt that comes from being a creator.
So, if you're trying to make it large in the creator economy, you should definitely start using EDD.
#4. Create Multi-Vendor Platform
A really cool feature in Easy Digital Downloads is that you can create multi-vendor platform like Amazon. In a multi-vendor platform, anyone can signup and start selling their own products. Freelancing websites are also a great example of multi-vendor platforms.
Typically, this would either require a significant amount of coding or you'd have to buy a separate plugin like Dokan.
But with EDD, you can simply install the Frontend Submissions extension to give each vendor a Vendor Dashboard: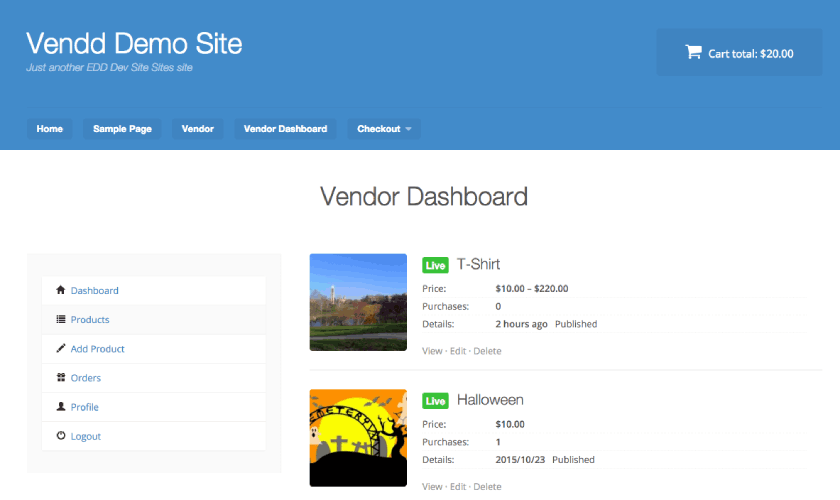 The dashboard is really easy to use and you get to offer a simple Content Management System for all you vendors to manage their products. If you get the all-access pass for EDD, you get this extension for free.
#5. Email Marketing Integrations
Of course, there are email marketing integrations. Any eCommerce platform is incomplete without powerful integrations for collecting emails and sending them. With EDD, you get 18 email integrations including integrations for:
And more!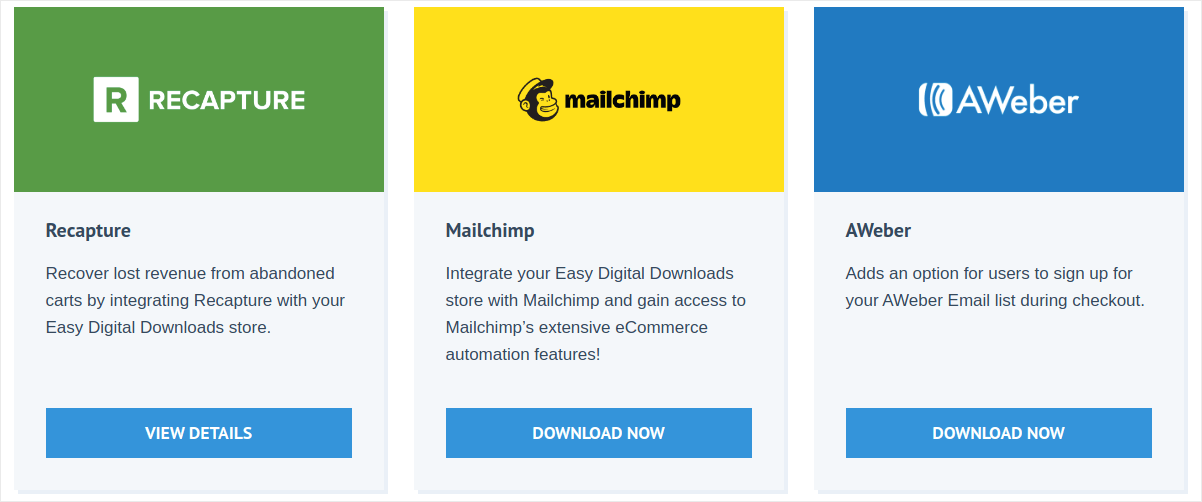 Seriously, there's very little you can't do with email using the built-in capabilities of EDD.
And if you're looking for a great way to increase your email marketing list, check out our review of OptinMonster. OptinMonster is the #1 conversion toolkit that helps you generate more leads for email marketing on autopilot. Combine OptinMonster with EDD, and your digital downloads are bound to go through the roof.
#6. Custom Deliverables for Freelancers
There's another category of digital products that we haven't spoken about yet and it's freelance services.
It really doesn't matter what kind of freelance work you do. Most likely, you'll have to do some custom work every now and then. So, along with your usual pricing "packages," you can also upload custom file types with Easy Digital Downloads.
With this extension, each payment record will have a Custom Deliverables interface where you can upload/attach files for your customer. Once you've uploaded the customized files, your customer can download them right from their account.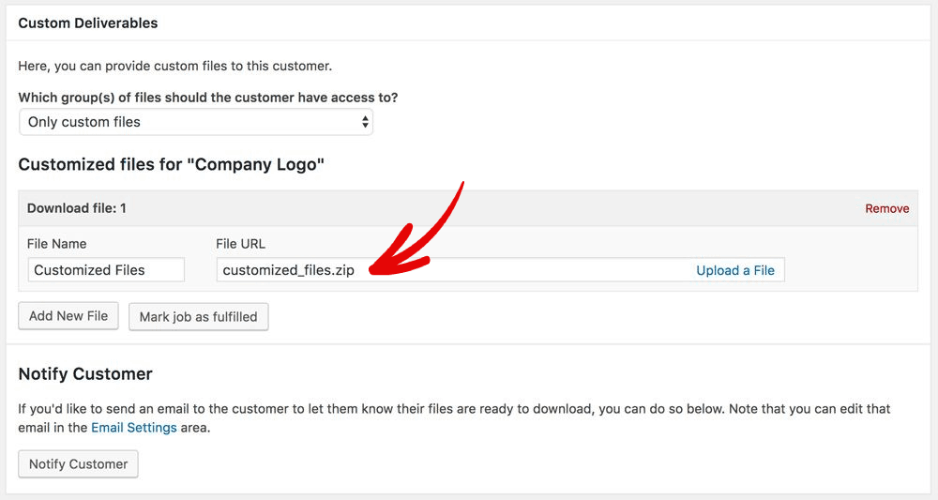 There's really no limiter on the file type you can upload. If you've ever uploaded media to WordPress, you'll know that there are a lot of restrictions. The Custom Deliverables extension can remove these limitations so that you can offer all types of freelance services.
#7. Commissions for Affiliates and Vendors
What if you have multiple vendors and affiliates bringing in sales for your site? Do you sit down at the end of each week and manually calculate the different commissions across different tiers and send out the payments individually?
No! That would be a horrible way to waste a Sunday.
Instead, you can simple set up automated commissions for all your vendors and affiliates on EDD: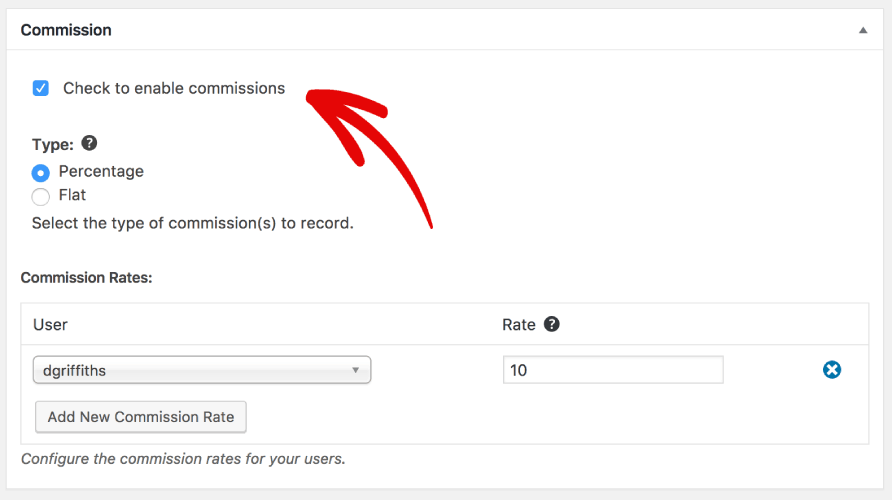 And Easy Digital Downloads will handle the transactions for you!
#8. Collect Reviews for Your Products
Customer reviews can make a huge difference in your sales. People want to see that other people are buying the same goods that they are. It's called social proof.
Easy Digital Downloads makes it super easy to collect reviews: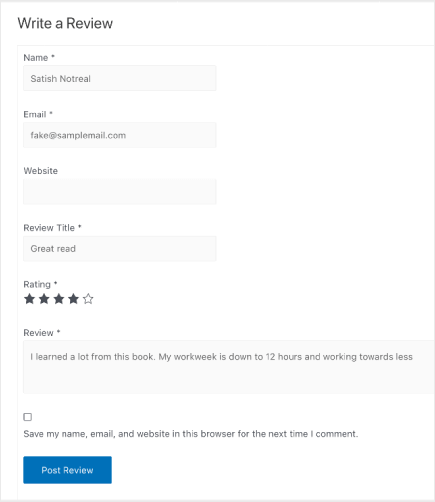 And if you're struggling to get more reviews, you should really switch to EDD right now.
#9. Create Instant Product Comparisons
Another super cool feature you get in Easy Digital Downloads is the instant side-by-side product comparison feature: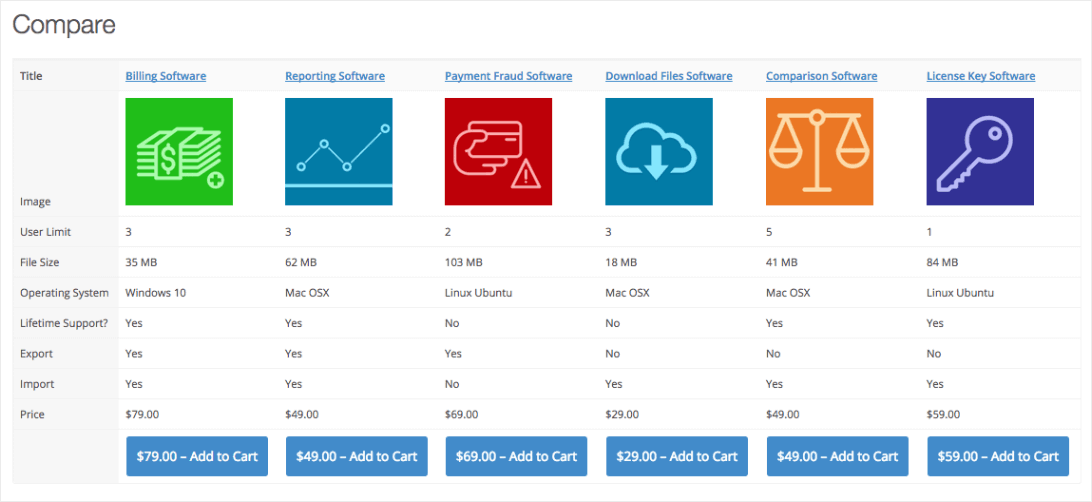 You'd have to pay a LOT of money to add this feature to WordPress. Sure, you can always buy a cheap plugin. But dollars to doughnuts, you won't get a comparison plugin this good built into an eCommerce platform.
#10. Give Your Customers a Custom Wallet
The creator economy has really opened up a lot of options for independent creators and small businesses. One very powerful way to turn users to repeat buyers is by adding a custom wallet for your customers.
Creating a wallet helps you offer amazing ways to reward your loyal customers. At the same time, it gives new users a reason to visit your site again and keep buying from you.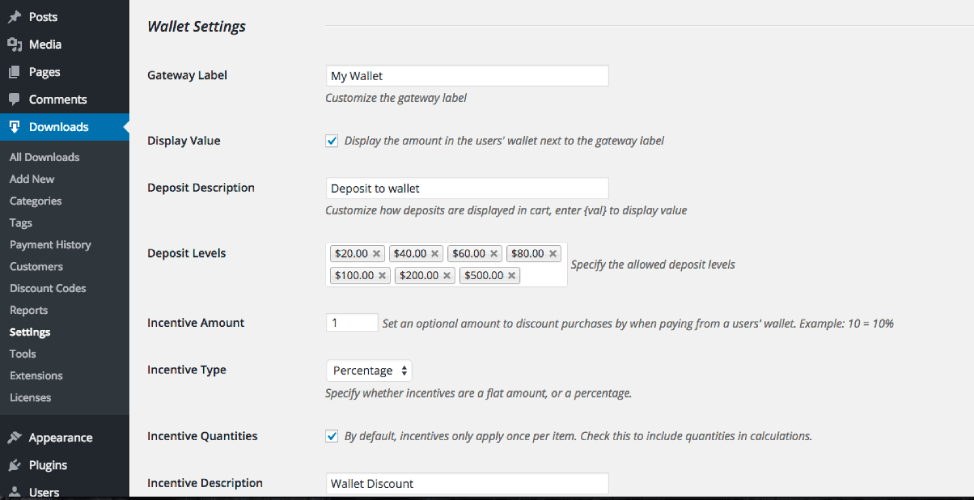 Very simple. Very cool!
#11. Showcase Recommended Products
If you're selling multiple products from your site, you'll want sales from all your products. And a good way to keep the sales rolling in is to showcase recommended products. These aren't necessarily "related products" but products that other customers have been known to check out on your store.
Amazon does this really well for all their products. But the great news is that you can too, without ever having to hire a developer.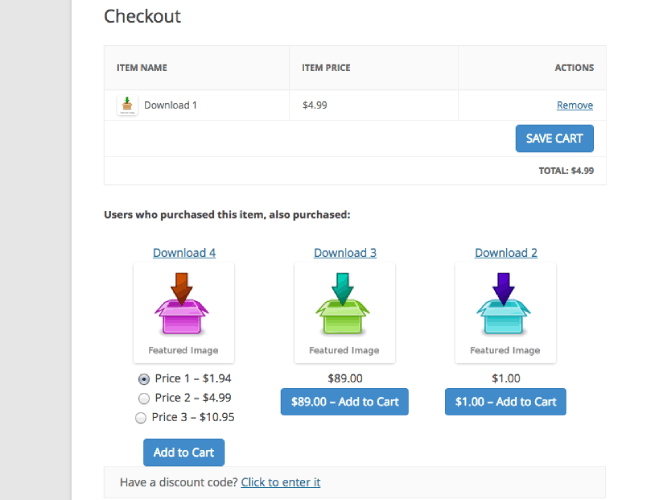 You can set these recommendations manually or let Easy Digital Downloads do it for you.
Easy Digital Downloads Pricing
There's one last factor to consider before we pass our verdict on Easy Digital Downloads. How much does EDD cost?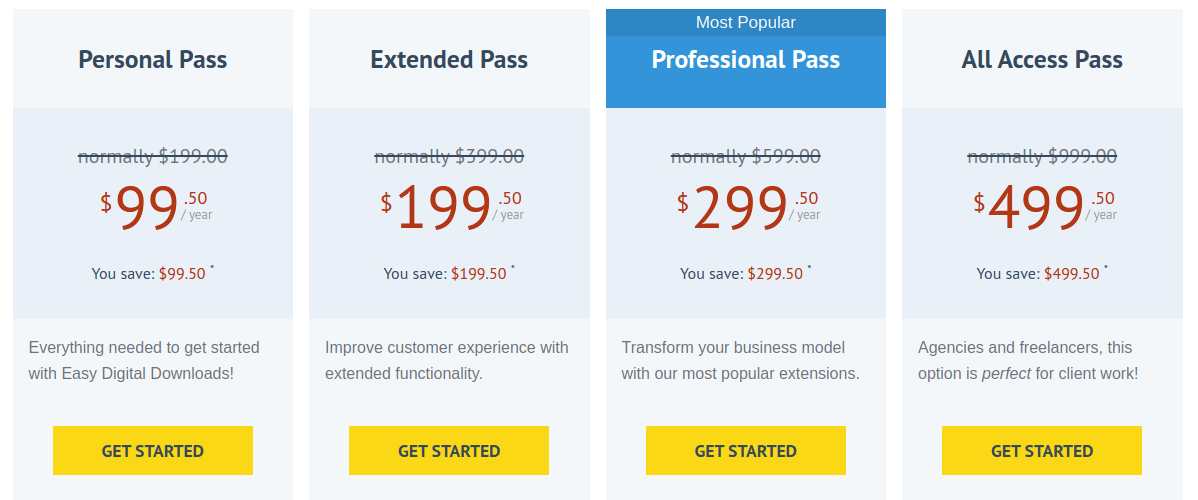 You get four pricing slabs for Easy Digital Downloads. If you're just starting out with creating digital products, then the Personal Pass should be good enough for you. But if you're looking to grow and scale your digital product business, then you should get the All-Access Pass for $499.50/year.
Final Verdict
So, is Easy Digital Downloads worth the price or not?
It's simple: Yes, it is.
EDD comes with a free version. But if you're serious about growing your business, we recommend that you buy a paid plan. And it's totally worth buying the paid versions.
If you ever sat down to calculate how much it would cost you to get the same features on WooCommerce, you'll see that EDD is actually quite affordable. Not to mention the fact that all these extensions were built by EDD. With WooCommerce, you'd have to rely heavily on third-party vendors and that's a great way to run into plugin conflicts.
With Easy Digital Downloads, you get a lot of tools that are downright essential for creators to grow.
Speaking of which, there's another really affordable way for you to grow traffic, engagement, and sales on your site. You can use push notification campaigns.
We recommend using PushEngage to send push notifications. PushEngage is the #1 push notification software in the world.
So, if you haven't already, get started with PushEngage today!