Looking for the best WordPress lead generation plugins to grow your business?
It can be really hard to get new leads on repeat every day. Using the right tools can help you grow much faster an on complete autopilot. But what are the right tools? How much do they cost? Can you really afford them? What kind of returns should you expect when you invest in a plugin?
In this article, we're going to walk you through a list of the best WordPress lead generation plugins in the market. We'll even give you our favorite combination of plugins if you read all the way to the end.
Sounds good? Let's dive in.
What is Lead Generation and Why Should You Care?
Lead generation means building a list of people who are interested in buying from your business. And there are loads of ways to do it. On your website, lead generation might mean getting visitors to:
Join your email newsletter
Submit a contact or inquiry form on your website
Contact someone at your company through live chat
Talk to a chatbot (automated chat)
Call your sales team, or book a call with them
However, most businesses struggle to get enough leads in the first place. So, we've put together this list of WordPress lead generation plugins that help you generate leads of different kinds. Most other articles on lead generation tools focus on creating a list of plugins that all do the same thing. But we're going to help you grow your business in ways that suit your business.
Best Lead Generation Plugins
Now that we know what lead generation is and why you should get WordPress lead generation plugins, it's time for our list. For each lead generation category, we're going to give you one top-tier plugin that you can use.
Ideally, you should be using more than one type of lead generation tool. But we focus heavily on helping small businesses grow. So, we get that buying multiple plugins right away might be way too much for your marketing budget.
That's why we arranged the plugins in a particular order based on how affordable a solution is and how much extra money you can make with them. Let's get started now.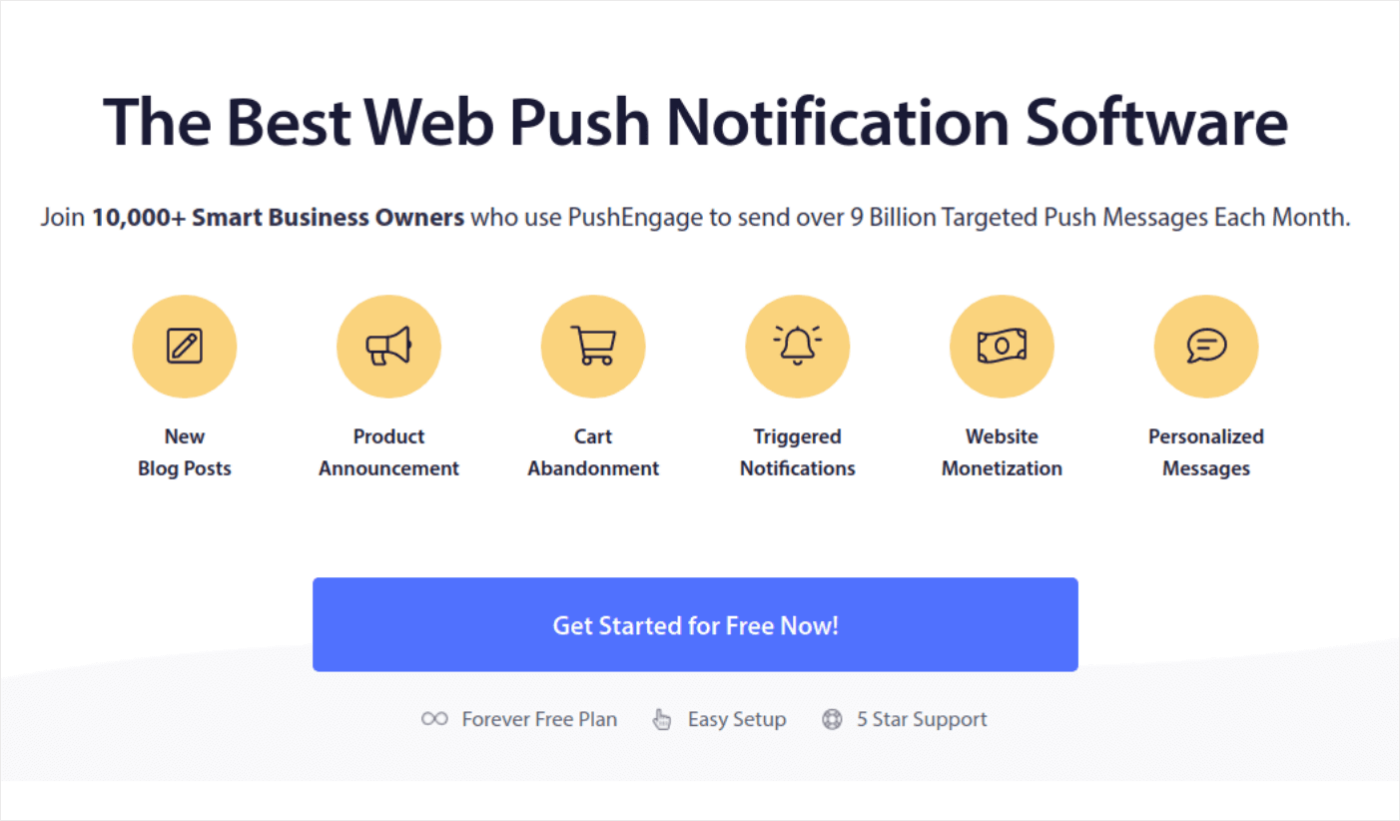 PushEngage is the #1 push notifications plugin in the world.
Push notifications help you grow your website traffic and engagement on autopilot. And if you're running an online store, PushEngage also helps you grow your sales by helping you create automated eCommerce push notifications.
You can get started for free, but if you're serious about growing your business, you should buy a paid plan. Also, before buying any push notification service, you should check out this guide to push notification costs.
Here's a quick glance at what you get with PushEngage:
High-converting automated campaigns
Multiple targeting and campaign scheduling options
Goal tracking and advanced analytics
Smart A/B testing
A Dedicated Success Manager
You'll see that PushEngage is hands down the best bet if you want to build traffic, engagement, and sales for your business. And if you're on a budget, you can always get a little bit creative with your push notifications.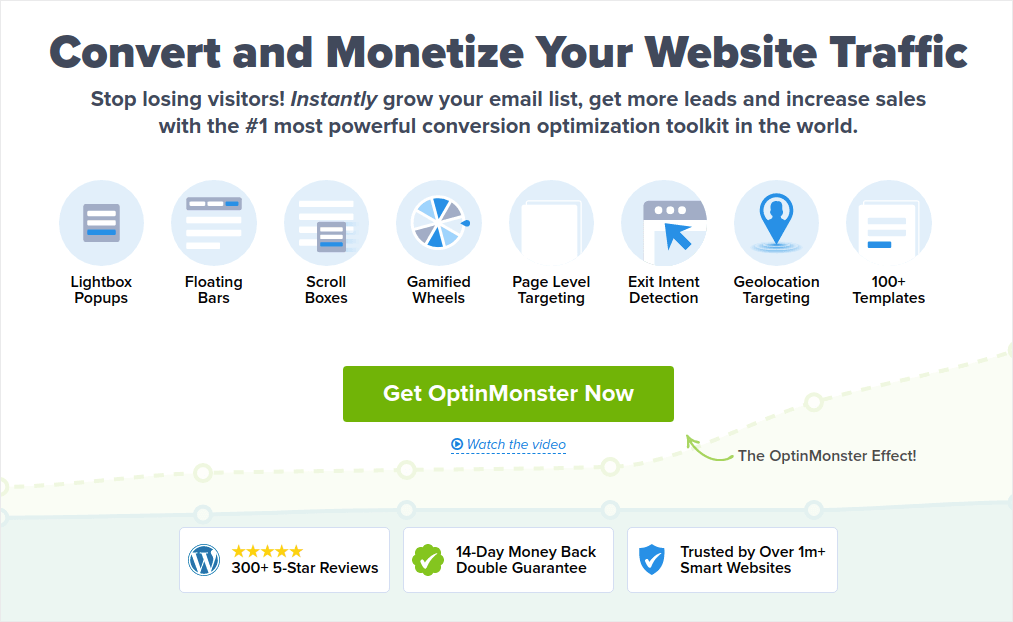 OptinMonster is one of the pioneers in WordPress popups. They practically changed the way in which email lead generation works in the marketing industry.
OptinMonster has pretty much everything you need to start, grow, and scale your email lead generation process.
Here's a quick rundown of what you can do using the toolkit:
Grow your email list smoothly for remarketing
Convert first-time visitors into regular readers
Reduce cart abandonment and browse abandonment rates
Create limited-time offers with actual countdown timers
Increase eBook downloads and digital product sales
Create a funnel for live events
Improve site engagement using gamified popups
Redirect your traffic to pages and posts that make you money
Create a list of genuine leads and remove fake emails using two-step opt-ins
We wrote a review of OptinMonster. So, if you'd like to check out the features in more detail, go ahead and check it out.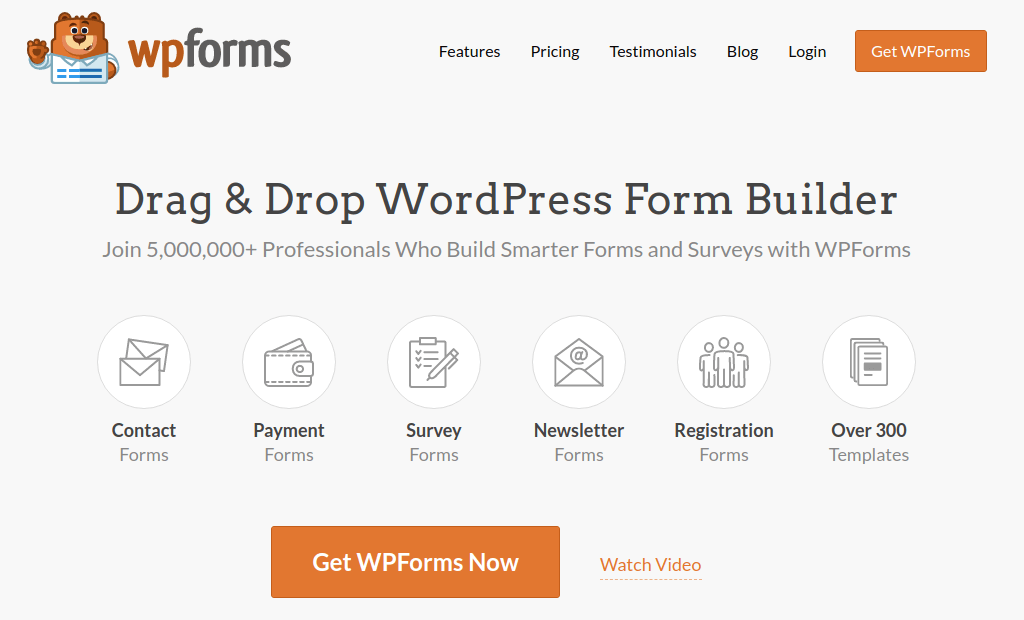 WPForms is the best WordPress form builder plugin. We've tested out a bunch of form plugins for WordPress and none of them come even close to the functionality or the ease of use of WPForms.
You can use a drag-and-drop form builder in WPForms to create and publish:
Surveys and Polls
Multi-step Forms
Conditional Logic Forms
Form Abandonment Campaigns
Form Landing Pages
Form Templates
Offline Forms
Conversational Forms
You can even track user journeys for your forms to understand different customer touchpoints and optimize them over time. Go ahead and create a WordPress form with WPForms and you'll understand right away why we love the plugin so much.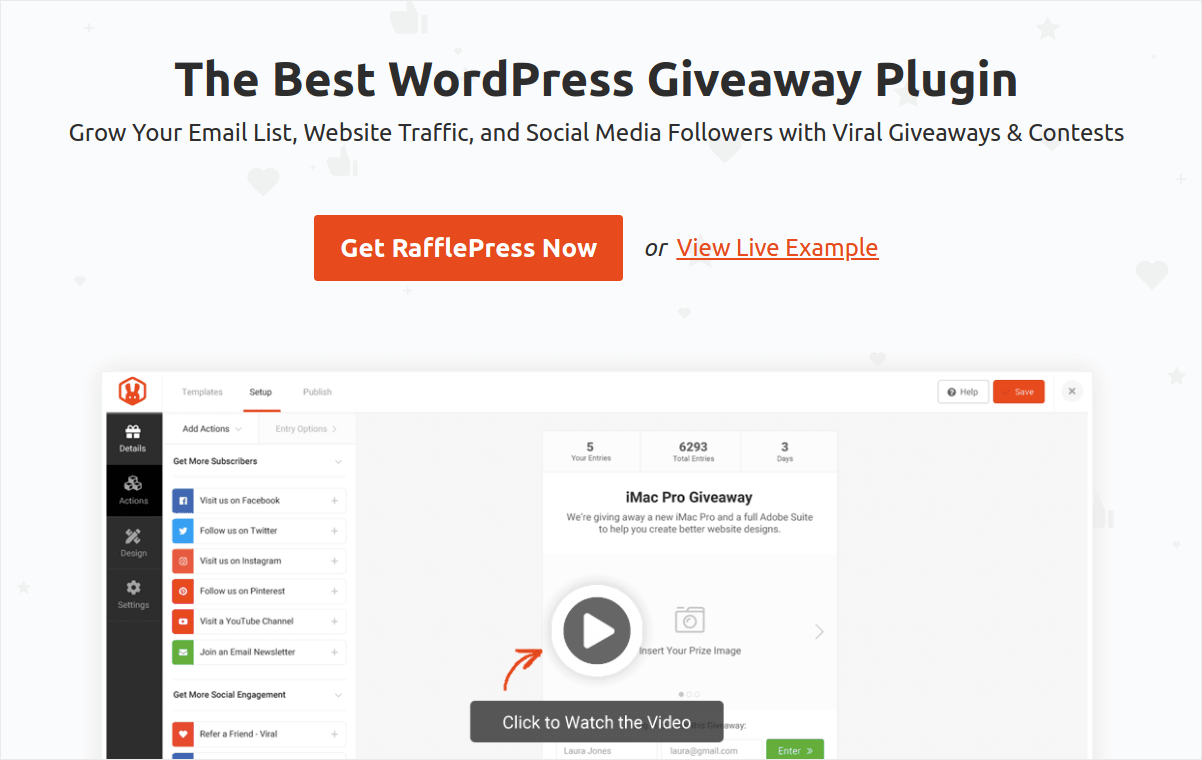 RafflePress is the most powerful WordPress giveaway plugin. You get a visual builder with the plugin to create and run viral contests. It's also the only beginner-friendly WordPress giveaway plugin. In our opinion, the paid version of the plugin is worth every penny. But you can also get started for free.
The best part is that you get powerful pre-built templates that are designed to:
Grow your email list
Refer friends with word-of-mouth marketing
Run a giveaway before your site launches
Grow your Facebook page
Grow your Twitter followers
Grow your YouTube channel
Grow your Instagram following
And you can do all of it with zero coding. Take a look at our review of RafflePress, where we explored the features of the plugin in greater depth.
LiveChat is a live chat tool for conversational marketing and sales. If you're selling products online or collecting leads for an agency, we highly recommend using this plugin.
Having a live chatbox on your site can be really effective tool for website engagement. Using LiveChat, you can easily set up chatbox triggers for:
Customers spending a lot of time on the product or checkout page
Customers adding products to their cart, but unable to pay for it
Customers with high cart value to offer a coupon or discount
These are all automated triggers that can help you convert a lot of potential customers very quickly. The chatbox will ping your customers when any of the automated triggers get fired. And from there, you can have a Customer Service rep take over and help the customers make a purchase decision.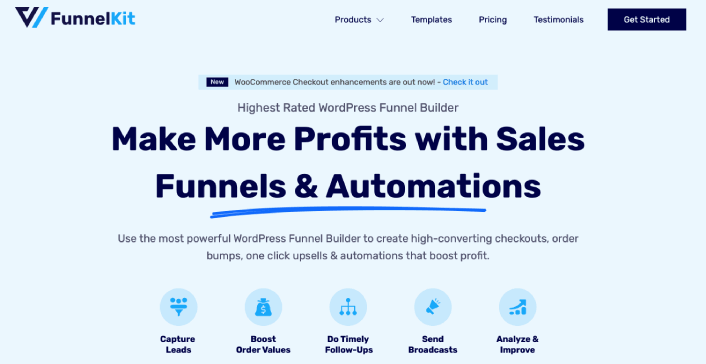 FunnelKit is the best sales funnel builder for WordPress.
You can select a sales funnel template under the Sales Funnels tab:

These are all pre-built funnels with fully responsive designs. So, they look amazing on any device. As you can see, different templates have a different number of pages. We're recommend using a template with 4 pages in the sales funnel. But you can create a custom funnel with as many steps as you like.
FunnelKit gives you designs that are compatible with some of the most popular WordPress page builders, landing page builders, and themes including:
And more! So, you can edit the pages using whatever software you used to build the rest of your site. You can customize any of the pages in the same way as you would with any other page on your site.
You can even create lightbox popups to capture leads that don't want to convert right away. This way you can retarget interested prospects with offers and discount coupons.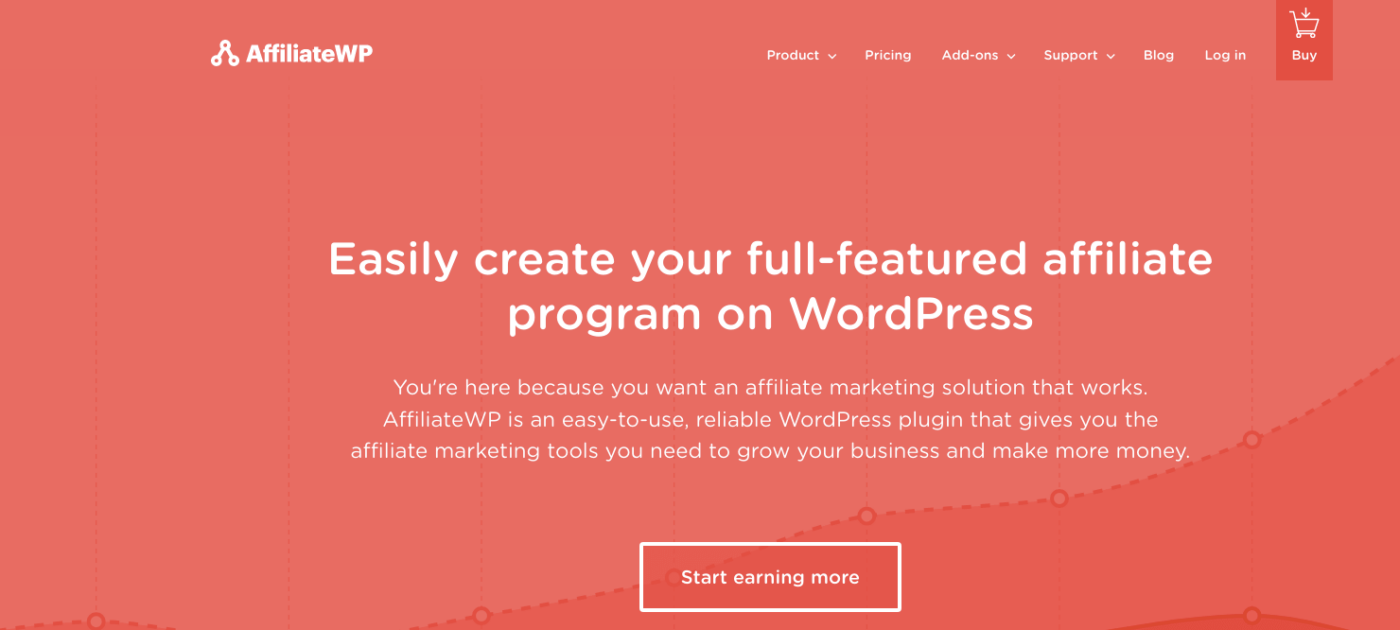 AffiliateWP is a WordPress plugin that allows you to create an affiliate program for your products and services. It's easy to use, highly reliable, and requires zero coding to set up.
The AffiliateWP plugin can help you manage and grow a community of affiliates for your product using a simple, easy-to-use dashboard. The best part is that you can do it directly from your WordPress dashboard.
AffiliateWP has a whole host of great features including:
Affiliate Tracking and Management
Real-Time Reporting
User-friendly Affiliate Onboarding
Automated Affiliate Payments
Customizable Email Notifications
Integrations with Popular Plugins and Services
One-Click Affiliate Data Import/Export
Free and Pro Addons
It's super easy to use AffiliateWP and that's what separates the plugin from its alternatives. Get started right now and start growing your affiliate network. If you're not 100% convinced, you can check out our review of AffiliateWP first.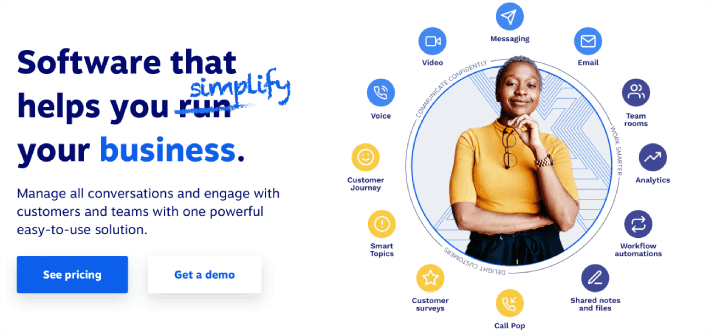 Nextiva offers the best business phone service for small business owners. If your business relies on getting phone calls as leads, then there's no better software than Nextiva.
You get a web based admin panel to manage all your communication channels in one place.
You'll find business phone features like call routing, voicemail to text and email, SMS messaging, unlimited domestic calling, and online faxing. Every new account gets a free local or toll free number. You also get standard features such as caller ID, call forwarding, routing, and custom greetings.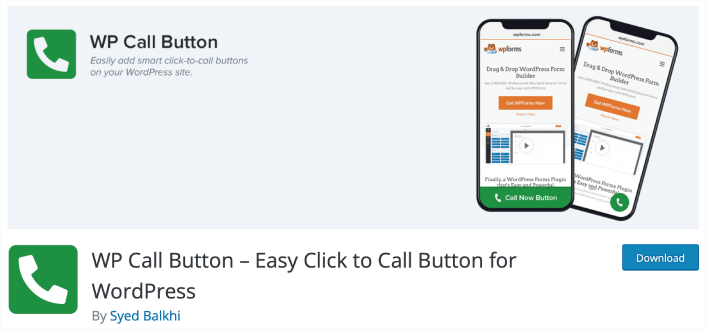 WP Call Button is a free WordPress lead generation plugin. You can set it up to get WhatsApp calls on your business phone. Visitors can simply click or tap the button to call you straight away.
The beauty of this plugin is that it works no matter where you are and where you customers are from. It can also be used to easily set up business call forwarding.
So, if you're running a service that works on booking an appointment this plugin is a great option for you. Especially if you don't want to spend a lot of money on appointment booking software.
Which of These is the Best WordPress Lead Generation Plugin for You?
The type of leads you need on your site should tell you what WordPress lead generation plugins you should use. But the plugins that work well for any site no matter what kind of business you have are:
You should 100% start with PushEngage. Push notifications are a great tool for increasing your traffic, engagement, and sales. And if you're new to push notifications, you should check out our article on push notification best practices before you start creating campaigns. Some of the best practices that we actively recommend include:
We recommend using PushEngage to create your push notification campaigns. PushEngage is the #1 push notification software in the market and your campaigns will be in safe hands.
So, if you haven't already, get started with PushEngage today.