PushEngage vs PushCrew: Which of these services is the right choice for push notification campaigns to grow your business?
PushCrew is a popular customer engagement solution that offers multiple products to engage and retain your audience. If you're looking for cross-channel promotions, then PushCrew seems to be a really cool option.
But how great is their product for sending web push notifications?
In this article, we're going to break down PushCrew's web push notifications software. We believe that PushEngage is a much better choice for sending push notification campaigns. To be fair, PushCrew isn't a specialized push notification service and we're only comparing web push notifications in this article.
PushEngage is the best push notification software in the world. So, the fact that PushEngage does a better job of serving push notifications doesn't take anything away from PushCrew's software suite as a whole.
That being said, let's take a closer look at why PushEngage is a better fit for sending push notifications.
Are the Web Push Notification Campaigns Any Good?
PushEngage sends over 15 Billion targeted push messages each month. And it's hands down, the best push notification service in the world. One of the biggest reasons is that PushEngage offers a much better experience in creating and sending push notifications.
PushCrew, on the other hand, is part of the VWO suite of products. While there's nothing wrong with their push notification service, it's not their only focus.
We're going to compare PushEngage vs PushCrew based on:
Ease of use
Campaign types
Push notification optins
Advanced analytics and conversion tracking
Push notifications API
Customer satisfaction
Pricing
Let's take a closer look at the features.
PushEngage vs PushCrew: Ease of Use
On the surface, PushCrew offers really cool web push notification campaigns. You can use PushCrew to engage, retain, and directly sell to your subscribers. But most of the more advanced campaigns are meant for large businesses with development teams rather than small businesses.
For one thing, PushCrew's documentation and previews are quite limited. Then, there's the fact that almost every major feature requires you to use their API. So, it can be difficult for someone with no experience with push notifications to understand how a message will look on different browsers before sending it.
With PushEngage, you get a live preview of every notification you create.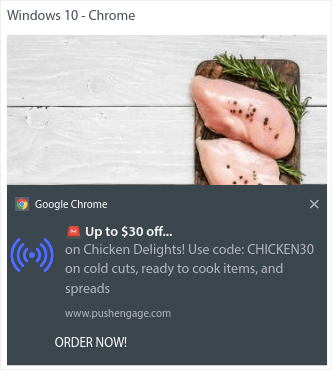 But what about campaign options?
Push Notification Campaign Types
From the looks of it, you can set up personalized push notifications using custom attributes and the PushCrew API. But you can also use their platform to create:
This sounds like a lot. But the reality is that you need serious experience in creating push notification campaigns to be able to use any of these campaigns effectively. With PushEngage, you get pre-designed push notification campaign templates that you can use straight out of the box.
Here's the best part: You get campaign templates for automated drip push notifications.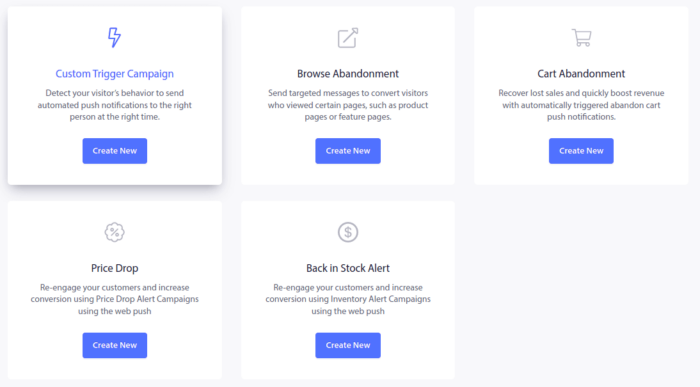 With PushEngage, you can create triggered campaigns such as:
And you can set up these campaigns from an easy-to-use dashboard instead of having to create custom campaigns using code. Of course, if you want to create a custom campaign using PushEngage, there's nothing stopping you from doing it. You can check out the PushEngage API to create advanced campaigns.
Push Notification Optins
Is it easy to collect push notification subscribers using PushCrew?
Short answer: No! It's the same problem as the campaigns. You need to manually code the logic to show push notification options that collect subscribers.
PushEngage makes it super easy to create and style multiple push notification options from a simple dashboard.

PushEngage has a clear advantage over PushCrew if you're looking to get started quickly and create push notification campaigns with zero coding experience.
Do You Get Advanced Analytics and Conversion Tracking?
Both PushEngage and PushCrew come with a built-in analytics suite that includes conversion tracking. But there's a clear difference in the way these software approach analytics.
PushCrew is a cross-channel engagement tool. So, the metrics provided in their analytics dashboard are usually personalized metrics based on very specific and limited goals for all types of campaigns. In simpler terms, the metrics you get with PushCrew are used for emails, web push notifications, app push notifications, SMS campaigns, and in-app content cards at the same time.
So, there's no dedicated analytics module that caters to only web push notifications.
On the other hand, with PushEngage, you get a dedicated analytics suite inside the dashboard.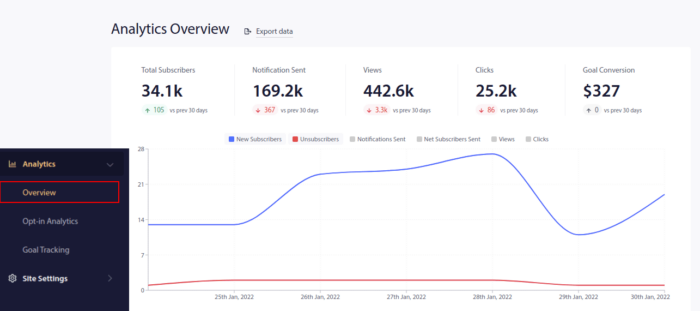 You can also check out optin analytics to optimize your popup modals and collect more push notification subscribers.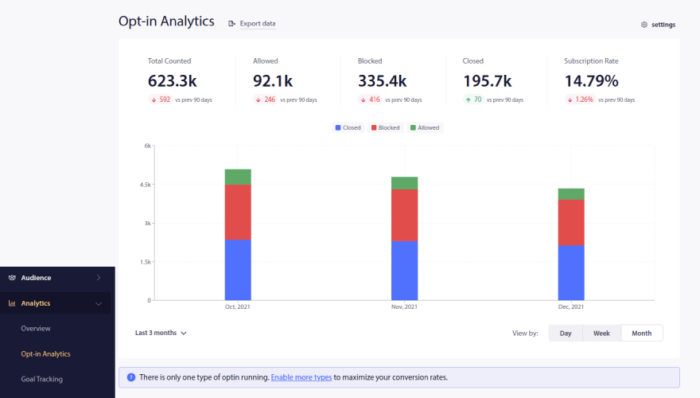 If you want, you can even see how well each push notification has performed.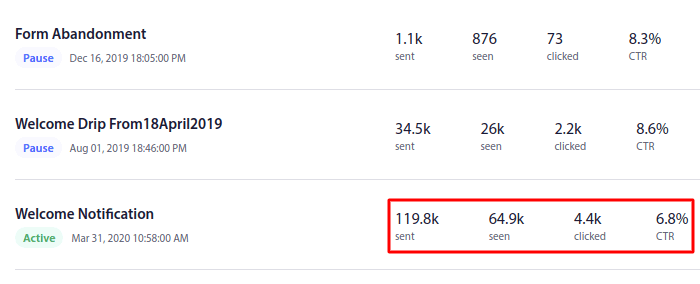 The best part is that you can also set up PushEngage to track push notifications on Google Analytics. It's a really elegant way to use a common analytics reporting tool to also track specific goals for your push notification campaigns.
What's the Customer Satisfaction Like?
PushEngage gets high customer satisfaction scores because of the simple, easy-to-use interface you get with PushEngage. If you check the full report, you'll see that PushEngage is better at:
Product-market fit: 98% of reviewers found PushEngage to be the right solution to send push notifications
Ease of use: PushEngage allows you to create powerful push notification campaigns from an easy-to-use dashboard
Ease of setup: You can set up PushEngage very easily with a few guided clicks for most websites
Ease of administration: It's super easy to use PushEngage across the entire marketing team
Quality of support: PushEngage offers a superb team of customer success professionals
Product direction: 96% of users feel that PushEngage is developing features that are genuinely useful to them
PushCrew has some super-advanced cross-channel personalization options, but the product is also complex. So, you'll need real training and support to use it effectively. With PushEngage, there's no such challenge. In fact, the dashboard is designed to help you get started quickly and make the most of the software.
The first time you log into your PushEngage dashboard, you get a welcome challenge.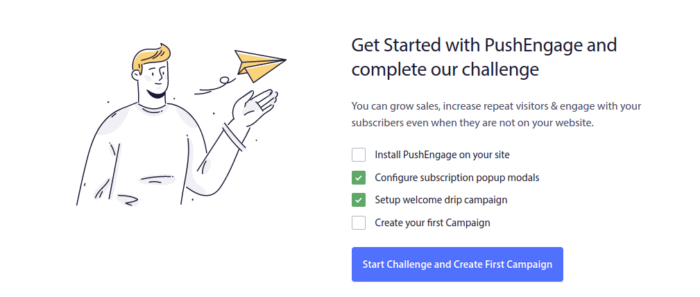 The welcome challenge is designed to teach you how to use the software in less than 10 minutes. So, of course, PushEngage has really high customer satisfaction scores!
How Good is the Push Notifications API?
Unlike PushCrew, PushEngage offers flexible API access even for the free plan. So, you can create custom push notification campaigns without investing a ton of money. But there's a lot more to the finer details of API usage.
The PushCrew API is very limited in terms of sending push messages. There's no technical limitation on what kind of notifications you can send. You can freely create rich push notifications as well. But PushCrew deletes API push notification statistics 14 days after you send it.
With PushEngage, this is not the case. You get in-depth analytics for API push notifications and you can create any type of push notification you want. It's super easy to create custom notifications using the PushEngage API and use the analytics data to optimize your messages.

You can't really create or modify customer segments using the PushCrew API either. At best, you can create "subscriber groups" from their dashboard. In contrast, PushEngage lets you view, modify, and create new dynamic segments from the dashboard as well by using the API.
The worst thing about PushCrew is that they charge quite a lot for their API. Seeing as almost everything on PushCrew has to be done using their API, and even that's pretty limited, the high prices are a little concerning.
PushEngage vs PushCrew Pricing
PushCrew doesn't openly disclose its pricing. They use a price-on-request model that makes sense for them because they offer a LOT of engagement channels besides push notifications. But that's not how we do things. We believe that an open and transparent pricing model is a much better experience for new customers.
Both PushCrew and PushEngage offer dynamic pricing. But the difference is that with PushEngage you can actually see the costs upfront. So, there are no surprises later on.
Also, you get a clear picture of the minimum amount you'll have to spend to get access to certain features in PushEngage. You also get a detailed breakdown of usage limitations in each plan: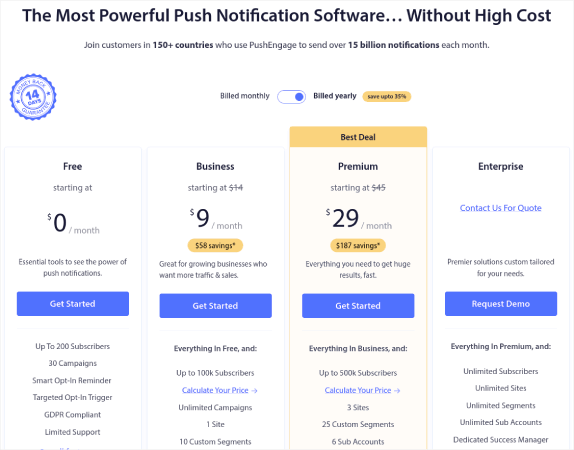 You can also get started with the free plan to try out the software if you're not really sure if it's the right fit for you. PushEngage is the best free push notifications service. So, you can get started with powerful push notification campaigns even if you're on a limited budget.
PushEngage vs PushCrew: Who Wins?
Hands down, PushEngage is the best push notification software in the world.
You get a range of features to support small businesses and enterprise software alike. PushEngage is designed to empower small businesses to compete with big brands. And it's a good fit at every stage of growth whether you're looking to start, grow, or scale your business.
If you're new to push notifications, you should also check out these other great resources:
And if you haven't already, get started with PushEngage today to get to the next level!