Do you want to know the benefits of customer re-engagement and how to reengage customers using push notifications? In this article, we will explain the benefits of customer re-engagement and how to use push notifications for re-engagement.

What is customer re-engagement?
Customer re-engagement is the action you take to target customers based on their previous actions. You are running different campaigns like paid promotions, referral, organic to bring people to your website. After doing some actions like checking out products, watching videos, a visitor left the website.
They are potential future customers. All the actions that you take to bring back those visitors are termed as customer re-engagement. E.g. serving ads, calling them, sending push notifications are some of the re-engagement activities.
Why is customer re-engagement important?
After putting in a lot of effort you got visitors. However, they didn't make any purchases and left. So, whatever effort you put in resulted in nothing. This is the most common scenario in online as well as offline stores. People usually do not buy on the 1st visit.
Customer re-engagement helps you to bring back potential leads and convert them to customers. Since you already know what they are interested in, it allows you to personalize your communication. Study shows that a 5% increase in customer retention can increase profit by 25% to 95%.
What are the benefits of customer re-engagement?
Low Cost Of Acquisition: The cost of acquiring new customers is 5 times more than the cost of retaining existing customers.
Higher ROI: We already know the behavior of the existing customer or visitor. We have the data on their activities. This allows us to take targeted and personalized action that results in a higher conversion rate.
Improved CLTV: In the long run, engaged customers give more business to the company than a regular customer. So if you can keep re-engaging customers, it will increase the customer lifetime value.
Why use Push Notifications for re-engagement?
There are multiple ways to re-engage customers. One of the best ways to re-engage customers is by using web push notifications.
Why use Push Notification for customer re-engagement?
Ease: Re-engagement doesn't need to be a tough guy. Push Notification is simple to install and use.
Higher Subscription Rate: To re-engage visitors, you need them to subscribe to your website. As compared to any other channel, push notification offers a higher subscription rate.
Cost: As compared to any other re-engagement tool, the cost of customer re-engagement is the lowest.
6 Best Customer Re-engagement Campaign using Push Notifications
Cart Abandonment Campaign
Most of the time customers do not buy in a single visit. They will browse the product, add the product to the cart but will not complete the transaction. The best way to recover the lost sale is to run a cart abandonment campaign.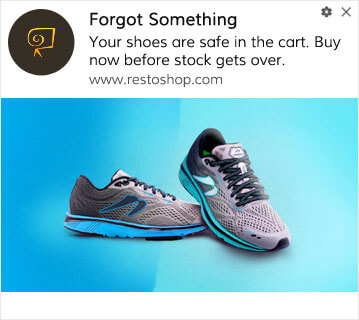 It is one of the best re-engagement tools. Create a series of push notifications for the campaign. It will be automatically triggered when someone abandons their cart. You can spread out the notification over a few hours, days or weeks. This way you can re-engage cart abandonment users to convert them to customers.
Price Drop Alert
Price is The best motivator to shop. It can be used to re-engage customers effectively. Whenever there is a price drop on the product, send instant push notifications to the customer.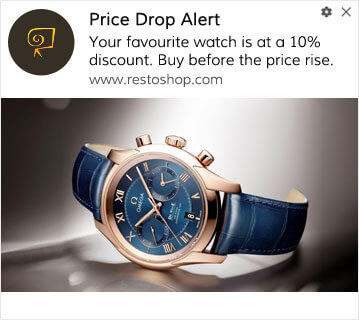 The price drop campaign is one of the most effective campaigns to win back customers. Due to the price, many customers do not complete their purchase. They wait for the price to come to their range. So, if you can instantly re-engage customers when the price drops, it will increase the conversion rate a well.
Customer On-Boarding
A customer onboarding campaign is a great way to start a relation. When a new user subscribes, it allows you to create the 1st impression. Create a series of push notifications in an onboarding campaign spread over months.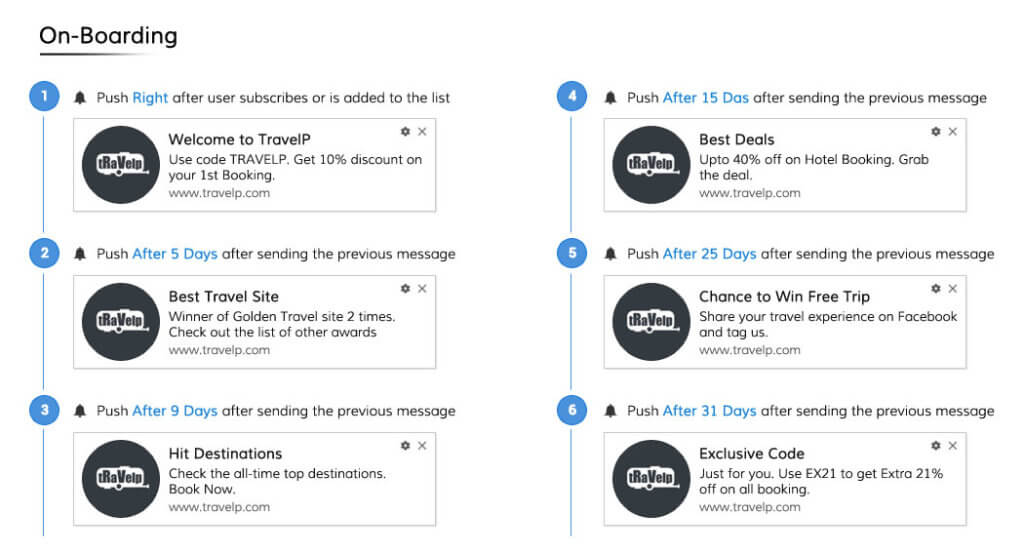 In the onboarding campaign, share about your brand, product, feedbacks and a lot more. The focus is to keep customers engaged and let them know more about your brand. Spread the onboarding notification series over 2-3 months.
Trigger Campaign
People take multiple actions on your website. Track the relevant customer actions. Create trigger campaigns based on those actions. It will automatically send notifications when the user takes the desired action.
Take an example. You are offering 1 free course on AdWords in pdf format. Anyone who downloads that pdf file is a potential lead. Set up a trigger notification on that. It will automatically send a notification to the person and re-engage them with your brand.
Custom Discount
Sometimes all it needs a personal touch to re-engage customers and bring them back. Identify the inactive subscribers and send a customize push notification with a discount. A small discount can go a long way. 1st is that they may make a purchase using the code. Secondly, since they didn't visit your site for a long time, they will explore the site.

This will help you to know more about your inactive customers and segment them accordingly. In the future, you can send targeted notifications to keep them engaged with your brand.
Free Gift
A small gift may look pricey but will keep your customer engaged. Sometimes, offer a gift to the customer on a special occasion. It could be the company's birthday, customer's birthday, New Year or any special event.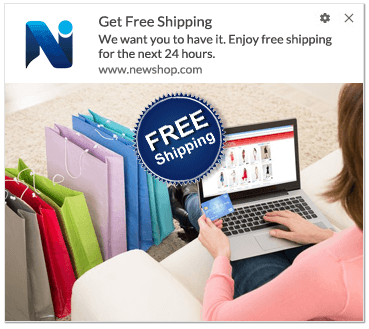 The idea is to make the day special for customers. This is one tactic that can surely re-engage your customers.
Now you know the benefits of customer re-engagement & how to re-engage customers. With push notifications, customer re-engagement is very easy and effective. Ofertia, a deal site, was able to increase repeat users by 39% using push notifications. Start using push notifications for re-engagement now.