Looking for the best podcast plugin WordPress has to offer in 2023?
WordPress is one of the most powerful platforms to run a content business. And if you use WordPress to promote your podcast, you can create a complete powerhouse. But there isn't a lot of information on what plugins you should use to supercharge your growth.
In this article, we're going to go over the best podcast plugins WordPress has that will help you:
Get more traffic to your streams
Run powerful marketing campaigns on autopilot
Create ways to stay in touch with your subscribers even if something happens to your channel
Let's dive in.
Why Do You Need a Podcast Plugin in WordPress?
If you're running an podcast business on any online platform, you probably know that they can completely ban you for… reasons. And it's really difficult to know what got you demonetized, shadowbanned, deleted, or even banned.
That's why all podcasters should have a WordPress website. If you have a WordPress site, you can find ways to get in touch with your audience even if…
Your channel gets banned
Your videos get shadowbanned
Your channel gets deleted
If you're already aware of all this, chances are that you have a Discord server as a backup. But there are so many things that you can do using a WordPress website that you simply can't do on Discord.
We're not saying that you shouldn't have a Discord server. Discord's great for creating a loyal community.
But a WordPress site has other advantages. One of the biggest advantages is that you can get a ton of extra traffic by embedding your podcasts on your site and optimizing your content to draw in search traffic.
You can use podcast plugins in WordPress to:
Tell your subscribers when the next episode is going live
Publish your podcast schedule along with guest rosters
Promote your affiliate offers and sponsors
Grow your email list
Attract more social media followers
If you can use other marketing channels to grow your stream, we recommend that you do it. Check out our article on how to get more followers on Twitch and you'll know what we mean.
Another really cool thing about having a WordPress site is that it's super easy to set up an eCommerce site with WooCommerce. If you're looking to sell branded merch or info products such as ebooks and courses. You can even create a membership on your site.
Best WordPress Podcast Plugins
In this section, we'll list out some great plugins to embed your podcast on your WordPress site. But we're also throwing in some epic plugins that we believe every podcaster should use.
Let's get started.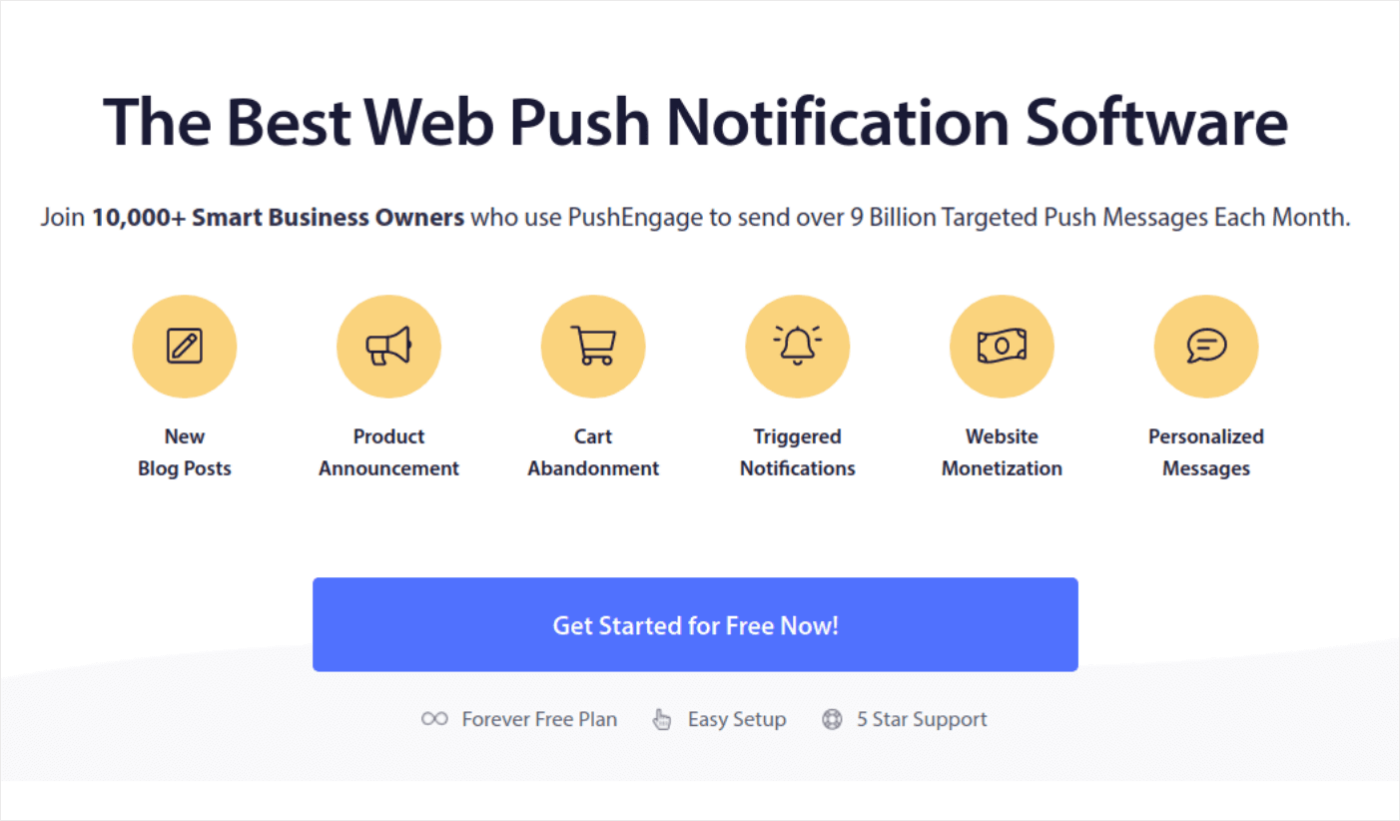 PushEngage is the #1 push notification software in the world. Push notifications help you grow your website traffic and engagement on autopilot. And PushEngage is the best plugin you can get to send powerful automated push notification campaigns.
You know how Twitch and YouTube notifications are glitchy and don't always get sent, right? With PushEngage, you can easily send push notifications to generate traffic to your streams.
Yes, you can send out a notification on your Discord announcement channel. But Discord notifications are difficult to customize and not everyone follows your Discord announcement channel because there's no clear optin.
PushEngage allows you to create custom push notifications popup modals to get push notification subscribers. So, it's way more effective than Discord. Push notifications are also extremely affordable and you can always test out the software for free before buying it.
Get started with PushEngage today.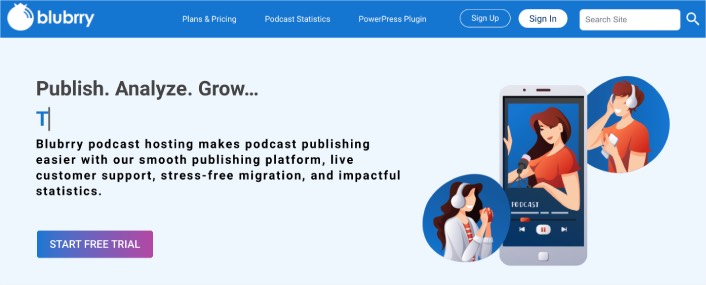 PowerPress by blubrry is probably the most complete podcast plugin WordPress has to offer. It's super easy to use and you don't need any experience with WordPress to be able to use it. You can also get podcast hosting and a dashboard with detailed podcast statistics. So, whether you're a complete beginner or a seasoned podcaster, you need this plugin.
Popular features include:
Direct import from Soundcloud
Private podcast episodes for premium members
RSS podcast feeds for Apple and Google podcasts
Integrated HTML5 media web player with embed support for YouTube
Support for both audio and video podcasts
Custom post types for podcasts
And more! PowerPress takes the pain away from hosting a podcast.
Get started with PowerPress today!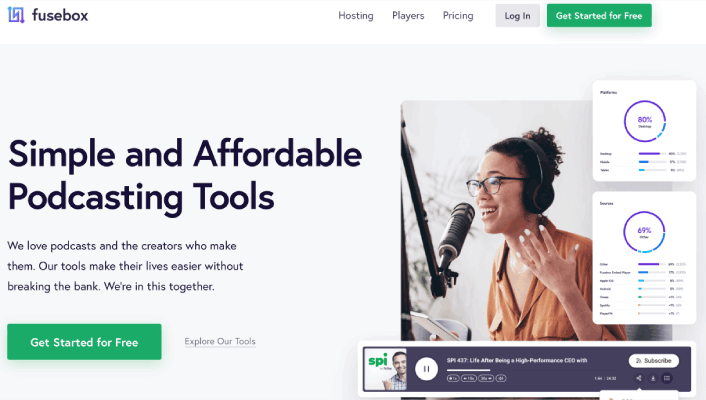 Fusebox, formerly Smart Podcast Player, is a powerful WordPress podcast plugin. It's a great choice for podcasters who want to take their craft to a professional level without being slowed down by technical difficulties.
The Smart Track Player is what sets this plugin apart from the others. But that's not all. Here are a few more reasons to consider using Fusebox to grow your podcast on WordPress:
Beautifully designed HTML player with share, download, and subscribe buttons
Ability to promote your entire podcast archive and your latest, new podcast episodes
Has clickable timestamps
The Smart Track Player is completely responsive and looks fantastic on desktops, tablets, and mobile devices
Speed control features let you add different playback speeds
Customize your color theme to fit your podcast's branding
Get started with Fusebox today!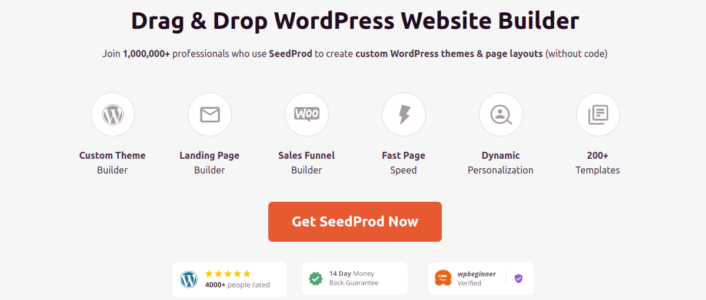 SeedProd is a visual landing page builder that helps you create landing pages that convert really well. You can use SeedProd to create landing pages for any product you want to sell. If you're running an eCommerce site, SeedProd can also help you create awesome-looking product pages that convert.
There's so much you can do with your landing pages for your podcast.
For example, you can:
Embed a video player to display your Twitch streams
Include call-to-action buttons to subscribe to your channel
Use animated headlines to capture people's attention
Add a countdown timer to show when your stream starts
Embed a RafflePress giveaway to boost traffic
Include testimonials and star ratings from happy stream followers
Embed Facebook and Twitter posts or timelines related to your stream
Add WooCommerce products to promote your Twitch brand's merchandise
Run promo campaigns for affiliate products and sponsored campaigns
And lots more! If you're new to creating landing pages, check out our guide on how to create a podcast landing page. We love using SeedProd and we even wrote an in-depth review of the SeedProd plugin. Go ahead and check that out!
You can also create contact forms to collect leads or even run polls on your site on what your next stream should cover. Again, you can definitely run polls on Discord or directly on Twitch. And you should. But running another poll on your site means that you can get everyone's opinion even if they're not watching you live.
Get started with SeedProd today.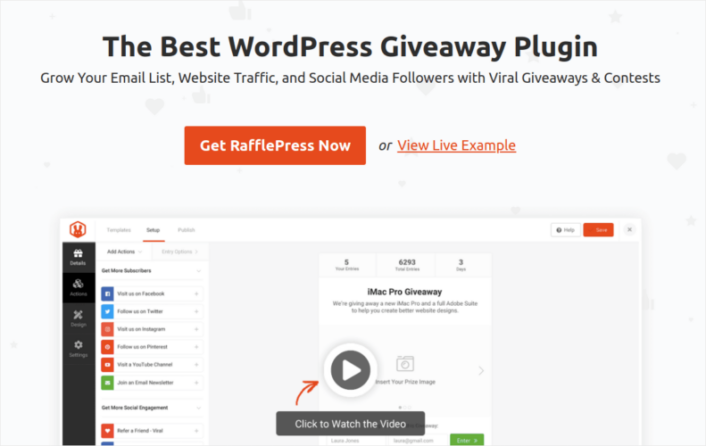 RafflePress is the best WordPress giveaway plugin on the market. It allows you to design, build, and run any type of online giveaway from your WordPress website. You can use RafflePress to grow your social followers and subscribers.
The best part? You can run a YouTune giveaway completely on autopilot using RafflePress.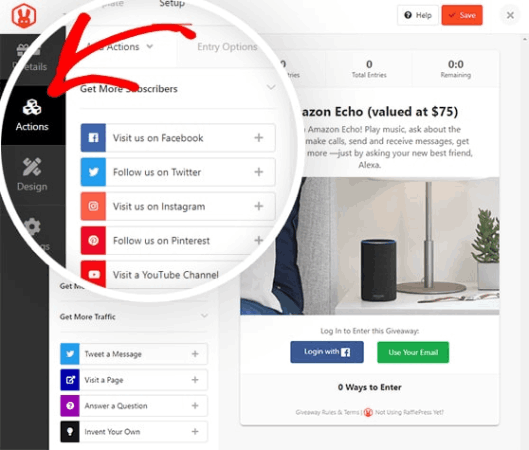 You can create a custom giveaway using a simple, drag-and-drop giveaway builder. Each giveaway asks your users to complete specific tasks to win entries to the giveaway. You can set this task to be anything you want including:
Following you on YouTube
Watching a specific video
Sharing your channel on other social media platforms
Creating content that features your channel
And a lot more!
The plugin has powerful pre-built templates that are designed to:
Grow your email list
Refer friends with word-of-mouth marketing
Run a giveaway before your site launches
Grow your Facebook page
Grow your Twitter followers
Grow your YouTube channel
Grow your Instagram following
And you can do all of it with zero coding. Take a look at our review of RafflePress, where we explored the features of the plugin in greater depth. It's perfect for growing your podcast using different social media platforms.
Get started with RafflePress today.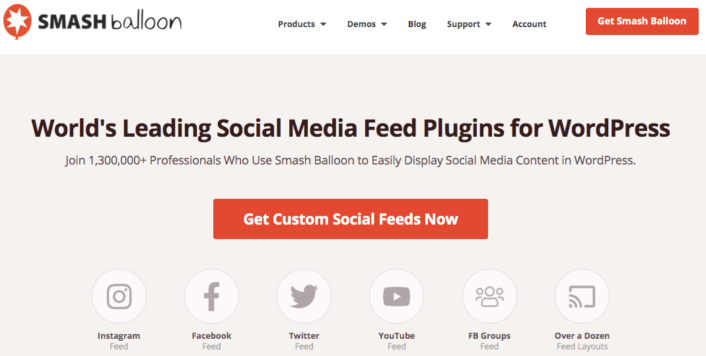 Smash Balloon is a simple WordPress plugin that allows you to display your social media feeds on your site without using any code at all.
You can use Smash Balloon to create custom social media feeds for your WordPress site in a few clicks. There's no coding involved and no need to hire a developer. And you get to integrate Instagram, Facebook, Twitter, and YouTube feeds together or separately as you wish.
A really cool way to use a plugin like Smash Balloon is to use social media feeds to create a testimonial wall. But you can also use it to promote your other social media channels to your podcast audience and vice-versa.
You can use Smash Balloon to:
Use your hashtag feeds on your site as social proof
Display interactive Twitter feeds to boost website engagement
Embed your YouTube videos on your site to grow your subscribers
Add authentic Facebook Business Page reviews to your site to increase conversions
And lots more!
If you frequently cross-post to YouTube you'll love Smash Balloon's YouTube Feed plugin. This tool helps you automatically fetch video content from your YouTube channel to WordPress.
The best part? It's incredibly easy to use. Smash Balloon takes barely 5 minutes to set up. And there's no learning curve at all.
Get started with Smash Balloon today.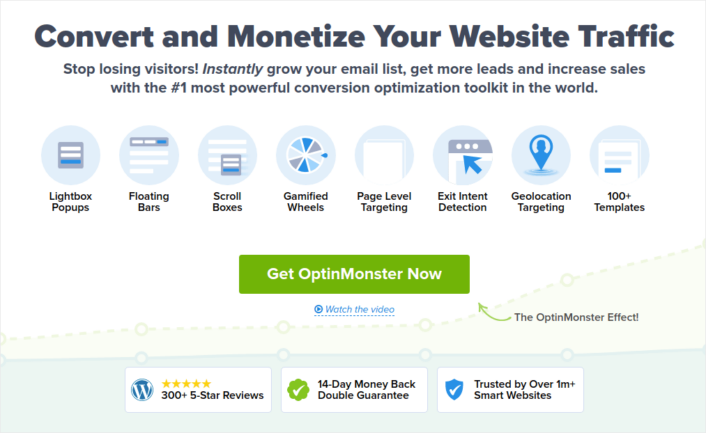 OptinMonster is one of the pioneers in WordPress popups. They practically changed the way in which email lead generation works in the marketing industry.
OptinMonster has pretty much everything you need to start, grow, and scale your email lead generation process. One of the easiest ways to get your subscribers to each of your episodes is to send them an email invite. You can even create powerful video popups to incentivize your podcast listener to become email subscribers.
Here's a quick rundown of what you can do using the toolkit:
Grow your email list smoothly for remarketing
Convert first-time visitors into regular readers
Reduce cart abandonment and browse abandonment rates
Create limited-time offers with actual countdown timers
Increase eBook downloads and digital product sales
Create a funnel for live events
Improve site engagement using gamified popups
Redirect your traffic to pages and posts that make you money
Create a list of genuine leads and remove fake emails using two-step opt-ins
We wrote a review of OptinMonster. So, if you'd like to check out the features in more detail, go ahead and check it out. We've used OptinMonster ourselves and it's helped us grow our email list really quickly. And we're sure that it'll work for your podcast too.
Get started with OptinMonster today.
What's the Best Podcast Plugin WordPress Has to Offer?
It's time to find out what's the best podcast plugin WordPress has to offer. Our recommendation? Get them all. Every plugin on the list serves a different purpose. You should get:
PushEngage to create a list of your subscribers that isn't owned by third-parties
PowerPress is meant to help beginners host and grow a podcast from scratch
Fusebox helps you embed your podcasts and gives you more advanced growth tools
SeedProd to quickly launch high-converting landing pages to support your marketing campaigns
RafflePress to launch a hassle-free giveaway contest with zero coding or management issues
Smash Balloon to cross-promote your other social media accounts effectively
OptinMonster helps you build an email list to connect with your listeners and act as a backup in case you get deplatformed
We recommend getting started with web push notifications because most other streamers aren't doing it yet. Check out these epic resources that will help you get started:
And if you haven't already, go ahead and give PushEngage a try. PushEngage is the #1 push notification service in the world. So, if you're serious about growing your business, you should invest in PushEngage.
Push notifications are helping businesses grow across the world. Are you just going to wait for your competitors to start using it before you?