Web push notification has gained a lot of attention since its launch. A lot of websites started using push notifications to keep their subscribers engaged. However, many are still in dilemma whether to use push notifications. In today's time push notifications are important. In this article, we will share the benefits of push notifications and why you should get started.

What is the purpose of push notifications?
The purpose of push notifications is to re-engage customers effectively and instantly. Push notifications are instantly delivered directly to the browser. Any website can start using push notifications. When used effectively, push notifications can easily boost website traffic and revenue.
Are push notifications effective?
Yes, push notifications are very effective. Since push notifications are delivered directly on the browser; it is hard for the user to miss them. It doesn't need any app. The most important factor that makes it effective is that push notifications get delivered even when the user is not on your website. It just needs the browser to be active. If the user leaves your site, they will still receive your notifications.
Why push notifications are important for online websites?
The three important advantages of using push notifications are:
To subscribe to push notifications, users do not share any personal information.
Maximum 2 click subscription
Users can subscribe to push notifications in just one or two clicks.
To use push notifications, websites do not need any app.
In today's market people have multiple options to look at before making any final purchase. The best way to increase your business is to re-engage customers and web push notification is the perfect tool to do the job. Let's see why push notification is so important for every online business.
10 reasons why push notifications are important
Increase engagement
To increase engagement, you can send personalized push notifications. In PushEngage, you can include images, emojis, and CTA to make your notifications more personalized. You can also send a specific notification based on user action. Personalized notification can easily increase customer engagement.

Another reason for higher engagement is that it is delivered directly on the browser. And if the notification is personalized, it is hard for the user to ignore and they will click the notifications.
Improve conversions
Sending push notifications at the right time and to the right audience can increase your conversions. Using PushEngage, you can easily do so. One of the prime reasons for loss of revenue in online business is cart abandonment.

You can easily tackle this using a cart abandonment push notification campaign. You can even target browser abandonment using PushEngage. The campaign will automatically send a notification to the user when they abandoned the cart. Not just one but you can add a series of push notifications to the campaign, thereby giving you more chance to convert a potential customer.
Instant delivery
One of the positive points that makes push notification important is the delivery. It gets instantly delivered to the subscriber. Timing is an important factor for online sales. If you are running a flash sale then timing becomes supercritical. The success of the entire sale campaign depends on whether your subscriber has been updated or not.
Using push notifications, you can instantly update users about your flash sale. Subscriber will receive the notification even when he is not on your site and bring them to your sale event.
High subscription rate
To subscribe to push notifications, users do not need to share any personal information. Just one or two clicks and they are subscribed.

Increase in conversion rate
You can increase the conversion rate using push notifications. When you send targeted and personalized notifications, it's hard for the subscriber to ignore them.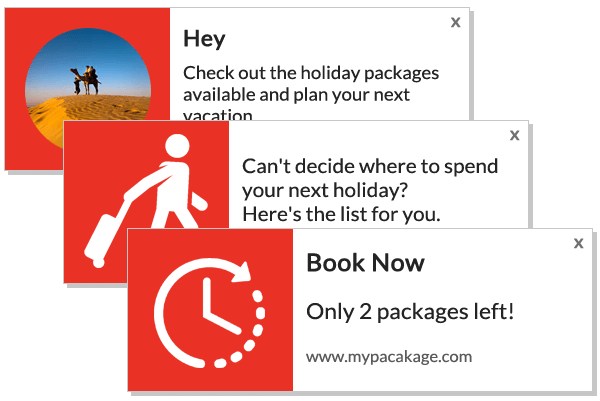 One of the online websites, Super Jeweller, increased the conversion rate by 8% using push notifications. Campaigns like cart abandonment, price alert, inventory alert allow you to send targeted notifications that increase your conversion rate.
Targeted approach
Push notification allows you to segment subscribers based on different parameters. You can then send targeted push notifications. Sending relevant notifications can increase the engagement rate and traffic.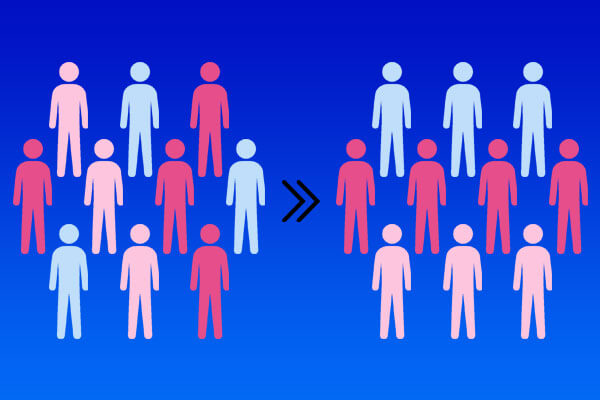 Trigger campaigns
You do not have to worry about creating campaigns. In PushEngage you can activate the trigger campaigns that will automatically send a notification based on customer action. Add multiple notifications to each trigger to re-engage subscribers effectively.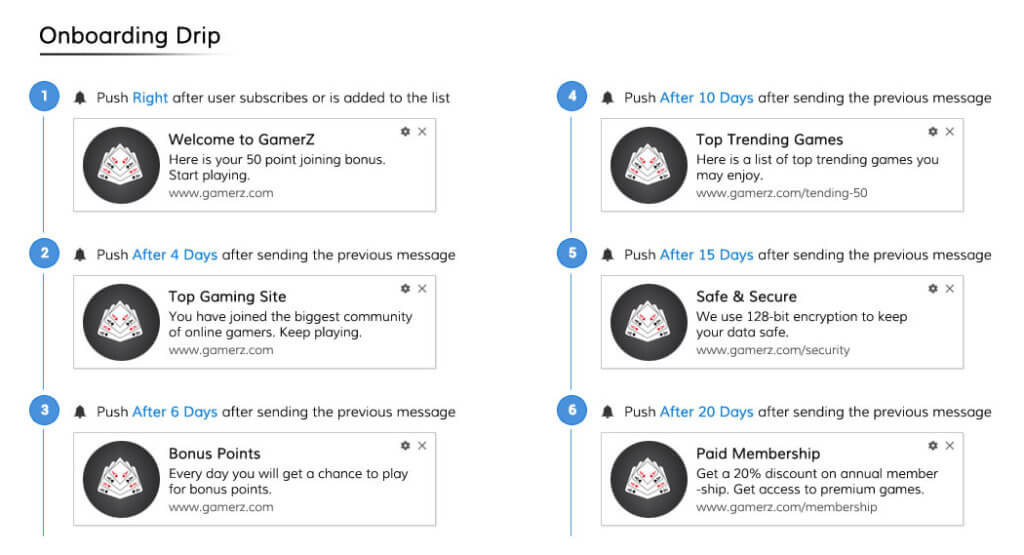 E.g. create an onboarding campaign using drip. Add series of push notifications to nurture new subscribers. The campaign gets triggered whenever any new user subscribes to push notifications.
Scheduling facility
If you are planning to run an event, schedule the push notifications for the event. This will make sure you never miss out on updating the user. Moreover, you can even send notifications based on subscriber time-zone. This way same notifications will be delivered at the subscriber's local time.

Actionable metrics
The most important aspect of any marketing campaign is the measurement. Using push notifications, you can easily manage the KPI of a web push campaign.
You can even track the goal of the push campaign and track the performance. Based on the analytics data you can make the necessary changes in your campaign.
Easy to manage
Using push notifications, you can create multiple campaigns for different marketing goals. You can add multiple websites and users. All can be managed from a single dashboard. If you are having multiple team members handling the push notification campaign, you can edit the user permission level as well.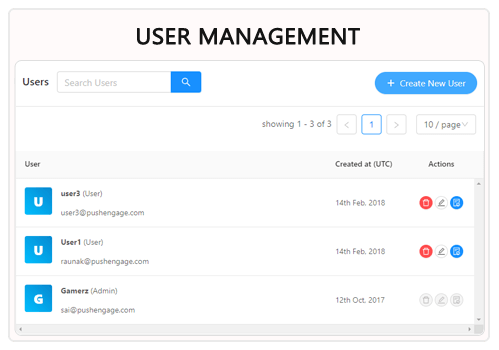 Now you know why push notifications are important. It is one of the most effective re-engagement tools that can help you increase subscriber base, engagement, conversion and revenue. You can use push notifications to generate lead as well.

If you still have any concerns related to push notifications and the campaigns, feel free to reach out to care@pushengage.com. I will encourage you to give it a try. Looking at the performance of push notifications in online stores, we know it will work wonders for you.