Looking for a guide on how to create a FAQ page for your WordPress site?
FAQ pages can address sales objections in potential customers. At the same time, it can bring in search traffic straight from Google's "People Also Ask" featured snippets.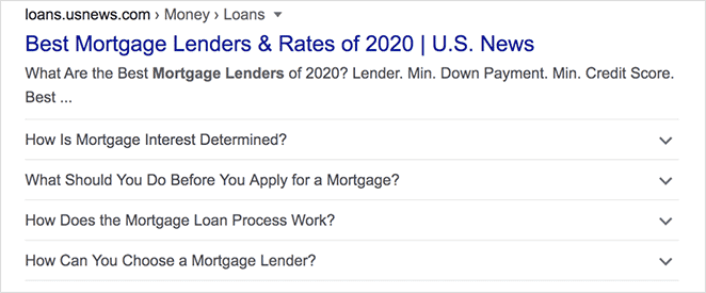 The coolest part is that you can use a FAQ page as a landing page that redirects visitors to product and sales pages.
In this article, we're going to show you how to create a FAQ page for your WordPress site the easy way. Then, we'll show you how to optimize your page to generate a ton of search traffic.
The best part? It's perfectly fine if you've never done this before. This article is meant for complete beginners.
Let's dive in.
What the Best FAQ Pages Have in Common
Before we jump into our tutorial on how to create a FAQ page, here's a checklist that will come in handy when you're writing the content for your FAQ page:
Does the FAQ page have a clear structure that's easy to navigate?
Are the answers clear and concise?
Are there links to more comprehensive guides when needed?
Does the business update the FAQ pages as it grows?
Is it easy to search and find queries?
Does the FAQ page include a search bar for users to find answers quickly?
Is there a call to action for users to buy the product or service?
If you're just getting started with FAQ pages yourself, you should also consider all these factors before you create one. And if you already have a FAQ page, you should consider updating it so that it follows these best practices. Also, you can check out our list of epic FAQ pages from six-figure businesses.
How to Create a FAQ Page in WordPress
Now that you know what kinds of FAQ pages work well, it's time to create your own FAQ page. The easiest way to add a FAQ page to your WordPress site is with a drag-and-drop page builder plugin. We did a breakdown of the most powerful landing page builders and compared the best in the world.
Our recommendation is that you use SeedProd.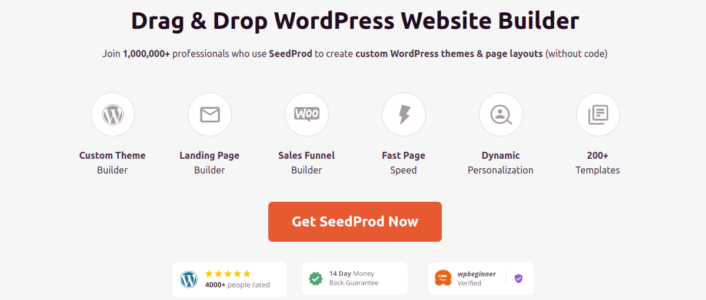 SeedProd is the best website builder for WordPress. It lets you create WordPress themes, landing pages, and flexible layouts for your WordPress site without code.
If you need the quick version of why you should use SeedProd, here it is:
SeedProd works with any WordPress theme. There's no messy transition and if you switch themes, you won't break your landing pages completely.
The designs are mobile-friendly and you actually get a mobile preview of your page. Seeing as most people use the internet from mobile devices rather than PCs, this is pretty important.
SeedProd prides itself on being lightning fast and lightweight. So, it's not going to make your site load slow. And it most definitely won't consume a ton of your server resources.
For a more detailed look at the features, you should check out our review of SeedProd. With this plugin, you can quickly launch your FAQ pages. The best part is that you can customize your entire page in the visual editor. This saves a lot of time and money you'd otherwise have spent on custom development.
If you follow every step in this tutorial, you should be able to create a FAQ page just like this one: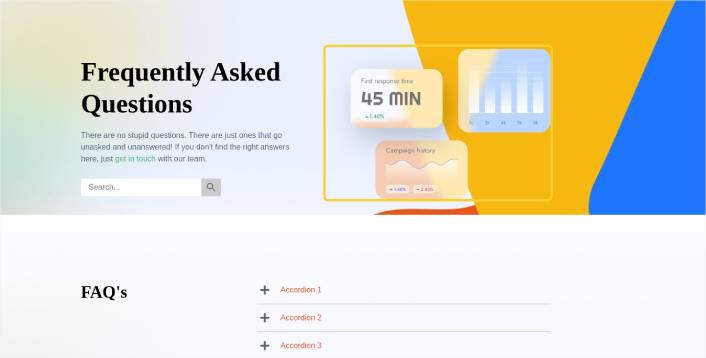 Step #1: Install the SeedProd Plugin on Your Site
First, you'll want to get the SeedProd Pro plugin and activate it. If you're not sure how to do that, check out this article on how to install a WordPress plugin. Then, go to SeedProd » Settings on your WordPress dashboard and activate the Pro version: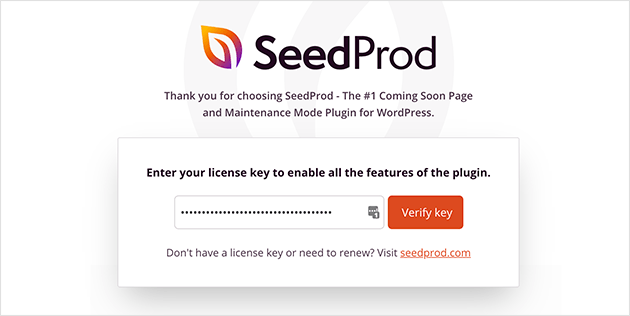 Next, head to SeedProd » Pages for an overview of SeedProd's landing page dashboard. This is where you can see the different types of landing pages you can create using SeedProd: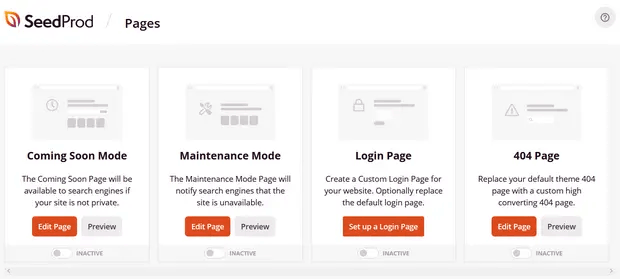 Keep in mind that these are all special pages with pre-built functionality and design templates. For an FAQ page, you don't want to use ANY of these special landing pages. Instead, you're going to create a custom landing page.
Scroll further down and click the Add New Landing Page button to get started:

Step #2: Create a FAQ Page with SeedProd
After clicking the Add New Landing Page button, you'll see SeedProd's library of landing page templates. These are professionally designed landing page templates that are completely responsive.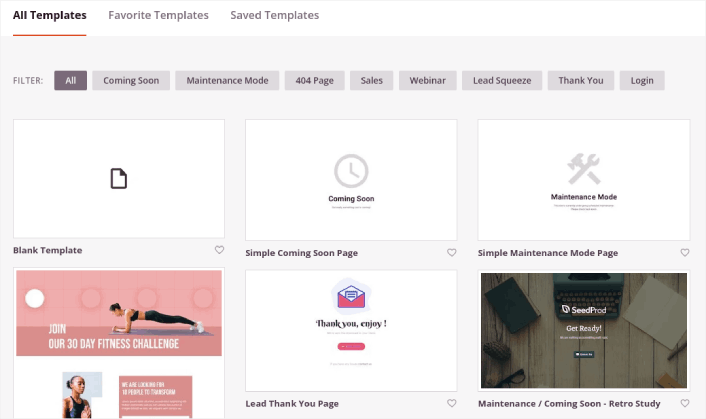 Next, you can select one of these templates to help you get started. Remember, the template is just a starting point. you can customize everything about the page later on. For now, find a template that you think will fit: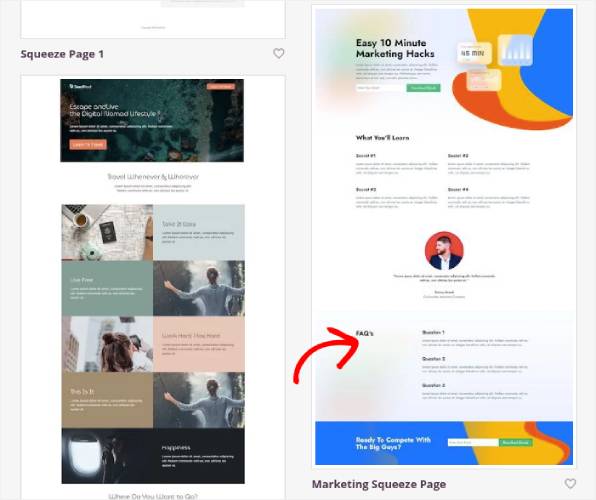 We're using the Marketing Squeeze Page template for this tutorial because it already has a FAQ section in it. But you can select any template you like. The template is mostly a place to start your page design.
If you find an exact match for your page, that's great. For instance, in our podcast landing page tutorial, we found an exact template built especially for podcast landing pages. If you don't find an exact match, it's still perfectly fine because we're going to customize our page anyway.
Step #3: Customize the FAQ Page Template
SeedProd's visual builder allows you to customize your landing page using drag-and-drop content blocks.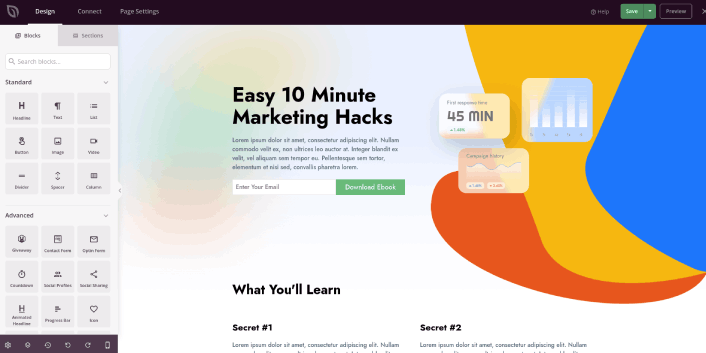 The first thing you should do is edit the headline for the page. You want it to be super clear and to the point. Just click on the headline in the preview and start editing it: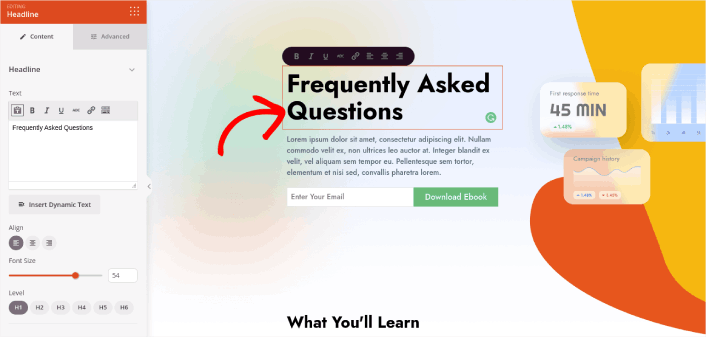 Next, add a little body copy in the exact same way:

In the template, you can see a call to action (CTA) that says Download Ebook. Of course, for an FAQ page, you don't necessarily want to collect leads in the first 10 seconds. So, you can click on the email optin and delete it. Instead, we highly recommend using a search bar in the hero section.
Just drag and drop the Search Form content block from the sidebar on the left onto your page preview section: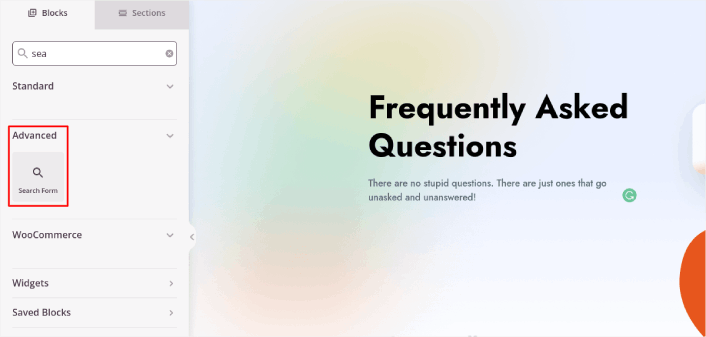 It should look something like this: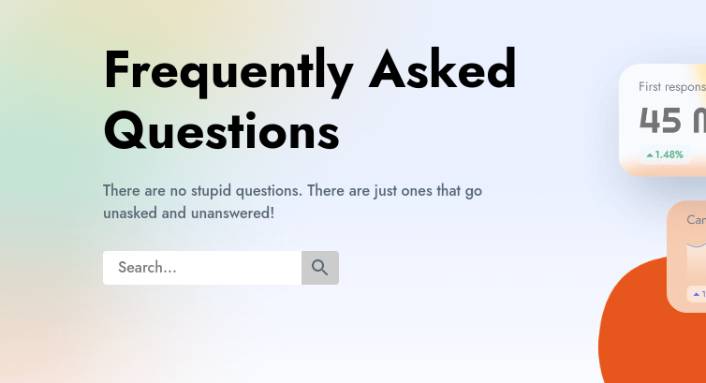 You can get rid of all the other blocks in the hero section and keep only the FAQs section. In the FAQs section, you'll see a simple Q&A format with normal headers and paragraphs. You can keep this if you like the style. But we recommend using the Accordion module for your FAQ section:

After that, all you have to do is fill out the content. And there you have it!
Your basic FAQ page is done. If you want to supercharge it, you can also add a few tweaks to it. For instance, you can create a link to the contact page in the body copy of your hero section.

You can also add a blog section below the FAQs to redirect visitors to your latest posts using the Post block: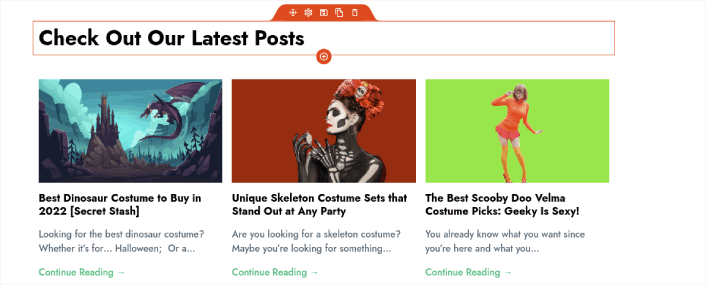 Finally, modify the CTA section at the bottom to collect email leads if that's one of your marketing objectives:

You can do a lot more in terms of design and all from drag-and-drop content blocks. Once you're happy with the overall look and feel of your FAQ page, it's time to connect your email marketing service.
Step #4: Connect Your Email Marketing Service
After you're done designing your FAQ page, click the Connect tab at the top of your page builder, and select your email marketing provider to collect leads on your site.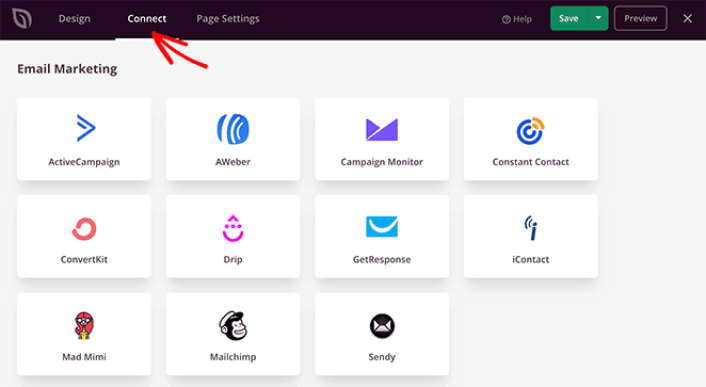 Then, click the Page Settings tab at the top of your screen.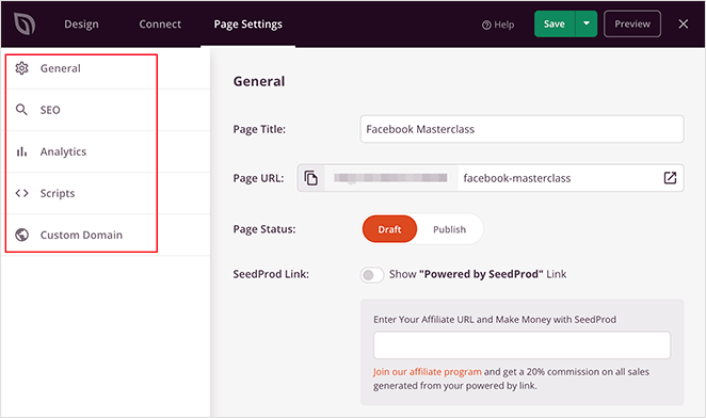 Here, you can add an SEO plugin and a Google Analytics plugin to your landing page. You can even set up custom tracking codes such as a Facebook Pixel or a Pinterest pixel to track ad performance.
We recommend using All in One SEO as your WordPress SEO plugin.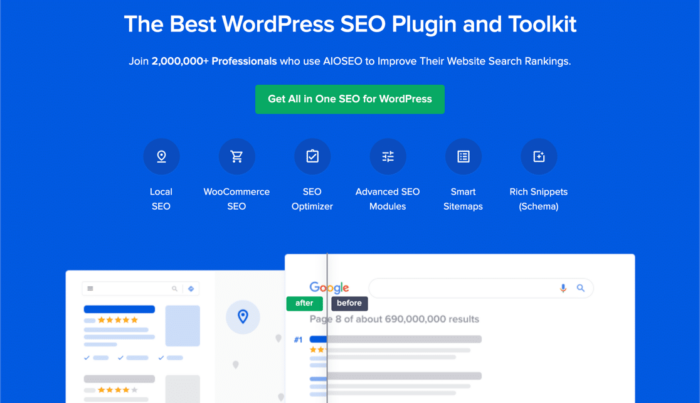 If you use AIOSEO along with SeedProd, you can simply go to Page Settings » SEO » Schema and set up the FAQ schema on the page:

Set the Schema Type to Web Page and the Web Page Type to FAQ Page. Then, simply paste your FAQs into the FAQ fields below.
Step #5: Publish Your Landing Page
Now let's go ahead and publish your design. To do this, click the dropdown arrow next to the save button and click Publish. You can then click the See Live Page button to see how it looks.
And you're done! If you followed every step, your FAQ page should look something like this: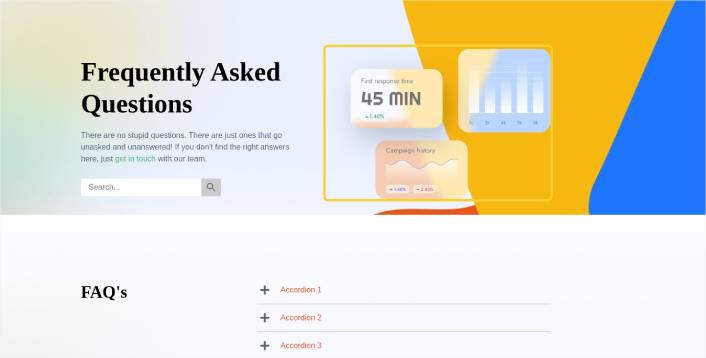 What to Do Once You Know How to Create a FAQ Page
You just learned how to create a FAQ page that looks awesome and converts really well. The only challenge you have left is to send traffic to it.
And if you're looking for an affordable way to grow your traffic, we recommend using push notifications. Push notifications can help you bring in more repeat traffic and site engagement. You can also create automated push notification campaigns that generate sales.
Not convinced? Check out these resources:
We recommend using PushEngage to create your push notification campaigns. PushEngage is the #1 push notification software in the world. So, if you haven't already, get started with PushEngage today!