Looking for the best behavioral segmentation software to increase your engagement rates?
A behavioral segmentation software is meant to do one of three things:
Get one-time site visitors to visit your site again
Convince and convert visitors to your site into paying customers
Retain existing customers
You'll want a plugin that's powerful and time-tested. But which one do you choose?
There are so many options out there.
In this article, we've shortlisted some of the best behavioral segmentation software for WordPress. We'll even give you our top recommendations if you stick with us all the way through!
Sounds good? Let's dive in.
What is a Behavioral Segmentation Software?
Behavioral segmentation software is a tool that helps businesses understand their customers better by organizing them into groups based on how they behave. You know, like grouping people who share similar actions, preferences, or habits.
Imagine you have a bunch of customers, right? They all interact with your website or use your app in different ways. Some might visit frequently, others occasionally. Some might buy a lot of stuff, while others just browse. Behavioral segmentation software analyzes all this data and divides your customers into different segments, or categories, based on their actions.
This way, you can see patterns and trends among your customers and figure out what makes each group tick. It helps you identify your most valuable customers, understand what they like, and even predict what they might do next.
Using this knowledge, businesses can target their marketing efforts more effectively. For example, if you notice that one group of customers buys a lot of sports equipment, you can create targeted ads or offers to attract even more people from that segment. Or if another group tends to leave your website without buying anything, you can work on improving their experience to encourage them to make a purchase.
In a nutshell, behavioral segmentation software is like a handy detective that helps you uncover customer behavior patterns so you can tailor your strategies and make better decisions to grow your business!
How to Choose a Behavioral Segmentation Software
Choosing the right behavioral segmentation software is important to ensure you get the most value out of it for your business. Here are some steps to help you make a good choice:
Define Your Needs: Start by understanding what you want to achieve with the software. Think about the specific behavioral data you need to analyze and the insights you want to gain. Consider your business goals and what you hope to accomplish through segmentation.
Ease of Use: Look for software that is user-friendly and doesn't require extensive technical knowledge. The whole point of using such a tool is to make your life easier, so it should be easy to navigate and understand.
Data Sources and Integration: Check if the software can integrate with the data sources you already have, such as your website, app, CRM, or other relevant systems. Seamless data integration ensures you have a comprehensive view of your customers' behavior.
Segmentation Flexibility: Make sure the software allows you to create custom segments based on the unique needs of your business. It should offer various criteria for segmenting customers, so you can tailor it to match your specific requirements.
Data Analysis and Insights: The software should provide clear and actionable insights from the behavioral data. It should be able to identify patterns, trends, and correlations among different customer segments.
Scalability: Consider whether the software can handle your data as your business grows. It should be able to accommodate increasing amounts of data without compromising on performance.
Security and Privacy: Behavioral data can be sensitive, so choose a software provider that prioritizes data security and privacy. Ensure they comply with relevant data protection regulations.
Customer Support and Training: Check if the software provider offers good customer support and training resources. You want to be able to reach out for help if needed and make the most of the software's capabilities.
Reviews and Reputation: Look for reviews and testimonials from other users to get a sense of the software's strengths and weaknesses. A reputable provider with positive feedback is more likely to deliver a reliable product.
Cost and Value: Finally, consider the cost of the software and the value it brings to your business. Assess the pricing structure and compare it to the benefits you expect to gain. Remember that investing in a valuable tool can be worth it in the long run.
By following these steps and carefully evaluating your options, you can find a behavioral segmentation software that aligns with your business needs and helps you make data-driven decisions to enhance customer experiences and boost your bottom line.
Best Behavioral Segmentation Software (Proven Solutions)
Now that we know what behavioral segmentation software is and how you can use it grow your business, let's check out the best tools in the market. Before we get into the tools, just a quick heads up: a lot of these tools have free versions that you can try before you buy. We've used these tools already so that you don't have to.
Let's get started.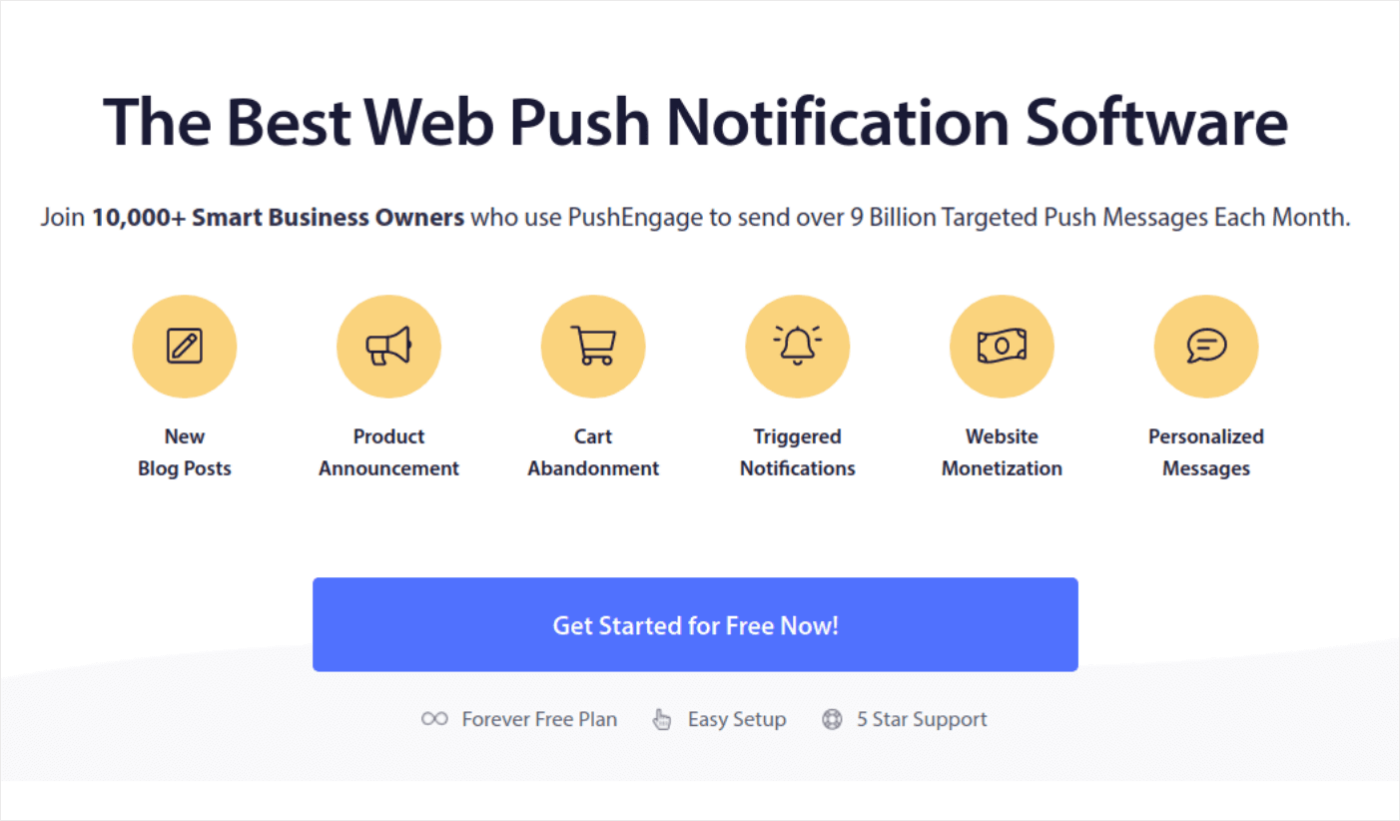 PushEngage helps you grow your website traffic and engagement on autopilot. It's one of the best behavioral segmentation softwares in the market. You can create powerful campaigns to get return traffic on your site and even recover lost sales. You can even cross-sell your other offers using push campaigns.
You can create powerful segments and audience groups to send targeted and personalized notifications.
While it's not exclusively a social proof plugin, you can use PushEngage to collect reviews and testimonials, and promote user reviews using push campaigns.
And if you're running an online store, PushEngage also helps you grow your sales by helping you create automated eCommerce push notifications. You can get started for free, but if you're serious about growing your business, you should buy a paid plan. The cool part is that push notifications cost very little to get started.
Here's what you can get from a paid plan:
High-converting campaigns including Drip Autoresponders, Cart Abandonment Campaigns, Price Drop Alerts, and Inventory Alerts
Higher subscriber limits so that you can keep growing your push notification subscriber lists seamlessly
Higher sending limits so that you can send more push notifications across different campaigns as your business grows
More ways to target campaigns, including Customer Timezone Sending, Custom Triggered Campaigns, and Personalized Smart Tags
Goal tracking and advanced analytics to always keep improving the ROI on your push notifications
Split testing to test your copy, images, or display rules to see which converts the best
A Dedicated Success Manager to help you with Success Scripts, Behavior Automation, and Follow Up Campaigns
And these features are built to help small businesses grow. Take a look at our case studies, and you'll know how all kinds of businesses have enjoyed a lot of success from PushEngage's push notifications.
You'll see that PushEngage is hands down the best bet if you want to build traffic, engagement, and sales for your business. And if you're on a budget, you can always get a little bit creative with your push notifications.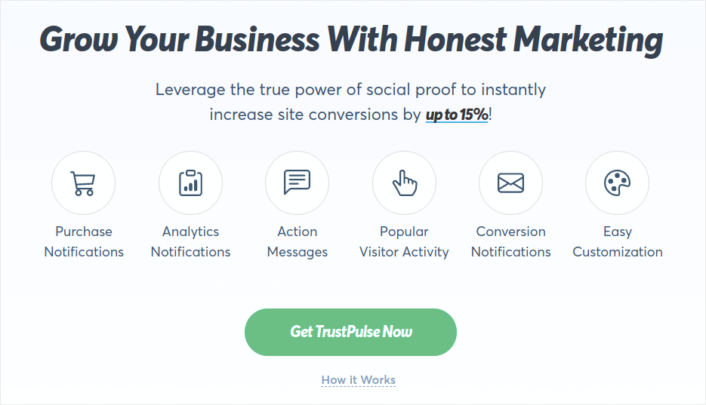 TrustPulse is the best social proof plugin for WordPress that you can add to any site. It creates social proof popups that help increase site conversions instantly. TrustPulse is fantastic for generating quick interest in your content and products.
One of the most beautiful things about TrustPulse is that you can retarget visitors by the pages they visit. It's a very simple behvioral segmentation software that does retargeting without having to save any segments. So, you get the benefits of behavioral segmentation without the segment management hassles.
You can use TrustPulse to:
Boost email signups
Increase affiliate link clicks
Generate webinar registrations
Increase pageviews
Collect testimonials and reviews
Get more survey participation
And so much more!
If you're creating campaigns for different types of actions, you're going to need different types of campaigns.
And TrustPulse does this very well. You can create 4 types of notifications using TrustPulse: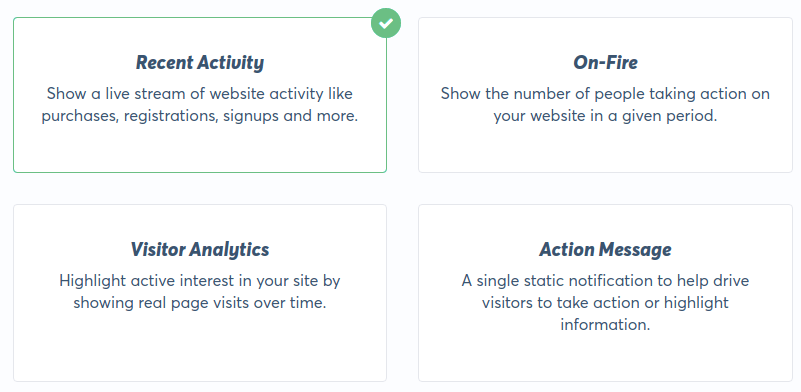 You can create Recent Activity notifications to showcase your web visitors taking specific actions on your site:

And if you want a visitor to take a specific action, you can display how many other people took that action using On Fire notifications:

A more specific type of On-Fire notification is when you want to display how many web visitors you got for a specific page:

This type of notification is super helpful for building trust. But if you're more interested in driving actions that aren't exclusively about sales, you should check out the Action Message notifications:

We wrote a full review of TrustPulse. You should check that out for a full list of features.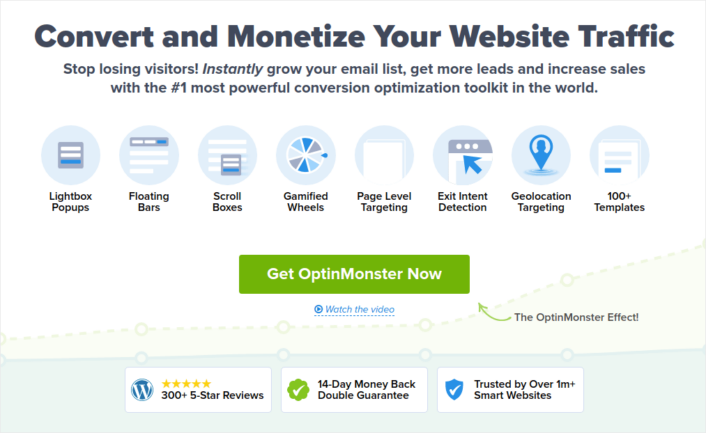 OptinMonster is one of the pioneers in WordPress popups. They practically changed the way in which email lead generation works in the marketing industry. It's also one of the best behavioral segmentation software in the market. It's also one of the best WordPress conversion toolkits in the world.
OptinMonster has pretty much everything you need to start, grow, and scale your email lead generation process. You can also integrate OptinMonster with an email marketing service to recover lost sales.
Here's a quick rundown of what you can do using the toolkit:
Grow your email list smoothly for remarketing
Convert first-time visitors into regular readers
Reduce cart abandonment and browse abandonment rates
Create limited-time offers with actual countdown timers
Increase eBook downloads and digital product sales
Create a funnel for live events
Improve site engagement using gamified popups
Redirect your traffic to pages and posts that make you money
Create a list of genuine leads and remove fake emails using two-step opt-ins
We wrote a review of OptinMonster. So, if you'd like to check out the features in more detail, go ahead and check it out.
Get started with OptinMonster.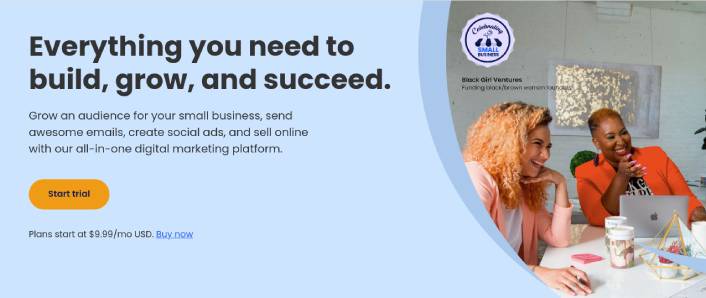 Constant Contact is the best email marketing service to set up autoresponders for your business. It's super easy to use and offers tons of automation features to improve your email campaigns.
Hands down, the very best service for high-growth businesses is Constant Contact. It has all the features you need, comes with flexible pricing, and it's super easy to use. You can also focus on the most important metrics. to grow your business right from the analytics dashboard.
As with any top-tier email marketing service, it comes with a built-in behavioral segmentation software.
Here's what makes Constant Contact such a great choice for setting up email autoresponders:
Easy drag and drop builder to create emails
Hundreds of pre-designed email templates
Welcome messages, birthday offers and abandoned cart autoresponders
List building tools and signup forms to grow your audience
Split testing for targeted emails
Integrations with CRMs and third-party services
Excellent support via live chat and phone
Not to mention, Constant Contact has a forms plugin for WordPress that you can use to collect leads and nurture with autoresponders.
Get started with Constant Contact today.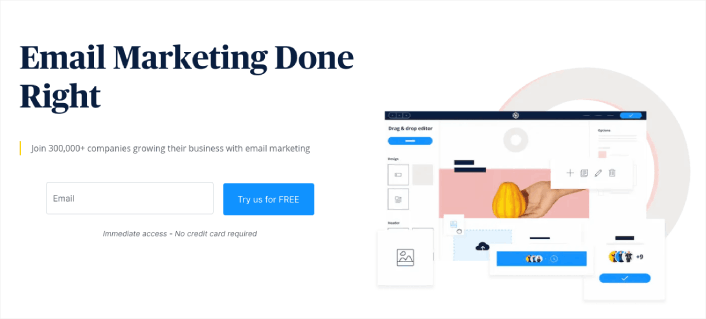 Sendinblue is a popular WordPress email plugin and a behavioral segmentation software. You can use Sendinblue to send automated emails and SMS campaigns alike. You can easily create triggers for your autoresponders, such as welcome messages, cart abandonment recovery messages, price drop alerts, and more!
Here's a quick overview of why Sendinblue is a top choice on this list:
User-friendly email editor
Option to create landing pages
SMS marketing and live chat features
Integrates email list opt-in forms on your site
Automated emails for targeted contacts
Social media integration
Which of These is the Best Behavioral Segmentation Software?
We recommend using TrustPulse, OptinMonster and PushEngage for any eCommerce site. They're extremely powerful social proof plugins for WordPress. And they're specialized solutions that focus on specific types of notifications to offer the most reliable solutions in the market.
You can use all three solutions even if you're not running an eCommerce site. They're super useful for publishers and service businesses alike.
If you're looking for a cost-effective way to increase your traffic, engagement, and sales, you should get started with push notification campaigns. Push notifications are powerful marketing tools that can help any business grow quickly.
Not convinced? Check out these amazing resources:
PushEngage is the #1 push notifications software in the world. So, we recommend using PushEngage to create your push notifications and grow your business.