Looking for the best WordPress video plugin for your site?
You can use a video plugin to increase the engagement and average time spent on your site. It's also easy to get more sales from them because you can embed shoppable ads to your site and redirect your traffic to popular products.
But there are so many options. Which one should you choose? Should you get a paid plugin or a free one? What platforms should a social feed plugin connect to your site?
In this article, we're going to give you the best WordPress video plugin we've used. And we'll even tell you why it's our favorite, talk about some alternatives, and answer all your questions.
Sounds good? Let's dive in.
Best WordPress Video Plugin
A WordPress video plugin can increase the average time spent on your site because videos are super engaging. So, embedding videos on your site has amazing SEO benefits as well. Enough talk. Let's check out some of the best video plugins for WordPress now.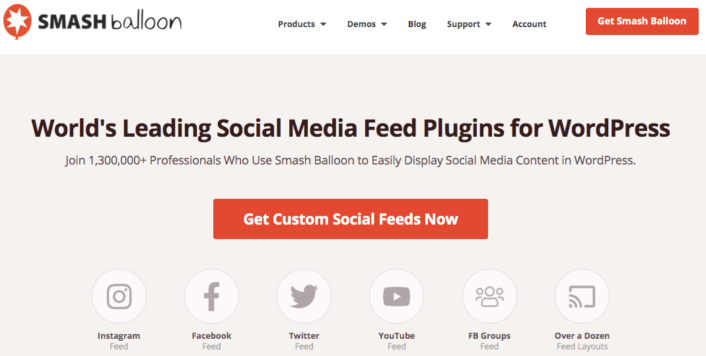 Smash Balloon is a simple WordPress YouTube plugin that allows you to display your social feeds on your site without using any code at all. You can use Smash Balloon to create custom YouTube feeds for your WordPress site in a few clicks. And you get to integrate Instagram, Facebook, Twitter, and YouTube feeds together or separately as you wish.
A really cool way to use a plugin like Smash Balloon is to use social media feeds to create a testimonial wall. The best part? It's incredibly easy to use. Smash Balloon takes barely 5 minutes to set up. And there's no learning curve at all.
2+ million users trust Smash Balloon to display their social feeds on their websites. To top it off, Smash Balloon has an average rating of 4.8 out of 5 stars on WordPress.
You can use Smash Balloon to:
And lots more!
You should also check out our Smash Balloon review for a full look at the features.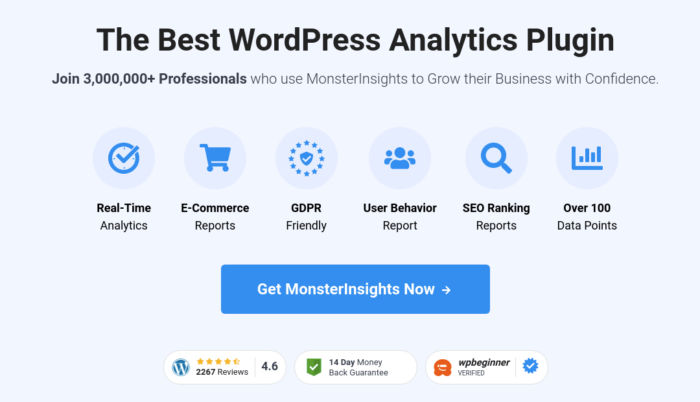 MonsterInsights is a WordPress plugin that makes it easy for you to use Google Analytics. Google Analytics is too complicated to use for a beginner. But even worse, it's easy to get lost in a sea of data without getting any actionable insights on growing your business.
MonsterInsights focuses on insights over volumes of data. You don't need a single line of code to install Google Analytics on WordPress.
The coolest thing about MonsterInsights is the MonsterInsights Media Addon. Using this simple addon, you can track views, plays, and watch progress on your YouTube, Vimeo, or HTML5 videos embedded in WordPress. It's not even hard! All you have to do is flip on a switch:

Now, you'll have your video stats right inside your WordPress dashboard along with insights on how to make your videos more engaging: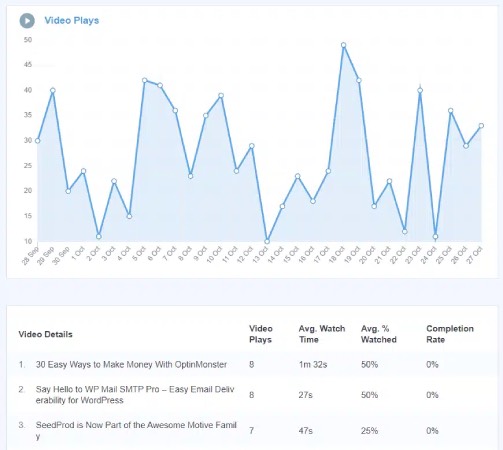 Here's a quick look at what else MonsterInsights can do for you:
Google Analytics Tracking Without Any Code
Compatible with Any Version of Google Analytics
Reports to Find Top-Performing Content
Detialed Audience Insights
eCommerce Analytics
Form Sign Up Analytics
Additional Insights from Custom Dimensions
Affiliate Link Click Tracking
GDPR Compliance
Premium Integrations
If you need to take a close look at the features, you should really check out our review of MonsterInsights.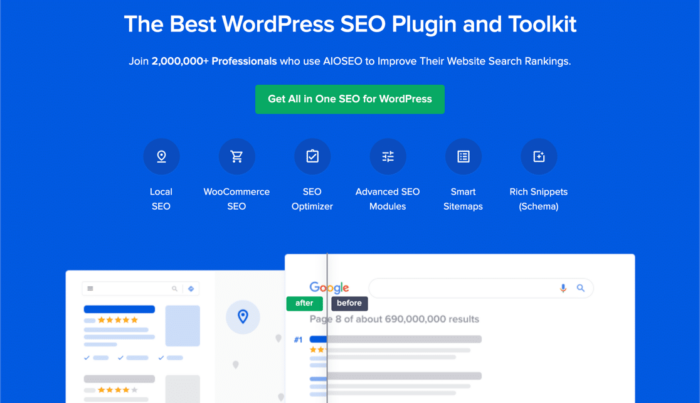 All In One SEO is the best WordPress SEO plugin in the world.
Not only is AIOSEO powerful enough to implement the latest SEO best practices, but you also get advanced options to resolve specific SEO issues straight out of the box. This includes:
Local SEO modules for small businesses with a local audience
WooCommerce SEO for online stores
An SEO optimizer inside your WordPress editor
Smart Sitemaps for instant indexing on Search Engines
A Schema plugin to get your content to rank in the Rich Snippets
And a lot more! Once you install AIOSEO, you can generate a Video SEO Sitemap for your website. This allows your videos to get indexed by search engines such as Google much faster. And it can bring in more traffic to your video and your site.
You can learn more about the top features in our review of AIOSEO.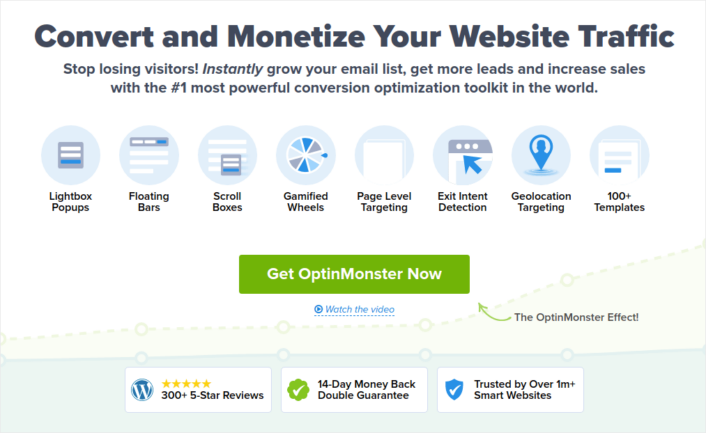 OptinMonster is one of the pioneers in WordPress popups. They practically changed the way in which email lead generation works in the marketing industry.
OptinMonster has pretty much everything you need to start, grow, and scale your email lead generation process. One of the coolest features in OptinMonster is that you can create video popups that are super engaging and get a ton of conversions.
Here's a quick rundown of what you can do using the toolkit:
Grow your email list smoothly for remarketing
Convert first-time visitors into regular readers
Reduce cart abandonment and browse abandonment rates
Create limited-time offers with actual countdown timers
Increase eBook downloads and digital product sales
Create a funnel for live events
Improve site engagement using gamified popups
Redirect your traffic to pages and posts that make you money
Create a list of genuine leads and remove fake emails using two-step opt-ins
We wrote a review of OptinMonster. So, if you'd like to check out the features in more detail, go ahead and check it out.

Juicer.io is a WordPress video plugin that helps you bring together content from multiple social networks in one spot on your WordPress website. You can create video feeds from:
YouTube
Twitter
Facebook
Instagram
Tumblr
Pinterest
Tumblr
Vine
LinkedIn
Flickr
Vimeo
That's a lot of platforms to curate videos from! So, naturally, you can also create filters and moderation rules to manage your feeds automatically. If you want, you can even add an infinite scroll to your embedded social feeds. It's probably not a good fit for all website designs, but if you need it, you've got it.
The coolest bit is that you can find out how your visitors are using and interacting with your social feed from a detailed analytics dashboard.
Which One's the Best WordPress Video Plugin?
Hands down, Smash Balloon is the best WordPress video plugin. If you consider the balance between price, performance, and features, there's really no contest. We recommend that you go ahead and start creating your feeds right away. And how to set up a viral giveaway to supercharge your social media following.
After that, all that's left is generating traffic to your site so that your social feeds can get to work.
A simple way to do that is to start using push notifications. Sending push notifications is a great way to generate repeat traffic for your site. If that's something you're interested in, you should check out these articles as well:
We recommend using PushEngage to send your push notifications. PushEngage is the #1 push notification software in the world. So, if you haven't already, get started with PushEngage today.