Are you looking for social media giveaway ideas to grow your business?
Running contests on social media is perfect for:
Raising brand awareness
Increasing engagement
Getting more sales
But how do you get started? What kind of a budget do you need? And will it work? What kind of a follower count do you need already? In this article, we're going to explore some social media giveaway ideas and answer all these questions for you.
Let's dive in.
How Do You Make a Good Social Media Giveaway?
The easiest way to run a successful social media contest is to use an online giveaway tool. We recommend using RafflePress to create your giveaways.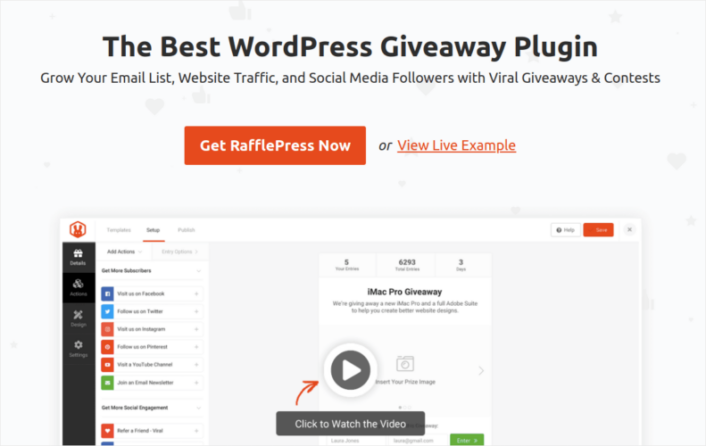 RafflePress is a visual giveaway builder for WordPress that helps you create and run contests and giveaways for your site. Even the free version comes packed with a ton of amazing features you can use without spending any money.
RafflePress was built to be beginner-friendly. That's one of the biggest problems this plugin solves. There's absolutely zero learning curve. On top of that, you get a library of powerful templates to:
Grow a segmented email list
Build traction with referral marketing
Run a pre-launch giveaway
Get social media followers
Redirect traffic to your blog
Popular features include:
Beginner-friendly drag-and-drop giveaway builder
Comes with tons of time-tested giveaway templates
Social media follow options
Built-in referral marketing options
User-Generated Content for any contest
No code campaign designs
Custom landing pages for giveaways
Custom giveaway rules
Email marketing integrations
Easy tracking and retargeting
Giveaway entry management inside WordPress
Helps reduce spam entries
Mobile-friendly campaigns
We wrote a detailed review of RafflePress. You can check that out for a deeper look at the features. In our honest opinion, RafflePress is one of the best WordPress giveaway plugins for businesses of any scale. It doesn't matter if you're just starting out or if you're looking to scale. RafflePress has powerful contest options that can help you boost traffic and engagement easily.
Best Social Media Giveaway Ideas
Now that we have a better idea on where to get started, it's time to check out some social media giveaway ideas.
#1. Share a Photo Contest
The first social media giveaway idea is to create a share a photo contest. It's a great way to gather user-generated content from your audience, and you can use it to showcase the features of your products or services. You can ask your subscribers to snap photos of how they use your products in return for entries. This works great for direct to consumer brands.
Gansetts Beer ran a photo contest for Valentine's Day. To enter, fans had to share a photo of what Valentine's meant to them. The winner received a dozen roses to give to a loved one.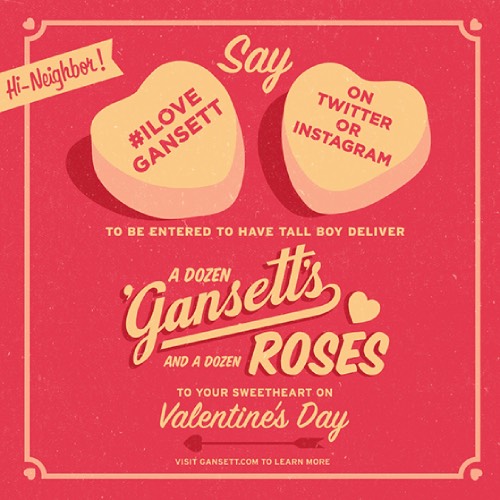 And you can choose a winner by asking people to vote for the best photo. Or, you can have a panel of judges to decide winners. Just make sure that the prizes are great!
#2. Submit a Video Social Media Contest
Instead of a photo contest, you can create a video contest with a giveaway. If TikTok has proven anything at all, video contests are great for engagement.
You can also create a YouTube giveaway very easily. But unlike a photo contest, we recommend actively using engagement on the video to select a winner.
Pro Tip: You should also embed the YouTube videos of all the top participants of the giveaway on your website. It's a great way to exchange traffic between your site and your YouTube channel.
#3. Sweepstakes Social Media Giveaway Ideas
You can create sweepstakes as a social media giveaway as well. It's like a lucky draw. The winner is usually drawn at random to keep things fair. Sweepstakes are a great way to generate leads.
Just like Universal Studios has its own landing page for sweepstakes: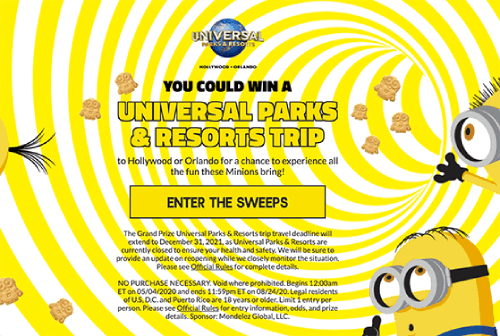 It's fun and camp, right? Where's yours?
#4. Refer a Friend to Win
Referral contests are a great way to increase your business reach. It's how Clubhouse became a massive platform in such a short amount of time. What Clubhouse did was create an invite-only platform. New members could only join through referrals.
Of course, they're not the only ones. A lot of DAOs (Decentralized Autonomous Organizations) and startups in the crypto space use similar ideas to grow. Even SaaS business have referral marketing strategies to increase their customer base.
If you're running an online store, refer-to-win social media giveaways are an extremely powerful way to get more traffic on an eCommerce site.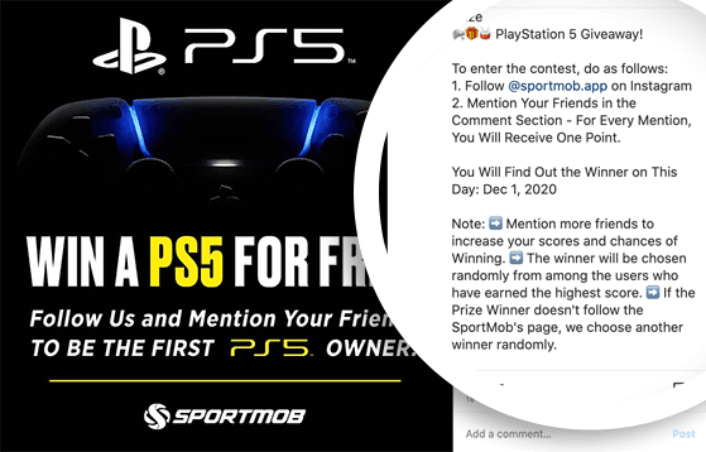 One really cool way to do this is to use a coupon marketing strategy to incentivize new subscribers and customers.
#5. Write a Caption Contest
Caption contests let users create a caption with an image in return for giveaway entries. It's super easy to do and it's a great fit for any type of business. You can either pick the best caption as the winner or draw a winner randomly.
The New Yorker does a great job of creating caption contests around their cartoons.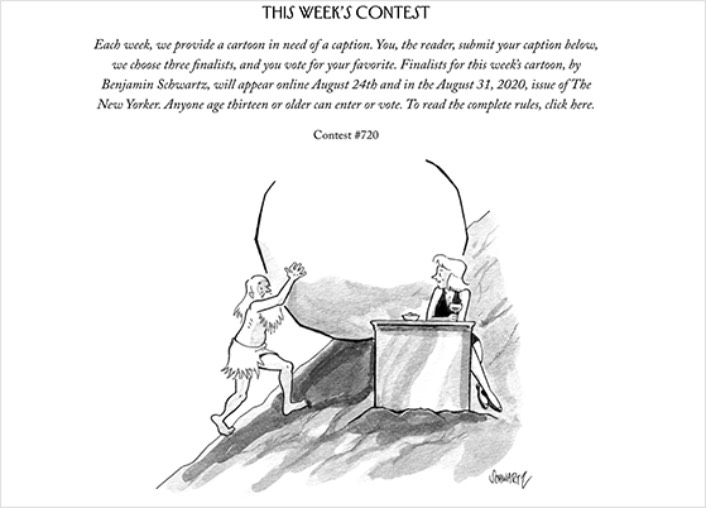 The newspaper picks 3 finalists from all submissions and lets the readers vote for their favorite caption. The winner gets to see their caption published the following week. The only promise is clout without any monetary rewards whatsoever.
#6. Comment to Win Contest
Commenting contests require users to leave a comment on your social media post for a chance to win. All you have to do is create your post with a caption explaining the entry rules and details.
Comment to win contests are among the most popular social media giveaway ideas. The great thing about this type of contest is you can run it for any social media channel. And you can use it for any brand under the sun.
If you like, you can create a caption contest in the comments section of any post. It's like a hybrid idea for giveaways. And it's super easy to do. You don't need any plugins for a comment to win contest either.
#7. Vote to Win Social Media Giveaway Ideas
The idea behind a vote to win social media giveaway is super simple. As with the comment to win, anyone can take part in it and you can combine it with other formats. The basic idea is simple: You start a giveaway contest by asking people on social media to submit their content and you ask your subscribers to vote.
You can ask users to vote for a winner in the comments section of your post or host the contest on your website and use a giveaway software to keep track of the votes. That's what Drovers did with their photo contest.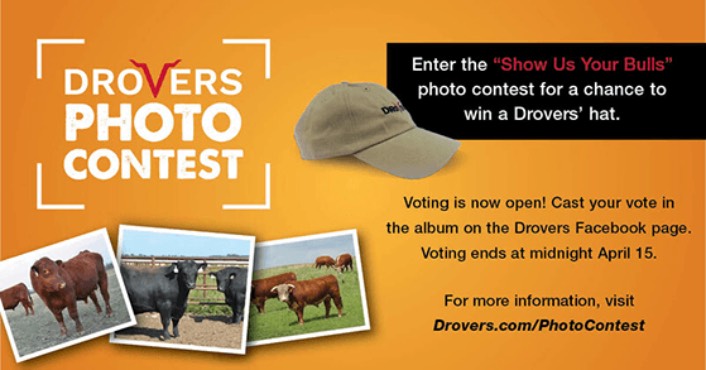 You can use the Surveys and Polls entry action in the RafflePress builder to track your votes: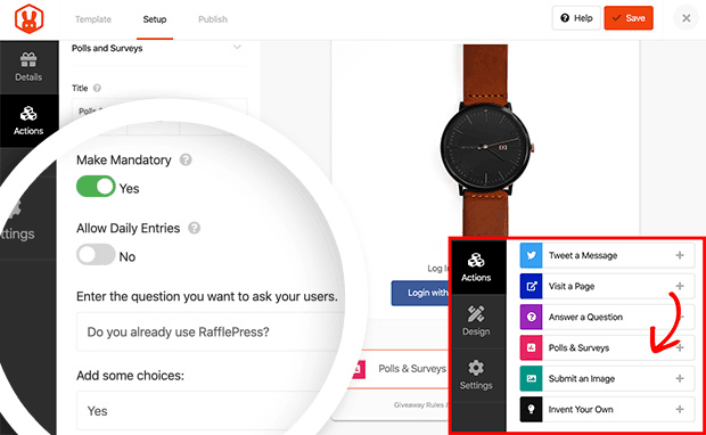 #8. Submit an Essay Contest
An essay contest might sound boring, but it's an epic way to get your affiliates engaged. For instance, you could ask for essays on:
Why users are passionate about your products
Stories about your industry people want to share
People's experiences using your products
Elegant Themes does a remarkable job of this every year with their Black Friday Sale: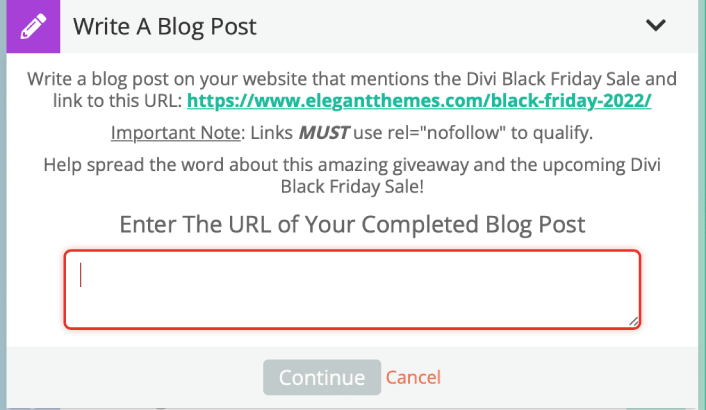 Since writing a blog post requires a lot more work than joining a newsletter or subscribing to a YouTube channel, this activity guarantees 5 entries to the raffle. If this seems complicated, it's really not. Creating a custom contest is super easy with RafflePress.
#9. Tag a Friend to Enter
Tag a friend contests encourage social media followers to comment and tag their friends. Since anyone can participate in these contests, the tagged friends tag other people in turn.
The trick is to make it super easy like Broke Green Mums did: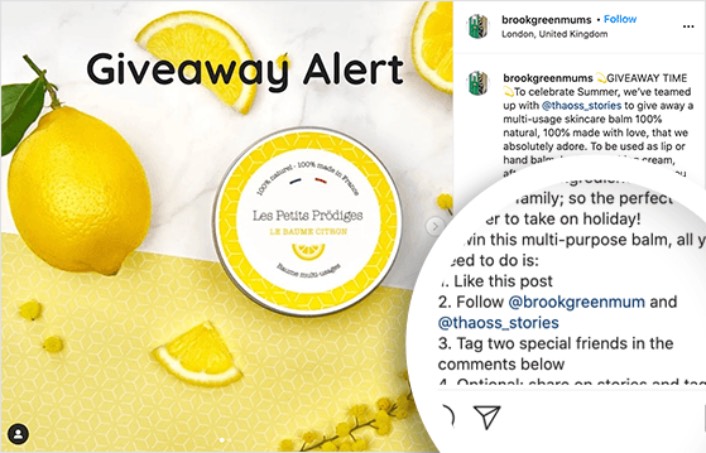 As you can see, they asked for two tags from each participant. And this is fantastic because it actually gets far more people engaged than contest that demand 5+ tags for an entry. Broke Green Mums also partnered with Les Petits Prodiges for their giveaway. So, that's another great tip if you're new to the social media game.
#10. Follow to Win Contest
A follow to win contest is one of the most basic social media giveaway ideas there is. It's a straightforward way to get more followers. They're also usually paired with a request for a like and share to increase engagement.
Lots of influencers also create a subscriber goal for their follow to win contests. Sub goals are especially popular on Twitch because of the live stream format. But you can do it on any social media platform.
Pro Tip: You should also check out our article on Twitch plugins for WordPress as well if you're trying to get more followers on Twitch.
#11. Play to Win Social Media Contest Giveaway
Loads of businesses create their own games to create social media contest giveaways. But fortunately, you can collaborate with gaming companies to create play to win contests for your own brand. Trident put together some games with the Chew Tunes contest to win a trip to the Grammys or a cash prize.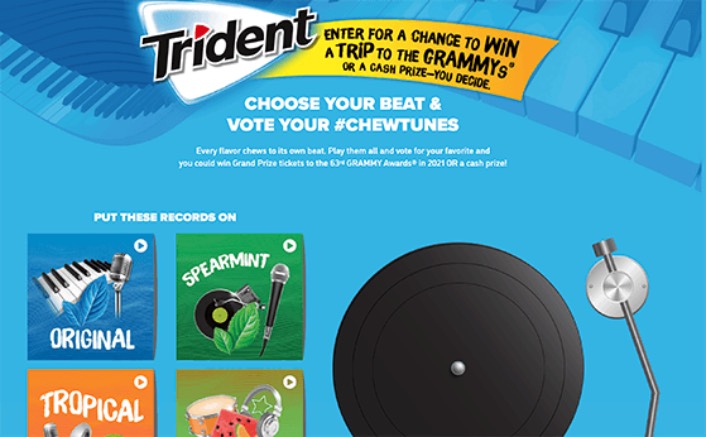 You can do the same thing as well.
What to do Now that You Know These Social Media Giveaway Ideas
That's all for this one, folks! By now, you've found some great social media giveaway ideas. You should also check out how to embed Instagram photos in WordPress. And how to set up a viral giveaway to supercharge your social media following.
After that, all that's left is generating traffic to your site so that your contact forms can get to work. A simple way to do that is to start using push notifications. Sending push notifications is a great way to generate repeat traffic for your site. If that's something you're interested in, you should check out these articles as well:
We recommend using PushEngage to send your push notifications. PushEngage is the #1 push notification software in the world. So, if you haven't already, get started with PushEngage today.