Looking for the best WordPress Twitch plugins in 2023?
WordPress and Twitch are both incredibly powerful platforms to run a content business. And if you combine both of them, you can create a complete powerhouse. But there isn't a lot of information on what plugins you should get to integrate Twitch with WordPress.
In this article, we're going to go over the best WordPress Twitch plugins that will help you:
Get more traffic to your streams
Run powerful marketing campaigns on autopilot
Create ways to stay in touch with your subscribers even if something happens to your channel
Let's dive in.
Why Do You Need WordPress Twitch Plugins?
If you're running an online streaming business on Twitch, you probably know that Twitch can completely ban you for… reasons. And it's really difficult to know what got you demonetized, shadowbanned, deleted or banned.
That's why all Twitch streamers should have a WordPress website. If you have a WordPress site, you can find ways to get in touch with your audience even if…
Your channel gets banned
Your videos get shadowbanned
Your channel gets deleted
If you're already aware of all this, chances are that you have a Discord server as a backup. But there are so many things that you can do using a WordPress website that you simply can't do on Discord. That's not to say that you shouldn't have a Discord server. Discord's great for creating a loyal community.
But a WordPress site has other advantages. One of the biggest advantages is that you can get a ton of extra traffic by embedding your streams on your site and optimizing your content to draw in search traffic. Twitch search can get you some traffic. But we all know that Twitch is a discovery platform more than a search engine.
You can use WordPress Twitch plugins to:
Broadcast your streaming status
Publish your stream schedule
Promote other Twitch streamers
Grow your email list
Attract more social media followers
If you can use other marketing channels to grow your stream, we recommend that you do it.
Another really cool thing about having a WordPress site is that it's super easy to set up an eCommerce site with WooCommerce. If you're looking to sell branded merch or info products. You can also create exclusive promos for your sponsors and affiliate offers.
Best WordPress Twitch Plugins
In this section, we'll list out some great plugins to embed your Twitch streams on your WordPress site. But we're also throwing in some epic plugins that we believe every streamer should use. And if you're new to Twitch streaming, check out our article on how to get more Twitch followers.
Let's get started.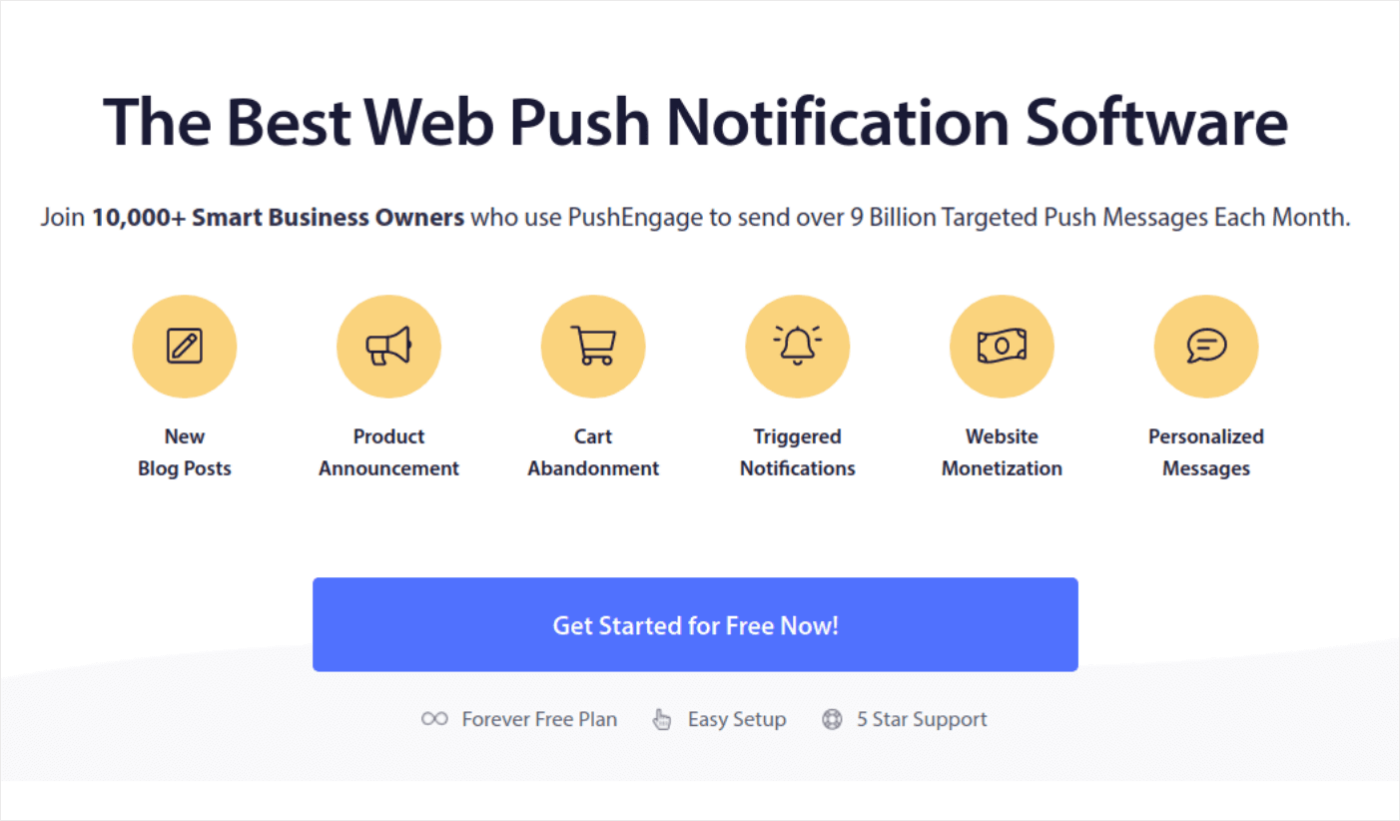 PushEngage is the #1 push notification software in the world. Push notifications help you grow your website traffic and engagement on autopilot. And PushEngage is the best plugin you can get to send powerful automated push notification campaigns.
You know how Twitch and YouTube notifications are glitchy and don't always get sent, right? With PushEngage, you can easily send push notifications to generate traffic to your streams.
Yes, you can send out a notification on your Discord announcement channel. But Discord notifications are difficult to customize and not everyone follows your Discord announcement channel because there's no clear optin.
PushEngage allows you to create custom push notifications popup modals to get push notification subscribers. So, it's way more effective than Discord. Push notifications are also extremely affordable and you can always test out the software for free before buying it.
Get started with PushEngage today.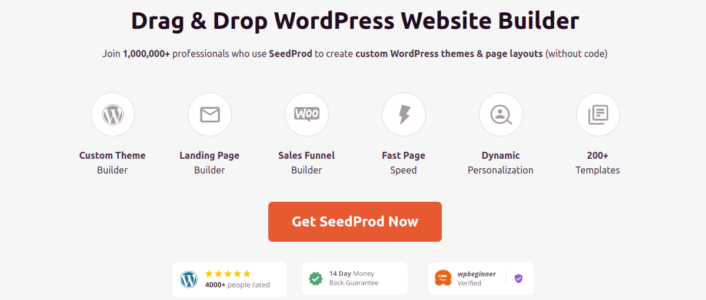 SeedProd is a visual landing page builder that helps you create landing pages that convert really well. You can use SeedProd to create landing pages for any product you want to sell. If you're running an eCommerce site, SeedProd can also help you create awesome-looking product pages that convert.
There's so much you can do with your landing pages for your Twitch channel.
For example, you can:
Embed a video player to display your Twitch streams
Include call-to-action buttons to subscribe to your channel
Use animated headlines to capture people's attention
Add a countdown timer to show when your stream starts
Embed a RafflePress giveaway to boost traffic
Include testimonials and star ratings from happy stream followers
Embed Facebook and Twitter posts or timelines related to your stream
Add WooCommerce products to promote your Twitch brand's merchandise
Run promo campaigns for affiliate products and sponsored campaigns
And lots more! We love using SeedProd and we even wrote an in-depth review of the SeedProd plugin. Go ahead and check that out!
You can also create contact forms to collect leads or even run polls on your site on what your next stream should cover. Again, you can definitely run polls on Discord or directly on Twitch. And you should. But running another poll on your site means that you can get everyone's opinion even if they're not watching you live.
Get started with SeedProd today.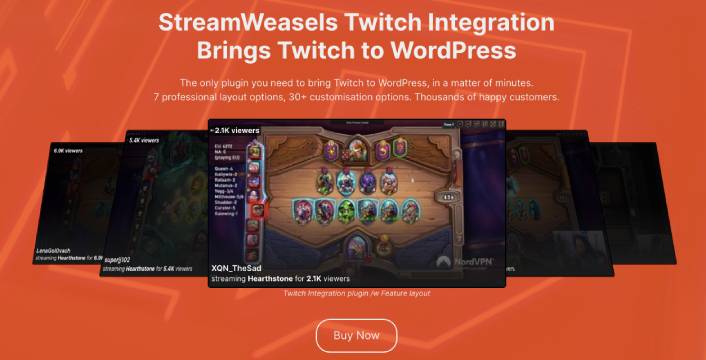 Twitch Wall Pro Branded allows you to embed multiple Twitch videos on your WordPress website. What makes it one of the best WordPress Twitch plugins is that you can create a custom wall to showcase your streams.
Some of the key features include:
Show Twitch streamers based on game, team, or usernames
Show offline streamers
Unlimited color schemes with built-in color pickers
Custom branded offline screen and logo overlay
Compact layout for a more streamlined wall
Custom width, number of columns, and spacing
You can add your Twitch stream wall anywhere using a shortcode. The walls are fully interactive and you can use them to generate a ton of engagement on your site.
Get Twitch Wall Pro Branded today.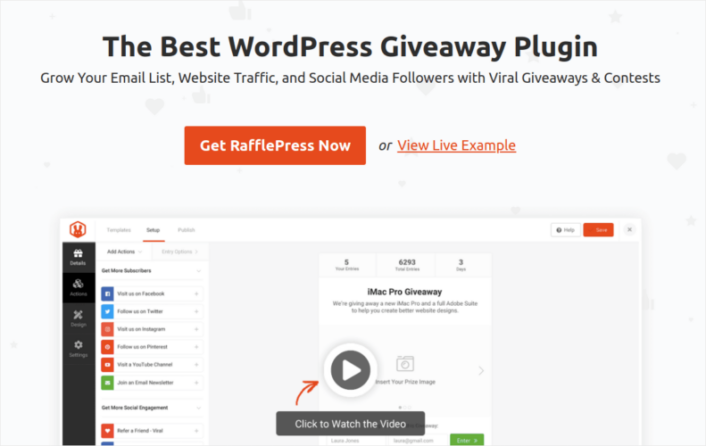 RafflePress is the best WordPress giveaway plugin on the market. It allows you to design, build, and run any type of online giveaway from your WordPress website. You can use RafflePress to grow your Twitch followers and subscribers.
The best part? You can run a Twitch giveaway completely on autopilot using RafflePress.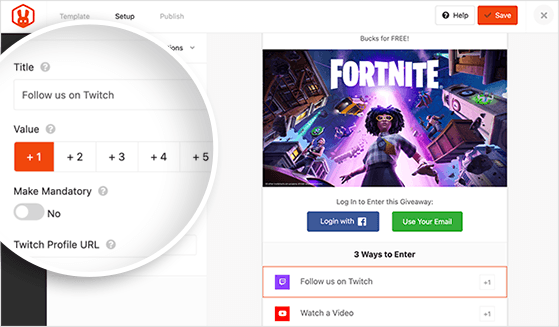 You can create a custom giveaway using a simple, drag-and-drop giveaway builder. Each giveaway asks your users to complete specific tasks to win entries to the giveaway. You can set this task to be anything you want including:
Following you on Twitch
Watching a specific video
Sharing your channel on other social media platforms
Creating content that features your channel
And a lot more!
The plugin has powerful pre-built templates that are designed to:
Grow your email list
Refer friends with word-of-mouth marketing
Run a giveaway before your site launches
Grow your Facebook page
Grow your Twitter followers
Grow your YouTube channel
Grow your Instagram following
And you can do all of it with zero coding. Take a look at our review of RafflePress, where we explored the features of the plugin in greater depth.
Get started with RafflePress today.
#5. Twitchomatic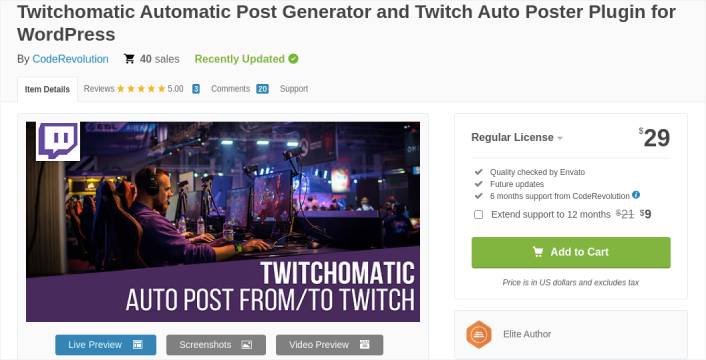 Twitchomatic is one of the best WordPress Twitch plugins to automatically post to and from Twitch. You can automatically post videos and streams from your channel to your WordPress site. At the same time, you can also upload a video to WordPress and have it automatically posted on your Twitch channel.
You can use Twitchomatic to cross-promote content from your YouTube, TikTok, Dailymotion, and Vimeo channels if you have them. It's also super useful if you want to upload mini-clips for extra engagement from Twitch's Video On Demand feature.
Twitchomatic is a great tool to automatically upload content to your WordPress site. If you have RSS push notifications running, you can also send a notification to your push notification subscribers about the video.
Every video you fetch from Twitch gets automatically resized as well. And if you want, you can also upload a custom featured image and enable or disable comments on your video using the plugin.
This plugin supports various search options, such as search by game name, channel name, language, and more. It also generates your post category and status automatically.
Get started with Twitchomatic today.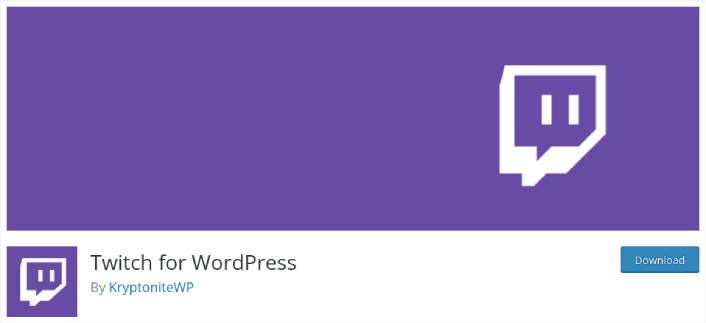 Twitch for WordPress is one of the best WordPress Twitch plugins you can get for free.
The free version allows you to embed streams directly to your WordPress site's sidebar. You can choose from 3 layouts to showcase your streams and define the maximum number of streams to show on your site. The cool bit about this plugin is that you can also set up caching to serve your embedded streams much faster.
If you'd like advanced features, such as shortcodes to embed streams in posts and pages and choose different color schemes, you can upgrade to the paid version. But if you're looking to test whether a WordPress Twitch plugin is the right fit for you, the free version should be good enough.
Get started with Twitch for WordPress today.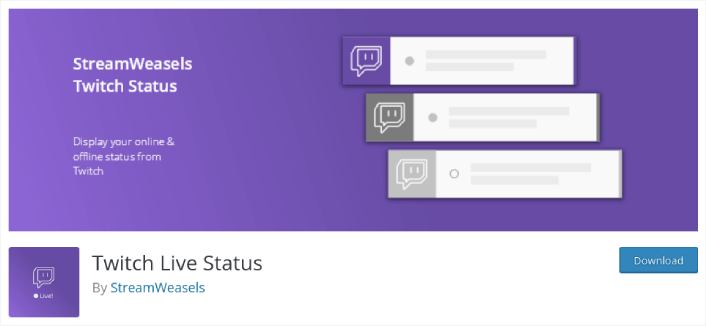 Stream Status for Twitch is a simple, free WordPress Twitch plugin. You can use it to display a notification on your site about whether you're currently live on Twitch.
Every part of the notification is fully customizable including:
Status background
Status text
Twitch icon
Icon background
So, you can stay consistent with your branding. At the same time, this small, lightweight plugin can help you get a lot more viewership for your live streams. A really good strategy is to create SEO content on your site that draws in a ton of organic traffic. Then, display the live status notification to drive visitors to your live stream.
That would be a really cool way to bring in new followers who might not even be on Twitch right now. And before you ask, yes, the notifications are clickable. so, your traffic gets redirected in a single click.
Get started with Stream Status for Twitch today.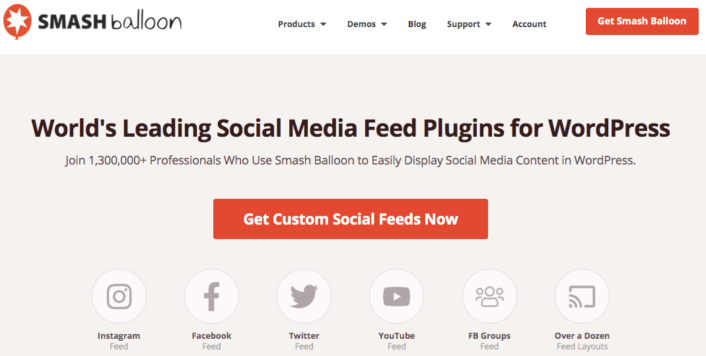 Smash Balloon is a simple WordPress plugin that allows you to display your social media feeds on your site without using any code at all.
You can use Smash Balloon to create custom social media feeds for your WordPress site in a few clicks. There's no coding involved and no need to hire a developer. And you get to integrate Instagram, Facebook, Twitter, and YouTube feeds together or separately as you wish.
A really cool way to use a plugin like Smash Balloon is to use social media feeds to create a testimonial wall. But you can also use it to promote your other social media channels to your Twitch audience and vice-versa.
You can use Smash Balloon to:
Use your hashtag feeds on your site as social proof
Display interactive Twitter feeds to boost website engagement
Embed your YouTube videos on your site to grow your subscribers
Add authentic Facebook Business Page reviews to your site to increase conversions
And lots more!
If you frequently cross-post to YouTube you'll love Smash Balloon's YouTube Feed plugin. This tool helps you automatically fetch video content from your YouTube channel to WordPress.
The best part? It's incredibly easy to use.
Smash Balloon takes barely 5 minutes to set up. And there's no learning curve at all.
Get started with Smash Balloon today.
What's the Best WordPress Twitch Plugin for You?
It's time to find out what's the best WordPress Twitch plugin for you.
Our recommendation? Get them all. Every plugin on the list serves a different purpose. You should get:
PushEngage to create a list of your subscribers that isn't owned by third-parties
SeedProd to quickly launch high-converting landing pages to support your marketing campaigns
Twitch Wall Pro Branded to create custom walls of stream embeds that you can promote across your site
RafflePress to launch a hasslefree giveaway contest on Twitch with zero coding or management issues
Twitchomatic to automatically set up cross-posting between your Twitch channel and your website
Twitch for WordPress for a simple way to embed your Twitch streams on WordPress without any fancy features
Stream Status for Twitch to redirect passive website traffic to your live streams
Smash Balloon to cross-promote your other social media accounts effectively.
We recommend getting started with web push notifications because most other streamers aren't doing it yet. Check out these epic resources that will help you get started:
And if you haven't already, go ahead and give PushEngage a try. PushEngage is the #1 push notification service in the world. So, if you're serious about growing your business, you should invest in PushEngage.
Push notifications are helping businesses grow across the world. Are you just going to wait for your competitors to start using it before you?