Hello, Engagelings.
Exciting news: we just launched campaign templates to help you make the most of your PushEngage subscription.
Our campaign templates will not just save you a ton of time in launching a new push notification campaign for your brand, but also give you amazing ideas on what kinds of campaigns you should create.
On the surface, it seems like a minor update. But it's not. There's a lot to unpack. We've also made it super easy to use. A lot of work went into this upgrade and we think that you'll love it.
Let's dive in.
Why Should You Care About Push Notification Templates?
The push notification templates we just launched are not just random notifications. We have thousands of customers sending 15+ billion push notifications a day using PushEngage.
Yes, that's a lot of notifications.
And we went through all those notifications to find the most high-performing ones to turn them into a template. So, you know that these templates are proven to get more views and higher click rates.
Why Did We Launch Push Notification Templates?
In the past couple of weeks, we've had a huge influx of new customers. Of course, we're extremely thrilled with this development. But one of the questions we received most often was, "What kind of campaigns is the right fit for our business?"
And that's a really good question.
The truth of the matter is that you can use almost all the different campaigns in varying ways to grow almost any business. But takes some experience and expertise with marketing to know about these use cases.
So, we're not just launching a library of templates that serve all industries equally. It's our intention to build the world's largest library of push notification templates. Over time, we'll add more and more templates for each campaign type. And at some point, we want to have a template for you that you can use right out of the box no matter what business you're running.
For now, we're categorizing our templates by business goals: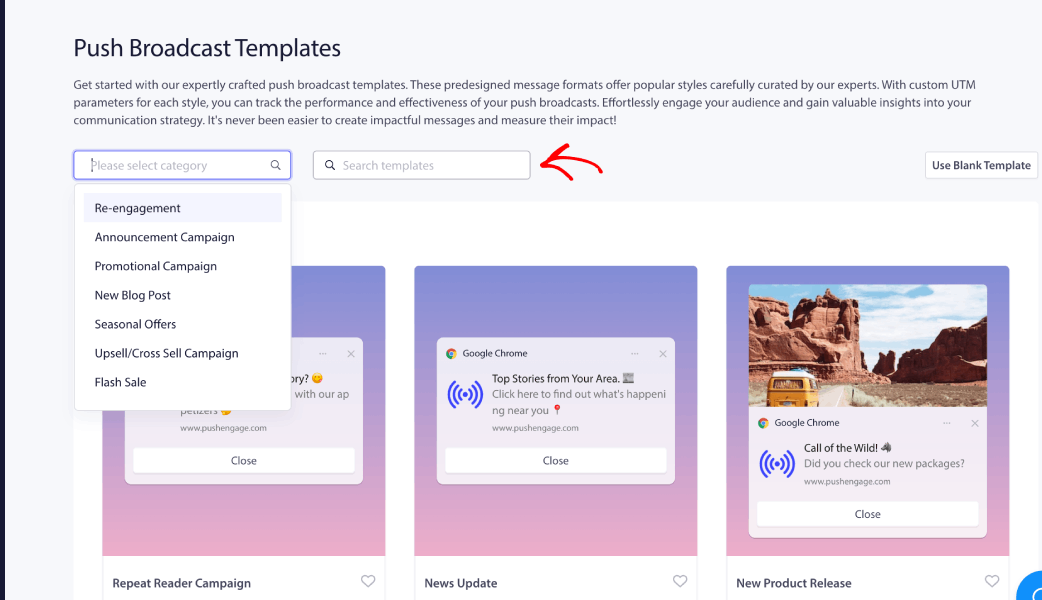 Currently, we have push notification templates for:
And the coolest part is that even our free users will get access to some free templates. Of course, you can always upgrade your PushEngage account to access rich push notifications with more powerful features.
How to Access the Templates
Head over to your PushEngage dashboard and go to Campaign » Push Broadcasts and click on Choose from Templates: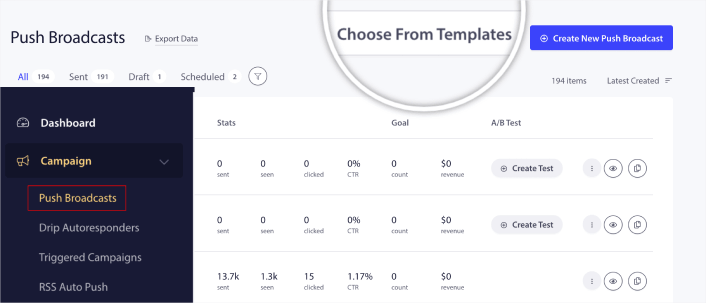 Next, you can select a template to get started with from the library: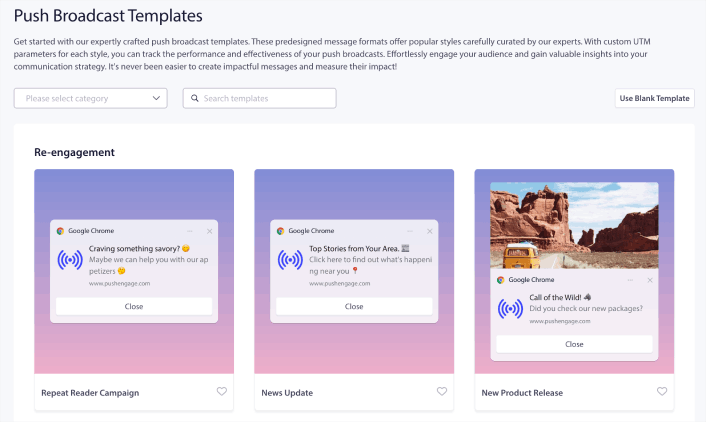 Simply hover on any of the templates and click the Use Template button to create a new push broadcast using that template: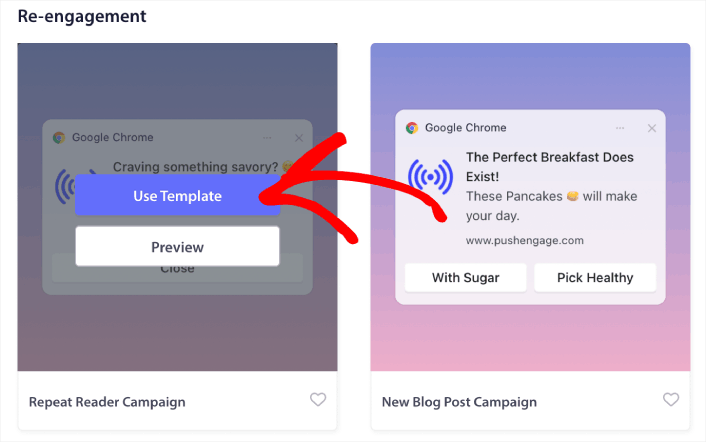 When you use the template, it will automatically fill out all the fields you need to create a new push broadcast by fetching it from the template. Of course, you can edit all the fields to suit your brand more. But you can also send out the broadcast as is if you like.
How to Run A/B Tests on Templates
Running an A/B test on your push notification templates works in the exact same way as normal push broadcasts. Just click on the link on top that says, +Add A/B Testing: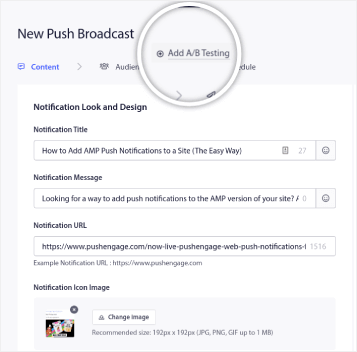 You can even use a template inside your A/B tests to quickly populate all the fields in your push broadcast:

And this way, you can get both your campaigns and your A/B tests launched much faster.
What Else?
We know that growing a business is hard work. At PushEngage, we're always looking to improve our product and your experience. We launched this new feature to help you get even more value out of your PushEngage subscription.
Thank you so much for reading this announcement.
If you have any questions, our Customer Success team is here to help. Just start a conversation on Live Chat or check out our contact page.
And thank you for using PushEngage. Whether you're using the free version or the Enterprise version, you're just as important to us. The new templates are meant to help you succeed and we wish you all the very best.
Let us know your thought in the comments below and if you haven't already, get started with PushEngage today!