Looking for a PushEngage alternative to send push notifications?
A much simpler way to look at the same question is whether PushEngage is worth the price. Can you get a good return on your investment from push notification campaigns? Can you make serious money from automated push notifications? What do you miss out on if you don't use PushEngage?
In simple terms: Does PushEngage offer enough value to justify the cost? And what are the other big players in the market?
In this article, we're going to try and find a PushEngage alternative for you that fits you better. But fair warning, it's super difficult to do. PushEngage was built to help small businesses grow and compete with big businesses.
So, let's take a close look at what you're actually missing before you switch services.
What Is PushEngage?
PushEngage is the #1 push notification software in the world.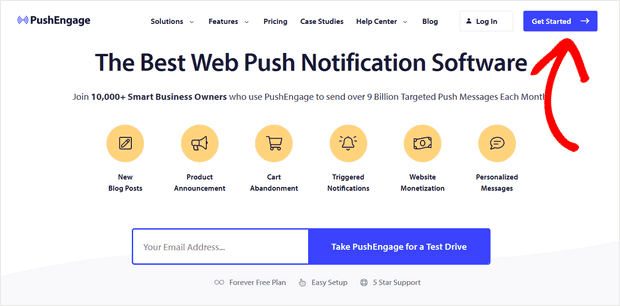 PushEngage helps you grow your website traffic and engagement on autopilot.
And if you're running an online store, PushEngage also helps you grow your sales by helping you create automated eCommerce push notifications.
You can get started for free, but if you're serious about growing your business, you should buy a paid plan.
Here's what you can get from a paid plan:
High-converting campaigns including Drip Autoresponders, Cart Abandonment Campaigns, Price Drop Alerts, and Inventory Alerts
Higher subscriber limits so that you can keep growing your push notification subscriber lists seamlessly
Higher sending limits so that you can send more push notifications across different campaigns as your business grows
More ways to target campaigns, including Customer Timezone Sending, Custom Triggered Campaigns, and Personalized Smart Tags
Goal tracking and advanced analytics to always keep improving the ROI on your push notifications
Split testing which allows you to test your copy, images, or display rules to see which converts the best
A Dedicated Success Manager to help you with Success Scripts, Behavior Automation, and Follow Up Campaigns
And these features are built to help small businesses grow. Take a look at our case studies and you'll know how all kinds of businesses have enjoyed a lot of success from PushEngage's push notifications.
You'll see that PushEngage is hands down the best bet if you want to build traffic, engagement, and sales for your business. And if you're on a budget, you can always get a little bit creative with your push notifications.
And if you didn't know about the types of benefits you get from PushEngage, you should check out our PushEngage review for a better idea.
Can Sending a Push Notification Cost Nothing?
By now, you've seen at least a few push notification services that offer a free version.
So, what does that even mean?
You can have two types of free push notification services:
Free push notifications with limitations
Free trial for a limited time
And then, there's the third kind of push notification service, which seems to be 100% free.
Notice our choice of words, "seems to be 100% free".
Never Use Free Forever Push Notifications with Unlimited Access
It always feels great when you get your hands on free software. But before you invest your money in push notification software, you should check out our article on how "free forever" push notification services often make money at your expense.
But here's the short version: Avoid push notification tools that cost nothing with unlimited access at all costs! Especially the ones that offer eCommerce push notifications for free.
By this, we mean transactional notifications like the ones you get from Amazon. It can be super tempting for you, especially when you're running a SaaS startup. But it's really not a good idea.
These are some of the most dubious push notification services in the world. Here are a few reasons:
Reason #1: Free Push Notifications Sell Customer Data to Make Money
Push notifications cost something to send. So, any decent push service will charge you to send notifications. This is especially true for automated push notifications with options to segment your audience.
There are server costs to maintain each customer's account as well. The more complex the service offered, the costlier it is to manage server expenses. This is why the push notification services with a free tier will only offer you very basic campaign options in the free tier.
How does a business survive that much expense?
You have zero incentive to shift to a paid plan if they're giving you everything for free, right?
So, to cover the cost of sending push notifications, forever-free push notification services will sell your data.
For example, the privacy policy of Truepush mentions that "…same data may be anonymized and shared internally or externally." If you dig a little deeper, you discover that they can even place cookies tracking your subscribers and their behavior: "…We or our ad-service platform may deploy online cookies to track users across websites or to associate users…"
FoxPush does something similar where they state clearly in their Terms and Conditions that they, "…collect, use and disclose the Publisher Data to third parties…"
In simple terms, these vendors collect your data and your subscribers' data and sell it to third-party apps that serve ads. And your competitors are the ones who'll be using this data to buy ad space and poach your customers.
Sometimes, it's not really as harmful as all that. In some cases, your app users might end up seeing social media ads from businesses that complement your business. But if you're running an app development startup or even a SaaS startup, do you really want to take that chance when customer retention is already difficult?
Also, it doesn't matter if you're running a WordPress site or a Shopify store. The servers that allow you to send web push or mobile push notifications don't depend on what platform your website is built.
Reason #2: GDPR Compliance Issues Can Cost You Your Business
European regulation has made it mandatory for websites to follow GDPR to safeguard user data and privacy. GDPR maintains that user consent is taken before planting cookies.
Most of the free push notification service mentions that they are GDPR compliant. However in case, your subscriber wants to be removed from the list, they have to contact the third-party vendor. Take a look at what's mentioned in the Foxpush cookie policy:
"With regard to Cookies installed by third parties, Users can manage their preferences and withdrawal of their consent by clicking the related opt-out link (if provided), by using the means provided in the third party's privacy policy, or by contacting the third party."
At PushEngage, we make sure that our customer is compliant with all the regulations. We have features that specifically help the customer to be GDPR compliant. A few of the features are:
Legal Consent: You have the option to show the legal consent to customers.

Unsubscribe Option for Subscribers: PushEngage allows you to enable unsubscribe option. A user can unsubscribe by clicking the button.

Reason #3: "Unlimited Free" is the Same as Abusive
There's no such a thing as "unlimited free" of anything. We understand that you want to lower your push notification cost to optimize your marketing budget. But there's a catch with using unlimited free push notification services.
Every plan for every push notification service must have a Fair Usage Policy (FUP). The FUP restricts the number of push notifications you can send to each of your subscribers in a given time frame.
In simple terms, the FUP prevents you from spamming your subscribers with too many push notifications.
And this is a healthy practice. Sending too many notifications will result in your subscribers getting sick of hearing from you. Not only will they unsubscribe from push notifications, but they're also likely never going to buy from you again. This is especially true for subscribers on mobile devices.
Now, if you also consider the push notifications that your vendors will send to serve ads that make money, you'll definitely be spamming your subscribers.
But that's not all that could go wrong.
Google's bots auto-subscribe to push notifications from every website in their index. And if they suspect that you're sending out abusive content, your site gets flagged for enforcement.
What happens if your website gets flagged? Who will take the responsibility? The service provider doesn't guarantee that your site will never be flagged for abusive push notification content.
Web push notifications are built specifically for browsers and Chrome occupies the largest share of all actively used browsers.  If you get flagged by Google for sending abusive push notifications, you will lose out on a big share of your target market.
5 PushEngage Alternatives to Check Out
Before we start things off, you should know that some free push notification services are listed here. But most of these services aren't 100% free. They either have a free basic model to get you started or a free trial for a limited number of days. Also, if you compare any of these alternatives feature for feature, you'll see that it's really not worth switching away from PushEngage.
You should also check out our article on the best push notification services before you dive in. That way you'll have an even better idea of what to expect from push notification software.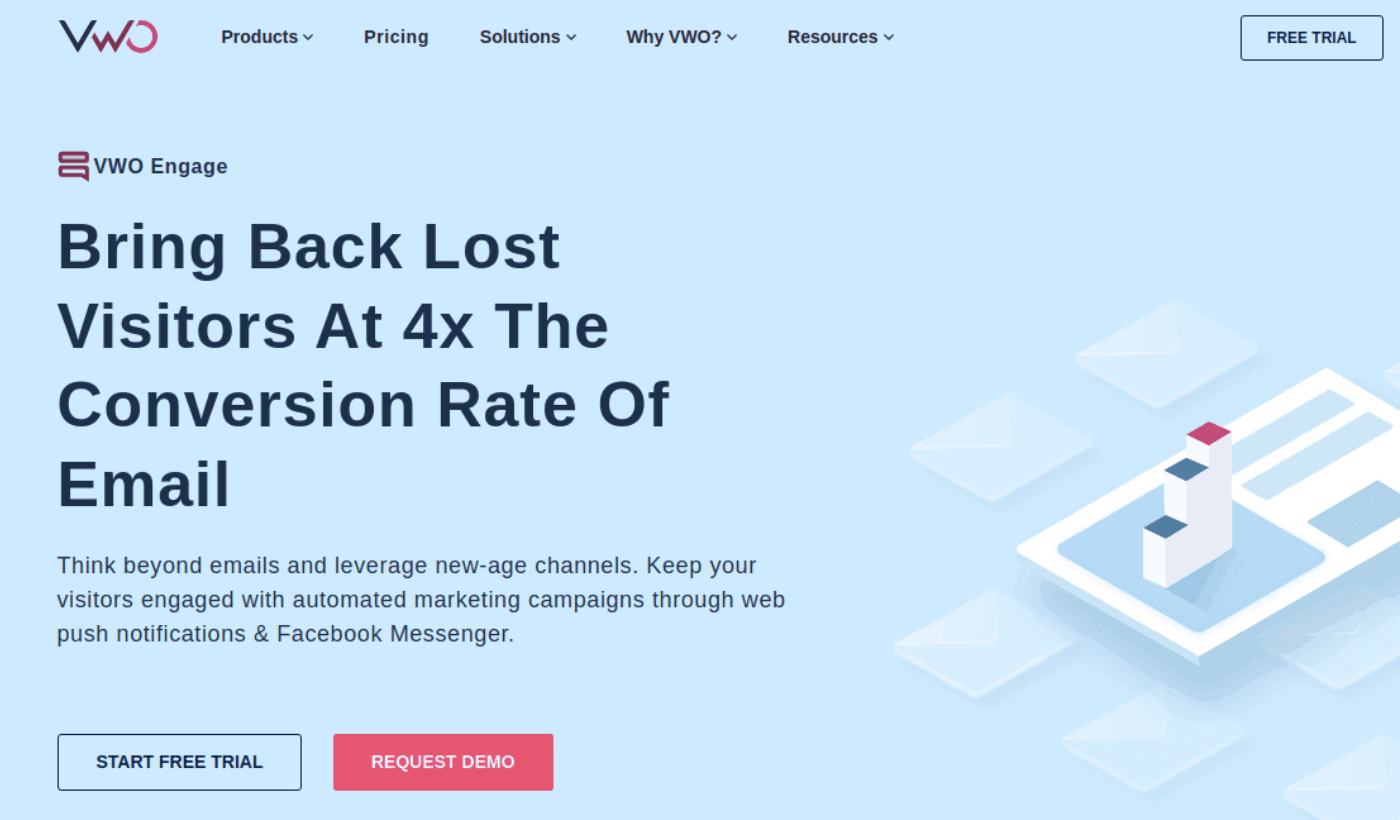 VWO (formerly PushCrew) is one of the most popular PushEngage alternatives in the market.
Their core focus is on customizable triggered push notifications for any visitor activity on your site. The activity that triggers a notification could be literally anything from a button click or time spent on a page or even scrolling down to a percentage of any page. It's entirely up to you to decide how you want your notifications to get triggered.
Full Disclosure: You'll need some developer support here because the automated campaigns on VWO are pretty advanced and are mostly based on their API. VWO's segmentation tools and engagement campaigns are pretty limited as well. The upside is that you get detailed analytics, subscriber segmentation options, and A/B testing.
In short: VWO's perfect for a large organization with a tech team that understands how to implement web push using code.
If you need a more detailed breakdown of whether to pick PushCrew or PushEngage, check out this feature comparison of PushCrew vs. PushEngage.
Also, there's no free version. You get a 14-day free trial (no credit card), and then you get charged $99/month for up to 10,000 subscribers and unlimited notifications. Check out our article on PushCrew alternatives if this doesn't seem like your thing.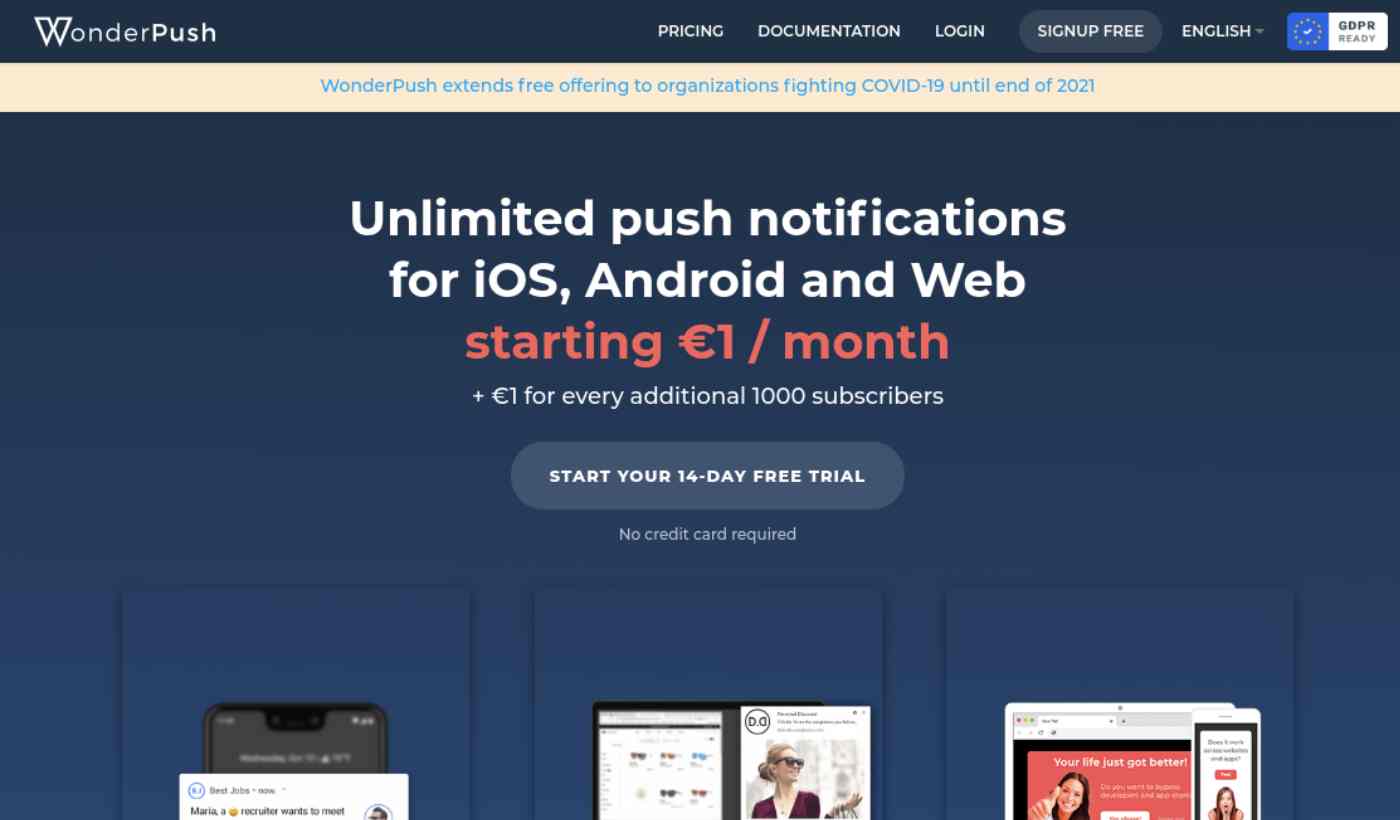 Wonderpush comes with all the standard features as the other push notification apps on this list.
The core focus of Wonderpush seems to be eCommerce push notification campaigns. It's effortless to set up a cart abandonment campaign. It's also fairly easy to personalize your push notifications.
Wonderpush allows you to add unlimited members to your dashboard as well. So, if you're looking for a OneSignal alternative for eCommerce sites, this is a good pick.
Like Webpushr, Wonderpush also gives you full access to all their features, but you can collect only a limited number of subscribers. They offer a 14-day free trial (no credit cards needed) for their paid plan.
The plan itself is straightforward. Pricing starts at €1 per month for up to 1,000 subscribers. After that, it's an extra €1 for every 1,000 subscribers. The only thing that puts us off about Wonderpush is that it's costly after a point because they don't seem to offer bulk discounts.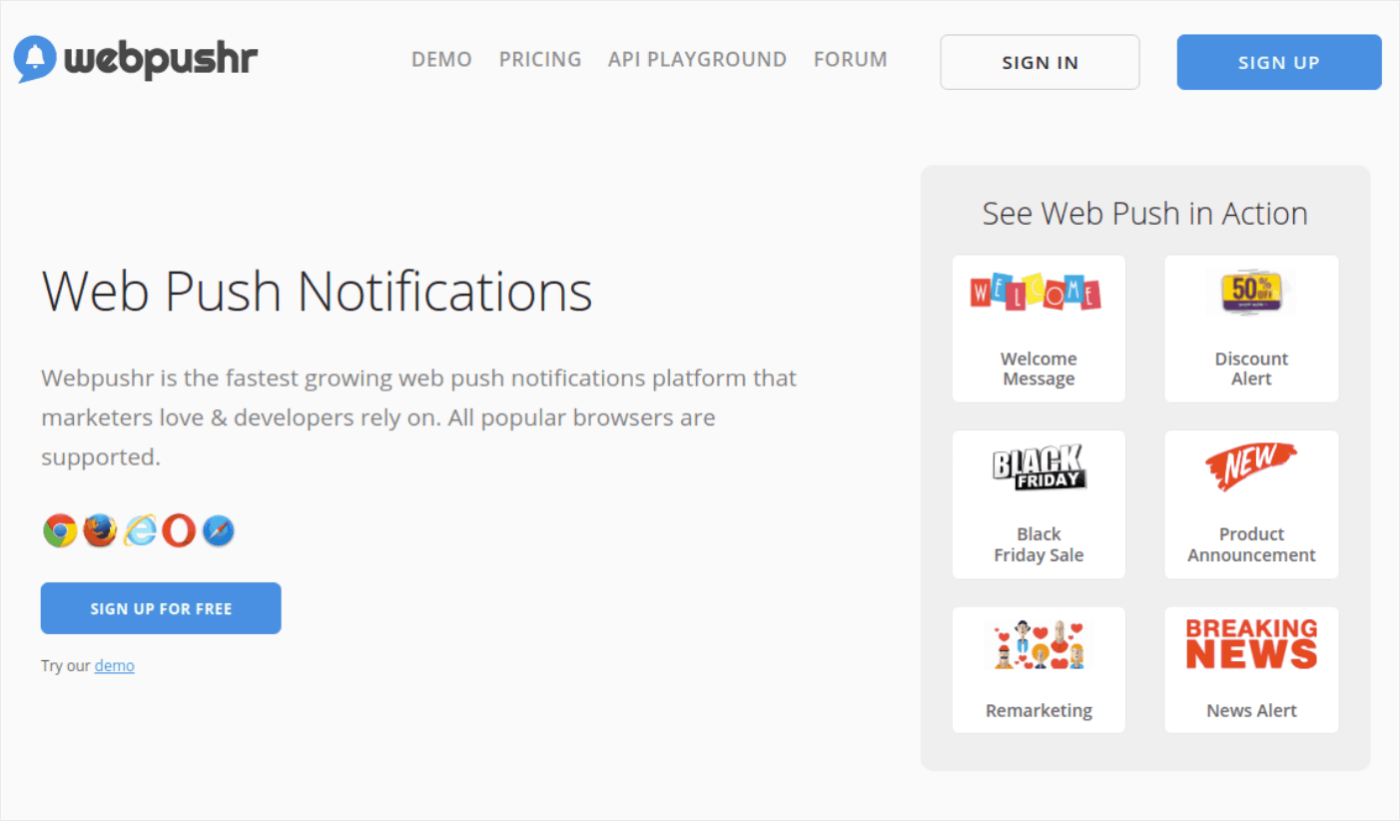 Webpushr is another straightforward but easy-to-use PushEngage alternative.
The dashboard is highly focused. So, if you're not used to marketing software, you're not going to get overwhelmed with this solution. You get standard targeting and personalization features along with powerful integrations with WordPress and WooCommerce.
So, your campaigns are going to be easy to deploy as well.
Webpushr gives you full access to all their features on all subscriptions, including their free tier. The only restriction is in how many subscribers you can have. The free plan supports up to 10,000 subscribers. So, if you're just getting started with push notifications and you want to test things out, Webpushr's a fairly good option.
The problem begins when you start paying for higher subscriptions. Webpushr's paid plans start at $29/month for only 50,000 subscribers and can get pricey real fast.
Take a look at this list of Webpushr alternatives before you make a decision.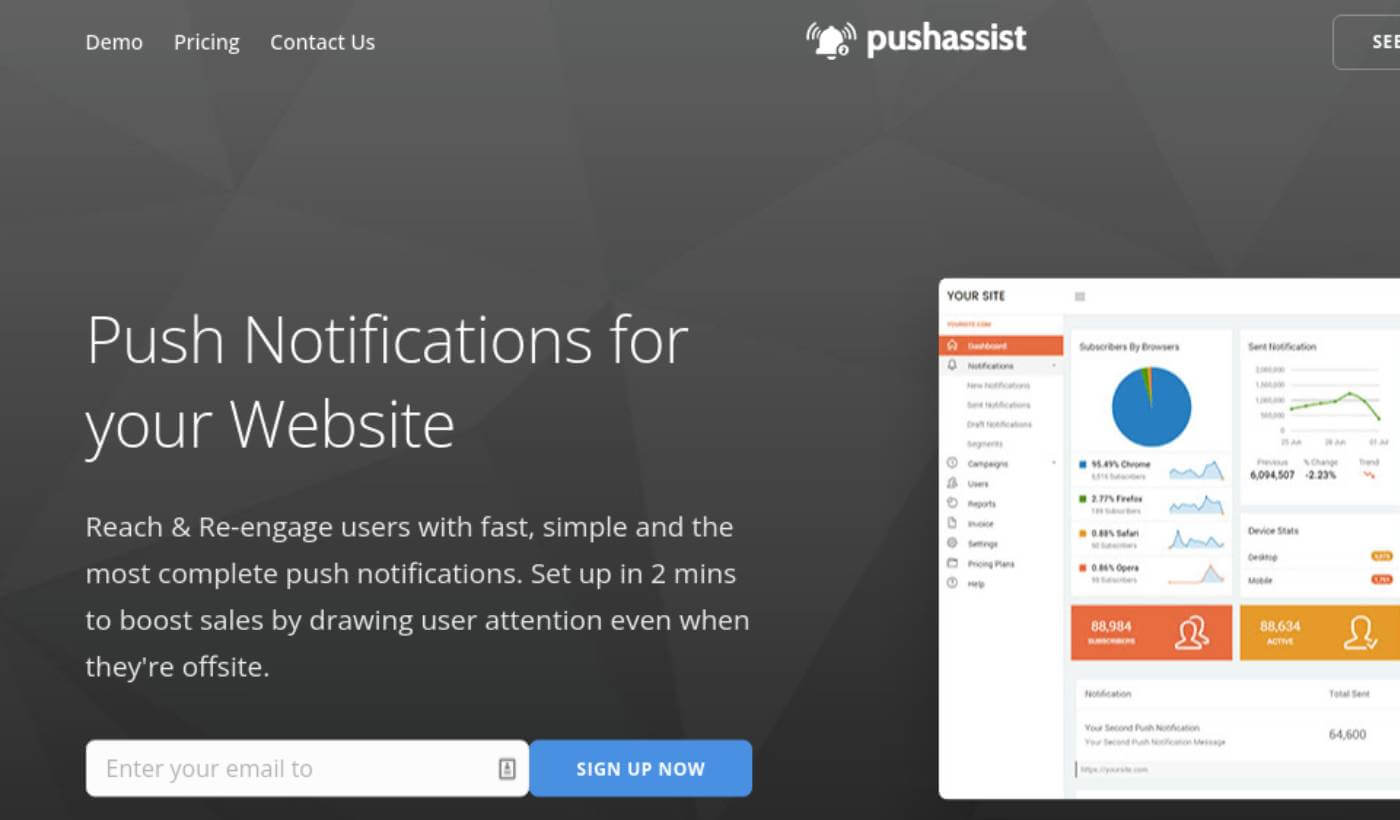 PushAssist gives you an interface that's very similar to Firebase or Google Analytics. So, if you have some experience with either software, PushAssist will fit in nicely with your marketing team.
As with all other top-tier push notification tools, PushAssist comes with segmentation tools, push notification scheduling tools, personalization options, support for most popular browsers, and detailed analytics.
Like PushEngage, you can also sign up to be a publisher partner to show ads using push notifications and monetize your blog. PushAssist's free plan gets you 3,000 subscribers and unlimited notifications.
The only downside is for the free plan is that you can't get rid of the PushAssist branding from your push notifications unless you buy the Business plan that starts from $25/month for up to 3,500 subscribers.
Side note: While we haven't found anything unethical in PushAssist's software, we'd ask you to be a little bit wary of any PushEngage alternative that offers unlimited notifications. Sustaining a server that runs push notification software can be pretty expensive. So, using a service without a Fair Usage Policy (FUP) can be very dangerous. That's why we don't recommend using Firebase Cloud Messaging, even though it's free.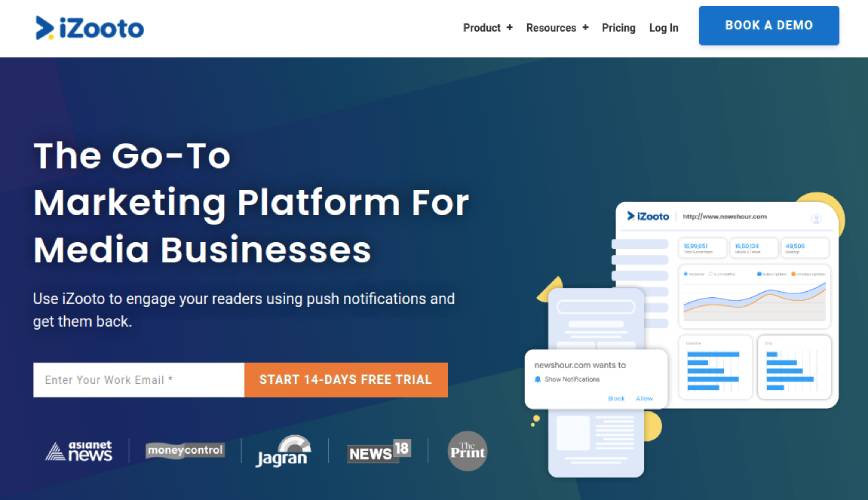 iZooto is another popular PushEngage alternative. Like all the other big players in the industry, iZooto offers real-time push notifications, recurring notifications, and scheduled notifications.
What we loved about iZooto was that they focused heavily on personalization. Their optins are built to capture visitor attributes and interests (a fancy way of saying that they store personal details to personalize their campaigns).
Pro Tips: Don't go overboard with the customer data you collect. And if you do, make sure that your push notifications are 100% GDPR compliant.
The flip side of using iZooto is that it doesn't work on sites without an SSL certificate.
iZooto costs from $85/month, which gives you up to 30,000 subscribers and unlimited notifications. Considering the plan's pricing, we can safely say that it is pricey. But with that pricing model, they can actually support sending unlimited notifications.
The best part is that you can take a 14-day free trial (no credit card required).
Is There a Good PushEngage Alternative Out There?
PushEngage is the best push notification software in the world. Sure, there are PushEngage alternatives out there but none of them can really compete in terms of pricing, features, ease of use, or customer support.
If you gave PushEngage a shot already and it didn't work out so well, you should check out these resources to increase the returns on your investment:
Trust us when we say it, it's way better than switching services.
We recommend using PushEngage to create your push notification campaigns. PushEngage is the #1 push notification software in the market and your campaigns will be in safe hands.
So, if you haven't already, get started with PushEngage today.