You can find great in-app notification examples every day.
Most people think that it must take a creative genius to create push notifications that your audience will love. In reality, there's a method to madness.
It's mostly about:
Knowing what your audience is interested in
Consistently staying in touch with your audience
A little bit of humor mixed with content that's useful
Does that sound like marketing with any other tool?
That's because it is.
But don't worry if you're just getting started or running out of ideas for your push notification campaigns. We are PushEngage – the #1 push notification software in the market and today, we have epic in-app notification examples that you can use for your brand right now!
The best part? We're going to break it down for you so that you know exactly why it's so good. This way, you can use it for your brand effectively.
Let's dive right in.
QuizUp
QuizUp is basically a quiz app. Yes, it's very punny and that's the way it's supposed to be. The whole vibe of QuizUp was a fun game that didn't take itself too seriously.
Just take a look at this win-back push notification:
Most customers are so fed up with the usual win-back strategies that the "we miss you" messages get ignored. So, QuizUp stayed true to its own brand and sent out this hilarious push notification.
The cool part is that this is a type of re-engagement campaign that you can set up on PushEngage as well. You can create a segment of customers who haven't interacted with your push notifications in a while and send them a win-back campaign just like this one.
SimonCircles
We love funny campaigns more than serious ones. Especially if the audience finds it funny too. This next one by SimonCircles is pretty funny.
Again, it's in the same vein as QuizUp.
SimonCircles is an Android game. So, rather than sending a serious message that's to the point, they created a playful drip sequence of two push notifications that gets triggered when someone beats the high score: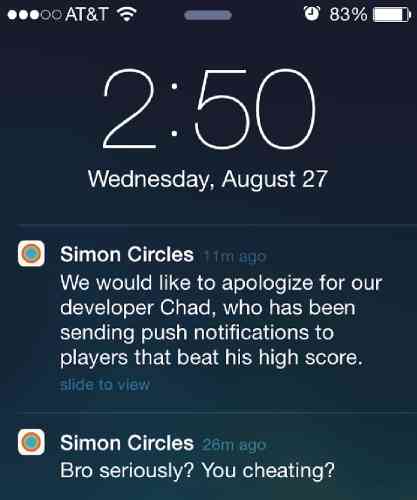 It's cute, playful, funny, and gets users in a competitive mood to see more funny push notifications when they beat the high score again.
Another great thing here is that SimonCircles makes fun of itself rather than its users, which makes it so likeable.
Sounds fun, doesn't it?
You can set up your own drip push notifications as well. Check out this article on how you can use drip push campaigns for your own brand.
Netflix
A list of push notification examples would be incredible without the King of Bingeable Content. That's right, we're talking about Netflix's epic push notifications.

Anyone who's seen Narcos will know exactly why this push notification is so epic. And that's exactly the point.
There's a reason why Netflix can step into the ring with players like Disney and Amazon.
Netflix understands its audience really well because it acts as a content discovery platform rather than a search engine.
And there's an epic marketing lesson right there: Knowing your audience means that you can personalize your push notifications according to their interests.
We'll show you a few more examples of personalized push notifications later in this article.
So, keep reading!
But if you'd like to send personalized push notifications from PushEngage, you can do that as well. Just check out our article on personalized push notification campaigns that work for more epic ideas and a walkthrough of how you can create personalized campaigns for your brand.
Tinder
Tinder has always been a little edgy, a little bit risqué with their tone and voice. Their push notifications are no exception: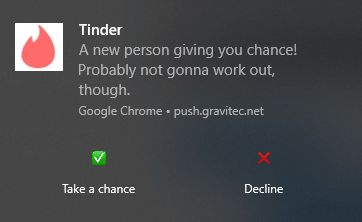 On the surface, this probably sounds insulting to a lot of people. These would be people who've never struck out on Tinder. Being edgy works for Tinder because their core audience is young, sarcastic, and edgy too.
This is a simple push alert meant to get people interested in the app again. It's so effective because it almost dares people to come back online and prove the push notification wrong.
It's a modern twist on the principle of Fear Of Missing Out (FOMO). FOMO is one of the most powerful methods of converting a user into a buyer. Check out this article for more clever FOMO marketing examples.
Mashable
Ever heard of click-baiting?
Gurus will tell you that click-baiting doesn't work anymore and it can turn your readers off instead. The truth is…
If you click-bait someone and deliver on your promise, it's one of the most impressive ways to drive engagement.
Just take a look at this creative push notification by Mashable: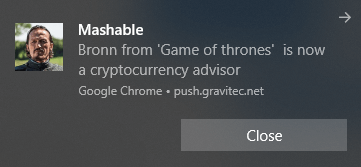 Seriously, if that isn't clickbait, we don't know what is!
One part of clickbaiting is pure shock value. The second part is delivering on your promise. Mashable did both. So, as expected, it's a fantastic article well worth a read. More importantly, the push notification campaign worked really well.
Here's an article that can help you if your website has a low conversion rate.
Duolingo
We've already seen how challenging the user can often get fantastic results. Here's another example from Duolingo: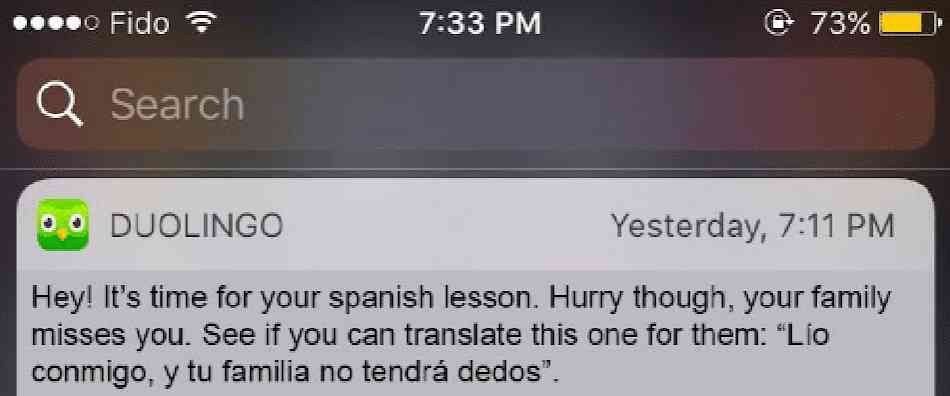 Duolingo is an app where you can learn new languages for free. One of their major challenges is that it's very difficult to keep users engaged and learning. So, Duolingo uses push notifications that are aimed to keep users interested in the course.
If you translate the Spanish in that push notification, it means, "Mess with me, and your family will not have fingers".
Sounds menacing.
But who's going to manually type that out in Google Translate to understand what it means? It's way easier to simply go to the Duolingo app and find out what it means.
This achieves the objective of keeping the user interested in learning. At the same time, you get a high-performing push notification campaign.
Nice, right?
Pro-Tip: You don't have to be Duolingo to use different languages in your marketing. Phooto used local languages in their push notifications to personalize their campaigns and sell personalized photo products!
Peachmode
Peachmode is an eCommerce store that uses some really creative push notifications.
This contest was a great example of what you can do for your brand using advanced campaigns with the PushEngage Javascript API. In fact, this example by Peachmode may be one of the most creative push notifications we've seen in a long time: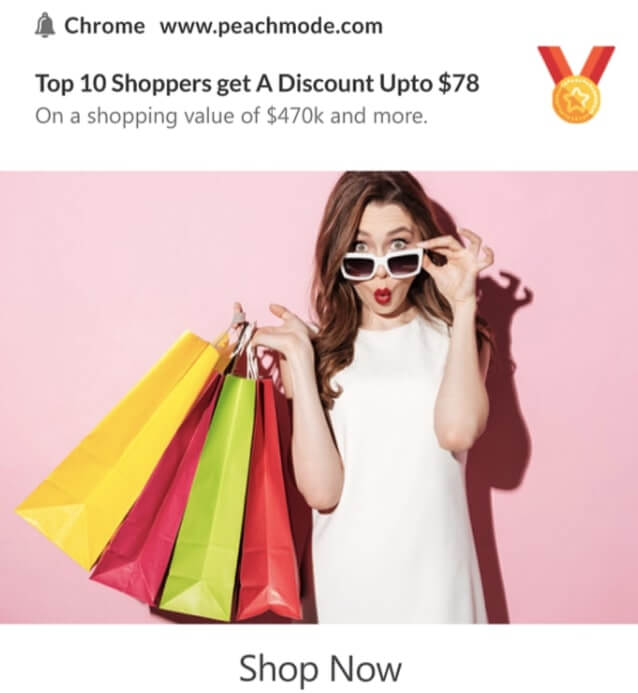 At first glance, it just looks like a normal push notification. But if you dive into the actual campaign like we did, you'll see something incredible.
They created a contest for their shoppers and presented a leaderboard. If the shopping pool for the top 10 shoppers exceeds $470k, each of the top 10 get a discount upto $78.
What followed was a pure feeding frenzy from regular shoppers.
Kudos, Peachmode. Keep pushing it!
By the way, you should check out this article for more examples of eCommerce stores using push notifications well.
Wall Street Journal
And we're back to creative push notifications with clickbait. Of course, we had to get an example of a news publisher. News publishers practically invented the art of clickbaiting. This one by Wall Street Journal is no exception: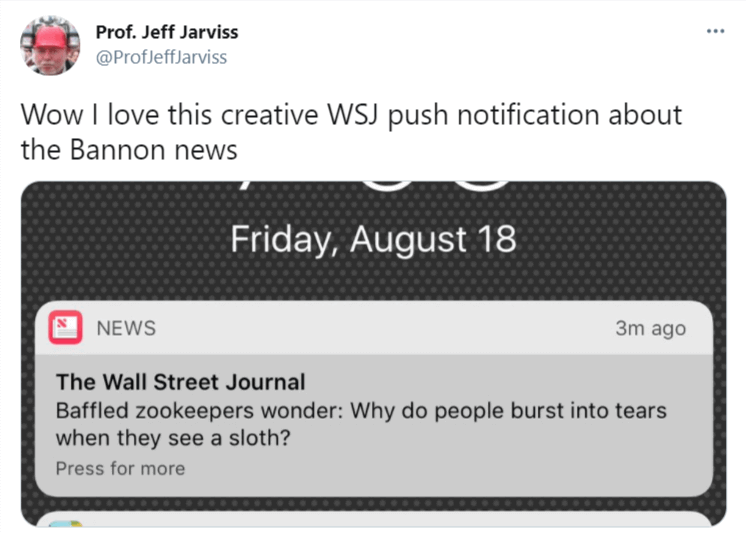 No, seriously. Why do people burst into tears when they see a sloth? If you know the answer, drop a comment at the bottom of this article.
And if you know the reason, that's more proof that this push notification worked!
So, why does this push notification work?
Simple: It plays on your curiosity and lures you in.
If you liked this idea, be sure to check out our push notifications playbook for blogs and content sites for more ideas you can use to grow your own site.
Clash of Clans
Clash of Clans (CoC) was incredibly popular a few years ago. It's still very popular, but the craze has gone down somewhat since 2018.
Or maybe, they just got everyone to install the app and play the game. If you're not sure what CoC is, it's a mobile game where you can create a settlement and raid other players for loot.
And this is how CoC used push notifications to get their Daily Active Users to keep logging into the game multiple times a day: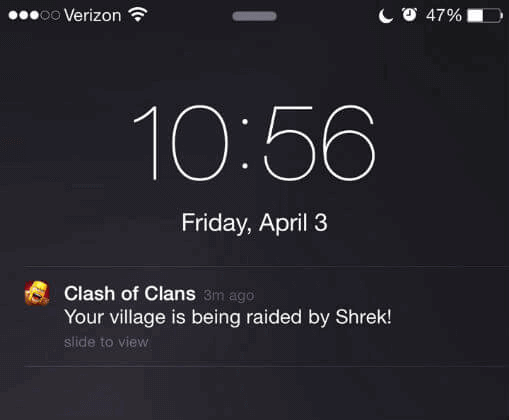 Who's going to ignore that notification?
To clarify: Not every raider is labelled as Shrek. This was just a happy coincidence.
It's a simple push notification alert that plays into your user's interest.
Here's the best part: You don't have to run a game company to use this idea. You can even use it for an eCommerce store. For instance, you can send out an alert to notify your customers that a product that they were interested in is going out of stock.
It's the same principle.
Check out this article if you'd like to set up price drop or inventory alert push notifications using PushEngage.
Starbucks
Starbucks is a familiar name across the world and we have to hand it to their marketing team. They have some pretty creative push notifications up their sleeves.
Here's one where they used a simple reminder to make the users feel like they're talking a real human: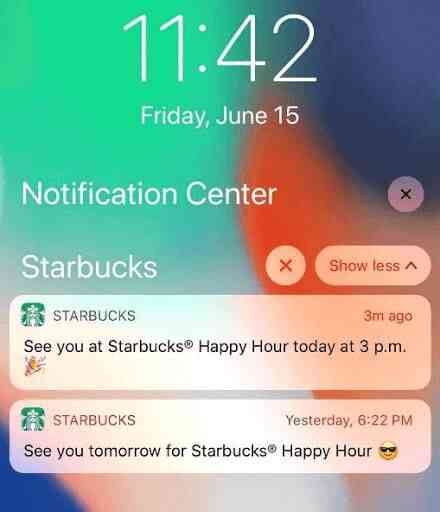 The beauty of this push notification is in its conversational tone. It feels like a friend is texting you for a meetup after work.
But even more beautiful is the fact it uses such a commonplace idea in such an effective way. We've all either sent or received reminders. To be honest, we don't remember a time when a follow-up felt so sweet!
And if you loved this idea as much as we did, you should set up your own push notification reminders using PushEngage. The scheduling features can really take the pressure off your shoulders to be present and online for a campaign to go online.
SoundHound
We'll be honest: We don't use SoundHound that often. But after seeing this push notification, we're willing to reconsider.
It's a music app to find new songs and their lyrics. Like this one: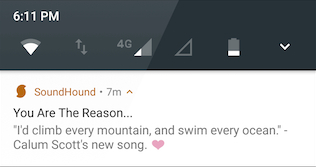 It's such a simple, sweet, and smart idea. You lure in people with EXACTLY what they're looking for in the first place.
Again, as with some of the most creative push notifications out there, this one exploits a pretty simple idea. There's nothing fancy about this push notification. Just a simple push notification that promotes a new product.
You could automate this process using the PushEngage Javascript API. But if you're a small business with a limited number of products, you can also send out a simple push notification every time you add an item to your inventory.
It's really simple to do. All you need to do is head over to the PushEngage dashboard and click on Notifications » Create » New Notification:

And create a new push notification. Or, you can even use our push notification templates and click on the Choose from Templates button.

You get a bunch of amazing templates that you can use to instantly launch winning campaigns.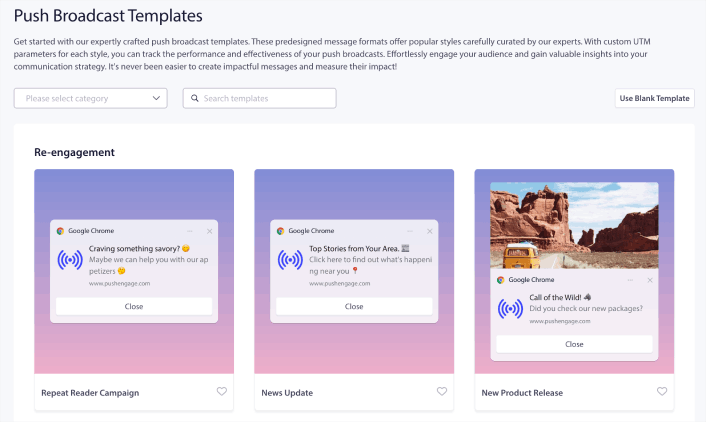 Hover on the template that you like and you can either preview the template or click Use Template to get started with that template.
It's really that simple.
What to do With These In-App Push Notification Examples
The best thing to do is to start creating your own campaigns.
We hope you found this article helpful and that it got your creative juices flowing. You should also check out our article on how much push notifications cost. And if you need more inspiration, check out these amazing resources:
If you haven't already, you should try out PushEngage. We are the #1 push notifications software in the market. So, get started with PushEngage today.