Phooto is a B2C company focused on personalized photo products, such as prints, photo books, frames, gifts, and others. Capture all your best moments and get them printed. Each and every product is of premium quality. You can create the design by yourself using their software or on their website. Once you are satisfied with the look, just go ahead and place the order.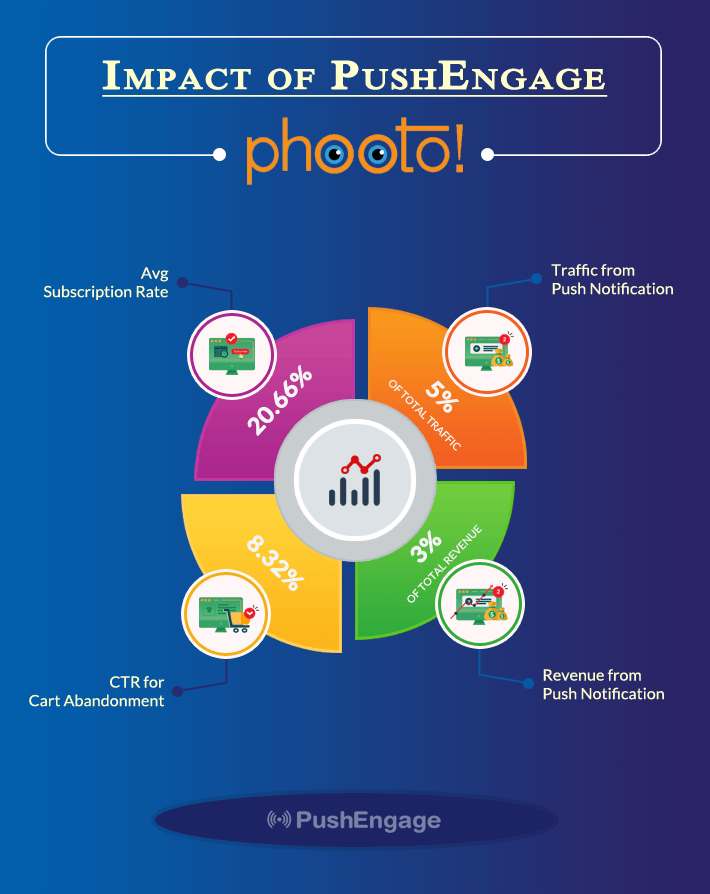 Marketing Challenge
Being a popular gift site, they get huge traffic through paid, organic and other channels. The challenges were mainly focused on monetizing this traffic.
Re-engagement
As we have a lot of traffic coming from paid media, we need other sources to keep users engaged with our content after the web visit.
Increase AOV
Challenge to improve the quality of the traffic on our website to purchase high-quality products driving to a better AOV.
Increase ROI
We are always challenging ourselves to be more efficient with our marketing costs. As paid media costs are increasing, we looked for other sources to impact the customer closer to the decision stage.
They were looking to increase revenue with optimized effort and utilize the marketing budget effectively.
How PushEngage solved the issue?
PushEngage is a web push notification platform for sending push notifications. It is delivered instantly and is hard to miss. One of the e-commerce sites, Superjeweler, was also having similar challenges. With PushEngage they started getting upto 8% conversion rate for their push notification campaign.
Similarly, PushEngage started working with Phooto.com.br to tackle their marketing challenge. Following the best practices, Phooto.com.br was able to:
Reach out to users more effectively.
Increase CTR using images in the push notification.
Get quality traffic to their website.
Impact of PushEngage
Overall, we improved traffic in our website leading to more sales, resulting in a better ROI for the company.

Bernard Braun, Marketing Team, Phooto.com.br
The above statement summarizes how PushEngage has positively impacted its business and increased revenue.
Impact on Subscription
To capitalize on the traffic, you need your visitors to subscribe to your push notifications.
They got a 20.66% subscription rate.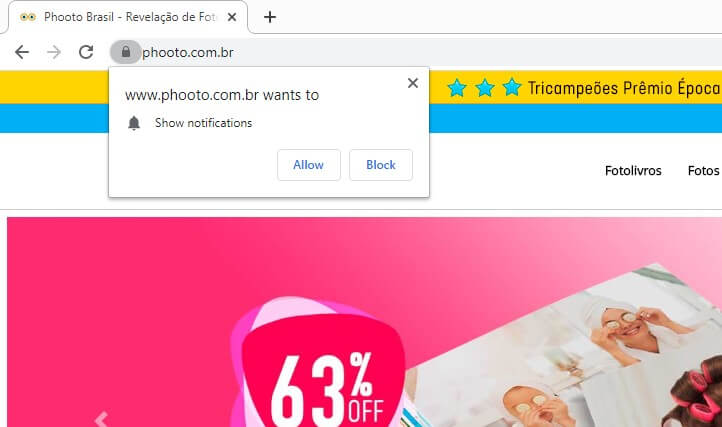 Phooto.com.br implemented single-step opt-in which offers a high subscription rate as compared to other subscription opt-in types.
Impact on Traffic
Using push notification they were able to increase their subscriber base. This has helped them to increase traffic. PushEngage supports images in push notification which led to increased CTR and traffic.
Phooto.com.br is getting 5% of total traffic from web push notifications.
Impact on Revenue
Web Push Notifications has shown to have a direct impact on revenue. Wicked Weasel, an e-commerce site, earned $2k to $4k using push notifications.
Phooto.com.br generated got 3% of total revenue using push notifications. They are also using the Cart Abandonment push notification campaign to recover lost sales. They are getting 8.32% CTR in the cart abandonment campaign.
Best Practices Followed By Phooto
Phooto.com.br has optimized the push notification campaign to increase the effectiveness of engagement. Some of the best practices they follow are:
Local Language
Phooto.com.br sends push notification in the local language. Sending push notification in a native language increases the engagement and creates a personal touch.
Segmentation
Phooto.com.br uses the segmentation feature to segregate the subscribers. Segmentation helps to send targeted push notifications that led to an increase in engagement.
What Phooto had to say about PushEngage?
Being able to retarget our customer base with more effective messages lead us to improve the quality of our traffic and drive to more sales. We were to able to achieve our marketing goals by increasing our ROI.

Bernard Braun, Marketing Team, Phooto.com.br