Blog and media always have something new on their pages every day. It could be news or some new blog post. As a website owner, you would want to update your audience instantly. For e.g., if the election is running, as a media site you would want to update your audience before anyone else. This builds up credibility on the subscriber's mind. Similarly, bloggers using the content audit tool creates new content for the audience. However, whenever a new post comes, you want to immediately update your readers who are waiting for new interesting articles from you is a challenge.
The major challenges faced by blogs are:
Updating user on time
Re-engaging them
Monetizing the traffic
Apart from the above, the ROI of the marketing budget is also a concern. Web Push Notification offers the right balance to overcome those challenges in an effective way.
After analyzing a lot of blogs and media sites that are using website push notifications, we have created a playbook. This push notification playbook for blog and media site is easily executable and can show promising results.
Below is the web push notification playbook for blogs
Brand Building campaign
There are 100s of blogs for any particular niche or subject. Once a user subscribes to your web push notifications, it gives you an opportunity to build confidence in users that your site is the best among your niche. You need to slowly and effectively nurture your leads about your brand. It is one of the most important web push playbooks for blogs.
Create a Brand building campaign using push notification. Using the Drip Feature, you can easily create the campaign. Whenever any new user subscribes to your push notification, the campaign will start. Below is a template you can use:

Segmentation
Any blog usually has multiple categories that cater to a different niche. A visitor coming to your website might be interested in Cake recipe or Adwords. You need to put such users in a similar bucket so that you can target them effectively. Segmentation is one of the core push notification playbook for the blog. This also forms the basis of other campaigns.
Push Notification allows you to segment your customers based on different criteria. Below are some of the ways blog or a media site can segment their push subscribers:
URL Based – Visitors can land on any of your pages and subscribe. Segment your subscribers based on the URL from where they subscribed. It shows that they are interested in that topic.
Action Based – Visitors take multiple actions on your website. On your site, you have uploaded videos of the latest news or offering a free e-book to the visitors. If use watches videos of similar category or clicks on the e-book, you can easily segment those subscribers.
Source-Based – People can come to your website from multiple sources. If the subscriber has come to your website from FB ads, then you know the user is more active in FB. You can share your FB posts with them. Similarly, depending upon the source from where the visitor came to your website and subscribe, you can segment them.
Segmentation helps you to send targeted push notifications to the subscribers. Targeted push notifications lead to an increase in CTR and engagement. Founder of one of the top food website, WholeSome Yum, Maya Krampf says that – We're also noticing that users coming from push notifications are loyal and tend to stay on the site longer than those coming from social media.
Custom Drip
You can create a custom drip campaign to keep your subscribers engaged. Drip allows you to send a series of automated push notification to subscribers. Once you have the segment, you can create a series of targeted web push notifications.
For e.g. you have a segment of subscribers who are interested in Adwords. You also have multiple articles around "Adwords" Topic. Create a series of push notifications with articles to Adwords to be sent over a month. This kind of drip not only increases the engagement rate but can also increase your revenue.

One of the blog, ShoutMeLoud, increased conversion rate by 10% using a Drip Campaign.
Browse Abandonment
As a blog, you may be promoting various other products or tools as an affiliate. To increase the monetization of your blog, you have written interesting articles and reviews about those products. Subscriber visits those articles and read but didn't click on the Affiliate Link. Usually, the anchor texts around these links are – Check Now, Grab the Deal and more. As a blogger, you want more people to click on those links.
Using push notifications, you can easily identify those people who read those articles but didn't click those links. You can trigger push notifications to be sent to those subscribers. Below is a sample push notification template to increase affiliate sale:

For Monetization
Push notifications by design are delivered directly on the browser. As a result, it's hard to miss by subscribers. This gives you an opportunity to monetize the traffic as well. Similar to Adsense, you can earn using push notifications as well.
There are affiliates who would be happy to work with you. They will send push notification about various offerings to your subscribers and you can earn per click.
Poll
Getting the right topic is always a tough job for every blogger. One of the best ways to get the next topic is to ask the reader directly. You can create a poll using push notifications. Since push notification allows you to segment subscribers, you can easily create different pole for different segments. This will give you a whole list of topics you can work on. Moreover, your subscriber will be happier for being recognized.

Cost-Effective
Cost is an important factor for every blog. Since they are not selling anything, they want tools that can increase their viewership and at the same time offers good ROI. Below is a sample analysis of cost per click using push notifications: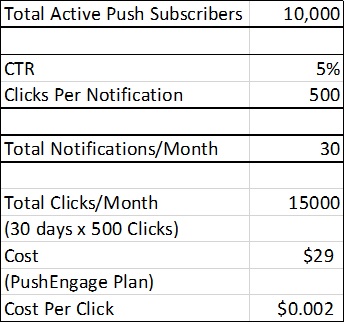 You can see how effective push notification in terms of ROI is. See what Vegis, health product website, says about Push Notifications – PushEngage is an easy to use tool that gives a lot to e-commerce businesses at minimum costs.
Form Abandonment
As a blog, you may want to get users to email to send newsletters to run some e-mail campaigns or doing some surveys. You have created a form for the visitor to fill. Many times users do not complete the form and leave. In such cases, the unfilled data is of no use.
Using Push Notifications, you can easily target those users who did not complete the form. Creating a form abandonment campaign in push notification is very simple. It will run in auto mode. Whenever a user doesn't complete the form and leave, he will start receiving the push notifications to fill out the form.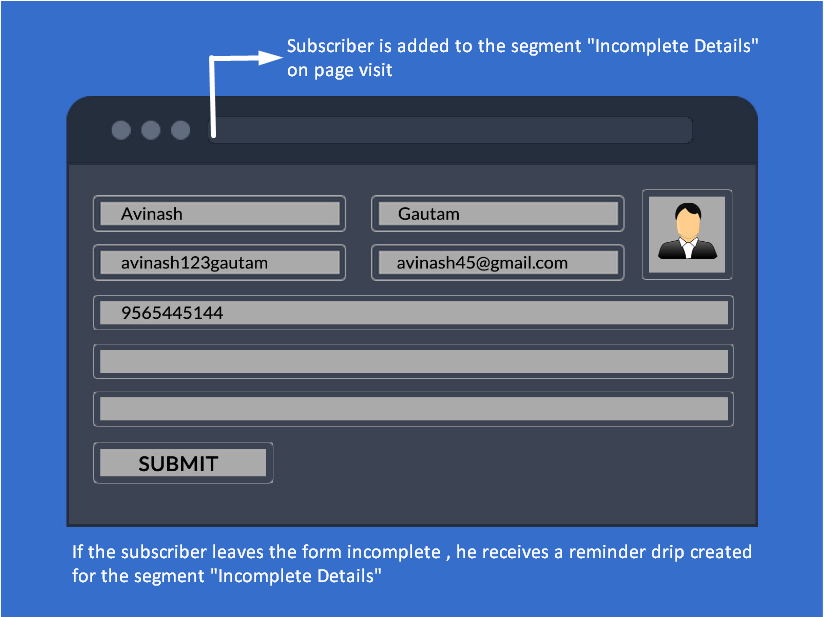 Every blog wants to have more readers for their article. For this, they need more subscribers. Using push notifications, you can easily increase your subscription rate by 6.77%. We have seen blogs increase their subscription rate by 10X using web push notifications. If you are already using web push notifications, try out the above playbook created specifically for bloggers. You will definitely see improvement in your traffic as well as earnings.