Are you looking for examples of eCommerce stores using push notifications well?
Good news: That's exactly what this article is about!
In fact, we're going to do you one better. We'll give 10 types of campaigns and list out eCommerce stores using push notifications well in that category.
So, you get some epic ideas for push notification campaigns and really great examples that have proven results. You can rip off both idea and execution and grow your own eCommerce store using push notifications.
Excited yet? Let's dive right in.
#1. Epic Cart Abandonment Campaigns By eCommerce Sites
Cart abandonment is when someone saves your products to their shopping cart and then they don't buy it. Cart abandonment is a major issue for most eCommerce sites.
If this is happening to you, don't worry. You can create cart abandonment recovery campaigns using PushEngage. PushEngage is the #1 web push notification software in the market and we'll show you how to create cart abandonment campaigns.
But first, here's are a few great examples:
Check out this push notification by Ray-Ban: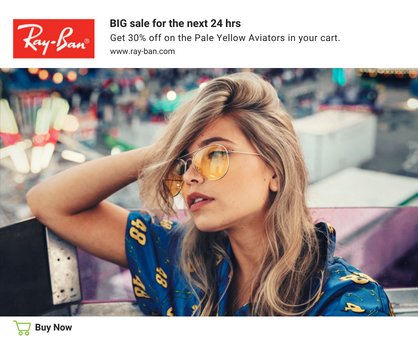 That's right. Mega brands like Ray-Ban use simple tools like push notification campaigns. And this one's very well done. The headline is immediately interesting and the notification message is also perfect. Nicely done, Ray-Ban.
Here's one by Steve Madden: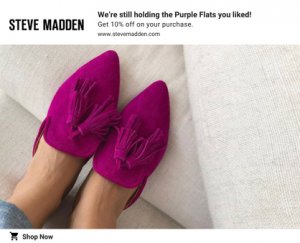 This one's straight and simple: A great product image, a clear discount, and a tiny hint of familiarity. We love the headline because it feels very personal (even though this isn't really personalized, it's just great copywriting). One way to make it even better is to make the 10% discount even more clear. We'd recommend changing the "Shop Now" button to a "Claim Your Discount Now" button.
Here's another one from SheIn: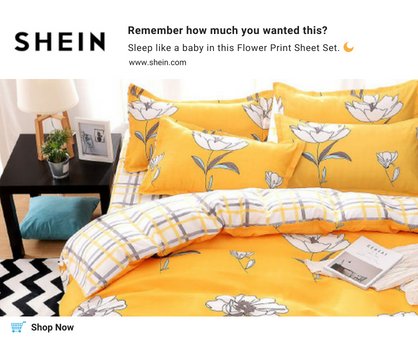 Aww… This one's so cute! Again, brilliant copywriting, and a really vibrant image. Here, the "Shop Now" button works really well because you don't need anything fancy here.
Kudos to Shein.
And another one from Boohoo: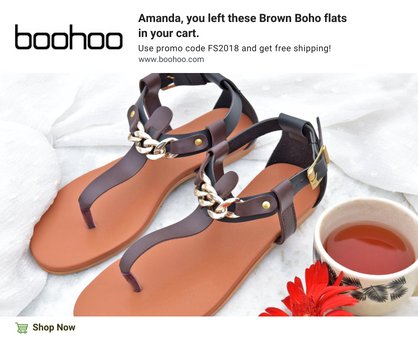 Textbook. That's all we have to say about this one. As an improvement, maybe you could highlight the promo code by using emojis (yes, you can use emojis in your push notifications).
If you need help setting up your own cart abandonment push notification campaign, check out our article on how to set up abandoned cart notifications with PushEngage.
Setting up a cart abandonment campaign is very straightforward. And if you're stuck with anything at any time, our Customer Success team can help sort things out for you.
Also, if you haven't already, get started with PushEngage right away.
#2. Personalized Push Notifications by eCommerce Sites
Personalized push notifications make your subscribers feel like you sent out a push notification meant exclusively for them. Personalizing your push notifications can help you sell a lot more products while building a community around your brand.
Take a look at this push notification by Peachmode: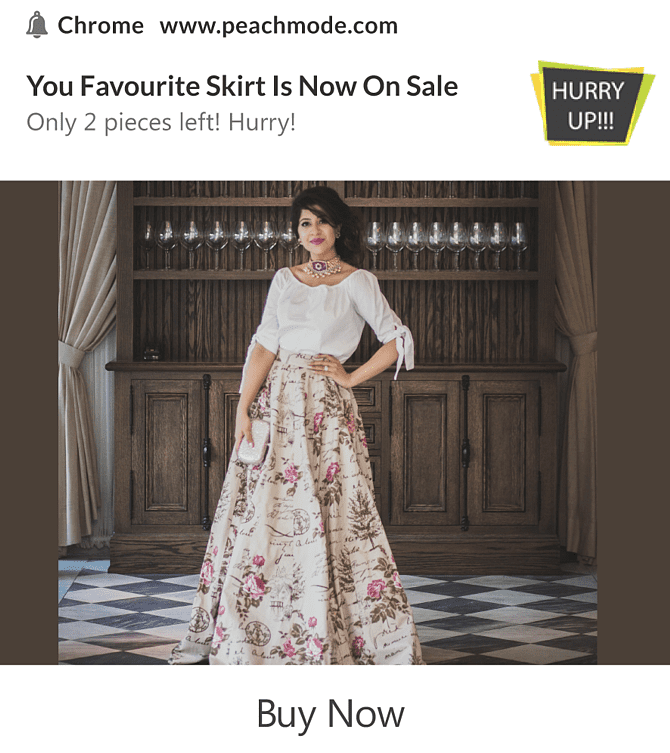 Here's another one by QuizUp along with a customer's reaction: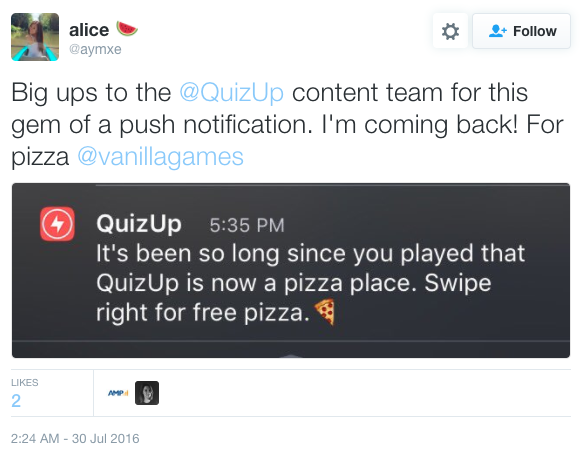 And there's this beautiful notification by Instakart: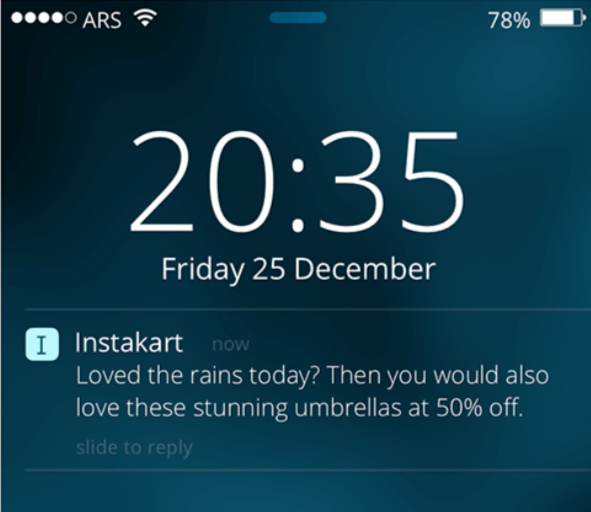 This is beautiful example of personalization. It's a combination of geo-targeting and personalized messaging. You could almost call this news-jacking. But it's really well done.
Of course, personalized push notifications are a category of push notifications rather than an actual campaign. We'll go over some very specific ways to create personalized campaigns later in this article. But for now, just take a look at the example.
It's simple, urgent, and hyper targeted.
This sort of campaign is essentially an inventory alert. Again, more on this later. But the image, text, and call-to-action all have a very personal feel to it. If you can copy this idea across your push notification campaigns, you'll definitely see a spike in your engagement and sales.
Phooto used personalized notifications and saw around 8% conversion rates. What's stopping you from doing the same thing?
#3. Seasonal Sales for eCommerce Stores Using Push Notifications
Let's just say that "Winter is Coming" isn't just for Game of Thrones fans. You can send out seasonal sales push notifications to boost your sales. Just take a look at StreetStyleStore: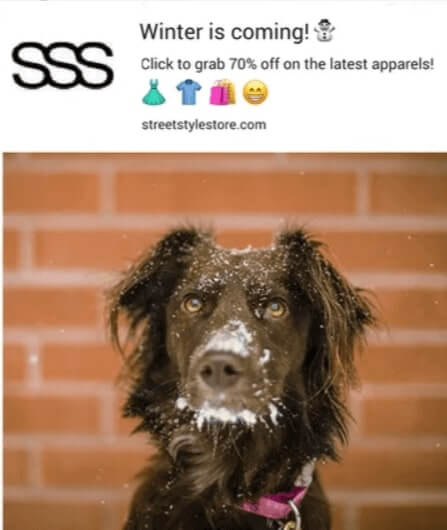 If that wasn't clever, we don't know what is. We feel a little bad for the doggo, but the notification is on point here.
Here's another great seasonal push notification by The Body Shop: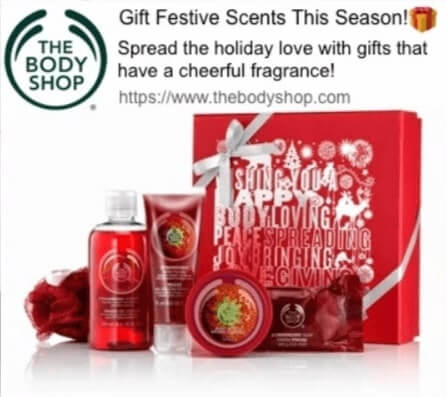 This one's a typical message by The Body Shop. It's warm, cheerful, and very on-brand. Also, it's talking about getting someone a Christmas gift. Who wouldn't love that?
Check out another great example by SheIn: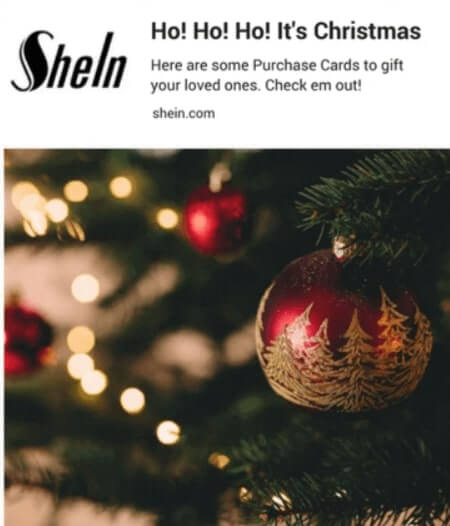 Here's one final example by StalkBuyLove: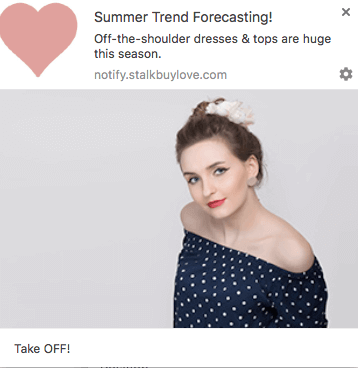 If you notice, the call-to-action is rather unusual. And this is a great lesson in being true to your brand. Whether it's a seasonal notification or not, always remember how your audience sees your brand.
Good news: Sending out seasonal sale notifications is a breeze with PushEngage.
All you have to do is create a campaign and schedule the notifications: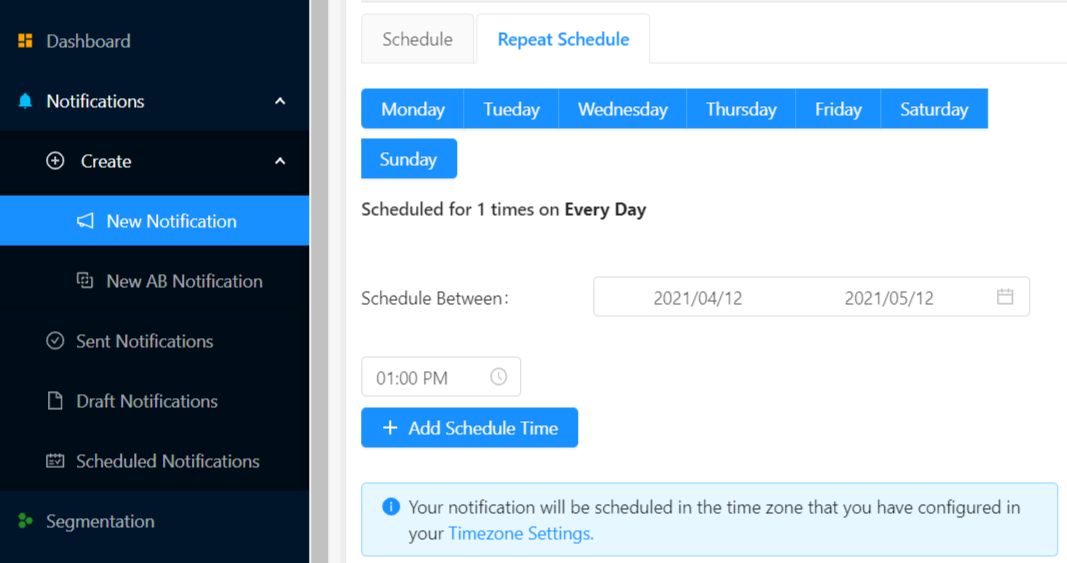 If you're new to the concept, check out this article on different ways to schedule your push notifications. It's as simple as that!
Pro-Tip: You can use this for holiday sales as well. For instance, you can create a Halloween campaign well ahead of time and schedule it so that you don't have to get crushed by the deadline as the actual date draws closer.
#4. New Arrivals and Announcements for eCommerce Stores
And we are back to checking out Peachmode once again: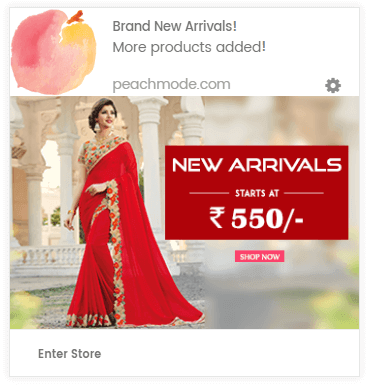 This is a great example of how you can send out a push notification about a new collection. The custom image is structured well and the advertisement tells you almost everything you need to know as a prospect. It also has a great hook with the "Starts at ₹500/-" tag.
One thing we'd recommend is to say more about the products themselves in the push notification description. The headline says "Brand New Arrivals" already. So, you could use the description to differentiate your products from your competitors.
Here's another really great example by Limeroad: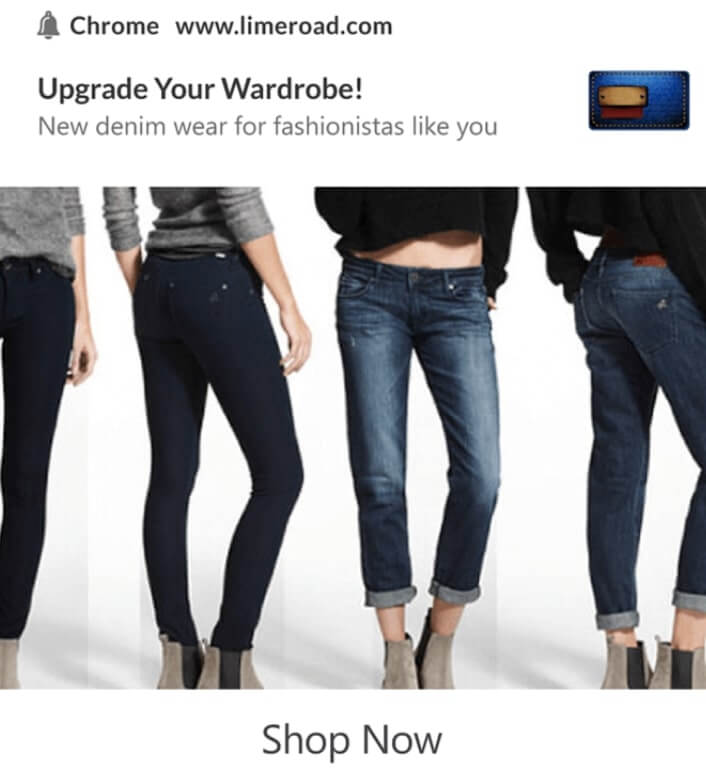 We love the headline and the notification message for this one. It's a great example of ego-baiting a subscriber into becoming a customer.
You could rip off this push notification as is and get a ton of sales without breaking a sweat.
All you'd have to do is head over to PushEngage and create a new notification and send it your entire audience: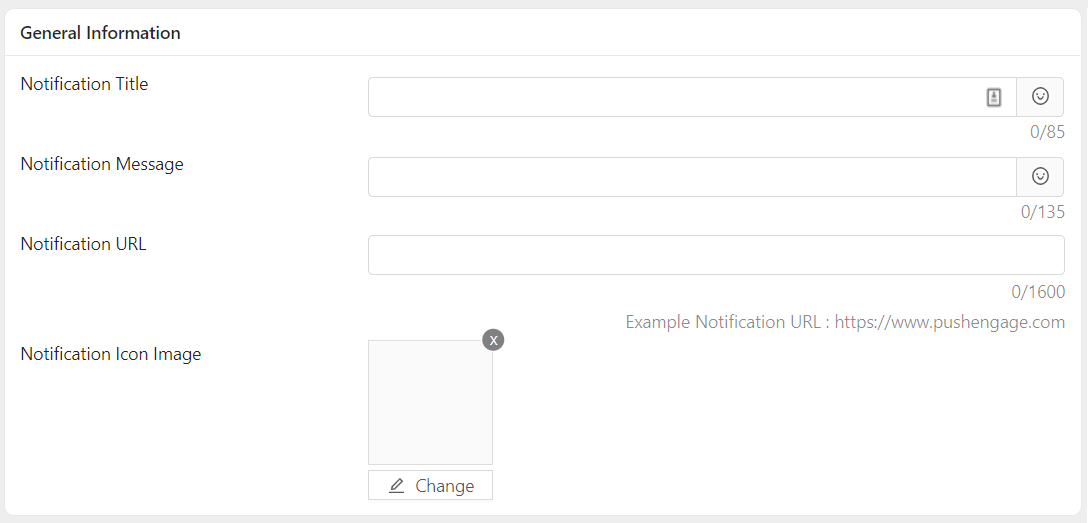 And that's all, folks!
Psst! You can send this sort of notification using the free version PushEngage as well. Why not give it a try? It's completely free, so there's no risk in giving it a shot.
#5. Ecommerce Stores That Are Crushing It With Flash Sales
Flash sales work. Period.
Check out this one by Korner Space: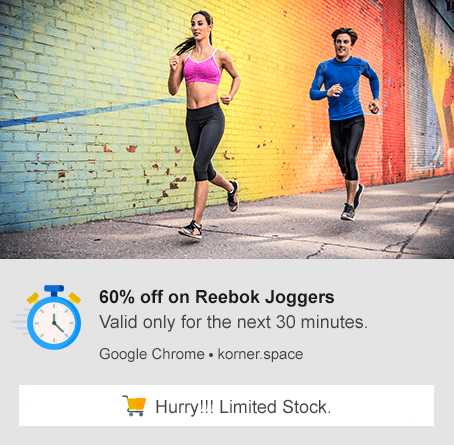 It's a clear message with a lot of urgency. And there's a 60% discount, so there's a great incentive to buy right away.
This one's pretty much perfect. We couldn't have done it much better, honestly.
Here's another great example by Ticketmaster:

It's a little harsh, but hey… it's for a JAY-Z concert!
Go right ahead and swipe either of these campaigns to promote your own business.
And yes, you can definitely create your own flash sales on PushEngage. All you have to do is schedule it like any other push notification.
Pro-Tip: You can double down on your flash sales using TrustPulse. It's really easy to set up. Just follow along with the tutorial and you're golden.
#6. Stores that Send Out Event Reminders
Yes, you should set up reminders to your events. The less you leave things to chance, the more traffic you'll generate for your events. This reminder by Jabong is textbook: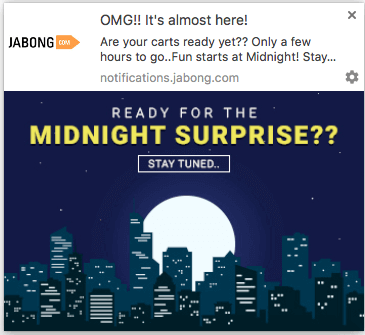 It's fun, urgent, has an element of surprise to it… and it's a reminder. What more do you need for this entry to qualify?
Could it have been better?
Sure.
One thing that we'd like you to pay attention to is the fact that the description got truncated. Whenever you create any push notification, make sure that the headline or the description isn't over the word count.

But other than that, it's exactly like we called it: textbook.
Check out this example by Faballey: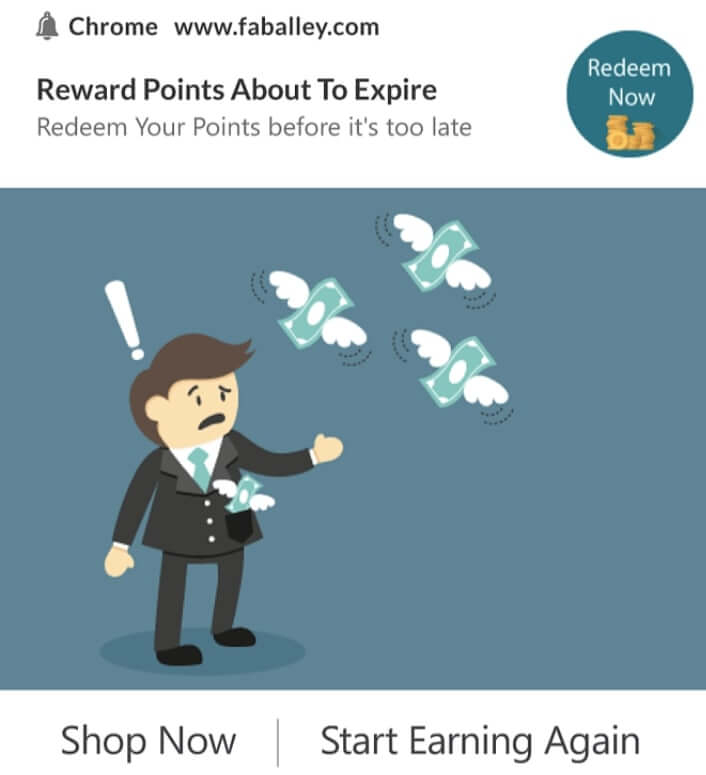 Nice, right? This makes use of loyalty programs and reminders in the same push notification. And this is a great learning right here. Your push notifications don't have to be one-dimensional in nature. You can layer your notifications to serve more than one purpose.
Pro-Tip: Check out the preview on PushEngage to see exactly how your notification looks on different devices. If the text is getting chopped off in the middle, it's time to write a shorter copy.
#7. Ecommerce Stores that Use Retargeting to Build Engagement
Building an engaged audience is difficult. But if you do it right, you'll be able to sell more often to the same people. In most cases, you can even get a higher order value from an engaged audience.
This tip isn't just for eCommerce websites either. Take a look at this one by Mid-Day to see how a news site can use retargeting to build engagement: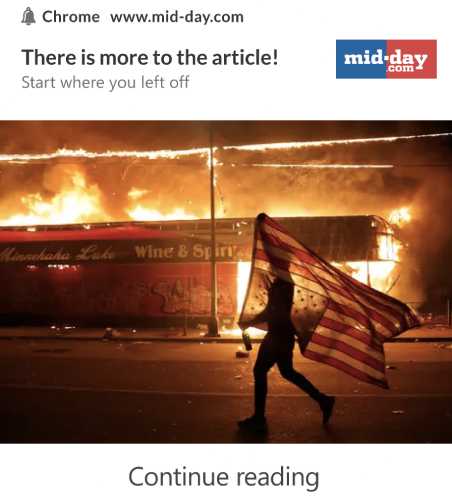 What you're looking at is called a browse abandonment campaign. If someone was browsing your content and decided to bounce suddenly, you can retarget them to get them re-engaged.
And before you ask: Yes, you can set up a browse abandonment campaign using PushEngage.

Check out this article on how you can make the most of browse abandonment recovery.
Once you're done, take a look at this simple, but really effective idea by Peachmode: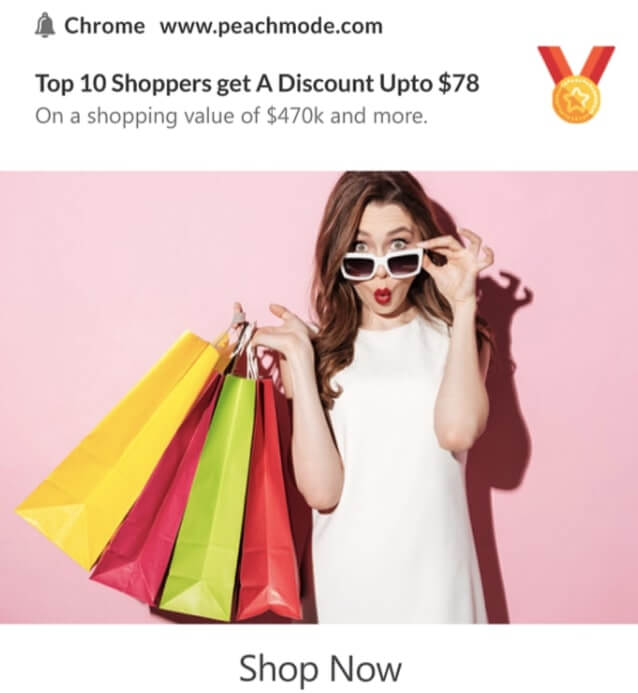 This push notification campaign has the makings of a true legend. Your shoppers get to see a leaderboard of who's the top shopper and it sets up a competition to spend big bucks at the store.
A workaround to this might be to not show any leaderboard and simply hold a closed contest. Send out an email to the top 10 shoppers based on your sales CRM or WooCommerce dashboard with a discount coupon for their next purchase.
#8. Epic Loyalty Program Notifications by eCommerce Stores
Anyone can create a loyalty program. But the real question is…
Will it be good enough?
Don't worry, we're here to help. The fact is that loyal customers love being valued.
Check out this great example by Koovs: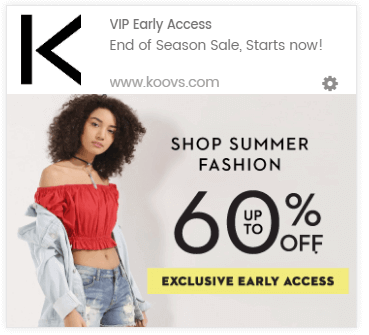 There's something about the words "Exclusive Early Access" that makes people want to buy right away. Add that to the 60% discount and you have yourself a real sale. But the best part about this push notification is that it's only for loyal customers.
We have literally nothing to add here. It's a perfect notification in every way. And we highly recommend using this campaign for your ecommerce store as well.
Here's an example from Xstock if you have a reward-based loyalty program in place: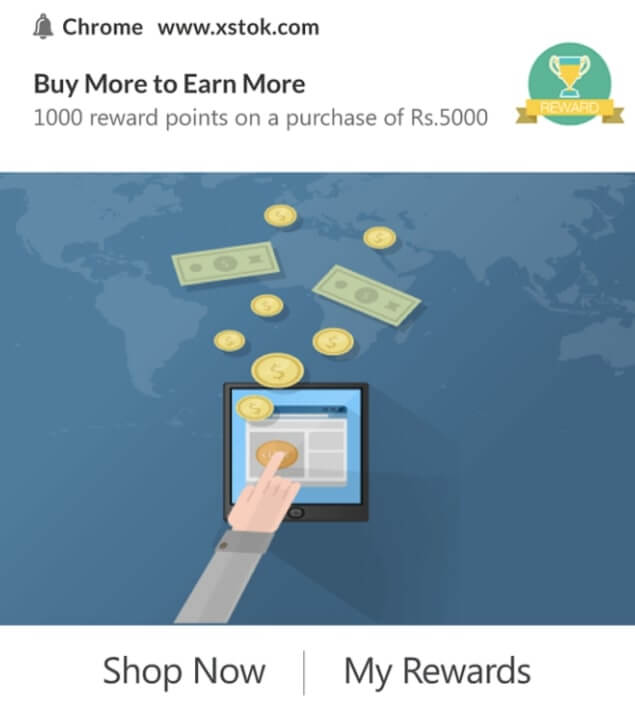 And another one of a similar nature by Tijori: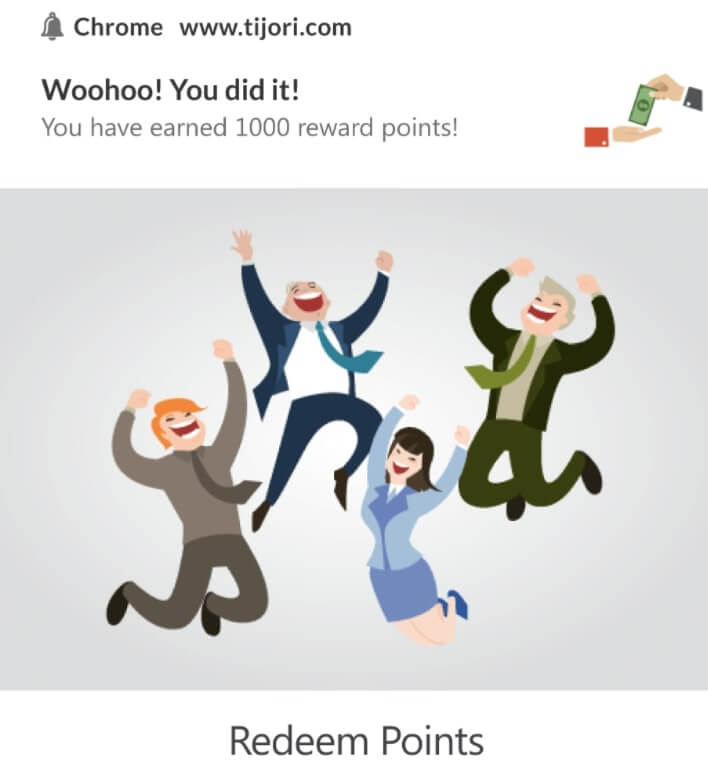 You can take both these campaigns as gospel. And you'd like to start a WooCommerce loyalty program of your own, check out this article on how to create a loyalty program in WordPress.
#9. Price Drop Alerts by eCommerce Stores
Everyone loves a deal. But what can set your campaign apart is if you can offer a deal on a product that someone is already interested in.
That's where price drop alerts come into the picture.
Price drop alerts are personalized push notifications that get people who are interested in a product to buy it by telling them that the product's price went down.
Check out this example by InkedWristsBlog: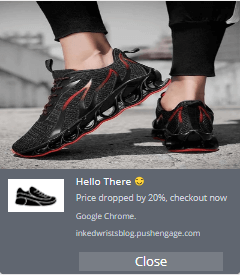 We'd actually change a few small details about this campaign so that it looked more like this: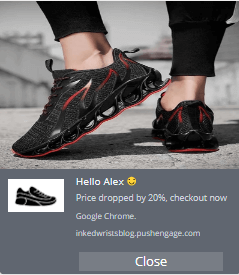 Did you notice the difference? That's right! We'd use the customer's name to create a super-personalized price alert.
If you'd like to know more about how to create price drop alerts, check out our article on setting up a price drop alert push notification campaign using PushEngage.
And in the meantime, here's another example of a price drop alert by StyleStreetStore: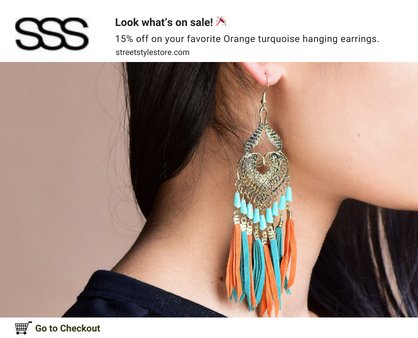 This one's pretty much textbook. It's personal and it tells your customers exactly how much of a discount they're getting. Simple, effective, and elegant – that's what you want to aim for here.
#10. Inventory Alerts by eCommerce Stores
Inventory alerts are exactly what they sound like.
An inventory alert campaign lets your customers know that a product they wanted to buy, but couldn't because it was out of stock, is back.
You won't believe how well inventory alerts perform.
Check out this example by LimeRoad:

This one's pretty close to perfect. One small suggestion we have is to use the large image in your notification to show off that vibrant yellow dress.
It's perfect in every other way.
What are you waiting for? Set up an inventory alert push notification campaign for your eCommerce store today.
Wrapping Up
If you're running an eCommerce store, then the one thing you're most likely struggling with is getting reviews. And it's not just you. Everyone has a hard time getting reviews. That's why we created a great article on how to get more reviews.
Go ahead and give that a read.
If you found this article helpful, be sure to leave a comment down below about what you found most helpful. Your feedback helps us create epic content every time.
That's all for this one.
By now, you know that PushEngage is the #1 web push notification software in the market. So, go get started with PushEngage today if you haven't already.