Do you want to increase subscribers on a blog using push notifications? In this article, we will show you the proven tactics to increase the subscription rate for a blog site.

Blogs give you the freedom to express your views on anything. There are blogs related to marketing, technology, food, news, training, and many more. It is also a business. You can easily monetize your blog.
Why do you need subscribers for your blog?
You can instantly update users about your new blog.
Users will be more engaged with your blog.
It will also lead to more revenue for your blog.
One of the best ways to increase subscribers is through web push notifications. It's easy to implement for you and easy to subscribe to for the readers. They do not have to share any personal information. With a single click, they can subscribe to your push notifications.
How to add push notifications to your blog?
Adding push notifications to the blog is very simple. Most of the blogs are based on different platforms:
WordPress: You can use the PushEngage plugin to install push notifications.
Shopify: Use the PushEngage app on the Shopify store to install push notifications.
You can also push notifications on a blogger site by putting just two lines of JavaScript on the header section. PushEngage offers integration with many other platforms. You can install PushEngage on any website in less than 10 minutes.
5 Best tactics to increase subscriber on blog using push notification
Single Step Optin
There are two types of push notification optin – Single Step and Multi-Step. Always use single-step optin. Readers can subscribe to your blog with a single click.

Single click optin offers higher subscription rate as compared to multi-step:

Single-step optin copy is browser-based. So, you don't have to create any copy. ShoutMeLoud did a test with a single step and multi-step optin. Below are the results:
6.77% subscription rate using Single Step Opt-In
4.40% subscription rate using Multi-Step Opt-in
You can see that the single-step offers a 1.5X higher subscription rate than the multi-step optin.
Catchy Overlay
Why should the reader of your blog subscribe to push notifications? You have to show the benefit of signing up with your push notification. Use the optin overlay to tell the reason why the reader should subscribe. Create a very catchy and enticing copy that will convince the user to subscribe to your push notification. Below are the few templates that you can use:

Click on 'Allow' to get instant updates on every new article published.
Every month we give goodies to lucky readers. Click on 'Allow' to be on the list.
Like the recipe. Click on 'Allow' to get a free recipe (only the best ones) book.
Optin Reminder
Some users always block pop-ups forms. With the new quieter UI released, such users will not see your push notification optin. To make sure, your readers do not miss the opportunity to subscribe to your push notification, enable Optin Reminder.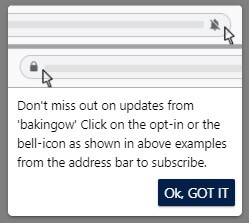 It will slowly nudge the user to subscribe to your push notification. It will show the reader of the exact steps that need to take to enable the optin and subscribe. You can even edit the copy of the optin reminder.
Recover Blocked User
In push notification optin, the user has the option to either 'Allow' or 'Block'. When the user clicks on "Block", then they will not see the optin on your blog.
There is one easy way to recover the blocked user. You have to enable "Get Notification Widget" on your blog. You do not have to change anything on your website. Just enable the widget on the PushEngage dashboard and it will start showing on your blog.
When blog readers click on the widget, it will show them the steps to enable the optin and subscribe to your push notifications.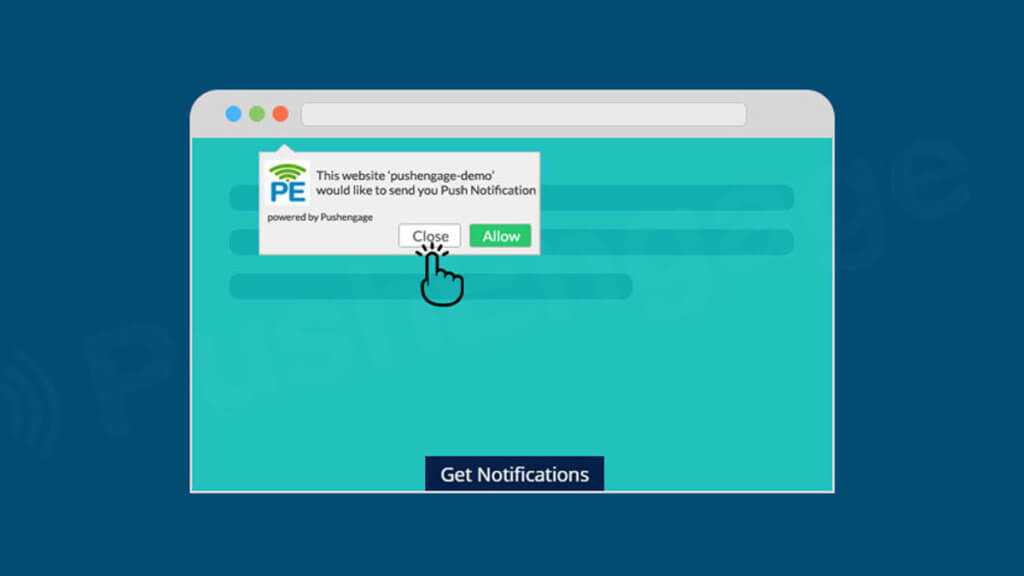 With this, you can easily recover blocked users and increase the subscription rate for the blog.
Subscription Analytics
Can you improve the subscription optin rate on your blog without any data? Using subscription analytics you can analyze the performance of push notification optin. At PushEngage, you can use the funnel analytics to see the performance of the optin.

It shows you which optin has performed well. Based on the data you can take decisions which optin to keep for your blog. This will help you to choose the best optin that can increase subscribers for the blog.
This completes the tactics you can use to increase subscribers on the blog using push notifications. Web push notifications can also boost your website traffic. If you are not using push notifications, you are missing out on capitalizing on your blog traffic.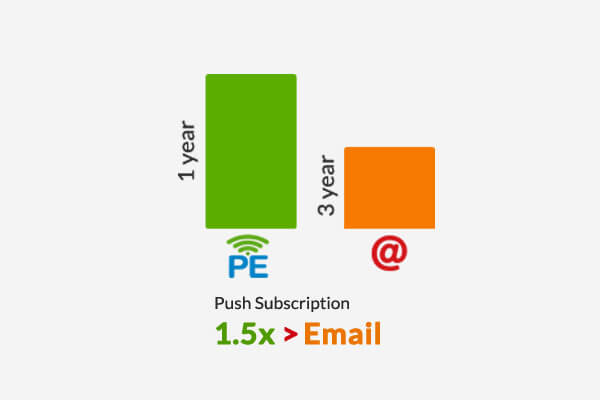 WholeSome Yum, a food blog, got 1.5X times higher push subscribers as compared to email subscribers. When you have big subscriber base, it will also help to increase traffic to the website using push notifications.