[Insider Secrets] How ShoutMeLoud Got a 10% Boost in Conversions Using Push Notification Segments
ShoutMeLoud helps new bloggers with practical guidance on how to build a business out of blogging. ShoutMeLoud has more than 94K followers on YouTube and 1.1+ million monthly blog views.
Click-through Rates for Drip

Harsh Agrawal
Founder, ShoutMeLoud
The Marketing Challenge
ShoutMeLoud is a prominent blog with 1.1 Million visits every month. It was founded by Harsh Agrawal, who's an author and international speaker. ShoutMeLoud has won the best blog award in more than 1 category in the year 2017. It has also been featured on top websites like INC, Entrepreneur, Yourstory, and more.
They generated around $40,055 every month from the blog. To keep growing, they need to focus on generating traffic and engagement. Their major marketing problems were:
Engagement: To generate revenue, they need to keep users engaged. ShoutMeLoud focuses on multiple categories and its articles need to reach to the interested audience for better engagement.
Reaching out to subscribers: ShoutMeLoud is an affiliate partner to many toptier brands such as SEMrush, Google for Work, and more. They need to promote their products on their website by reaching out to a relevant audience on time.
Repeat Traffic: People come to the website from various sources like paid marketing, affiliate marketing, organic marketing. However, to improve monetization, ShoutMeLoud needed to increase repeat traffic as well.
That's where PushEngage came into the picture.
How PushEngage Helped ShoutMeLoud
PushEngage has many push notification features that help e-commerce businesses achieve their target revenue.
ShoutMeLoud is primarily an affiliate blog. But they also have their own courses and ebooks. When they started using drip push notifications, the blog saw a definite increase in traffic, engagement, and sales.
Increasing Subscribers
The first step was to rack up push notification subscribers for ShoutMeLoud. PushEngage offers a variety of subscription opt-in types and the one that they chose was a single-step optin.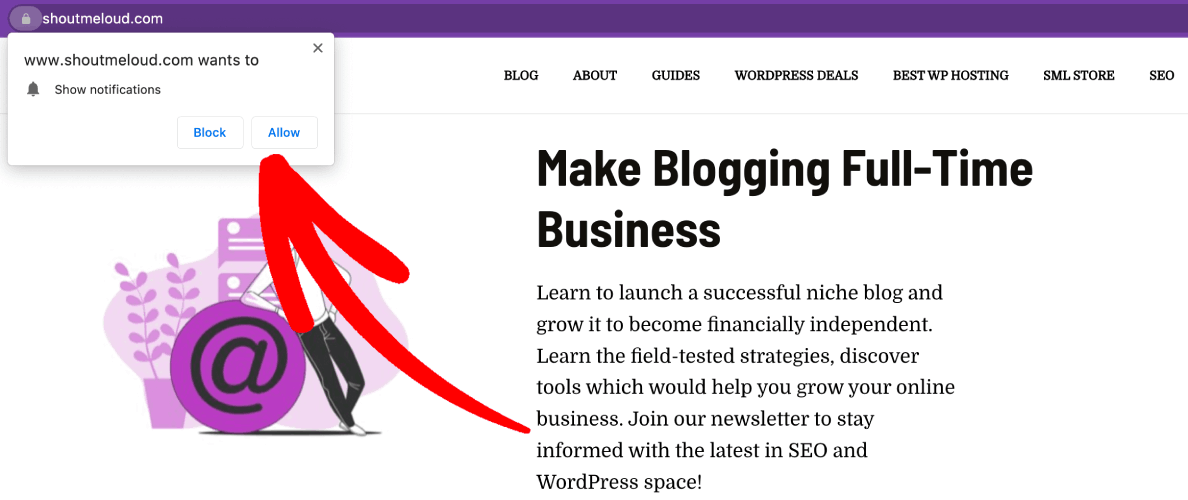 The optin started collecting subscribers with a 6.77% optin rate. ShoutMeLoud also ran an A/B test for their optins using a two-step optin as well, where they got a 4.40% subscription rate.
Pro Tip: If you're getting started with push notifications, you should check out this article on how to style your push notification optins.
Generating Repeat Sales
ShoutMeLoud started creating push notification segments for the blog's audience based on the kind of content they were browsing. Before segmenting their audience, the blog got a 1% CTR on its push notifications. But segmentation led to more personalized and targeted push notifications.
At the same time, it helped them create multiple automated push notification sequences because they were segmenting based on interests.
For instance, site visitors interested in knowing more about Adsense will be segmented and sent an "Adsense Drip Campaign". Similarly, subscribers interested in WordPress would be sent the "WordPress Drip" instead.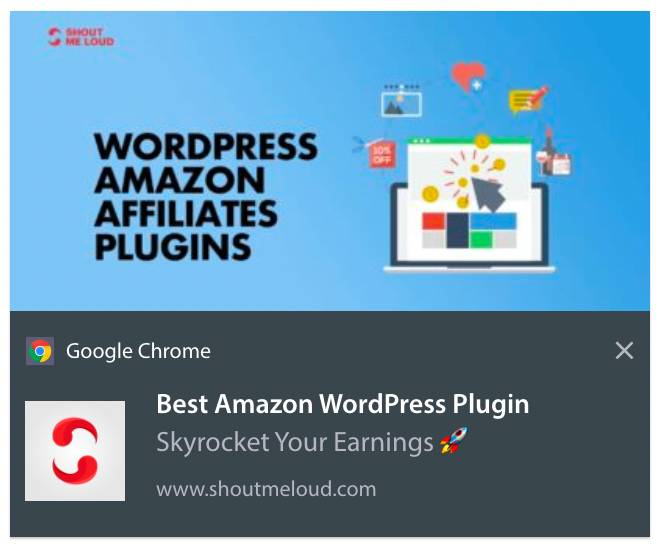 Showing the relevant articles to subscribers helped ShoutMeLoud create brand value over time. Segmentation improved the click-through rate to 4-5%. For the drip campaigns, the CTR went up to 5.3%.
Increased Repeat Traffic
With PushEngage, ShoutMeLoud was able to get more than 200K subscribers in no time. This has helped ShoutMeLoud to increase repeat traffic which resulted in increased revenue.
Of course, not all their push notifications sent traffic directly back to the site. In some cases, the push notifications helped build subscribers across other platforms as well.

ShoutMeLoud was able to promote content in real-time with its audience. Using PushEngage's features, ShoutMeLoud was able to increase brand engagement, click rate and drive traffic. Since push notifications are targeted towards the right segment, customers are now more engaged and happy.
Cost-Effective Communication Channel
ShoutMeLoud found PushEngage's pricing to be way more reasonable than other push notification vendors.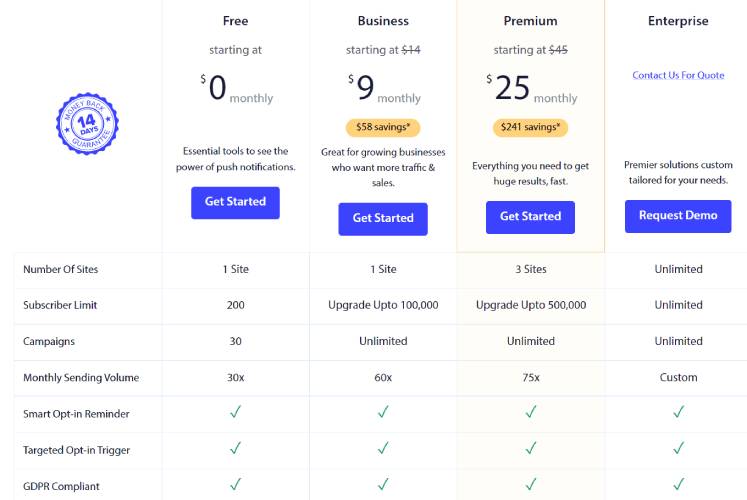 So, it was super easy for them to decide what billing plan they needed. PushEngage offers dynamic pricing based on your subscriber count and the features you need.
The Impact of Using PushEngage
Using PushEngage, ShoutMeLoud was able to reach out to customers more efficiently and effectively with their affiliate offers. They were able to boost traffic, engagement, and sales using segmented drip push notifications.
They were able to:
Update user instantly about affiliate offers
Get an average 6.77% optin rate for push notifications
Send push notification campaigns with a 10% conversion rate
Get click-through rates of 5.3% for drip campaigns
That was the impact of using PushEngage for ShoutMeLoud. PushEngage is the #1 push notification software in the world. You can use PushEngage to grow your traffic and engagement with the help of automated campaigns. So, if you'd like to grow your business like ShoutMeLoud, get started with PushEngage today!
Engage and Retain Visitors After They've Left Your Website
Increase the value of every web visit with Push Notifications that are hard to miss.
Forever Free Plan
Easy Setup
5 Star Support