Above Wholesome Yum
If you are fond of natural, gluten-free, low carb food, then Wholesome Yum is your destination. It is one of the leading websites, offering low carb recipes designed by Maya Krampf (founder). This blog offers easy to follow recipe made with 10 or fewer ingredients only.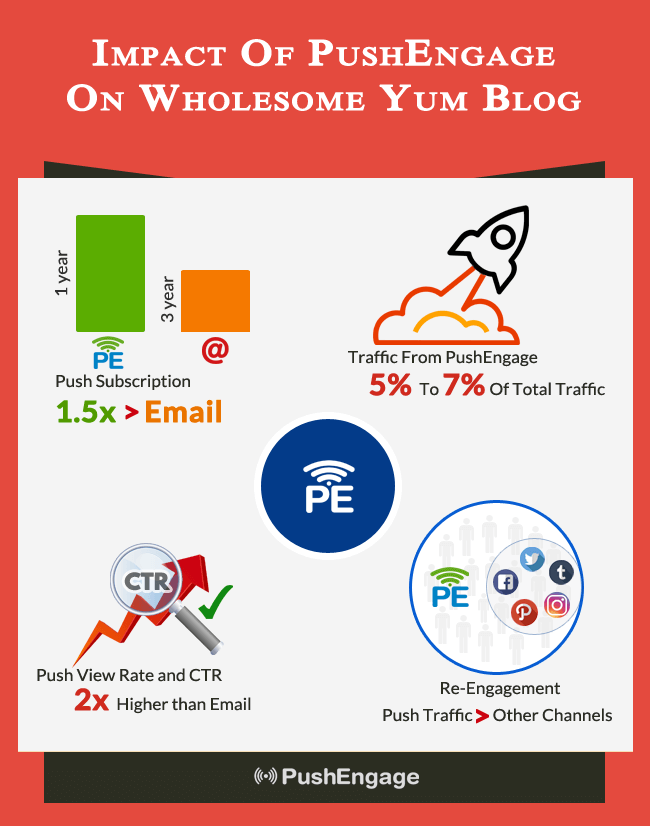 Marketing Challenge
Wholesome Yum is receiving more than a million visits monthly. With a gradual increase in people looking for low carb healthy food recipes, Wholesome Yum is the perfect site for them. The website was also receiving huge fan following in social media as well. They were adding new recipes every week to their collections. However, with such huge traffic, they needed to manage the same effect. The key challenges were:
Capitalize the traffic
Wholesome Yum wanted to ensure, the user coming to their website should be reachable again. This way they can re-engage with them at a later point.
Cost-Effective
This is one big challenge for Wholesome Yum. The website is receiving an increasing amount of traffic and they are looking for tools that do the job effectively and economically.
Easy way to update user
Wholesome Yum is working hard every day to create new recipes. However, they also need to update their user about their new recipe.
Re-Engaging
User visits their site in search of a good recipe. Wholesome Yum wanted to re-engage with all the users in a more effective manner to increase traffic to their website.
How PushEngage handled the marketing challenges of Wholesome Yum?
PushEngage offered all the necessary features and support to ensure Wholesome Yum is able to achieve its goal.
Challenge 1: Capitalize on the traffic
To capitalize on the traffic, Wholesome Yum needs the visitor to subscribe to their website. With PushEngage, the user subscription process is very simple. Once the user clicks Allow, they are subscribed without giving any personal information.
Result: With PushEngage, the subscription rate was much higher as compared to that of email. Wholesome Yum is using an Email subscription for the last 3 years. However, within a year, Push Subscribers was 1.5 times more than that of email.
Challenge 2: Cost-Effective
PushEngage offers 4 different pricing plans depending upon the requirement. Moreover, under each plan, you have a price depending on your subscriber number. This way Wholesome Yum is always getting the most competitive price in terms of features and subscriber limit. As compared to any other push notification service provider, Wholesome Yum finds that PushEngage offerings are more reasonably priced than competitors
Challenge 3: Easy way to update user
With PushEngage, Wholesome Yum is able to update users on their recent posts on time. With Push Notifications, they are able to send a recurring reminder to the people who visited their website. This has resulted in an increase in overall traffic to their website. According to Wholesome Yum – About 5% to 7% of total traffic is coming from Push Notifications.
Challenge 4: Re-Engaging
With PushEngage, Wholesome Yum is able to re-engage with users as well. They are able to connect to the user even after the user has left their website. PushEngage not only resulted in re-engaging with the user but also is able to create Brand Loyalty. Maya Krampf says that – We're also noticing that users coming from push notifications are loyal and tend to stay on the site longer than those coming from social media.
The key metrics to see how PushEngage created a positive impact for Wholesome Yum
Increased traffic: PushEngage is able to contribute 5% to 7% of total traffic
Brand loyalty: User coming from Push Notifications is more loyal and spend more time on the website.
Increased Subscription: Within a year, the total push subscriber is 1.5 times more than that of email subscriptions collected in the last 3 years.
Performance as compared to email: View Rate and CTR of Push Notifications are more than double as compared to that of email. According to Maya Krampf – The reach of push notifications is much better than email. About 65% of our push subscribers view the notification, and about 3.5% to 4.5% click through to the site. This is more than double the open/click rates for email.
PushEngage tool has supported Maya Krampf (founder) in achieving her goals for Wholesome Yum. For the fellow websites, she would like to share – [tweetshare tweet="Just get started! For the time and investment, push notifications are well worth it. Also, make sure to send push notifications that point to relevant and useful content, otherwise, people will find them too invasive." username="PushEngage"]
What Maya Krampf has to say about PushEngage
I've been so happy with PushEngage! The customer service is quick, responsive and helpful. The service has great features, and more reasonably priced than competitors. Push notifications have been a great additional source of traffic for our website
You can also get such results using Web Push. Take a free trial and start using push notification service for free during the trial and see the result.