[Insider Secrets] How WholesomeYum Gets 7% of Their Traffic from Web Push Notifications
Wholesome Yum is a leading recipe blog for natural, gluten-free, low-carb food. The blog offers easy-to-follow recipes with 10 ingredients or less.
More Monthly Site Traffic
Push Notification Subscribers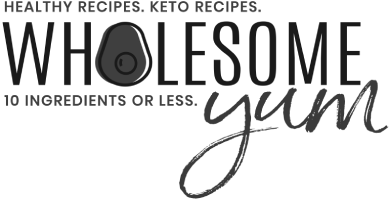 Maya Krampf
Founder, Wholesome Yum
The Marketing Challenge
The Wholesome Yum blog was already getting 1+ million monthly website visitors when they started using PushEngage. They were adding new recipes every week that made the blog super popular on search and social. But they're constantly looking for new ways to create an impact:
Getting more high-quality traffic to their site
Unlocking cost-effective ways to get traffic
Converting their existing and new traffic
Re-engaging old readers with new content
And they also needed an elegant and simple way to send out reminders to their readers to check out newer recipes.
So, we helped them with all their marketing goals.
How PushEngage Helped Wholesome Yum
When Wholesome Yum first started using PushEngage, they simply wanted to explore a new way to get and convert traffic. The fact that PushEngage's pricing is way more reasonable than other push notification software helped them make that decision.
They'd already been doing email marketing for 3 years. So, Wholesome Yum started by collecting push notification subscribers just like they collected emails.
Increasing Subscribers
Wholesome Yum started by setting up a simple push notification optin like this one:

And that was good enough. If you're getting started with push notifications, you should check out this article on how to style your push notification optins.
Since push notifications don't collect any identifying information or personal data, in a year, their push notification subscriber list was 1.5x their email subscriber list.
Working on Repeat Traffic
As Wholesome Yum's push notification subscriber list started to grow, there was a sharp rise in their repeat traffic. In fact, PushEngage gave them a 5-7% bump in monthly traffic fairly easily.
Here's the beauty of PushEngage: You can send out an automated push notification every time you publish something new.
And that's exactly what Wholesome Yum did.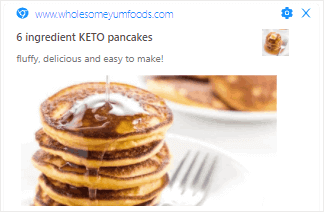 The result? Not only did their repeat traffic grow, but their average engagement also began to increase.
Increasing Engagement on the Site
Wholesome Yum stumbled onto something super interesting. They found that the traffic they generated from push notifications was much more loyal and engaged than the traffic they were getting from social.
On top of that, the open rate and click rates were way higher than their email campaigns.
"The reach of push notifications is much better than email. About 65% of our push subscribers view the notification, and about 3.5% to 4.5% click through to the site. This is more than double the open/click rates for email."

Maya Krampf, Founder of Wholesome Yum
So, not only were they getting more traffic because of their higher click rates, the traffic actually stayed on their site for way longer. This also increased their sales on their online store when they ran automated push notification campaigns like this one: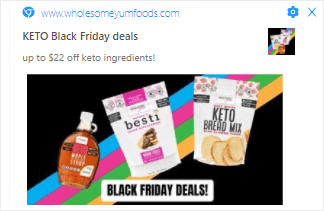 Cost-Effective Communication Channel
Wholesome Yum found PushEngage's pricing to be way more reasonable than other push notification vendors.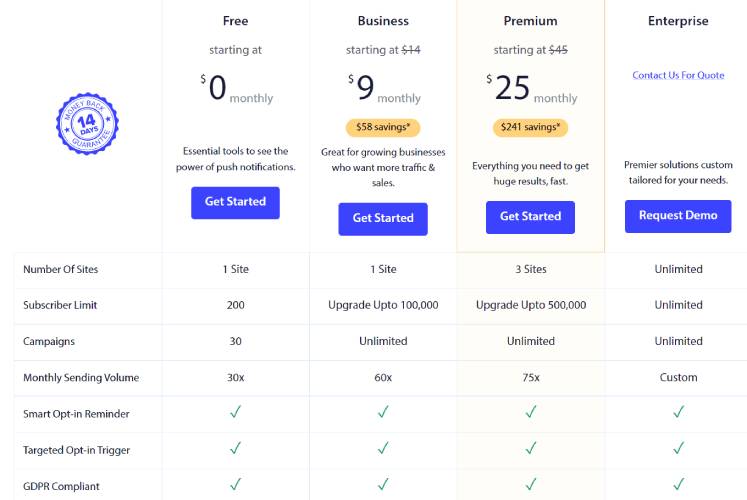 And it was super easy for them to decide what billing plan they needed. PushEngage offers dynamic pricing based on your subscriber count and the features you need.
The Impact of Using PushEngage
PushEngage managed to solve all the major marketing challenges that Wholesome Yum was facing. And the numbers are fairly self-explanatory. Within a year, they:
Got a 5-7% increase in monthly traffic
Managed to 1.5x subscriber list in a year
Increased their notification view count by 65%
That was Maya Krampf from Wholesome Yum discussing the impact of using PushEngage. PushEngage is the #1 push notification software in the world. You can use PushEngage to grow your traffic and engagement with the help of automated campaigns. So, if you'd like to grow your business like Wholesome Yum, get started with PushEngage today!
Engage and Retain Visitors After They've Left Your Website
Increase the value of every web visit with Push Notifications that are hard to miss.
Forever Free Plan
Easy Setup
5 Star Support