If you're wondering, "when is the best time to send push notifications?"
Sending push messages at the right time of the day can skyrocket engagement rates. And it's even better if you know the best day to send push campaigns to your subscribers.
It's all too easy to send out a push notification only to realize that:
More than half your subscribers didn't even see the notification;
The ones that saw your notification are complaining about way too many notifications;
You sent out a notification at the most horrible time;
The good news is that you can solve all of this pretty easily.
We're going to give you a cheat sheet that helps you send timely notifications on a schedule.
Very cool! So, let's dive in.
When to Send Push Notifications: Industry Breakdown
A while back, we had a major revelation:
There is no "one ideal time" to send out push notifications.
A lot depends on the industry you're in.
So, if you're in the B2B space, you should keep in mind that the business your customers are in can dictate when to send push notifications.
In fact, a lot can change within the same industry.
Here's a quick look at an industry breakdown for when to send push notifications: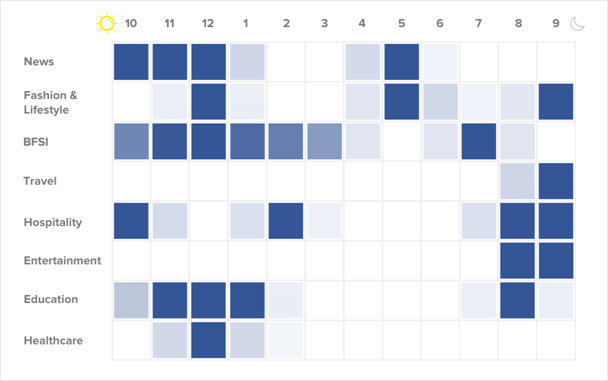 | Domain | Best time to send push notifications |
| --- | --- |
| News | 10-12 pm, 5 pm |
| Fashion & Lifestyle | 12 pm, 5 pm, 9 pm |
| Travel | 9 pm |
| BFSI | 10 am- 3 pm, 7 pm |
| Hospitality | 10 am, 2 pm, 8 pm-10 pm |
| Entertainment | 8 pm -10 pm |
| Education | 11 am-1 pm, 8 pm |
| Healthcare | 12 pm |
The reality is that different industries operate differently. From a business point, it may seem all the same because any business is just demand meets supply.
But for larger businesses, how demand meets supply can influence when people are free or when people need to see specific notifications.
NOTE: Keep in mind that the timesheet is just for you to get a rough idea of when to send notifications. These may not be the best possible times to send notifications and we highly recommend looking at your analytics to tweak your schedule.
Also, just the industry breakdown isn't a good enough baseline. You'll need to refine this time chart further by customer segments.
When to Send Push Notifications: Persona Breakdown
It's highly unlikely that your entire audience will love the exact same things. Or that they will have the exact same needs.
In other words, you can split up your total audience into smaller groups by either demographics or by interest.
And that's exactly why all businesses should create buyer personas for better marketing.
Here's a quick look at what we mean:

This way, you can refine your push marketing strategy by specific customer segments.
Here's your cheat sheet:
| Domain | Best time to send push notifications |
| --- | --- |
| Working-class | 9 am, 12 noon-2 pm, 9pm -11 pm |
| Young mothers | 11 am-12 pm, 7 pm-8 pm |
| Middle-aged housewives | 12 noon 2 pm, 9 pm-11 pm |
| Students | 9 am-12 am, 7 pm-2 am |
Again, there's no guarantee that this is the best possible time to send out notifications for your business. This timesheet is meant to help you get started. Don't take this chart to be the Bible of push notification schedules.
In any case, you should most definitely have different customer segments before you send push notifications.
And if this sounds like a good idea to you, you should create segments on PushEngage to refine your push notification strategy. PushEngage is the #1 push notification software in the world and you can send out laser-focused push campaigns using custom subscriber segments.
But more importantly, you also need to know how to schedule your notifications now that you know how to do it.
That's up next.
How to Schedule Your Push Notifications
Scheduling your push notifications is a good way to avoid this: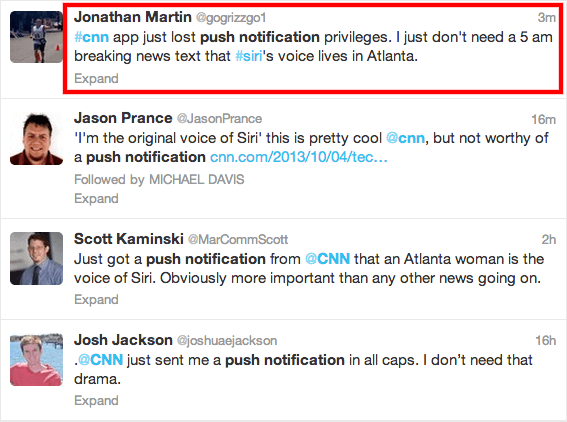 And achieve this instead: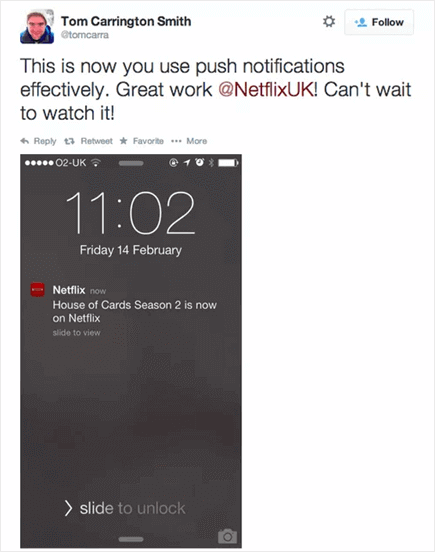 This trick to getting your subscribers to love you is to schedule push notifications to be sent in their time zone. Just because it's 3:00 pm where you are right now doesn't mean that your subscribers are going to receive it at 3:00 pm in their time zone.
The good news is that you can schedule your push notifications well ahead of time with PushEngage's scheduling options: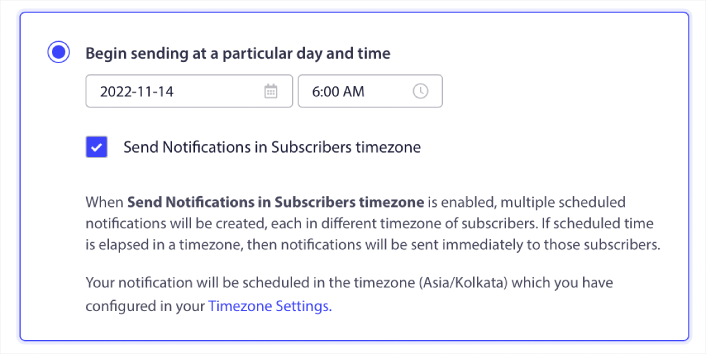 If you're running drip campaigns or weekly recurring events, you'll need more step-by-step instructions. So, check out this article on how to schedule your push notifications to get started right now.
And if you're using the WordPress plugin, you can also create and manage your notifications inside the post editor.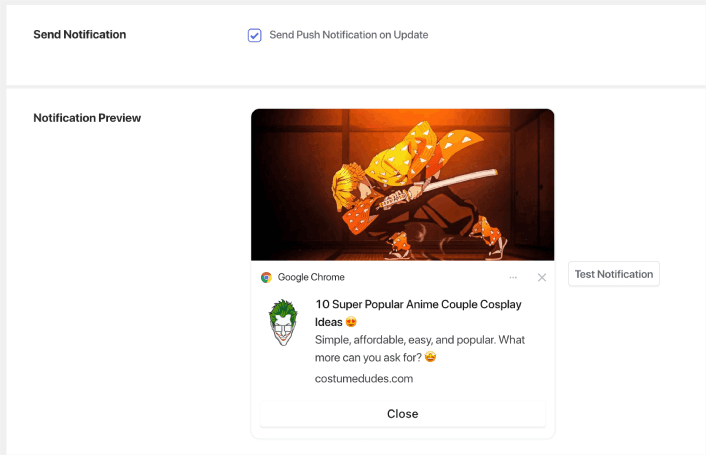 You can set these notifications to get sent whenever you publish or update your post. And of course, you can schedule your post updates and publishes in WordPress with complete flexibility.
How to Limit the Number of Push Notifications You Send Out
Pro-Tip: NEVER flood your subscribers with multiple notifications.
A really common problem with push notifications is the fact that most websites usually have multiple push campaigns running simultaneously.
From an automation point of view, this is pure gold. But your subscribers could end up being flooded with a whole bunch of notifications.
Here's an example of what we're talking about: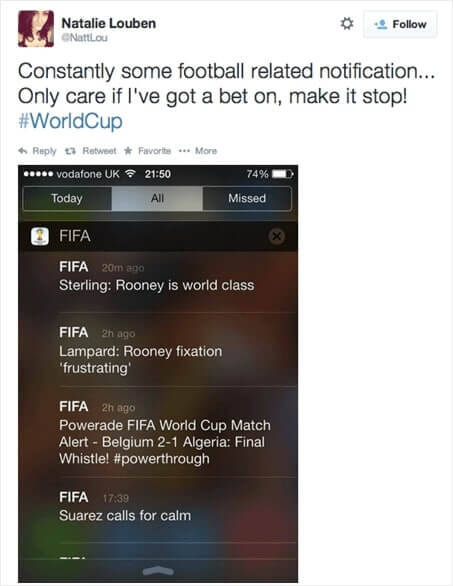 Has this ever happened to you? Let us know in the comments below.
Also, a quick fix to this problem is setting daily and weekly trigger limits to your push campaigns.
Daily and weekly trigger limits put a cap on the number of notifications you can send a subscriber in a day or in a week. By limiting the number of notifications sent out, you can avoid looking clingy and annoying to your customers.
The good news is that you can create this cap for ANY push notification or sequence of push notifications on PushEngage while you're drafting it:

This was an example of a cart abandonment campaign but it's the same for all campaigns on PushEngage. All you have to do is set a limit in trigger limit fields.
Simple, right?
Now That You Know The Best Time to Send Push Notifications
Sending out the right notification at the right time can get you a ton of traffic and sales. And it's time you start scheduling your push notifications as well.
We recommend using PushEngage to send your push notifications.
PushEngage is the only push notification service that comes with a fully functioning WordPress plugin to send push campaigns directly from your WordPress dashboard. With other solutions, you'll have to go back and forth between multiple dashboards for each campaign.
If you're new to push notifications, you should check out these amazing resources as well:
Here's a bonus tip for reading till now: A/B test all your push notifications to learn exactly when you should send out notifications. A/B testing can help you figure out a lot about your customers that you would not know upfront.
By now, you've seen the power of PushEngage and you probably want to start creating your push notification campaigns on PushEngage.
So, what's stopping you?