Looking to set up trigger campaigns for news articles and online publishers?
Promoting your content is tough. Especially considering the amount of competition you have out there. That's where trigger campaigns come in. You can easily set up push campaigns that get sent automatically.
But how do you do it? Do you need a developer? What kind of campaigns should you create?
In this article, we're going to list out trigger campaigns for news articles.
Why Use Trigger Campaigns for Your News Articles?
Using triggered push notification campaigns to promote new articles offers several benefits for content publishers. Here are some reasons why they can be an effective strategy:
Real-time engagement: Push notifications allow you to reach your audience instantly and deliver your message directly to their devices. By sending a push notification when a new article is published, you can capture your readers' attention while they are actively using their devices, increasing the chances of engagement.
Increased visibility: With push notifications, you can cut through the noise and stand out among the multitude of content available online. By leveraging personalized and attention-grabbing messages, you can effectively capture your audience's interest and entice them to read your new articles.
Targeted and segmented approach: Triggered push notification campaigns enable you to target specific segments of your audience based on their preferences, interests, or behavior. By tailoring your messages to specific user segments, you can deliver content that is more relevant and appealing to individual readers, increasing the likelihood of click-throughs and conversions.
Automated delivery: Once set up, triggered push notification campaigns can be automated to send notifications whenever a new article is published. This saves time and effort compared to manual outreach, ensuring that your content is promptly delivered to your audience without delay.
Increased traffic and engagement: Push notifications have proven to be an effective tool for driving traffic to websites and increasing user engagement. By using compelling headlines and enticing teasers in your notifications, you can pique readers' curiosity and motivate them to click through to your articles, boosting both traffic and engagement metrics.
Retention and loyalty: By regularly sending push notifications to your audience about new articles, you can foster a sense of loyalty and encourage repeat visits. Subscribers who receive valuable and relevant content through push notifications are more likely to remain engaged with your brand and continue consuming your articles over time.
Triggered push notification campaigns offer a direct and efficient way to promote new articles, reaching your audience in real-time and increasing the visibility and engagement of your content.
Best Trigger Campaigns for News Articles and Publishers
As a regular content publisher, you can get a lot out of the sheer flexibility of push notifications. It's perfect for news sites and publishers. There are so many actions you can use for your push notification campaigns.
Let's take a look at some of the best push notification examples for news sites and publishers and what you can achieve in a few simple steps!
#1. Nudge Push Subscribers To Become Newsletter Subscribers
Using push notifications doesn't mean that your email marketing becomes obsolete.
In fact, you can use push notifications to get email opt-ins directly. Most automated email campaigns are based on list opt-in links. So, you can directly send opt-in links using push notifications.
Here's a great example of this idea by Hearst: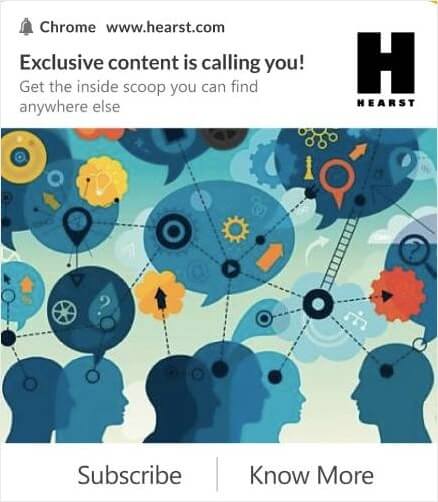 If you click on 'Subscribe,' you get subscribed to their email newsletter.
Very nice!
#2. Get Even More Traffic With FOMO Notifications
You can generate more subscribers using the PushEngage Javascript API.
One simple way is to integrate your social media accounts and create personalized notifications for your subscribers.
Here's an example: Your friends just read this news article. Have you seen it yet?
The idea is pretty simple. If one of your subscribers has a friend who just read an article, you let your subscriber know about it. This introduces a Fear Of Missing Out (FOMO) in your subscriber. And it's a great way to generate more traffic quickly
#3. Delight Them With Real-time Updates
If you're familiar with HubSpot's flywheel, you'll know that it's not enough to attract, engage and convert. You also need to keep delighting your subscribers.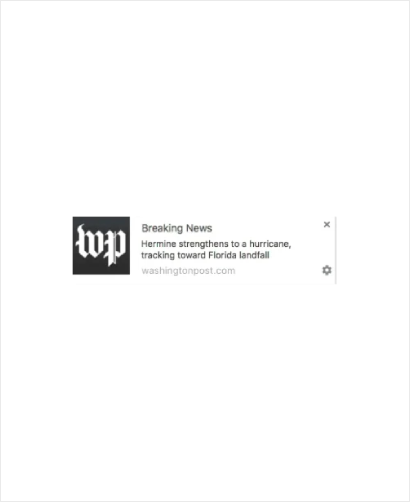 Yes, this is used more often by news sites. But publishers can use it for their live events to great effect.
You don't even have to be a massive authority site for this to be effective. Check out Tara's healthy eats as they send out invites to a live event using push notifications:

#4. Use Browse Abandonment To Get Readers To Resume Reading
Browse abandonment campaigns can be used to ask readers to resume reading. You can tell readers who dropped off midway to read the full article and not miss out.
Browse abandonment push notifications are awesome for news sites and publishers. The biggest challenge every news site and publisher needs to solve is audience engagement.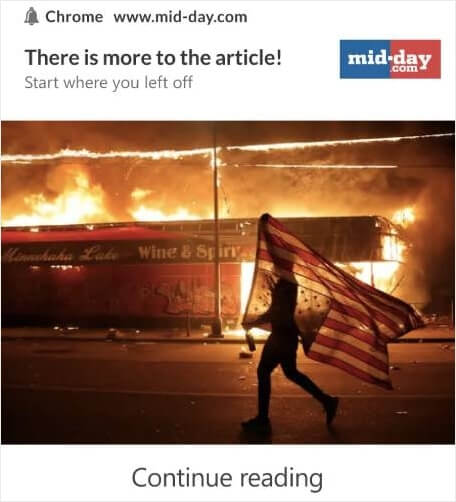 Check out this article on browse abandonment email examples for some more inspiration.
#5. Send Content Recommendations
You can segment subs using URLs browsed to send personalized content recommendations.
Segmenting users means grouping subscribers together by their interest. With PushEngage, you can dynamically segment your subscribers and send them content that's highly relevant to their interests.
For instance, you can automatically create a sales segment to send offers to subscribers who checked out your product pages.
And then create a separate lead nurturing segment for subscribers browsing your blog content.
#6. Reactivate Dormant Subscribers
With PE, you can delete dormant subscribers to save money and resources.
But before that, you can try to send out a personalized push notification to reactivate them before cleaning up the dormant subscribers.
For many news sites and publishers, ad revenue from traffic is the primary source of revenue. If that's you, reactivating your dormant subscribers can generate a lot of extra revenue in a very short time.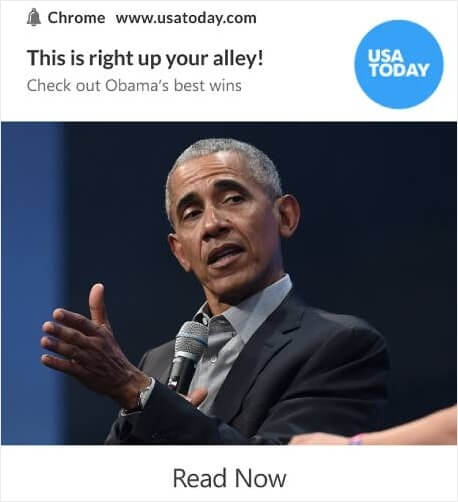 Pro-Tip: It's never a good idea to depend on only one source of income from your content. If you're relying heavily on ad revenue, check out this article on Google AdSense alternatives that can make you more money.
#7. Send Drip Campaigns To Sell Official Merch
Many news outlets, especially modern media outlets often have official merch. Of course, it's probably not official merchandise for any of the news shows. Most likely, you want to sell merch from a popular series from a channel owned by your media network.
For instance, NBC sells Dunder Mifflin "World's Best Boss" mugs on their official store: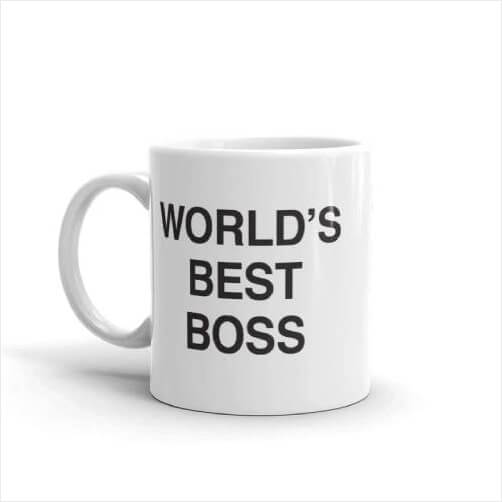 Sending out a simple drip push campaign, you can generate sales to support the business.
This is what it would look like: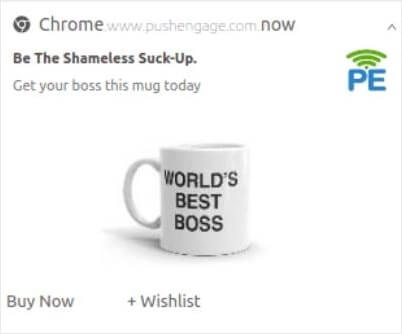 You're welcome, NBC!
For publishers, there's almost always official merchandise and goodies for hardcore fans. This is especially true if they're known to host summits, podcasts, and industry events.
Search Engine Journal sends out email blasts pretty regularly to all their subscribers. One thing that they do a lot of is webinars and podcasts. Of course, they have their own merchandise as well, but here's a push notification example for a podcast evite: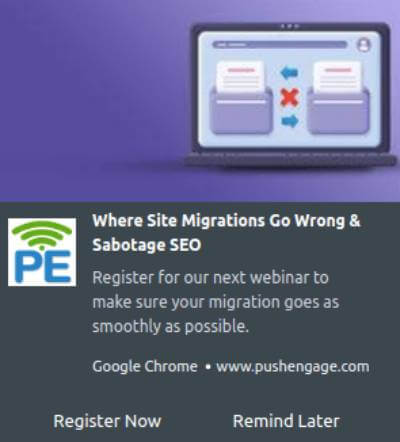 You're welcome too, SEJ!
Maybe consider using PushEngage to send drip push notification campaigns?
#8. Send Drip Campaigns To Become Premium Members
For many news platforms, especially with websites that offer industry news, their primary source of income is advertising spots. But way too many readers use ad blockers. So, platforms such as Fox News have premium memberships.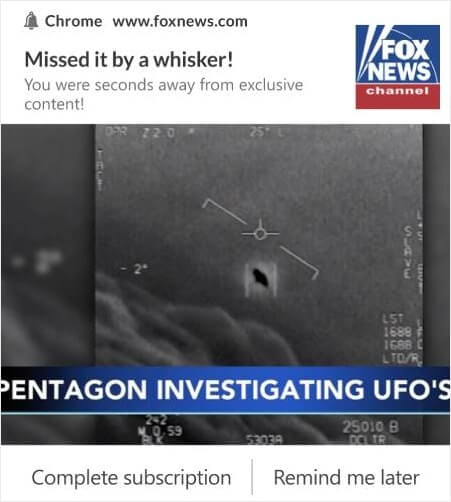 Very cool!
#9. Send Drip Campaigns To Get Donations
Many journalistic platforms aren't funded by giant corporations or political parties. So, these platforms run on independent donations. In fact, this is valid for a non-profit publishing site such as Wikipedia as well.
In the US alone, Movember saw a 220% increase in donations on Android, and a 374% increase in donations on iOS: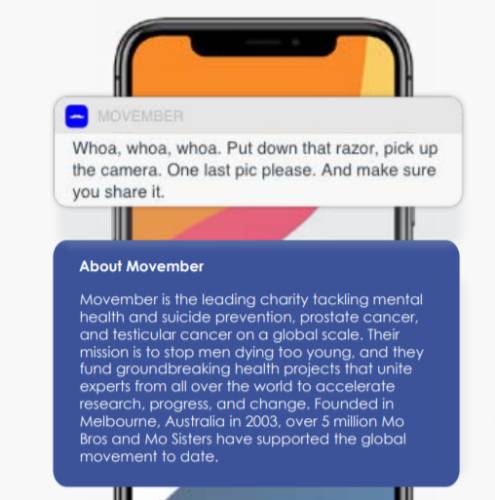 So, you can use push notifications to get donations to run the site.
#10. Send Out Third-party Promos To Subscribers
For publishers, affiliate offers are an important source of revenue. You can run push campaigns for affiliate products with ease.
Many news sites promote books, courses, and products.
These promos aren't necessarily affiliate links. Even so, how well these promos work add to the site's authority and push notifications can generate a lot of interest to the original article.
#11. Win Back Unsubscribers
Anyone who has done email marketing in the past knows that unsubscribes are a real challenge. In fact, companies like HubSpot that thrive on email marketing suffer from unsubscribes enough to create win back campaigns.
Using push notifications, you can send out a simple campaign to try and win back unsubscribers. Basically, it's the exact opposite of a welcome push notification.
Even better, you can actually enable smart re-subscription for your PushEngage account.
This feature automatically resubscribes people who unsubscribed from your push notifications but are still visiting your content.
#12. Send Out Ebooks and Courses to Improve Engagement
More often than not, readers don't want to subscribe to the email newsletter.
In such cases, push notifications that offer ebooks and other lead magnets can help increase the audience engagement without them needing to give up their email addresses.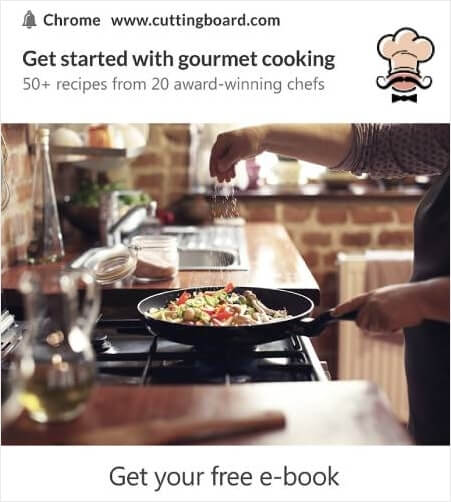 At a later stage, when the subscriber is more deeply engaged, you can send them push notifications that convince them to opt in for the newsletter.
For many independent publishers, courses are a great way to boost revenue and engagement. Sometimes, publishers will even launch free ebooks and courses to improve their audience engagement and authority.
What to do After You Set Up Trigger Campaigns for News Articles
That's all for this one, folks.
You just went through a lot of incredible ideas. Now, it's time to start creating your own campaigns.
You should start creating your own push notification campaigns using PushEngage. PushEngage is the #1 push notification software in the world. Every idea you saw in this article, you can recreate using PushEngage.
Heck, you could even come up with your own ideas. Just in case you need a little extra help, here are a few epic resources to get you started:
So, if you haven't already, get started with PushEngage today!