Notice: There is no legacy documentation available for this item, so you are seeing the current documentation.
Yes, you can manage your list. We do give the option of clean up. You can contact your Account manager or mail at care@pushengage.com
Also, if your account is enabled with Subscribers deletion option, you can follow the below steps to clean up the required subscribers list.
Step 1 – Login to your PushEngage Dashboard and navigate to Subscribers.
We offer two options to delete the subscribers –
Filter Options – Here you can delete the subscribers under the following conditions
Subscribers who did not Click
Subscribers who did not View
Subscribers who did not Receive
Advance Filter Options – Here you can delete the subscribers under following conditions
Attribute
Browser
City
Country
Device Type
Segment
State
Subscription Rate
Last Click Date
Last Sent Date
Last View Date
Total Click Count
Total Sent Count
Total View Count
You can add new rules as well by adding custom conditions.
Step 2 – You can select the conditions as per your subscriber's behavior. You can select the Tab accordingly and select the condition from the dropdown.
Step 3 – Enter the number of days in the input field or the country name, device type, browser date etc. To set custom conditions select Add New Rules.
For Filter Options –
For Advanced Options –
Add Custom Conditions –
Step 4 – Once you've applied the rules click on Preview Subscribers and Submit The Cleanup Request.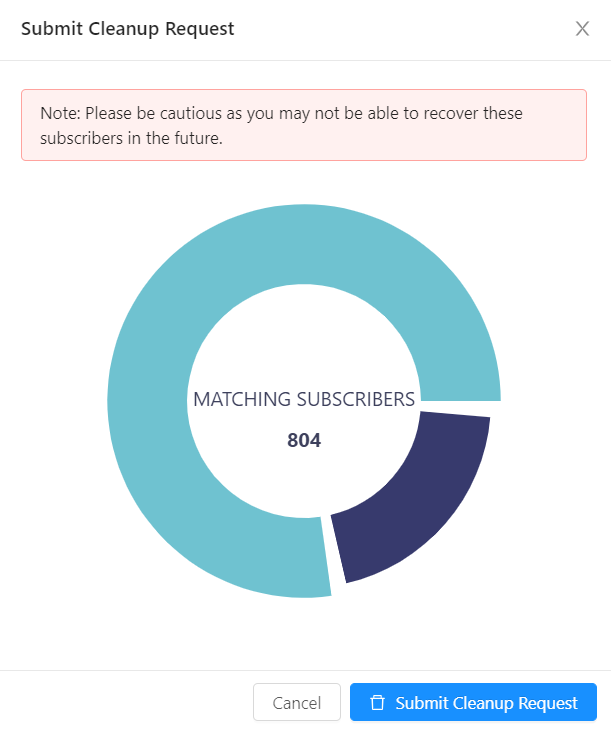 Please note, this feature will be accessible only to the admin of the account and not to the sub-users. Also, if the count exceeds more than 25% please contact care@pushengage.com or your Account Manager.