What push notification performance metrics should you use to measure success?
Are you even looking at the right numbers? Also, how do you benchmark your performance for push notification campaigns?
Using data to make marketing decisions is a great way to keep growing your business.
But there's so much data to look at.
Where do you even start?
Don't worry, you're not the only one asking these questions. In this article, we're going to help you narrow your data using 5 concrete push notification performance metrics to look at.
Sounds good? Awesome.
Let's dive in!
5 Push Notifications KPIs to Help Your Business Grow
The first step to setting push notification performance metrics is to have real goals. Otherwise, none of this matters.
For eCommerce push notifications, your goal could be to generate more revenue. In that case, you should probably check out our article on eCommerce push notification examples.
Again, it all depends on what you're expecting to achieve from your push notifications.
Maybe you'd like to optimize a particular revenue stream such as abandoned cart recovery.
In such cases, a specific monthly revenue is definitely a good goal to have. But that's not all you can do with your push notifications.
For instance, if you're running a website that doesn't directly sell things, you may want to consider other goals such as gaining new users or getting more monthly traffic. The good news is that push notifications cost very little.
In this article, we'll even show you how to check these KPIs on PushEngage. PushEngage is the #1 push notification software in the market. But these KPIs will work no matter what vendor you're using.
Pro-Tip: Assign a number to all your goals. If your goal is to get more traffic, try to have a specific number such as, "I want 1,000 more monthly visits to my website from push notifications".
Now that you have a specific goal in mind, let's check out the push notification performance metrics to look at.
#1. Push Notification Opt-In Rate
The opt-in rate for your campaigns is the number of people who opted for push notifications out of all the people who saw your opt-in popup.
In simpler terms:
Opt-in rate = number of subscribers/number of unique visitors
If your opt-in rate is low, then it's a good indicator that there may be something wrong with your opt-in popup. Here's a good example of a high-converting opt-in for your push notifications: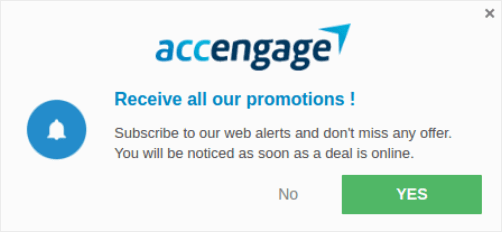 But the bigger question right now is…
What's a low opt-in rate?
If your opt-in rate is below 5%, you need to start optimizing your subscription opt-in right away.
For Android or iOS app push notifications, 60% opt-in rates are pretty standard. Although, you will get a higher opt-in rate for Android than for iOS.
Web push is a different story. Anything higher than 6% is good. This is more than 3x the typical email subscription rate.
So, what can you do?
Head over to your PushEngage dashboard and then go to Analytics » Subscription Opt-in Analytics:

Once you know your opt-in rate, check out our list of high-converting opt-ins to optimize your subscription opt-ins.
#2. Push Notification View Rate
View rate is the number of people who saw your notification out of the total number of people who received your push notification. Viewing means noticing that you've received a push notification. It's not the same as clicking on the push notification.
Still, view rate is a pretty important push notification performance metric to consider.
The simple version is:
View rate = number of people who saw the notification/number of people who received the notification
A good view rate for push notifications is anywhere between 45% – 90%. An equivalent metric for emails is the open rate, where 15% – 30% is pretty standard.
You can check out your push notification view rates right from the PushEngage dashboard:

If you're getting view rates below 45% on your push notifications, you really need to check out our guide on push notification best practices.
#3. Push Notification Click Rate
Push notification click rate or click-through rate is the percentage of people who saw AND clicked on your push notification to check out your content.
For most websites, this is one of the most important push notification performance metrics.
A good Click-Through Rate (CTR) for web push campaigns is 12%. If you include automated push notifications, you could increase the click rate up to 15%. At best, you may be able to get an extra 3% on your CTR if you use rich push notifications.
Again, this will vary depending on the industry you're in. Highly targeted and transactional campaigns can have a CTR of up to 30%. But this is incredibly rare for almost all industries.
Mostly, you should be aiming for a CTR of at least 5% across all your push notification campaigns.
And if you're doing worse than that, it's time for a few quick hacks.
Start by using this push notification character limit cheat sheet. By sending push notifications that are within an optimal character count, you can dramatically increase the impact of each notification.
Also, it's time to re-evaluate when to send your notifications. Check out this guide on the best time to send your push notifications.
#4. Push Notification Revenue
Yes, revenue is primarily a goal.
But it can also be a good KPI to look at. Especially considering that push notification analytics can show you how much revenue each notification generated.
And if you're running an eCommerce business, revenue is True North for you.
In PushEngage, all you have to do is head to the Dashboard » Notifications » Sent Notifications to check revenue:

And you can always get more revenue using sales promotional ideas.
#5. Push Notification Active Subscribers
Active subscribers are the number of push notification subscribers who actively check and/or open your notifications. Of course, 100% of your subscribers won't open absolutely every notification you send out.
But you should keep an eye on your subscribers.
In PushEngage, all you have to do is log in to your dashboard to see how many active subscribers you have:

Remember: Having a huge list of subscribers is useless if they don't really want to see your notifications.
One of the biggest factors that go into developing an active subscriber base is engagement. If you're struggling with this, you should check out our list of website engagement tools.
At the same time, you should also be deleting inactive subscribers from your list. Thankfully, PushEngage allows you to do this is just a few clicks. Here's how you can remove inactive subscribers and keep your list healthy.
Wrapping Up
That's all for this one, folks.
If you're struggling to get the most use out of your push notifications, you should get in touch with our Customer Success team. We can help you with all things related to push notifications.
We'll even help you set up your campaigns.
PushEngage is the best push notification software in the world. So, it's a perfect fit for seasoned marketers and complete beginners alike.
And if you haven't already, get started with PushEngage today!