Looking for sales promotion examples?
You're not the only one. Every business needs sales to survive, and in this article, we will give you 27 sales promotion examples.
The best part?
These are all real sales promotion examples from real businesses using these ideas successfully. So, you can steal these proven sales promotion ideas and apply them to your business.
We'll even show you how to apply them in simple, actionable ways.
Let's dive right in.
What Is A Sales Promotion?
A sales promotion is a way to market an ongoing sale on any of your products or services. Instead of marketing your product or service directly, you promote an offer that your customers will love.
Sales promotion is standard practice across all industries. You'll see this soon when we dive into the examples.
If you're wondering if you should even do sales promotions, the answer is yes.
Always.
Types of Sales Promotions
Before we get into the examples, you should know about some basic sales promotion ideas.
Now, there are hundreds of studies on buyer psychology. So, we won't go over why exactly they work. Instead, we'll discuss why specific campaigns were successful when we show you the sales promotion examples.
For now, let's take a look at the basic types of sales promotions:
Percentage or dollar amount discounts and coupons
Redeemable vouchers or gift vouchers
Free gifts and giveaways
Buy one, get X free (there are many variants of this)
Rebates on order values above a specific dollar amount
Free samples and trial memberships
Loyalty or membership rewards or points
Pre-launch offers
Bundle offers
Seasonal sales
Recurring events, sales, and deals
These are all very common motifs for sales promotions.
You'll notice that they all have common elements, such as the Fear Of Missing Out (FOMO) and an expiry time for the sale.
Sales Promotion Examples
Now that you know the what and the why behind sales promotions, it's time to check out the examples. Let's dive in.
#1. Destination Maternity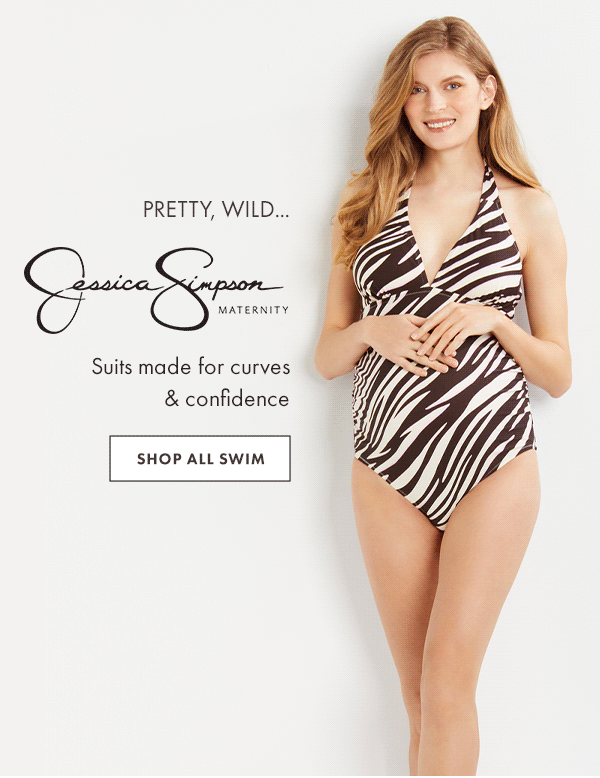 This one's a straight promotion with a 60% discount on maternity beachwear.
The email promo works not because of the discount but because of its catchy promo line of "MOMMY NEEDS A NEW SUIT, doo, doo, doo, doo."
It's a fun play on the "Baby Shark" song, and this is an incredible tactic to sell products.
Chalk it up to great copywriting.
If you'd like to write creative copy for your sales promotions as well, check out our push notification copywriting guide.
NOTE: Yes, it's focused mostly on writing great push notifications, but copywriting principles are universal.
#2. Estée Lauder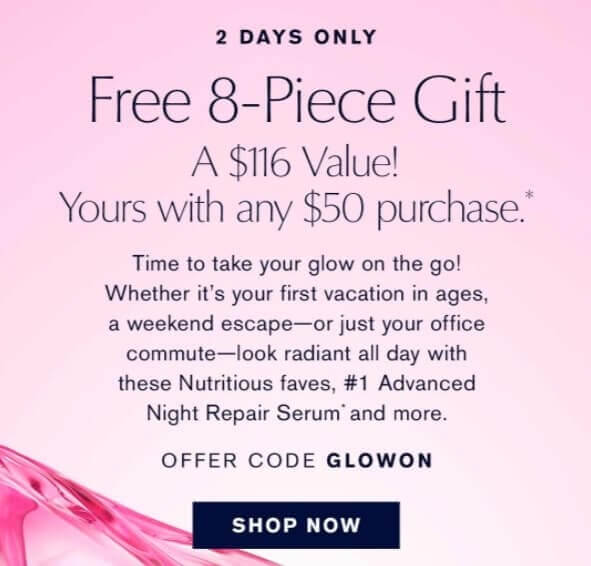 Estée Lauder is pretty well known for its sales promotions. In fact, it's pretty common for them to come up with a sale every other month.
This example is a pretty radical option. The idea is to get everyone hooked on their products.
All you have to do is buy $50 worth of products from Estée Lauder and you get 8 products as free gifts.
What do you do once those gifts get used up? They're all beauty products, so you will use them all up at some point. Chances are you'll buy at least 5 of those 8 products regularly at full price.
Very sneaky!
The good news is that it's really easy to create a campaign like this one. Just send out a push notification on PushEngage with a similar message.
Head over to your PushEngage dashboard and go to Notifications » Create » New Notification: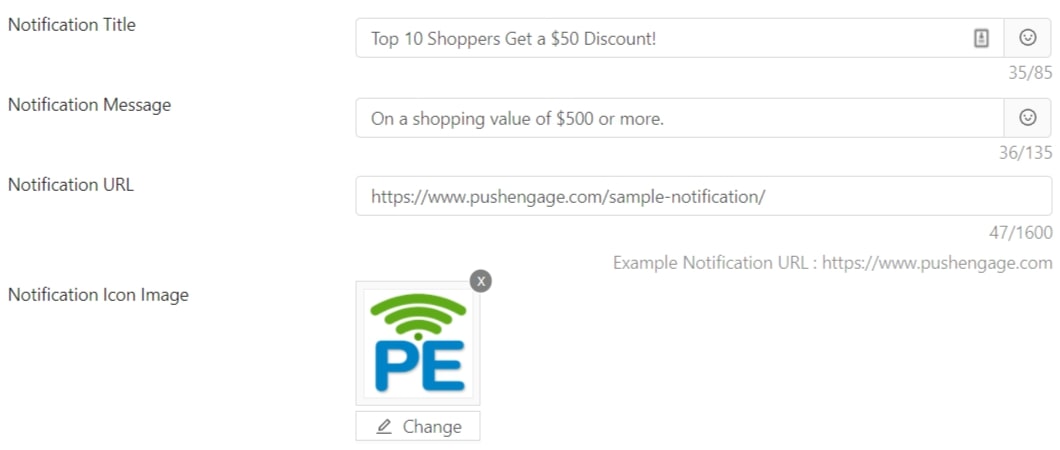 And send out a simple push notification with a Large Notification Image like the one in our example.
It's that simple.
#3. Tumi SG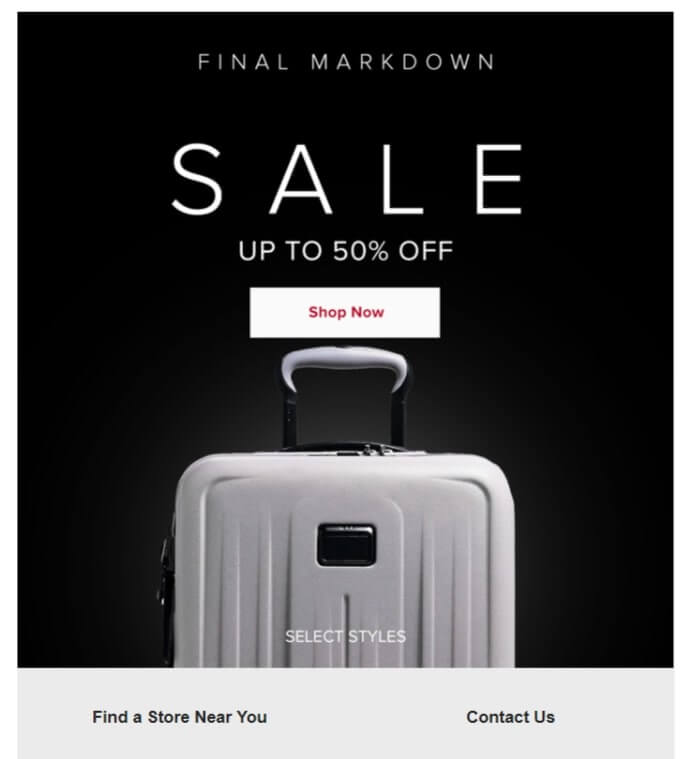 What you're looking at is a final call for a sales promotion by Tumi Singapore.
And that's exactly why it works: It's the final call.
After this, the discount is gone.
It's really easy to create a push notification campaign for a straight-up sales promotion, as you've already seen. This one has an advanced feature that we'd like to talk about.
See the two buttons underneath the image?
You can do that for any of your push notifications as well. The sales promotion example is an email, but you should definitely use the same idea for your push notifications.
Just create a new notification as we mentioned in the previous section and then scroll down to Multi-Action Notification and turn it On: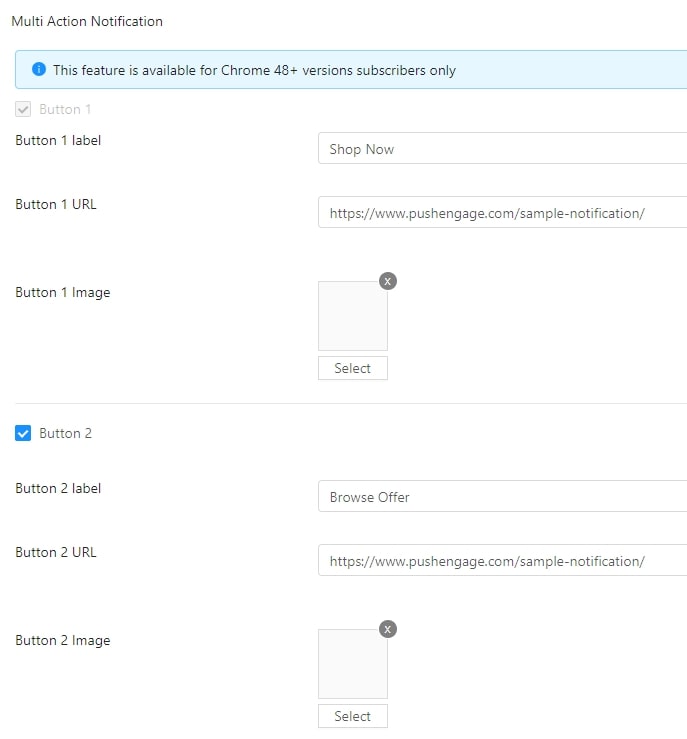 And now, you can add two call-to-action (CTA) buttons.
How cool is that?
#4. Pottery Barn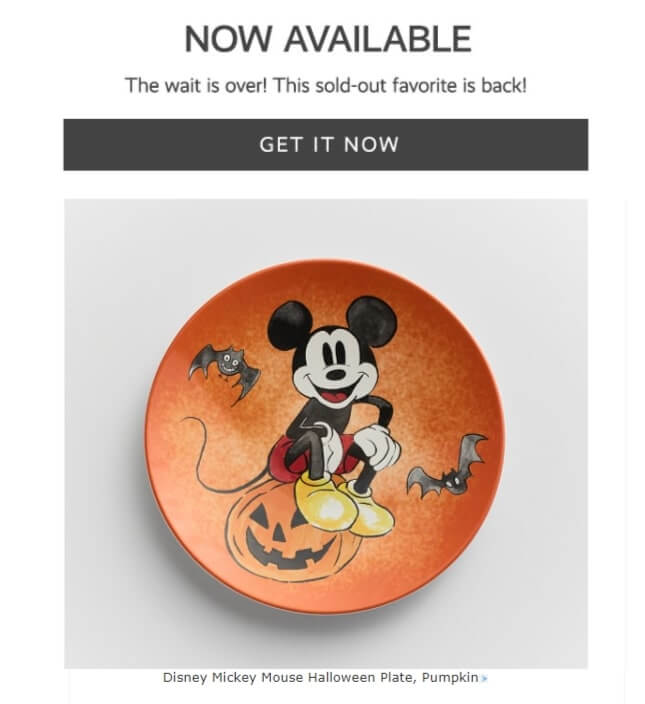 Pottery Barn is just one example of a mega-brand that uses Back-In-Stock alerts as a sales tool.
Trust us when we say it; almost every major retail and eCommerce store uses this idea.
What are back-in-stock alerts?
Back-in-stock alerts are simple notifications that tell your customers that an out-of-stock product they were interested in is now available again. Typically, it works really well in boosting sales.
In our sales promotion example by Pottery Barn, they coupled the alert with an offer for free shipping. This is what copywriters call 'sweetening the pot.' By offering free shipping, they just made it more irresistible to buy that product.
Very cheeky! But also, very effective.
Now for the good news: You can set up back-in-stock alerts using PushEngage.
Head over to your PushEngage dashboard and go to Automation » Price Drop / Inventory Alert » Create Price Drop / Inventory Alert to create an automated campaign: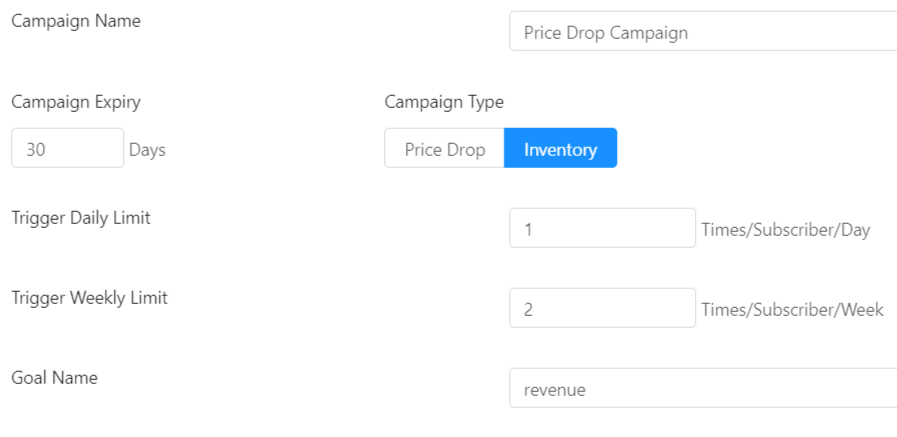 This campaign will automatically store and track which customers were interested in an out-of-stock product and send out a push notification to that customer when it's available again.
Neat, right?
If you need more help setting up this campaign, check out our guide to setting up Inventory Alerts on PushEngage.
#5. Sukin Naturals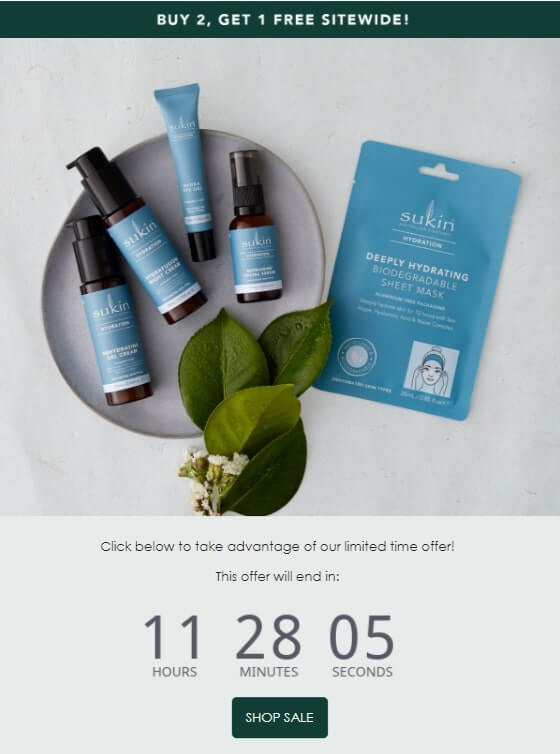 Let's check out a variant of the Buy X Get Y sales tactic.
This one by Sukin Naturals is a sales promotion example of a Buy 2 Get 1 offer on all their products. And the biggest selling factor here is the fact that it's a limited-time offer.
So, how can you use this same idea?
One super cool way to create limited-time offers on your website is to create a countdown popup.

We recommend using OptinMonster to create your countdown popup.
OptinMonster is the #1 conversion optimization toolkit in the world. Use OptinMonster to create sales promotions that convert your existing web traffic on autopilot.
#6. Harbour Freight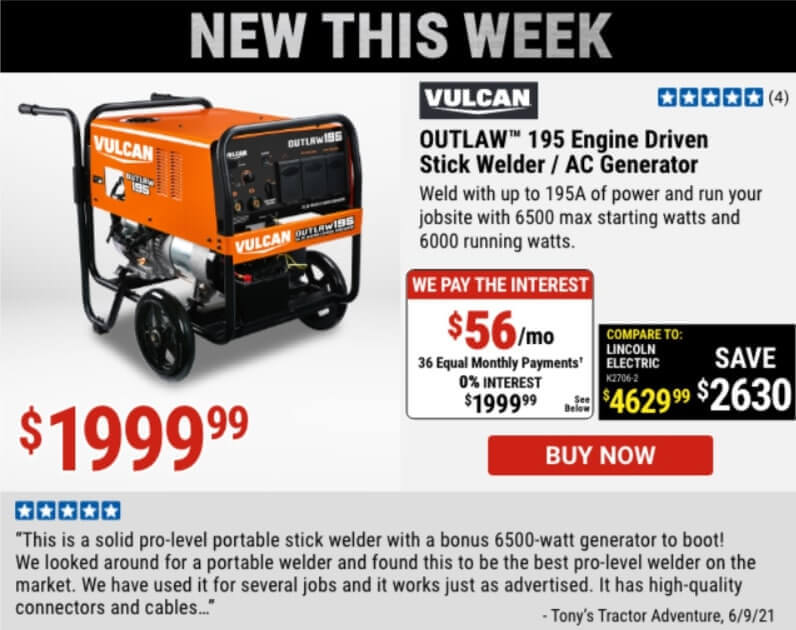 Announcing new arrivals to your store is a sure-fire way to generate a ton of traffic and interest in a product. And if that product also has a discount or some other offer to sweeten the pot, that's even better.
A lot is going on in Harbor Freight's example.
It almost has the look and feel of a newspaper ad from Joe Sugarman's heyday.
Why does it work?
Nice, clear image of the product
A 5-star rating by four reviewers
Payment options with no-cost EMI
A quick price comparison with a similar product
The testimonial from Tony's Tractor Adventure
A very prominent call-to-action
It's all done to perfection, really. We think Joe Sugarman would have been proud of this advertisement. The best part is that it's an announcement email. So, it doesn't even feel sales-y.
Here's some even better news: It's super-easy to replicate this using PushEngage.
Head over to your PushEngage dashboard and create a push notification with a custom image. You can put the testimonial in your push notification body text and create a Buy Now button to tie things up neatly.
#7. OfficeSupply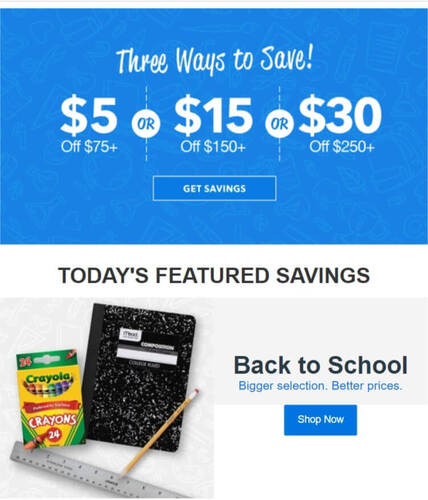 Now, there's a familiar name! OfficeSupply has been running sales since 2003, and they have a seasonal offer called the Back to School offer.
It's a simple concept. You run a seasonal sale and give people the same products (or more) at better prices.
See how the email starts with "3 Ways to Save"?
That's not just great copywriting. They followed it up with three actual discounts on a minimum order value.
So, how do you create a seasonal sale?
One very nice tool you can use on PushEngage is the scheduling option.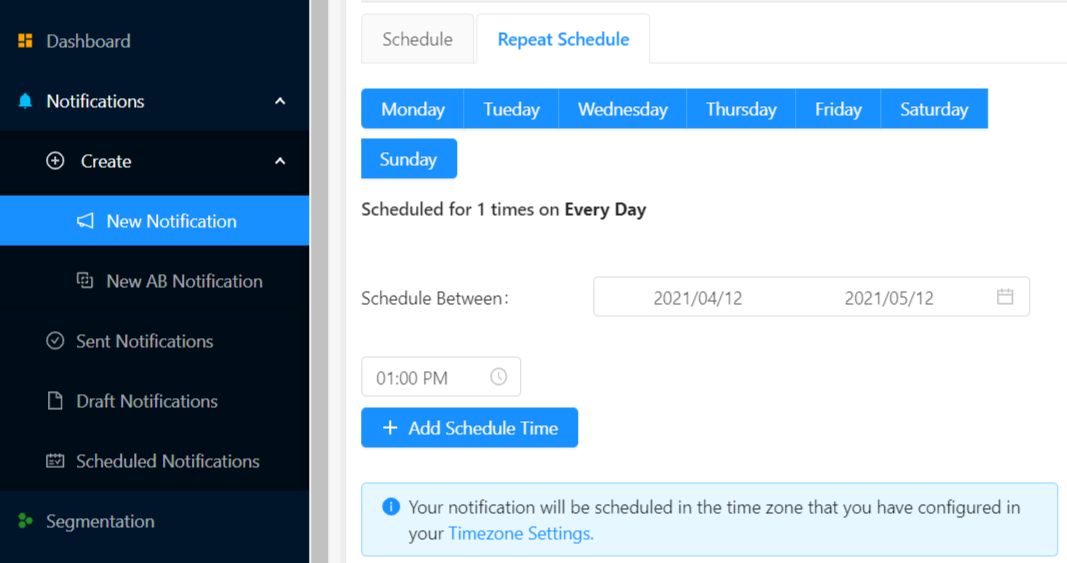 You see, a seasonal sale is basically the same thing as a weekly flea market. You're running a specific offer in fixed intervals.
So, you can actually create the template for a seasonal sale and schedule it on repeat using PushEngage. Check out this article on how to schedule your push notifications using PushEngage.
#8. French Connection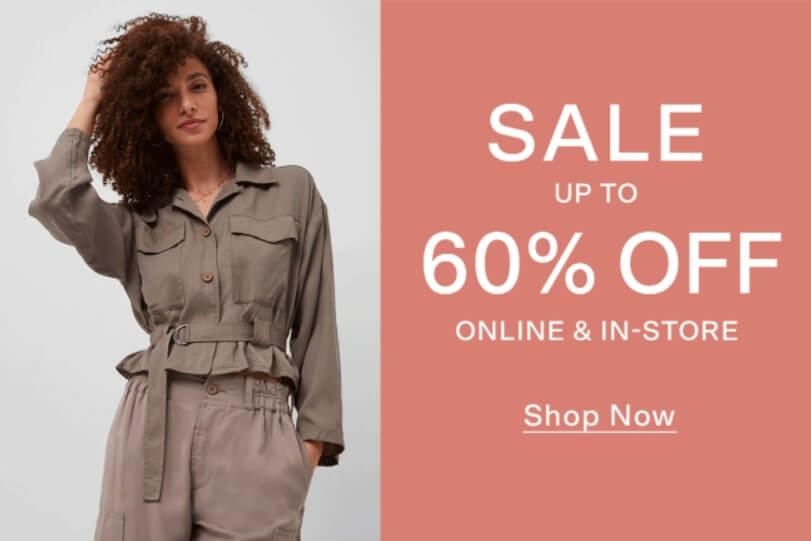 Let's check out a sales promotion example by French Connection, where it's an end-of-season sale. The sweetest bit is that it offers a straight discount of up to 60%.
And that's exactly why it works.
In principle, an end-of-season sale is just like any other sale. So, you can use PushEngage to set one up yourself. And we recommend offering a mega discount for stock clearance on all your products.
Trust us when we say that it works like a charm!
#9. Victoria's Secret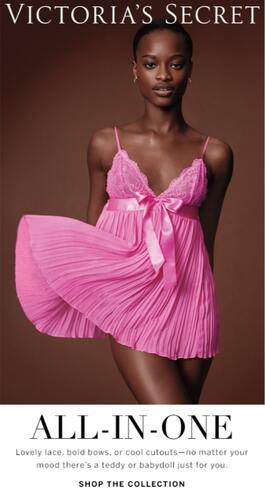 Anyone who's bought from Victoria's Secret knows that it's not a one-and-done kind of brand.
That's exactly why this "one and done collection" for their one-piece lingerie collection works so well.
Also, it's a play on words. Who doesn't love puns?
You can create a similar campaign on PushEngage using the URL to a category page.
It's that simple.
#10. Toolstop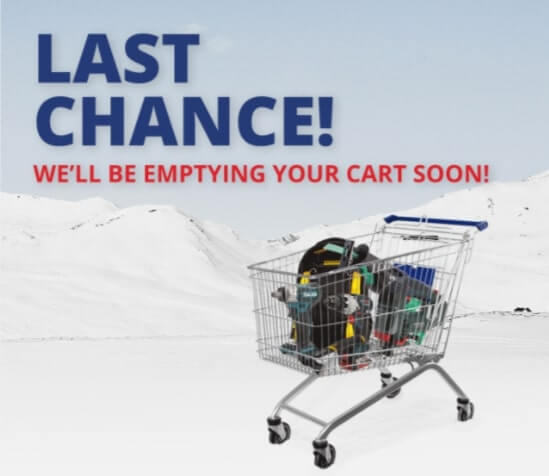 Abandoned carts are a huge problem for eCommerce stores. But they're also a huge opportunity.
If you're new to this, you should check out this article on how to reduce abandoned carts.
One thing's for certain: Toolstop used their abandoned carts as an opportunity to get more sales.
And you can set up your own cart abandonment push notification campaign using PushEngage as well. Head over to your PushEngage dashboard and go to Automation » Cart Abandonment » Create Cart Abandonment to create a new campaign:

And if you need some help, follow this article on how to create abandoned cart push notifications.
#11. Maca Team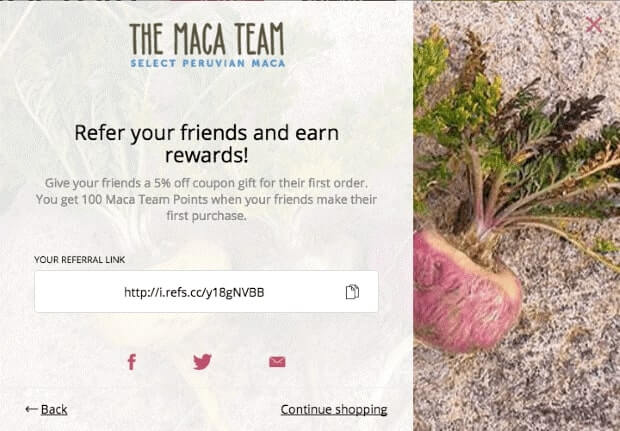 Referral marketing works incredibly well because it's always a win-win scenario. In our example, your friend gets a discount coupon, and you get 100 store points for a referral.
If you promote your referral program well, you'll see a ripple effect in sales.
We recommend using Referralcandy to create your referral programs.
#12. Nashville Pedal Tavern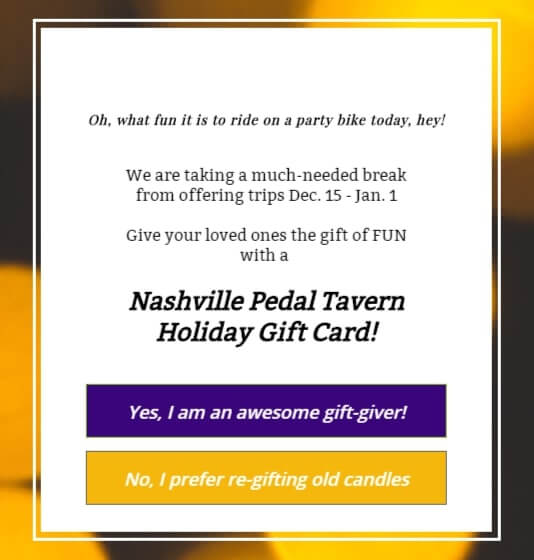 Nashville Pedal tavern started promoting their gift certificates.
How'd they do it? They used a simple copywriting trick.
Just look at the call-to-action buttons. Anyone who clicks on "Yes, I am an awesome gift-giver" feels great about themselves, and anyone who clicks on "No, I prefer re-gifting old candles" feels like a cheapskate.
It's really as simple as that. You can create the same popup using OptinMonster today.
#13. LABUCQ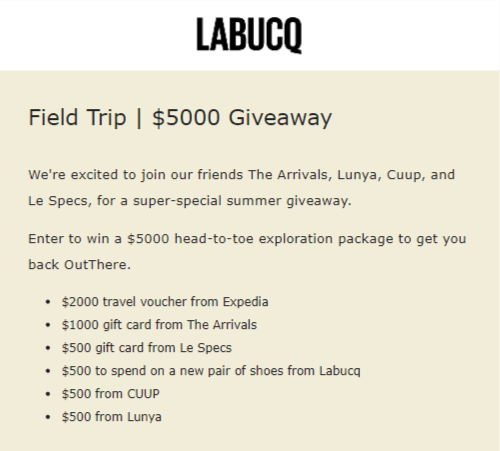 Never underestimate the power of greed.
That's right.
Creating giveaways is how many Instagram and YouTube influencers rose to fame. Just take a look at Mr. Beast's channel.
LABUCQ did the same thing with a $5,000 giveaway.
The good news is that you can create an online contest using RafflePress.
RafflePress is the #1 WordPress giveaway plugin. You can set up a custom giveaway on your website and sync it with your social media accounts in a matter of minutes.
Try RafflePress today if you haven't already.
#14. Baublebar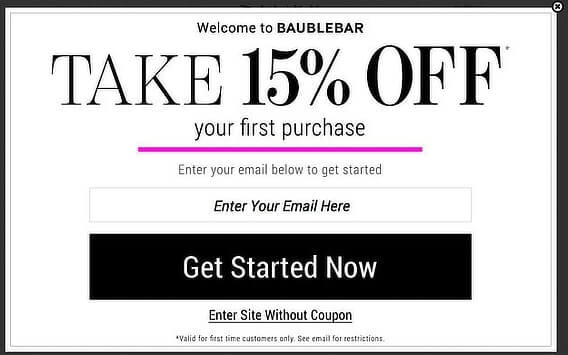 Everyone loves a welcome gift. Think back to any time you went to a resort and got complimentary welcome drinks.
Feels great, right?
Well, Baublebar uses this idea very effectively in their popups.
And you can set up a welcome popup on your WordPress website using OptinMonster. Welcome popups are easy to set up, and they convert really well. You should set one up today.
#15. Ahava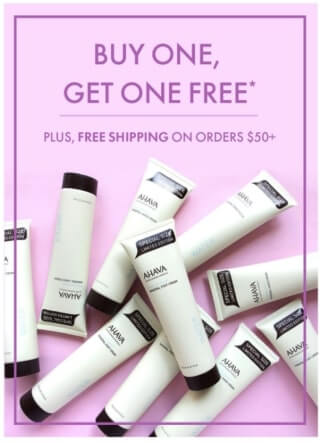 And we're back to Buy X Get Y offers. This one by Ahava is a Buy One Get One (BOGO) offer.
To sweeten the pot, Ahava's throwing in free shipping on orders over $50.
Now, the real reason why this offer works so well is the free shipping. Even though shipping costs around $5, customers will add $15 worth of products to their cart just to get the free shipping. Crazy, right?
Check out this article on how to set up a free shipping bar in WooCommerce.
#16. Alleyoop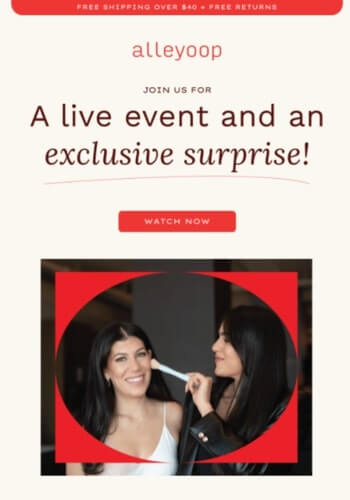 Alleyoop is a pretty popular brand as is. Add a Live Event to the mix, and you have a complete explosion.
That's exactly why the surprise discount works so well. Surprise discounts work really well because of the mystery. But it would be best if you had a significant audience for it to work.
You can actually send out push notifications to boost your live events. In fact, that's what made WickedWeasel start using PushEngage. Read the full story of how WickedWeasel makes an extra $2,000-4,000 a week using push notifications.
#17. SnackNation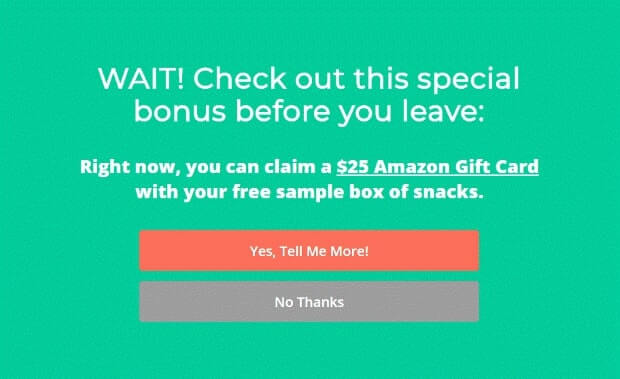 Exit-intent popups are incredibly powerful. And that's exactly what SnackNation used to create a super-effective sales promotion.
As you can see, it's a very simple idea. Whenever a user wants to get out of your website, you throw the best offer you have at them.
Use OptinMonster to set up an exit-intent popup right now and watch your sales climb on autopilot.
#18. Bonobos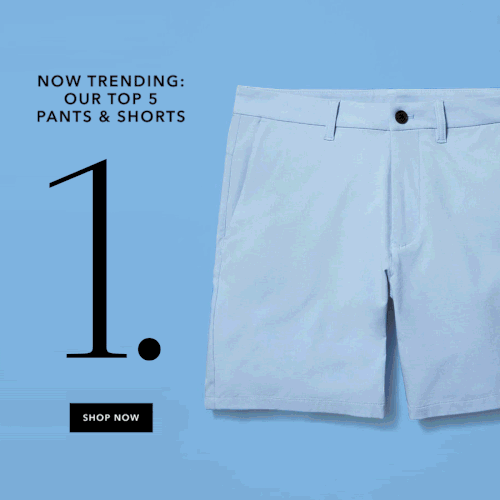 You're going to love this because all your customers love to know about trending products.
Seriously, this one simple trick works incredibly well.
All you have to do is install MonsterInsights. MonsterInsights is the #1 Google Analytics plugin, and you can see your hottest products right from your dashboard.
Check out this article to find your most popular products using Google Analytics.
And if your content is your product, you can easily find out your most trending posts. So, if you haven't already, go ahead and install MonsterInsights and follow along with those articles.
Then, send out a simple push notification that promotes your top products and posts using PushEngage. It's really that simple.
#19. Elastic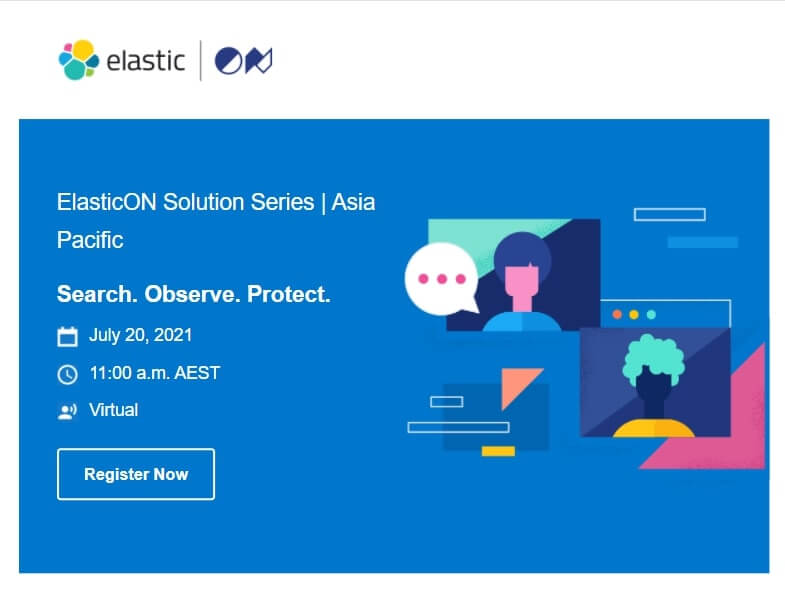 This is one of the simplest ideas ever. All you need to do is send out reminders for a live event. You can even ask people to register for an event.
And you can do it using push notification schedules. If you're not sure how to do it, follow along with this 5-minute guide to scheduling push notifications.
#20. Nursem UK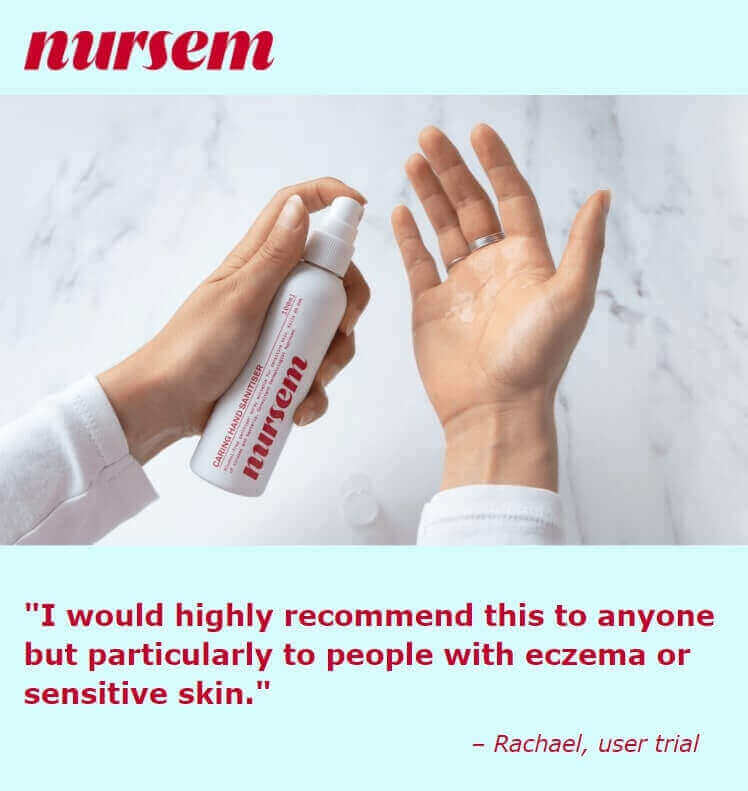 We've already seen an example where testimonials were a part of the advertisement for social proof. This sales promotion example is purely based on a testimonial.
Now, we don't recommend doing this unless you have a really amazing product.
And you can send out a basic push notification. No fancy stuff is required.
#21. Fender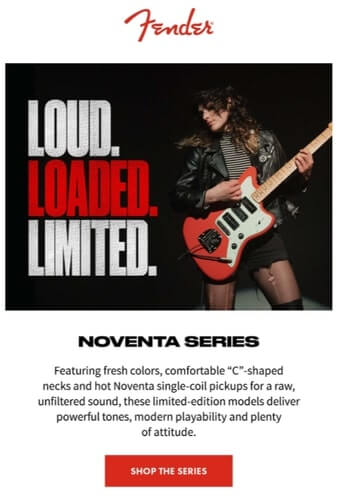 Limited edition.
These two words are enough to drive sales for almost any product.
And if that product is a Fender guitar, you know that there's bound to be a huge spike in sales.
The best part? You can actually do this using a simple push notification. Again, this offer is more about the offer itself, and there's nothing fancy about setting it up.
Just make sure to use the category (or product) URL correctly in your push notification, and you're golden.
#22. Brentwood Home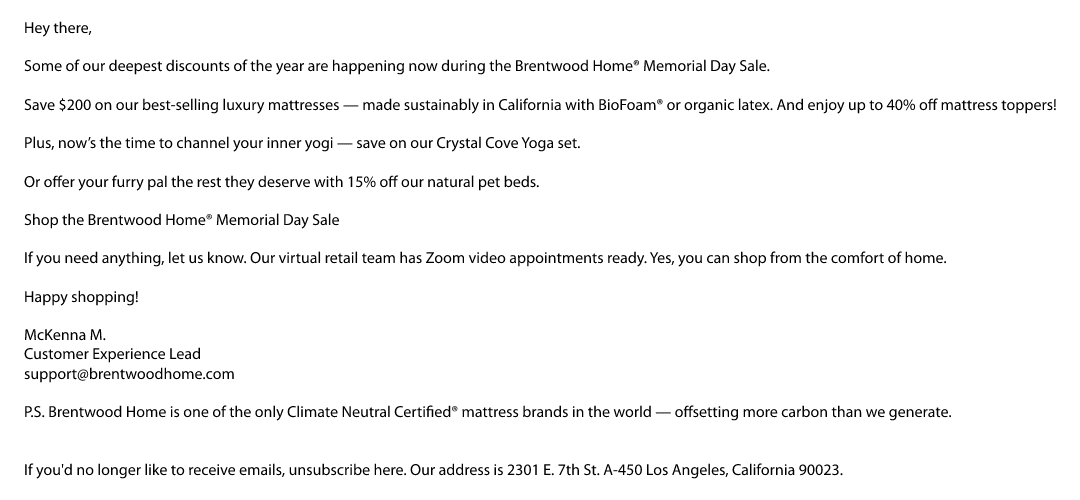 Finally! We have a simple HTML email sales promotion example.
This one by Brentwood Home is a straightforward email for a holiday promotion. You can pretty much copy most of this email straight. Just replace the brand names, products, and offer details.
And you're good to go.
#23. Logic Inbound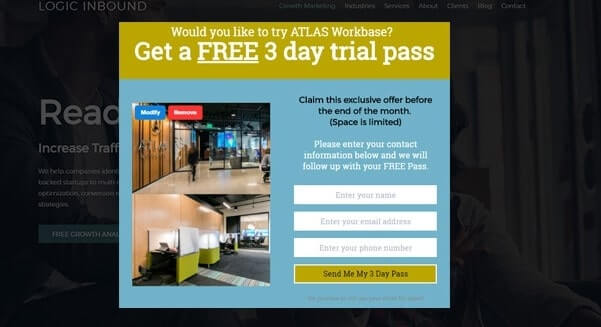 Free trials work incredibly well for software products. But you don't have to have a software product to offer a free trial. You can do it for almost anything you like.
Pro-Tip: Use this idea for some of your less costly products to offer a taste of your quality. Then, pitch your customers a more expensive product down the line. This will save a ton of money for you on promoting your product.
#24. Hype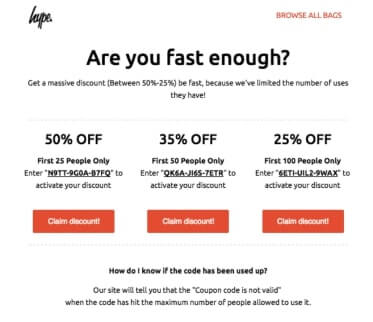 Offering an early bird discount is a "done and dusted" way to promote a sale. The whole premise is exclusivity. Typically, small educational institutions use this idea, but it's great for practically anything.
Just take a look at our example by Hype!
#25. Oculus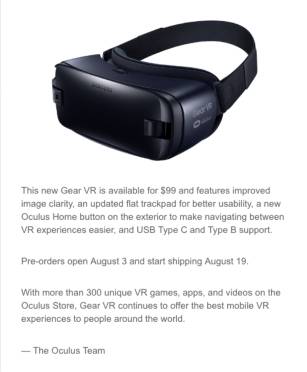 Ryan Deiss is a marketing legend who came up with the idea of tripwires.
The idea is simple: Get your audience hooked with a highly affordable product. Then, pitch them a better, more expensive product.
Since your customers are already using one product, they're highly likely to buy another if they see the clear benefit to buying.
Oculus uses this same idea with Gear VR. They pitch you a $99 VR gadget before pitching you a $500 product.
Again, this one wins straight up because of the marketing philosophy, and you don't necessarily need a fancy campaign for it. But you can make your life a lot easier by creating a drip push notification campaign.
#26. Rue21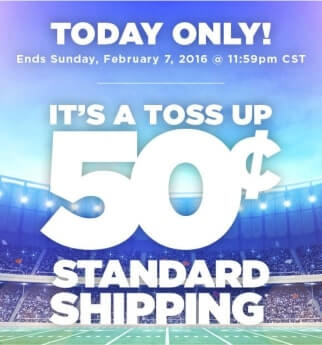 Cultural event sales promotion examples like this one by Rue21 are always so instructive.
The premise is so simple: Look for some social event that's really popular and use it as an excuse to sell more products.
It's really that simple.
Rue21 uses the Super Bowl as an excuse to sell its products.
The best part? They never had to sponsor the Super Bowl to get advertising space.
#27. Gymboree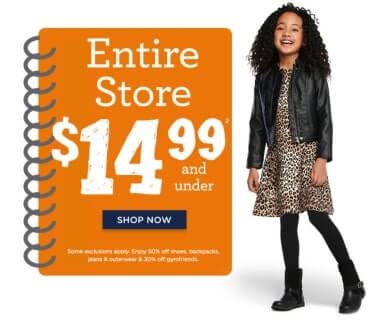 If you're noticing some resistance to people paying for your products, you should do what Gymboree does and offer a reduced introductory price.
A lower intro pricing makes it easy for new customers to take the risk and buy from your brand.
Later, when your customers fall in love with your products, they won't mind paying full price.
Wrapping Up
That's all for this one, folks.
As you can probably tell, there are hundreds of ways to run a promo.
If you liked these sales promotion examples, you should use them for your own brand today.
It usually helps if your product has a bunch of nice reviews. Check out this article if you're struggling to get reviews.
But there are no hard rules here. You can combine two or more ideas to create your own promotions.
You should start by using PushEngage for your push notification campaigns. PushEngage is the #1 push notifications software in the market.
So, if you haven't already, get started with PushEngage today!