How many push notifications should you send per day? Is there even a limit? Should you set daily limits?
Short answer: Yes, there's a limit and you need to stick to it.
You could easily come off as too aggressive and annoy your subscribers. That's a great way to lose push notification subscribers. But you will have to connect with your customers. And you need to send them promotional and transactional notifications.
So, how do you do send multiple push notifications without annoying your subscribers?
In this article, we'll tell you how many push notifications you should send per day without annoying your subscribers.
Let's dive in.
How Many Push Notifications Should You Send to Not be Annoying?
The number of push notifications you should send depends on your industry. That said, the best thing to do is send your customers 2 notifications a day at most. And no more than 5 a week.
An average of 1 notification a day works even better.
The average US smartphone user gets over 46 notifications a day on their mobile device. So, most of your subscribers get overloaded with push notifications as is. If you keep sending push notifications every hour, your subscribers are definitely going to get annoyed.
Of course, the only exception to this rule is a news site with fresh content every hour. Even so, we recommend creating different segments to send targeted content to each subscriber.
Before you send any more notifications, consider these 3 things:
Is this something your customers need to know about?
Do they know that you're going to send them a notification about this type of content?
Is this communication expected from you?
Before you can send your subscribers any push notifications, they must opt in and give you permission to send notifications.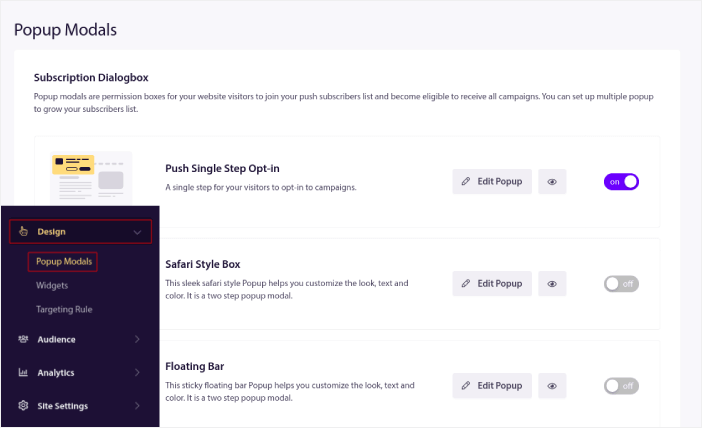 But that doesn't mean that your customers want absolutely every notification about your company. We recommend segmenting your subscribers when they subscribe by offering them different interests they can subscribe to.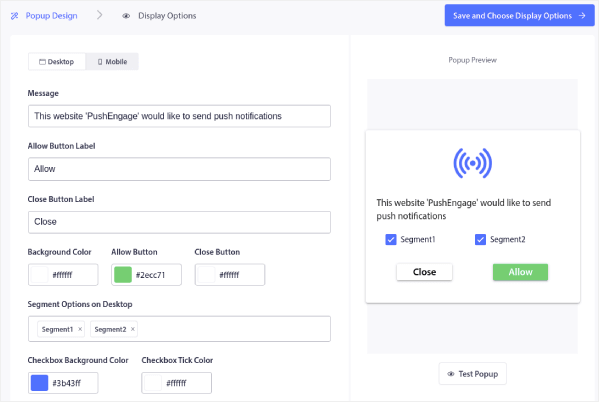 The short version is that you should be sending only 1 push notification a day and make it count. But what do you do when you HAVE to send them more notifications?
Let's take a look at that next.
How to Send Push Notifications Without Being Annoying
You can send more than a single notification a day. In fact, some of the biggest businesses do just that.
The way to send multiple push notifications a day without being annoying is to send notifications that are either urgent or immediately useful.
Let's take a look at an example.
If you're running a news site, this could be one of your usual daily notifications: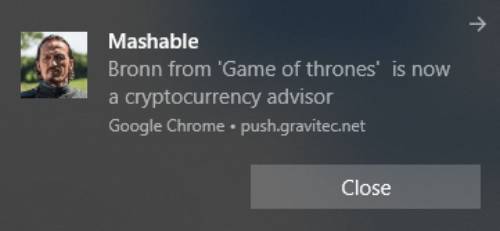 But what happens if there's something more urgent to report? Like a weather report:

This takes precedence over other news articles, right? The right thing to do is to suspend the other notifications in your usual format and send out the urgent notification.
And it's not just for news sites. If you're sending out a notification about something immediately useful to the subscriber, you can send multiple push notifications a day.
What's actually useful to your audience depends on your business. It could be anything you want your subscribers to pay full attention to for a short time.
Urgent news updates
Changes in a schedule or itinerary
Transactional notifications
The fundamental idea is to stop your subscribers from getting bombarded with useless notifications. And if you do it tactfully, you can also nudge them to take action that grows your repeat traffic, engagement, and sales.
How to Limit the Number of Push Notifications You Send
You can completely automate the number of push notifications you send out every day, even if you have scheduled push notifications.
If you have a push notification service such as PushEngage, you can set specific daily and weekly trigger limits. Trigger limits are a pre-defined limit on how many notifications you can send out to any subscriber in a set time period.
For instance, if you have a daily trigger limit of 2 notifications, you can only send a subscriber 2 notifications in a day. Trigger limits will override any other scheduled or automated push notification for the day.
Typically, push notification software will allow you to set weekly and daily trigger limits.
Let's check out how you can set these limits using PushEngage. PushEngage is the best push notification software in the market. So, if you're using push notifications to grow your business, we highly recommend using PushEngage.
Head over to your PushEngage dashboard and go to Campaign » Triggered Campaigns to create an automated campaign.

You can create any type of triggered campaign you like. Under Trigger Settings, you can see Trigger Limits:

Simply set the trigger limits, and you're golden. Now, you won't send out multiple notifications even if you're running multiple automated push notification campaigns.
Now That You Know How Many Push Notifications to Send Per Day
It's not enough to know how many notifications to send your subscribers. You also need to know when to send your notifications for maximum impact. And you'll need to experiment with multiple campaign types to see what works best with your audience.
Check out a few great campaigns you can get started with:
You can set up all your push notifications using PushEngage. PushEngage is the #1 push notification software in the world. So, your campaigns are in safe hands.
If you haven't already, get started with PushEngage today.