Looking for the best Shopify apps to increase sales for your store?
Shopify is a powerful eCommerce site builder. And you can always install apps on your site to get more functions and custom features. So, of course, there are loads of Shopify apps to increase sales. But which one do you choose?
There are so many options out there. And there are so many ways to increase your sales.
In this article, we've shortlisted some of the best Shopify apps to increase sales. We'll even give you our top recommendation if you stick with us all the way through!
Sounds good? Let's dive in.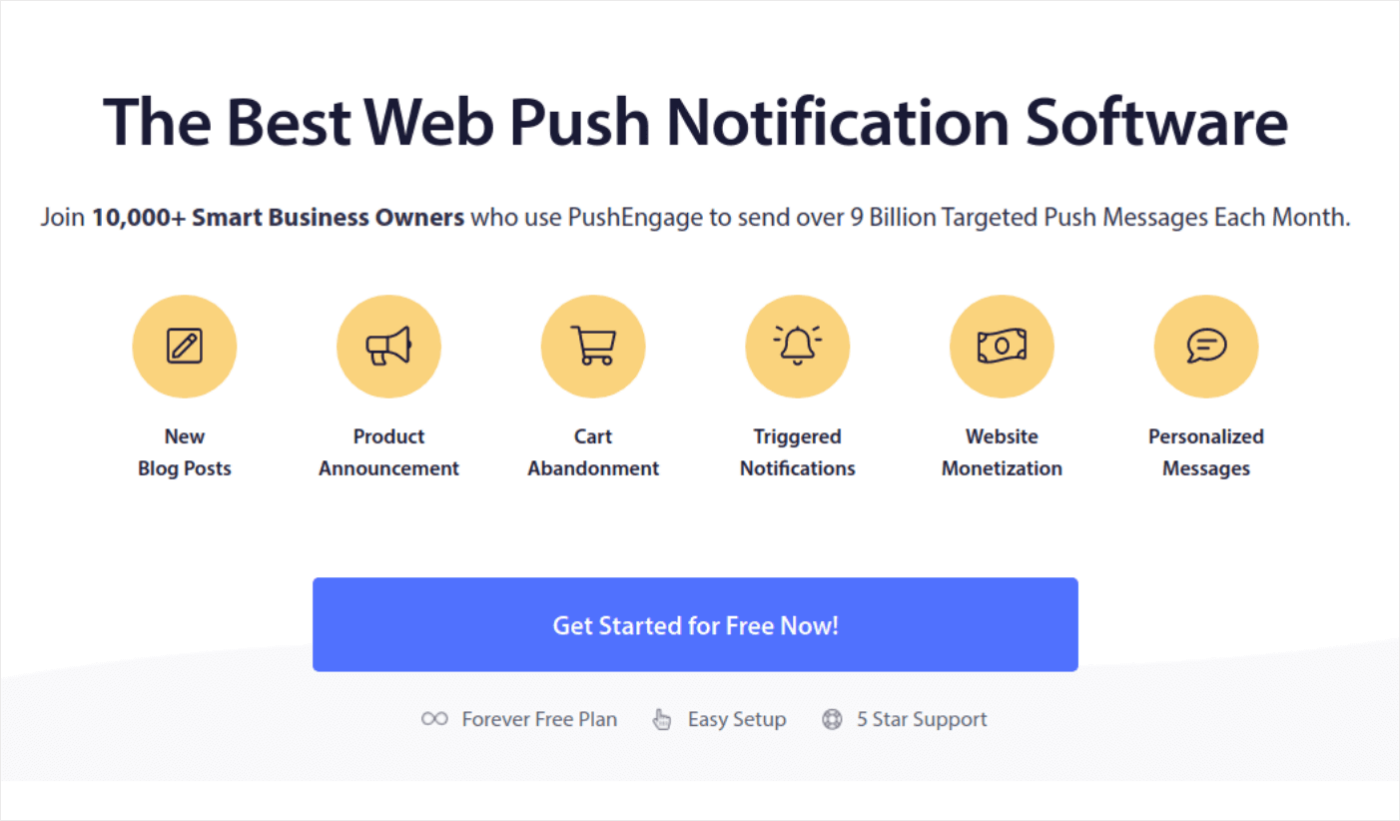 PushEngage helps you grow your website traffic and engagement on autopilot.
And if you're running an online store, PushEngage also helps you grow your sales by helping you create automated eCommerce push notifications. You can get started for free, but if you're serious about growing your business, you should buy a paid plan.
Here's what you can get from a paid plan:
High-converting campaigns including Drip Autoresponders, Cart Abandonment Campaigns, Price Drop Alerts, and Inventory Alerts
Higher subscriber limits so that you can keep growing your push notification subscriber lists seamlessly
Higher sending limits so that you can send more push notifications across different campaigns as your business grows
More ways to target campaigns, including Customer Timezone Sending, Custom Triggered Campaigns, and Personalized Smart Tags
Goal tracking and advanced analytics to always keep improving the ROI on your push notifications
Split testing to test your copy, images, or display rules to see which converts the best
A Dedicated Success Manager to help you with Success Scripts, Behavior Automation, and Follow Up Campaigns
And these features are built to help small businesses grow. Take a look at our case studies, and you'll know how all kinds of businesses have enjoyed a lot of success from PushEngage's push notifications.
You'll see that PushEngage is hands down the best bet if you want to build traffic, engagement, and sales for your business. And if you're on a budget, you can always get a little bit creative with your push notifications.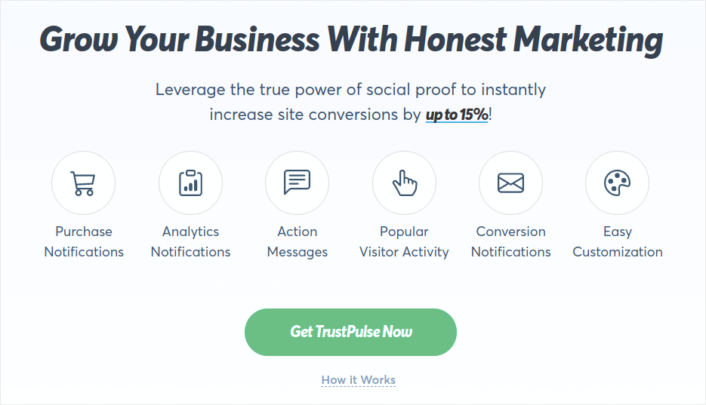 TrustPulse is a social proof software that you can add to any site. It creates social proof popups that help increase site conversions instantly. TrustPulse is fantastic for sites that sell a product online.
You can use TrustPulse to:
Boost email signups
Increase affiliate link clicks
Generate webinar registrations
Increase pageviews
Collect testimonials and reviews
Get more survey participation
And so much more!
If you're creating campaigns for different types of actions, you're going to need different types of campaigns.
And TrustPulse does this very well. You can create 4 types of notifications using TrustPulse: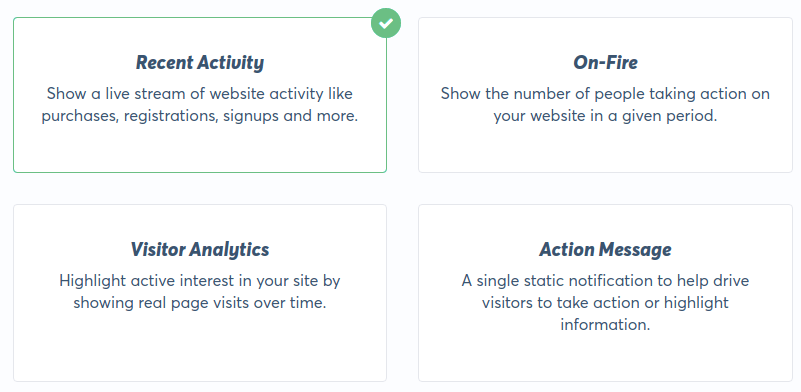 You can create Recent Activity notifications to showcase your web visitors taking specific actions on your site:

And if you want a visitor to take a specific action, you can display how many other people took that action using On Fire notifications:

A more specific type of On-Fire notification is when you want to display how many web visitors you got for a specific page:

This type of notification is super helpful for building trust. But if you're more interested in driving actions that aren't exclusively about sales, you should check out the Action Message notifications:

We wrote a full review of TrustPulse. You should check that out for a full list of features.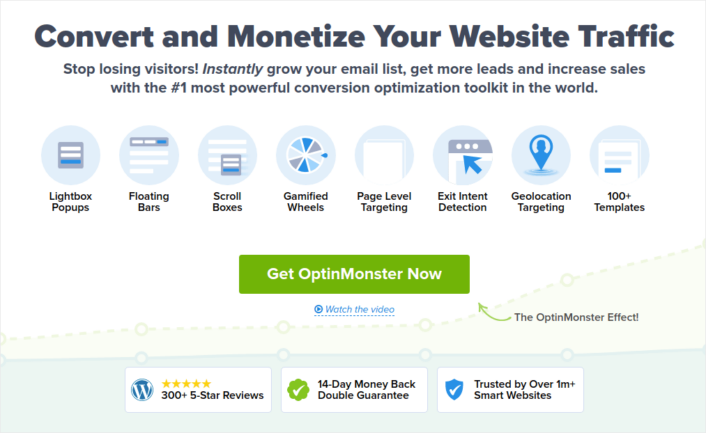 OptinMonster is one of the pioneers in WordPress popups. They practically changed the way in which email lead generation works in the marketing industry.
OptinMonster has pretty much everything you need to start, grow, and scale your email lead generation process.
Here's a quick rundown of what you can do using the toolkit:
Grow your email list smoothly for remarketing
Convert first-time visitors into regular readers
Reduce cart abandonment and browse abandonment rates
Create limited-time offers with actual countdown timers
Increase eBook downloads and digital product sales
Create a funnel for live events
Improve site engagement using gamified popups
Redirect your traffic to pages and posts that make you money
Create a list of genuine leads and remove fake emails using two-step opt-ins
We wrote a review of OptinMonster. So, if you'd like to check out the features in more detail, go ahead and check it out.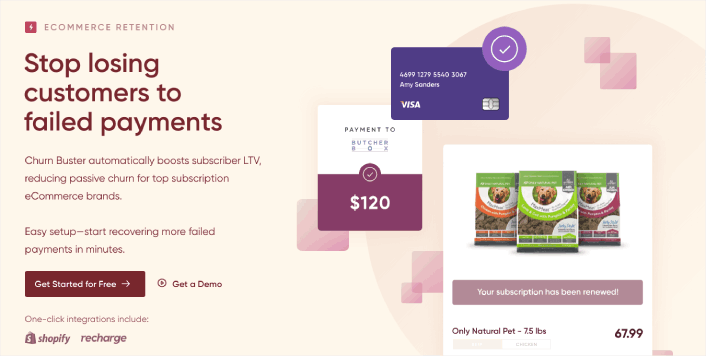 Churn Buster is one of the best Shopify retargeting apps out there. You can create automated emails to recover lost sales from failed payments. If you're losing sales because there's an issue with payment processing, you should definitely get Churn Buster right away.
For subscription sites and eCommerce product stores, churn means that your existing customers stop being regular customers. Churn happens for multiple reasons, and unless you're monitoring your sales carefully, it can be difficult to understand why it's happening in the first place.
With Churn Buster, you can get detailed reports on how churn affects your business. At the same time, you can create dynamic emails to recover your lost sales.
Get started with Churn Buster.

Easy Facebook & Instagram Ads is the best Shopify retargeting app to launch dynamic ads for Facebook and Instagram on your site. The way retargeting ads work is that you show people who landed on your site a different ad to get them to convert.
The Easy Facebook & Instagram Ads app will pull your product images and all product information directly from your store and create Facebook product catalogs automatically. No more manual uploads to the Ads Manager. If your product details change for any reason, the ad updates itself automatically with the new details.
If you're running a dropshipping site, you will get a LOT of value from this app.
Get started with Easy Facebook & Instagram Ads.

Carts Guru is the most powerful Shopify retargeting app if you're looking to create automated multichannel campaigns. Carts Guru supports SMS campaigns and email marketing. It even automates Fulfilled By Merchant (FBM) marketing.
So, it's an ideal pick for Amazon drop shipping sites, custom drop shipping sites, and for selling your own products. The automated campaigns include cart abandonment campaigns, browse abandonment campaigns, churn recovery campaigns, and more. Unlike the other apps on this list, Carts Guru also supports Facebook Messenger Marketing, which is a really great and affordable growth channel.
You can even create cross-selling and upselling campaigns with it.

ActionFeed is an alternative to TrustPulse. While TrustPulse works perfectly with any type of site, ActionFeed was built specifically for Shopify. Social proof can instantly increase trust in any product.
An app such as ActionFeed is also a great way to promote best-selling products across your store. So, even if you're running a new store with no previous customers, you can still use it to encourage visitors to buy something from you.
The dashboard itself is fairly simple and easy to use. And you can customize the popup in any way you want. The popups can also sense if the visitor's mouse hovers on top of them. You can also use this action to disable the popup on hover. This way, it won't get in the way of your visitors or seem intrusive.
Get started with ActionFeed today!

SalesPush is an alternative to OptinMonster, but it's nowhere near as powerful. The types of campaigns you get include sales popups and countdown timers. Sure, it's pretty limited. But even so, you can use SalesPush to increase sales on your Shopify store.
You can use the popups to promote ongoing sales for any of your products. At the same time, you can use countdown timers to create limited-time deals. Limited-time offers are a great way to increase urgency and scarcity in your visitor's mind. If you're honest about the scarcity, the countdown timers will increase your sales.
If you get orders from different sources, you can add manual deals to show up on your site as popups. This is a great option for new stores, and it can help you kickstart your revenue.

Proofo by Avada is a pretty cool app to help you get more reviews.
Photo reviews are a great way to boost trust in your visitors. When other people see photo reviews, they know that those are genuine reviews. You can also use the app to create live sales notifications. So, in terms of social proof, this app is quite good.
If you're running a new Shopify store, this might not be your first choice. But if you're already making some sales on your site, this app can help you get more conversions effortlessly.
The app itself is easy to use, and you can customize your notifications pretty easily.

Sales Pop is like a combination of TrustPulse and OptinMonster for Shopify stores. While it doesn't have as many campaign options as OptinMonster or as many live sales notification options as TrustPulse, it's still a pretty good app.
Using an app like Sales Pop is a great idea whether you have a new store or an established business. Shopify sales notification apps can make your online store look busy even if you're not getting orders at the moment.
The app itself is easy to use, and you can customize the look and feel of the popups to stay on-brand. Again, the two things you want a sales notification app to do are build trust and increase the urgency to buy your products. Sales Pop can do both things really well.
What Are the Best Shopify Apps to Increase Sales on Your Site?
We recommend using a combination of TrustPulse, OptinMonster, and PushEngage. All of these are extremely powerful Shopify sales notification apps. And they're specialized solutions that focus on specific types of notifications to offer the most reliable solutions in the market.
If you're looking for a cost-effective way to increase your traffic, engagement, and sales, you should get started with push notification campaigns. Push notifications are powerful marketing tools that can help any eCommerce business grow quickly.
Not convinced? Check out these amazing resources:
PushEngage is the #1 push notifications software in the world. So, we recommend using PushEngage to create your push notifications and grow your eCommerce business.