Looking for the best Android push notification service provider? You can use in-app push notification to generate more traffic, engagement, and sales.
Push notifications are a great way to get your users to return to your app. But it can also be so much more. You can send targeted notifications to your push subscribers and even personalize your notifications for difference customer segments.
But which one's the best for you? There are so many services and tools in the market. Which one do you pick? How do you pick a good provider? In this article, we're going to help you find the right Android push notification service for you to increase your traffic, engagement, and revenue.
Let's dive in.
Best Android Push Notification Service Providers
Before we get into our list of Android push notification service providers, you should know that not all of these are free. Some may have a free trial. But push notifications cost very little and you can afford them even if you're running a small business.
Now that we have clear expectations, let's dive right in.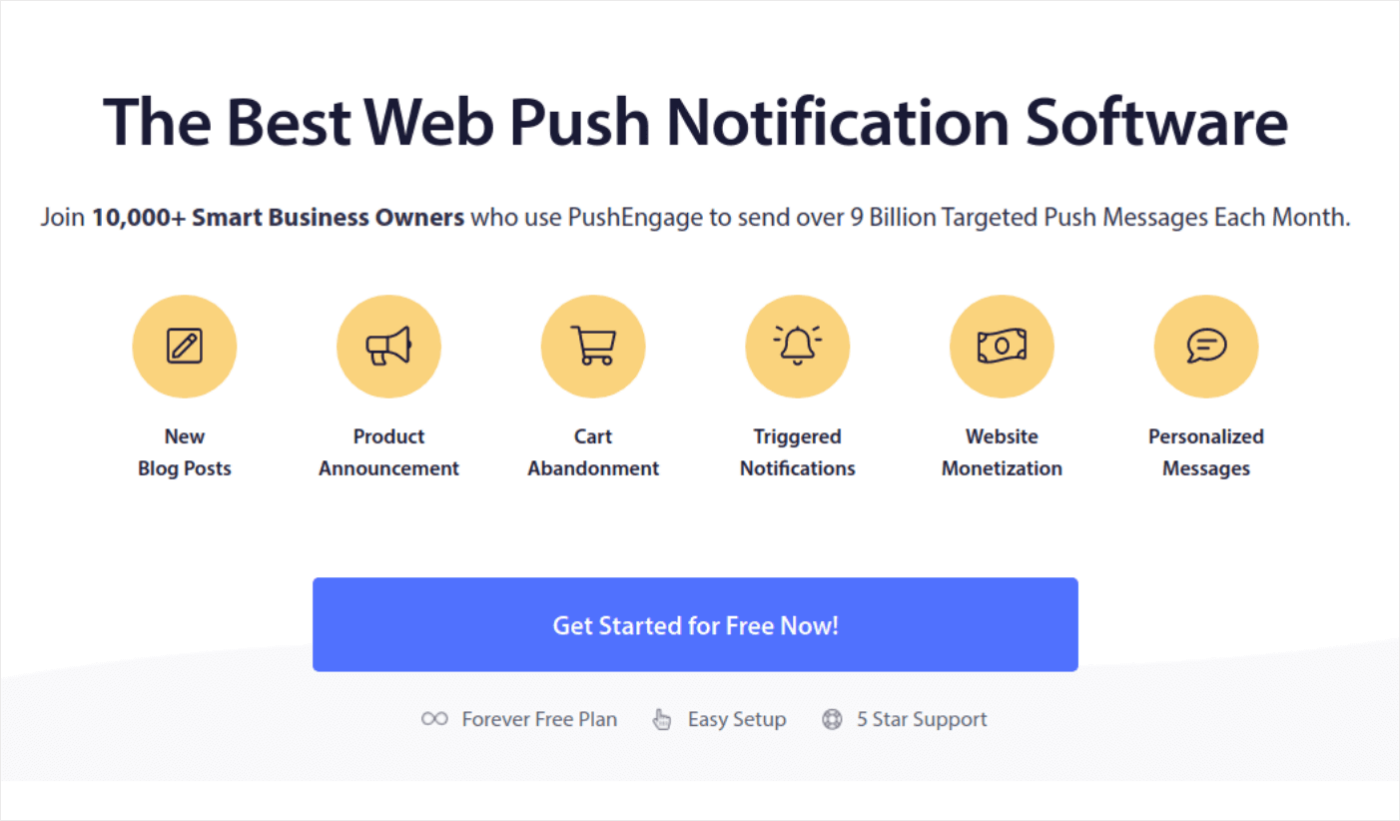 PushEngage is the best push notifications service in the world. And we're not just talking about the free version. It allows you to connect with visitors after they leave your site with targeted push messages. You can also send powerful eCommerce push notifications as well.
PushEngage is our first choice for an Android push notification service because it's:
And this is barely scratching the surface. The most incredible part about PushEngage is that it has a forever-free plan that you can try out before making a purchase decision. Check out this full breakdown of PushEngage and its features before you go any further.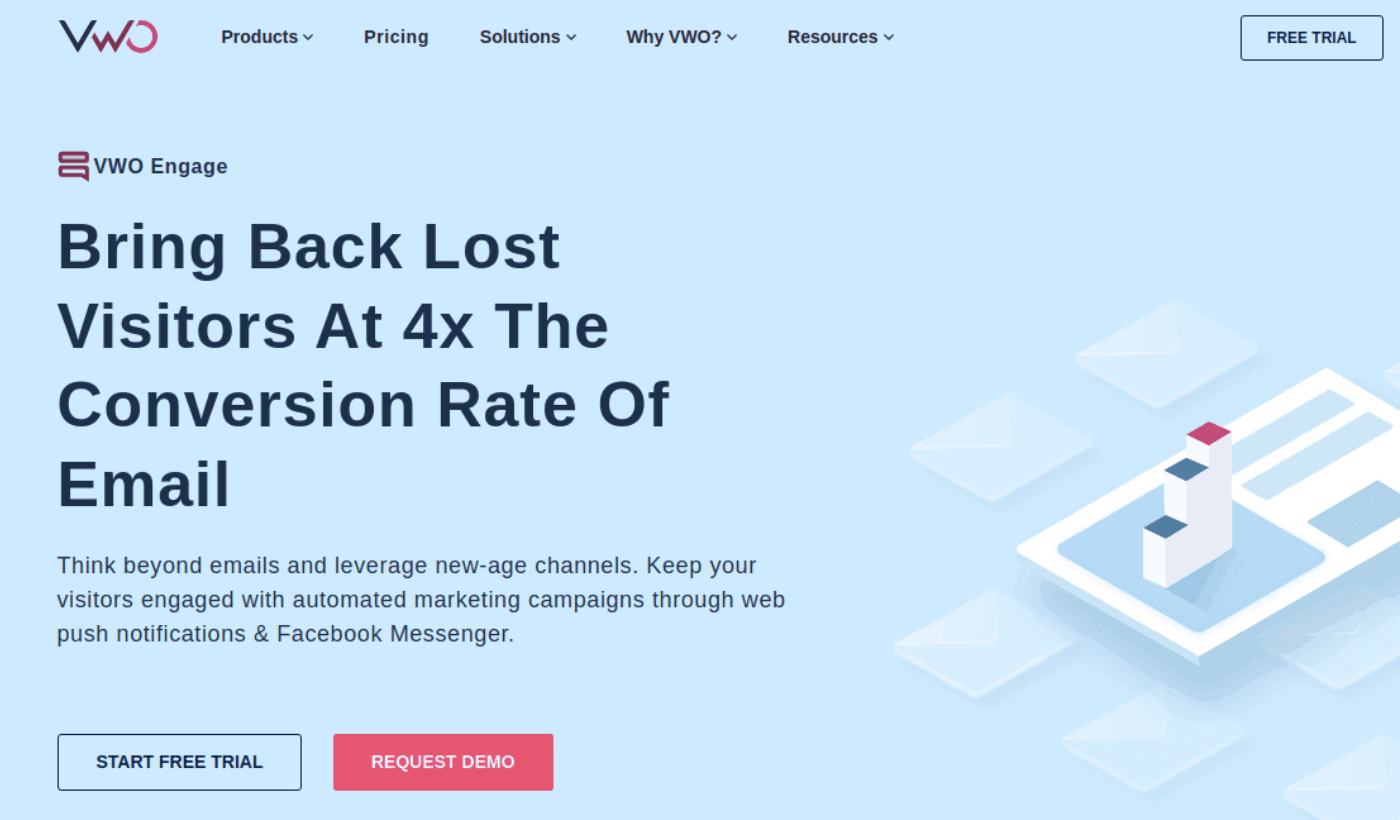 VWO (formerly PushCrew) is one of the simplest Android push notification service providers in the market.
It's very easy to use and VWO's best feature is triggered push notifications for any custom event on your site.
Triggered push notifications are automated notifications that get sent automatically when a subscriber takes some action on your site. The action could be a link click or even checking out a particular product for a specified amount of time.
To clarify: You'll need some developer support here because the advanced campaigns on VWO are all based on their API. The segmentation tools and engagement campaigns are pretty limited as well. So, you're going to need a lot of help in that department.
The upside is that you get detailed analytics, subscriber segmentation options, and A/B testing.
Most importantly: There's no free version. You get a 14-day free trial (no credit card) and then you get charged $99/month for up to 10,000 subscribers and unlimited notifications.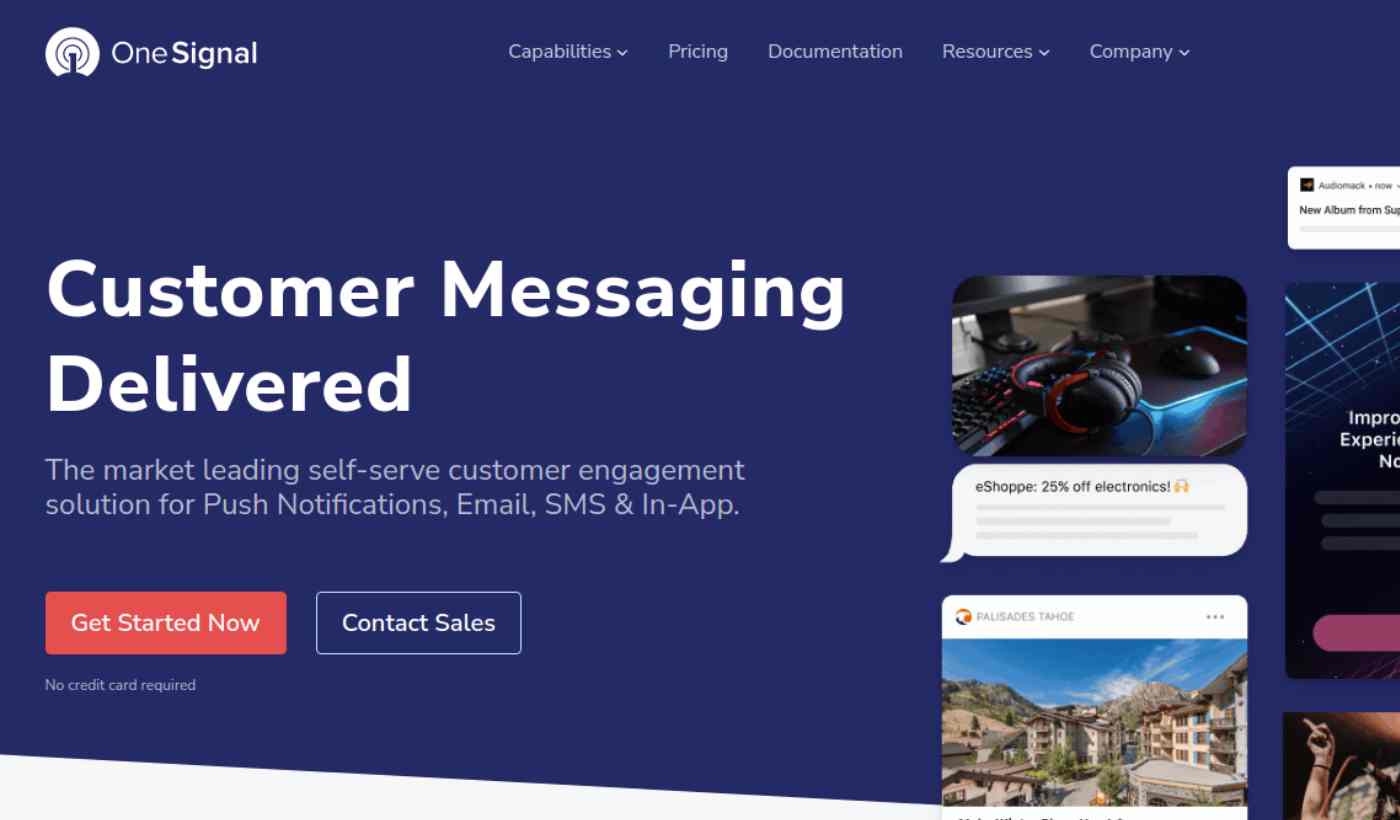 OneSignal is a popular Android push notification service. It's also one of the oldest vendors in this space. OneSignal is quite similar to PushEngage in a number of ways.
Just like PushEngage, you get powerful features such as:
But these features are not good enough for any serious business because OneSignal lacks severely in targeting, personalization, and automation options. And for the price, we feel that it's way too little value.
OneSignal offers a very limited free plan that allows you to send notifications to up to 10,000 subscribers, but you won't get personalization & optimization features. The paid plans start from $12 per month for 1,000 subscribers. But if you're serious about your growth you'll need the plan that starts at $114 per month for 5,000 subscribers which lets you use advanced features.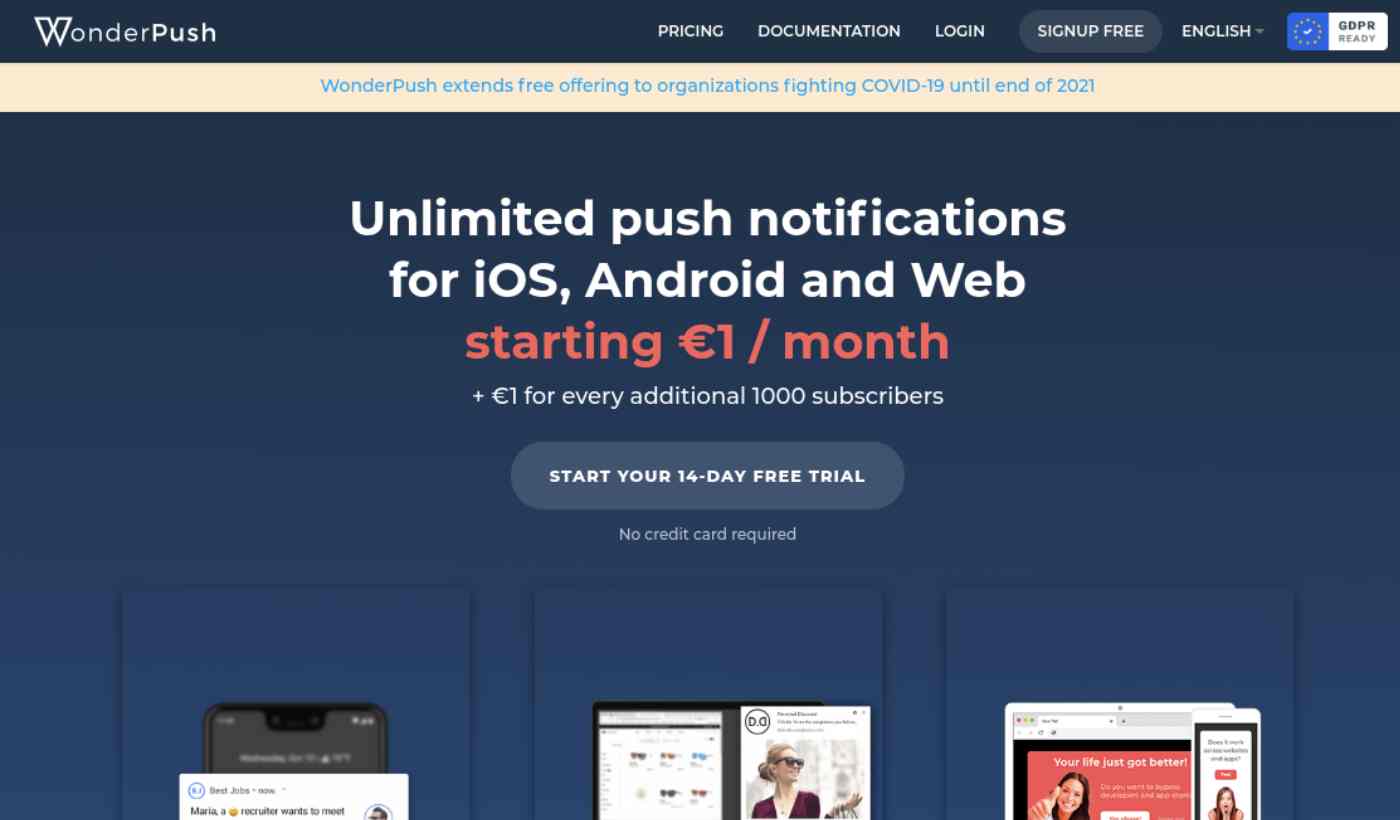 Wonderpush offers all the standard features as the other Android push notification service providers on this list.
What makes Wonderpush so special is its range of eCommerce push notification campaigns. It's really easy to set up a cart abandonment campaign. And you get options to personalize your push notifications.
You can add unlimited members to your dashboard for simple and efficient marketing.
Wonderpush also gives you full access to all their features, but it clamps down on the number of subscribers you can have. You can get a 14-day free trial (no credit cards needed) for their paid plan that starts at €1 per month for up to 1,000 subscribers, then it's an extra €1 for every 1,000 subscribers after that.
So… it's a free trial with an extremely simple pricing structure for REALLY expensive push notifications after the trial period.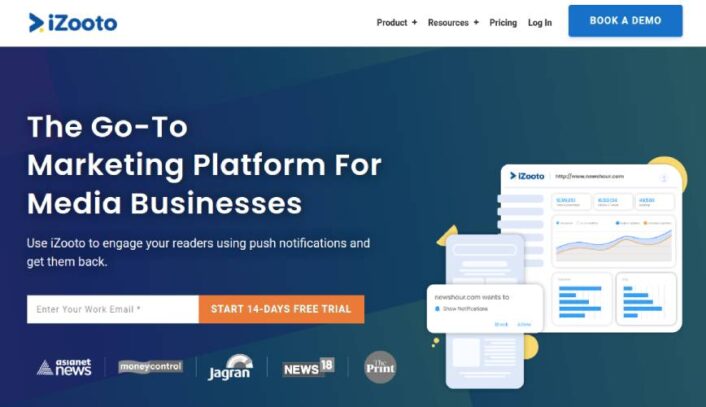 iZooto is a popular push notification service. Like all the other big players in the industry, iZooto offers real-time push notifications, recurring notifications, and scheduled notifications.
What we loved about iZooto was that they focused heavily on personalization. You can create popup modals to capture visitor attributes and interests. In other words, you can store personal details to personalize your campaigns. But if you do that, make sure that your push notifications are 100% GDPR compliant.
The flip side of using iZooto is that it doesn't work on sites without an SSL certificate.
Pricing: iZooto costs from $85/month, which gives you up to 30,000 subscribers and unlimited notifications. Considering the plan's pricing, we can safely say that it is pricey. But with that pricing model, they can actually support sending unlimited notifications.
The best part is that you can take a 14-day free trial (no credit card required).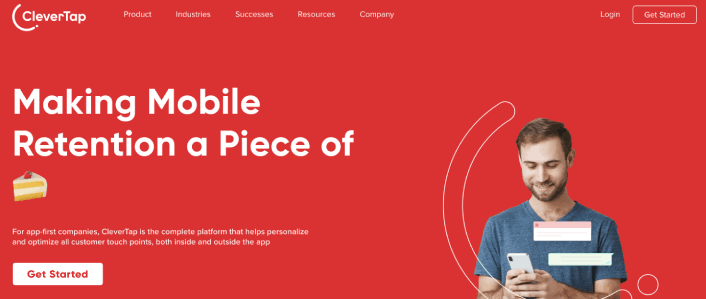 CleverTap is one of the most popular Android push notification services. It's generally considered to be an omnichannel marketing tool. So, you get a lot of bang for your buck. You can test, schedule, send, and analyze your push notification campaigns easily. At the same time, you also get SMS and WhatsApp campaigns to grow your business.
You can only get price on demand with CleverTap. But it's a cloud-based service. So, you can pay for what you use.
The Growth plan comes with analytics, segmentation, and engagement tools. But if you need segmentation and personalization, you'll need the Advanced plan. In simpler terms, you need at least the Advanced plan for any real growth. This is especially true for eCommerce apps.
But CleverTap is perfect for increasing your Customer Lifetime Value (the amount of money a customer spends on your app for as long as they use it). So, if you can afford the higher paid plans, you can seriously consider using CleverTap.

Braze is another omnichannel marketing tool that also acts as an Android push notification service. It's easy to create cross-channel campaigns using Braze and you spend less on marketing software overall.
You can easily scale your Android push notifications as well. Braze makes it simple to target, personalize, and create detailed customer journeys and onboarding flows. The majority of personalization features comes from their API service. But if you have a development team managing your app, you can use Braze to optimize onboarding, increase engagement, reduce churn, and improve acquisition.
They also come with a feature known as Content Cards. Content Cards are embeddable cards that you can use in-app for promotions. Android push notifications work really well with Content Cards and you can use multiple features at the same time to create powerful campaigns.
Pricing is only available on demand as a custom quote.
Which Android Push Notification Service is Right for You?
Hands down, PushEngage is the #1 android push notification service in the market.
As far as features go, there's very little contest here. PushEngage has a full range of automation, personalization, targeting, and scheduling features that make it a powerful tool to grow a small business. And the best part is that PushEngage is priced in a way that makes it a good fit at every stage of growth whether you're looking to start, grow, or scale your business.
Check out these epic resources to get started:
If you haven't already, get started with PushEngage today to get to the next level!