What WordPress 301 redirect plugin should you be using on your site?
WordPress throws a 404 (Page Not Found) error every time you try to access a deleted page or a post. The only way to resolve this error is to create a 301 redirect to another piece of content. We'll talk about what a 301 redirect is soon enough. For now, let's try and understand why you need a plugin at all.
To be fair, any website will throw a 404 error when you delete a page or a post from it. But what's most troubling about WordPress is that there's no way to handle this error using the default tools.
So, you HAVE to use a WordPress 301 redirect plugin.
But which one do you use? There are plugins that only create 301 redirects and then there are full-scale SEO toolkits.
What should you get?
In this article, we'll find the best WordPress 301 redirect plugin for you from a list of the top ones in the market.
Let's dive in!
What Does a WordPress 301 Redirect Plugin Do?
A WordPress 301 redirect plugin redirects a deleted or changed URL to another URL. A 301 redirection is a permanent redirection. In simple terms, it tells search engines that the page or post was permanently moved to another URL. It also says that whenever someone searches for the deleted URL, they should get served the new URL.
The simplest way to look at a redirection plugin is that it automatically redirects a URL on your site to a new one of your choosing.
Of course, there's a manual way to do this, but you'd have to edit the .htaccess file in your hosting server. But that can be seriously dangerous. The .htaccess file is a configuration file for your server. One wrong line of code can wreck your entire site.
And that's considering that your WordPress site is running on an Apache server. Otherwise, there's no .htaccess file to edit in any case.
The biggest issue is that you can't simply ignore creating a 301 redirection either. Every deleted page and post flags a 404 error on your site and too many 404 errors can instantly tank Google search rankings for multiple keywords.
We don't recommend deleting any page or post on your site unless it serves absolutely zero value to anyone. As far as possible, update the resources on your site. If you have to delete something, you need to create a 301 redirect to preserve your SEO rankings.
To make life much simpler for you, we recommend using a WordPress 301 redirect plugin.
Best WordPress 301 Redirect Plugins
Now that you understand why a WordPress 301 redirect plugin is important, let's check out the 11 best plugins in the market. At the end of our comparison, we'll give you our top choice as well.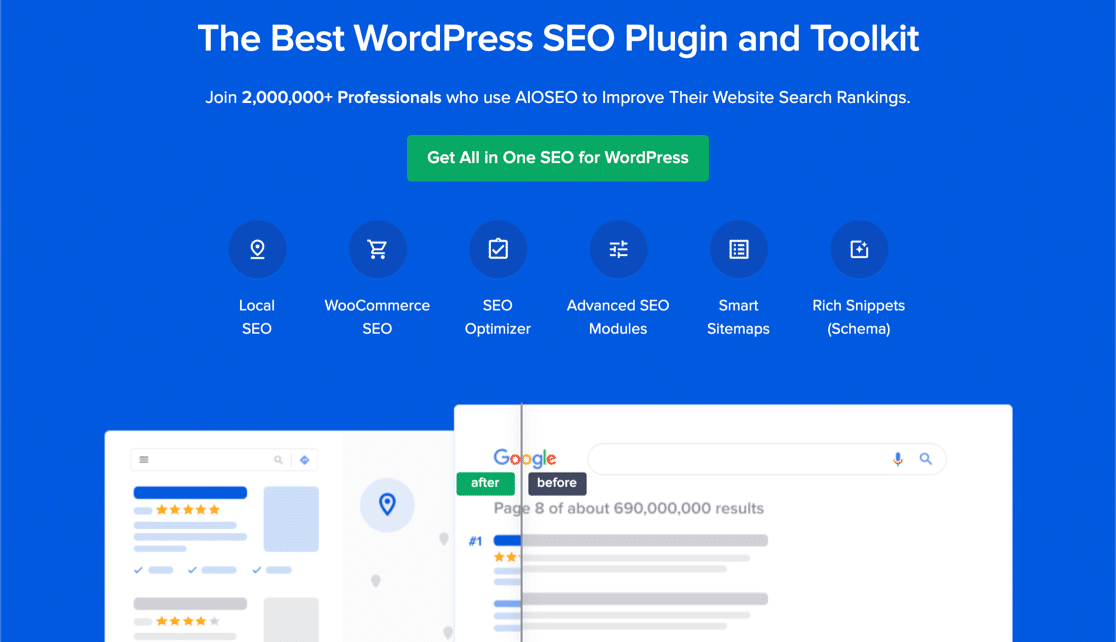 All in One SEO (AIOSEO) is one of the most acclaimed SEO plugins in the WordPress community. Not only is it fully equipped to be a WordPress 301 redirect plugin, but you also get advanced options to resolve specific SEO issues straight out of the box. This includes:
Local SEO modules for small businesses with a local audience
WooCommerce SEO for online stores
An SEO optimizer inside your WordPress editor
Smart Sitemaps for instant indexing on Search Engines
A Schema plugin to get your content to rank in the Rich Snippets
And a lot more!
You can manually create redirections from AIOSEO. Head over to Redirects in the All in One SEO menu: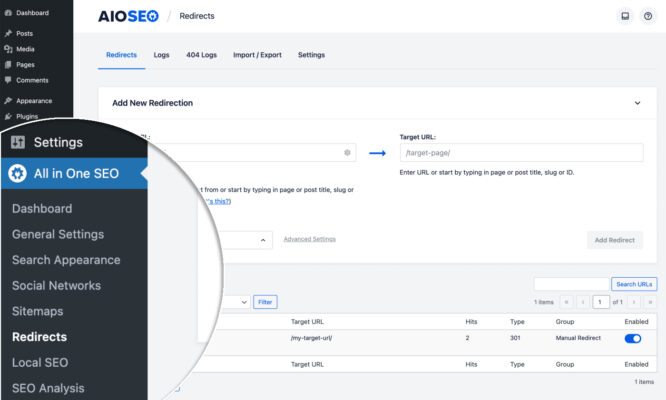 In the Redirects tab, you can add a new redirection from the Add New Redirection form: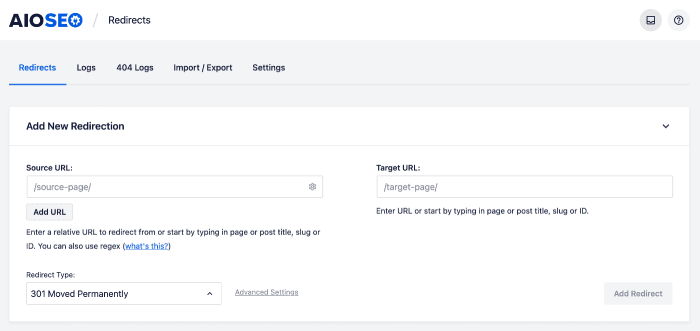 When you're done, click on the Add Redirect button and you're done! The #1 reason why we recommend using All in One SEO is that it offers to create a redirect for you every time you delete a page or post.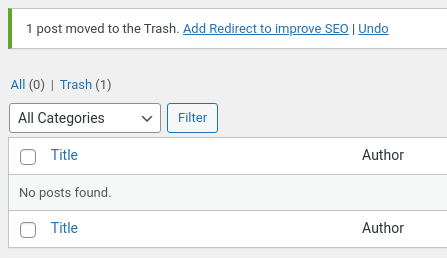 Most importantly, we use AIOSEO ourselves to grow our SEO rankings and we love it so much that we wrote a full review of the plugin. So, we're 100% comfortable in recommending AIOSEO.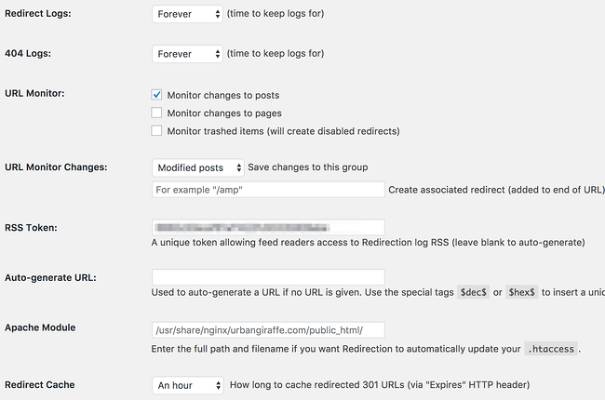 Redirection is a highly focused WordPress 301 redirect plugin. It's not a full-spectrum SEO toolkit. But if you're looking for a plugin to help you find and manage 404 errors and create 301 redirections, this is a great choice for you.
You can also use Redirection's plugin logs to view all redirects occurring on your site and to keep track of information about the visitor, the browser they used, and the referrer.
Like AIOSEO, Redirection you also get an option to create 301 redirects automatically when you delete a post or change a URL. If you're looking for a free plugin that's just for creating 301 redirects, this is the right plugin for you.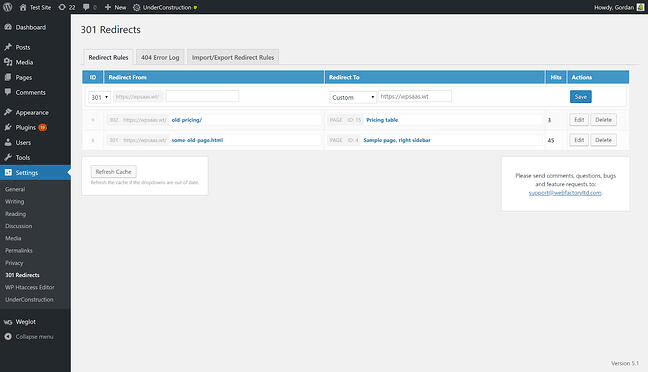 301 Redirects is another free and highly-rated plugin. You can use this plugin to create 301, 302, and 307 redirects. The cool thing about this plugin is that you can redirect old URLs to other similar posts based on:
Title
Post types
Categories
Tags
Or a new custom URL
And as usual, you also get a 404 error log built into the plugin. If you're running an older site with tons of content, you'll love the bulk redirect feature in the plugin.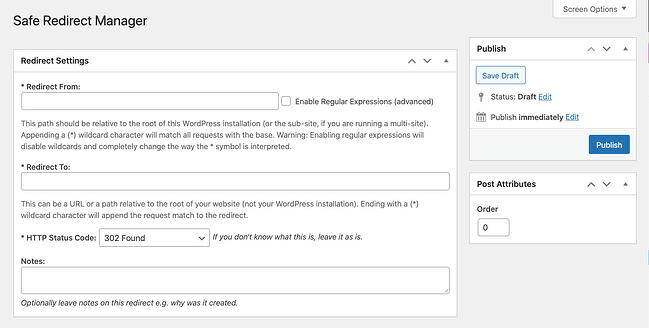 Safe Redirect Manager is a lightweight redirect manager. Of course, you can easily redirect any pages and posts to new URLs. But even more importantly, you can set up redirects right inside your post.
The Safe Redirect Manager plugin offers the core features without any extra frills. Since it doesn't offer any bulk editing functionalities, we wouldn't recommend the plugin for large businesses or older sites with a lot of content.
On the upside, it's a free plugin.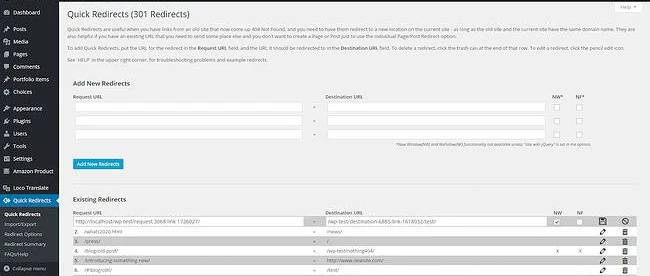 Quick Redirect is a free WordPress 301 redirect plugin with a lot of features that you only get in paid SEO plugins. For instance, it allows you to create redirects right from the post's or page's meta settings. You also get a bulk editor to manage multiple redirects at the same time. One of the most unique features of this plugin is that you can create redirects for pages that haven't even been created yet!
But it still leaves something to be desired. One major feature missing in Quick Redirect is the 404 logs you get from every other plugin. It's a lightweight plugin that's perfect for someone who's still developing their content strategy.
So, if that sounds like you, go ahead and get Quick Redirect. But if you need the 404 logs, you should get AIOSEO instead.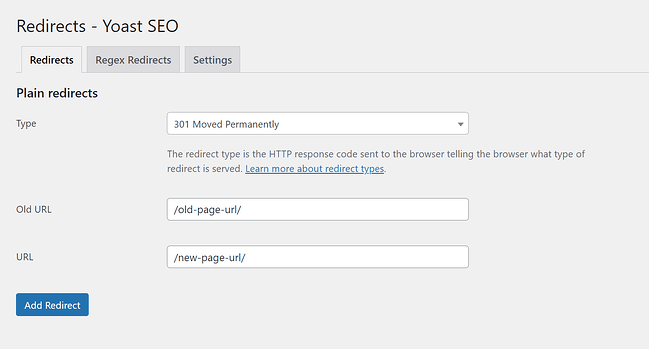 Yoast SEO has to be one of the most popular SEO plugins in the WordPress industry. Even the free version of Yoast is fairly good. But you have to get the premium version to access its redirect manager.
Yoast automatically creates a 301 redirect if you change the URL of any post or page. And if you delete a page or post on your site, you get an instant prompt to create a 301 redirect as well.
The only reason that Yoast SEO is buried so deep down in this list is that it's not a redirection plugin. Like AIOSEO, Yoast SEO is a complete SEO toolkit for WordPress sites. But we really prefer AIOSEO for a lot of different reasons. Check out this comparison between Yoast and AIOSEO and you'll see what we mean.
Short version: Yoast is a premium plugin that was built to be a full SEO suite. In that way, it's a lot like AIOSEO. But All in One SEO is just better at helping WordPress users with their SEO issues. So, if you have to pick an SEO suite, you might as well pick the best in the business.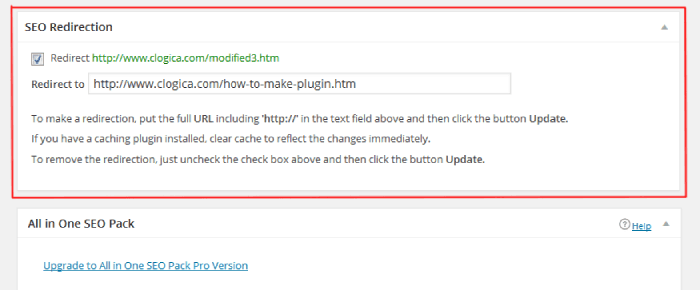 SEO Redirection is one of the simplest plugins on this list. It has a LOT of features, but it's very well built and super easy to use. You can redirect entire folders and everything they contain such as your index.html file using SEO Redirection.
And yes, you get the standard feature of automatically creating a 301 redirect when a URL or permalink on your site is changed.
What shocked us was that you can also fix crawl errors on Google Search Console using this simple plugin.
For a free plugin, SEO Redirection does a lot of things. We can recommend this plugin to an enterprise site administrator or SEO. But it's just overkill for a small site. There are way too many functions in the plugin for a small business to use practically.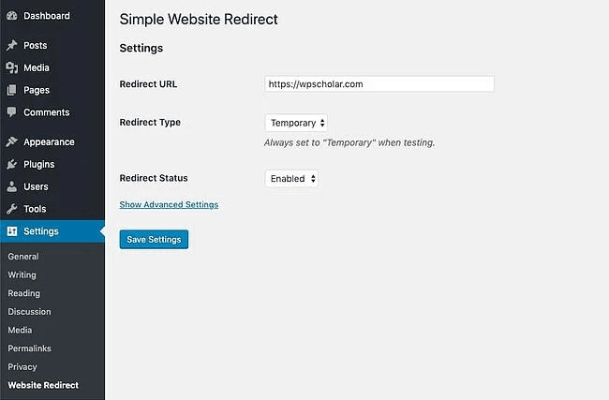 Simple Website Redirect isn't your regular WordPress 301 redirect plugin. This plugin is meant to redirect an entire site from one domain to another. This is a handy little tool when you want to shift from one domain to another without losing all your SEO juice.
The plugin's entirely free and technically, it does create a 301 redirect. But it's not for regular use. Unless you're migrating your site, we don't recommend using this plugin to create 301 redirects.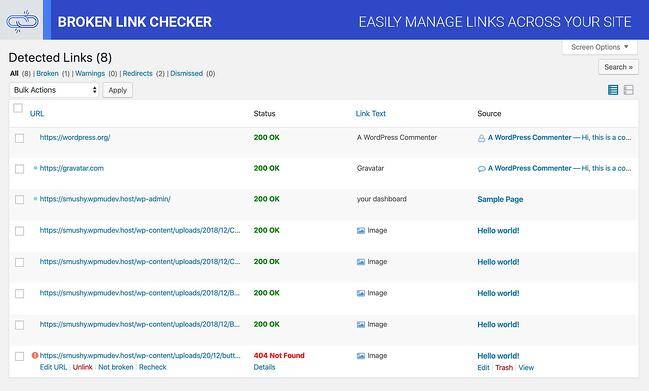 Broken Link Checker not only helps you create 301 redirects, it also helps you detect internal and external broken links. This is a great way to keep your posts up to date.
Once installed, this free plugin will automatically scan your WordPress site for broken links. You also get a dashboard listing out all the broken links on your site. You can then create 301 redirects from the dashboard or remove the links as you see fit.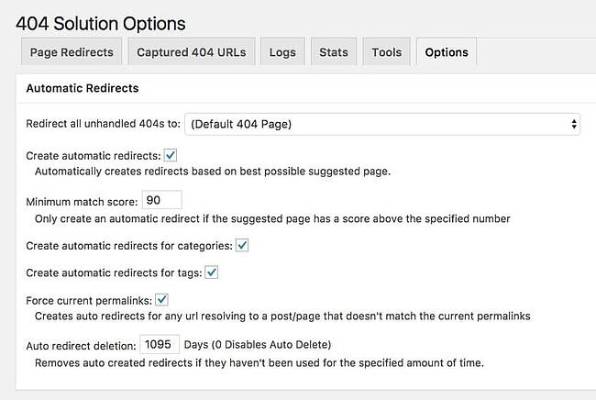 404 Solution is a very special plugin. While it can be used to create 301 redirects on your site just like any other WordPress 301 redirect plugin, that's not what 404 Solution was originally built for.
This plugin was meant to be used in a post-migration scenario. So, let's say that you recently migrated your site from one domain to another. 404 solution keeps track of 404 errors across your site. Most importantly, 404 Solution tracks 404 errors thrown by folders after migration.
It even has a way to redirect all unhandled 404s on your site to a custom 404 page.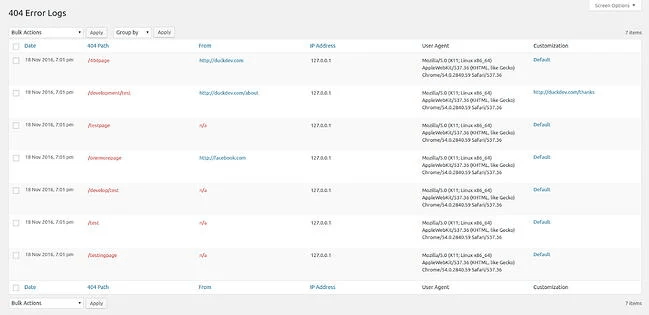 404 to 301 is the perfect WordPress 301 redirect tool for freelancers and bloggers. It's free, it's lightweight, and it does the job just fine. You can create automatic 301 redirects when you change any URL on your site. You can also set up manual redirects for deleted posts and pages.
It's also a great fit for website owners who are planning to create temporary redirects. We don't recommend using this plugin if you're running any enterprise site. For a small to mid-size business, you could probably make do. But if you're looking for powerful automation, some of the other plugins on this list are a better fit.
What's the Best WordPress 301 Redirect Plugin for You?
Hands down, All in One SEO is the best WordPress 301 redirect plugin for small businesses and enterprise sites alike.
Instead of having to install a ton of plugins to handle different SEO issues, you get a one-stop shop with a powerful set of features. AIOSEO is the only WordPress SEO plugin that you'll ever need.
Of course, SEO is just one way to drive traffic to your site. To complement that traffic, you should try sending push notifications. Push notifications are a great way to increase your repeat traffic, site engagement, and sales.
Check out these resources and you'll know what we're talking about:
We recommend using PushEngage to send your push notifications. PushEngage is the #1 push notification service in the world. So, if you're serious about growing your business, PushEngage is the right option for you.