Looking for content optimization tools to take your content marketing to the next level?
Content marketing isn't about publishing content and hoping that it'll bring in traffic, engagement, and sales. There's a lot more to it than just that. For one thing, you will need to constantly optimize your content to get good rankings on Google. Then, you'll have to update your content to stay at the top.
But there are so many free and paid tools in the market. Which one's the right tool for your business? Can you afford the best tools? Are they even worth it? Which ones focus on vanity metrics and which tools help you actually grow your business?
In this article, we're going to check out some of the best content optimization tools in the market. And if you stick with us all the way, we'll give your our top recommendation as well.
Sounds good? Let's dive in.
What is Content Optimization?
Content optimization is the process to making your content more relevant and useful to your customers. The point of content optimization is gaining more search visibility and traffic.
The only problem is, optimizing your content can be really difficult without the right tools. It's like trying to find a quarter on the floor of a dark living room with no idea where the quarter is.
Good news: There are some truly epic content optimization tools that make optimizing content super easy. You can get powerful insights into what your traffic is actually looking for and how well your competitors are doing with their content.
In our list, you'll see some very powerful tools. Now, you don't need all these tools at the same time. Yes, each tool brings something different to the table. But even one of the content optimization tools on our list can help you grow your traffic, engagement, and sales.
The 7 Best Content Optimization Tools
Now that you know what content optimization is and why you need content optimization tools to supercharge your content, let's check out the best options in the market. And more importantly, let's find the right fit for your business.
All in One SEO is one of the best SEO content optimization tools you'll ever find.
Not only is AIOSEO powerful enough to implement the latest SEO best practices, but you also get advanced options to resolve specific SEO issues straight out of the box. This includes:
Local SEO modules for small businesses with a local audience
WooCommerce SEO for online stores
An SEO optimizer inside your WordPress editor
Smart Sitemaps for instant indexing on Search Engines
A Schema plugin to get your content to rank in the Rich Snippets
And a lot more! Check out our full review of All in One SEO for a closer look at the features.
To top things off, AIOSEO allows you to build SEO content every time using TruSEO.
TruSEO is an SEO advisor built into your WordPress editor. It's completely Gutenberg-friendly and it provides actionable insights to improve the SEO on anything you publish.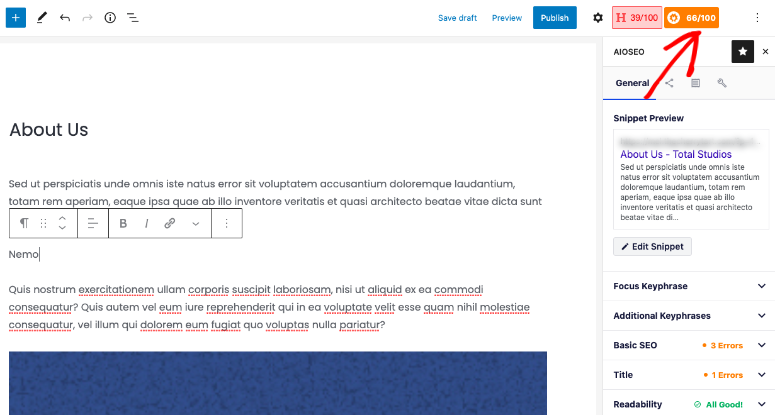 By default, TruSEO is disabled. You'll want to activate it on the plugin's General Settings page:

TruSEO scores your content based on:
Keyword relevancy
Basic SEO
Title Optimization
Readability
And gives you actionable ways to improve it: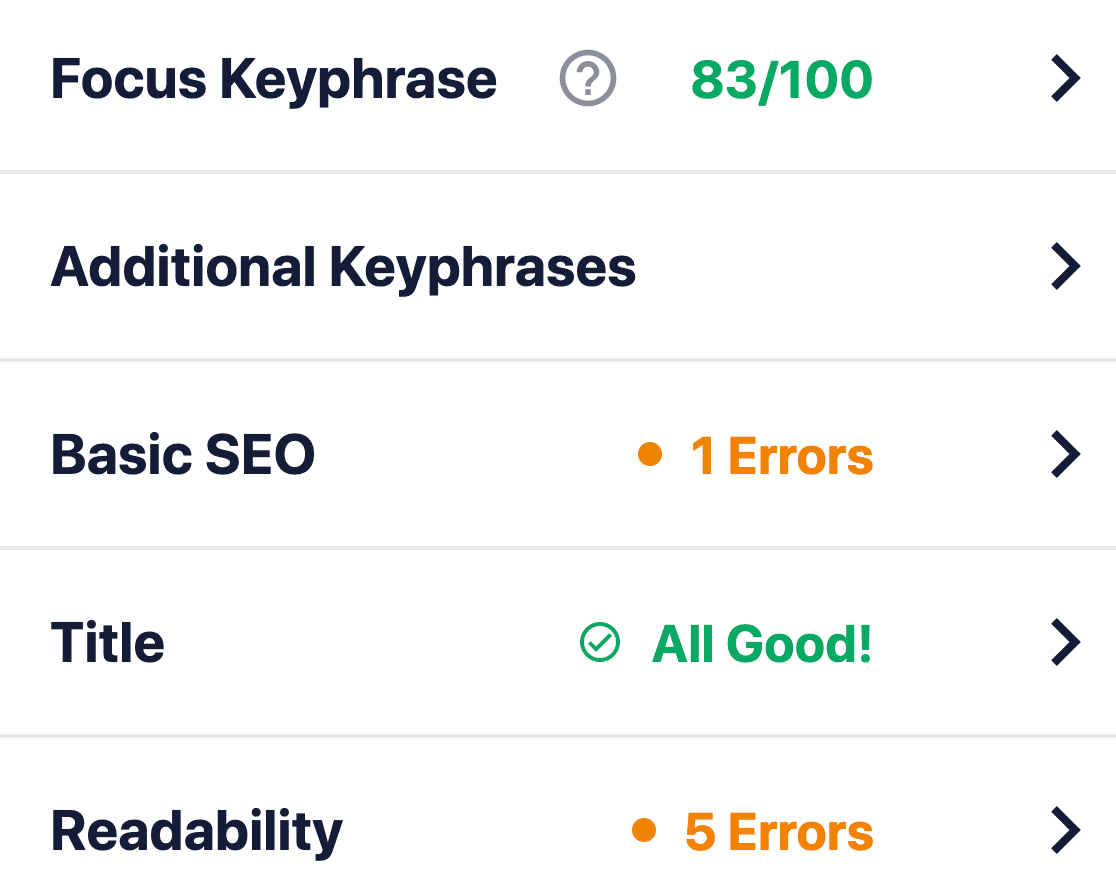 TruSEO is more sophisticated than other SEO plugins and it takes many more factors into account to create a score. Of course, there is "one single rule" to SEO because Google's search algorithm is constantly changing. But over time, the fundamental idea behind creating SEO content is based on these four critical factors.
If we expand the Basic SEO box, you can get suggestions to optimize your content further: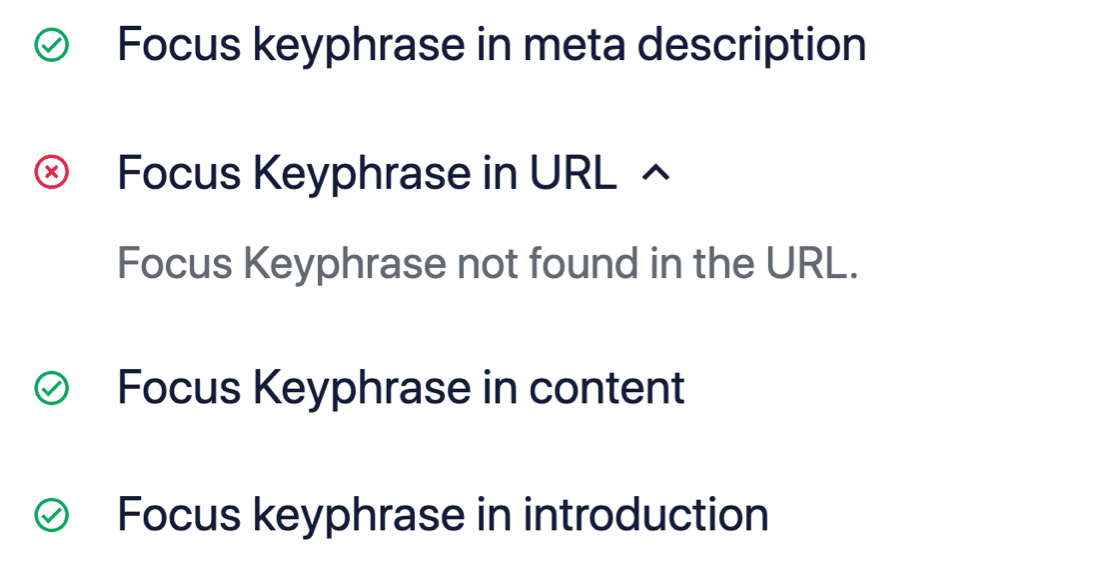 Side Note: TruSEO is 100% compatible with MonsterInsights. If you're using the MonsterInsights Headline Analyzer, you can now get a content score and a headline score at one glance:

Check out our review of MonsterInsights for a closer look its features.
Frase is an AI content optimization tool that helps you research, write, and optimize your content. Of all three offerings, we only recommend using Frase to optimize your existing content.
We don't recommend using their AI-based content writer at all. The results look and feel like a bot. And it tries too hard to please a search engine rather than helping your customers. Not to mention, a general writing AI won't have your industry expertise and knowledge.
You can also autogenerate an outline for your content. The AI scrapes the top 20 Google search results for your keyword and compiles what you should cover in your content. This includes headlines, specific sections, and keywords to include in your content.
Again, we don't recommend doing this. Do your own research and talk to subject matter experts to create unique content instead of creating a rehash of existing content.
The content optimization tool is pretty good, though. You can import your articles using their URLs into a browser-based editor. Then, the AI suggests what keywords to insert into your content, how many times you should insert them, and how many pages in the top 20 Google search results include that keyword.
MarketMuse is one of the top AI-driven content optimization tools in the market. It's very similar to Frase. The biggest difference is that it acts more like an editorial toolkit than an AI that tries to do all the work for you.
One of the coolest features in the MarketMuse editor is that it tells you if you're over-optimizing for a keyword in your content. You can use the AI to research your content and even create powerful content briefs to outsource your content creation. You can even create an editorial calendar from inside the MarketMuse dashboard.
The editor itself is simple and easy to use. You can see how well your content is predicted to perform inside the editor and compare your content with the top 20 search results.
SEMrush is another powerful content optimization tool. But it also acts as one of the best website analytics tools in the world.
With Semrush, you can gain the insight you need about how much traffic keywords and topics get. You can decide what to focus on to build your organic traffic with that kind of analytics intelligence.
With Semrush, you can:
Get 21+ billion keywords for 130 countries
Run in-depth website audit with 130+ checkpoints
Get recommendations to improve your content to increase search rankings
Track and analyze competitor websites and marketing strategies
Create and track your PPC campaigns
Draft, schedule, and post content on social
Create and schedule white-labeled or branded reports
One of the coolest things about SEMrush is that you get AI-driven insights on how to get better rankings for your keywords. You even get suggestions for keywords to include in existing articles.
Clearscope is an AI-driven content optimization tool just like Frase or MarketMuse. Clearscope works on topics instead of keywords, though. You start by giving Clearscope a topic that you want to write about. Then, the AI analyzes search engine results to get a sense of keywords to include and their priorities.
If you already have an article written, you can import the article from the URL or paste the content into their editing tool. Then, the AI keeps giving you small tweaks to make to your content to rank higher.
Make sure to use keywords with the highest priorities first. And then, work your way into including the other keywords.
Pro Tip: Only use Clearscope to optimize your content after you're done writing. Your job as a content creator is to create content for humans. If you use content optimization tools to create your content from scratch, it will feel like you're writing for an algorithm rather than your customers.
Ahrefs is an SEO content optimization tool for SEO professionals. It's one of the best SEO tools we've ever come across for content auditing, SEO research, and competitor analysis. It's also a great tool to build backlinks to your content.
While Ahrefs is more of a standalone tool, you can also use their WordPress plugin.
Using Ahrefs, you can:
Audit the content on your site
Find new keywords to target
Track keywords rank from a dashboard
Study what your customers are searching for online
Analyze the top-performing content in your niche
And it's all from an easy-to-use dashboard. If you're new to SEO, you can also check out their training material. But if you're already somewhat experienced in SEO, you can use Ahrefs to get explosive growth if you follow a good SEO process.
Hemingway Editor is one of the best content optimization tools to improve your readability.
Content readability is a measure of easy your content is to read and understand. Most of your website visitors will only skim your content rather than read every line. So, if your audience can't understand your content, that's not good content.
In simpler words: The easier your content is to read, the better conversions you'll get. Content readability is super important and if you want better rankings than your competitors, you'll want to optimize for readability.
Hemingway is the only free tool on this list. You can buy a desktop version if you like, but the browser version is powerful enough by itself and it's completely free.
Get started with Hemingway Editor.
What to do With Content Optimization Tools
We highly recommend using content optimization tools to keep your content fresh and performing well throughout the year. Our top recommendation is to use All-in-One SEO to optimize your website content.
The right tools can help you with getting repeat traffic, engagement, and sales. For that, we recommend using push notifications.
Push notifications can be a powerful marketing tool for growing businesses. Not convinced? Check out these epic resources:
We recommend using PushEngage to create your push notification campaigns. PushEngage is the #1 push notification software in the world. So, if you haven't already, get started with PushEngage today!