Looking for WordPress invoice plugins for your site? An invoicing plugin can make it easy to automatically generate invoices, collect orders, and manage your finances.
Managing invoices can take up a lot of your time if you're a freelancer or a business owner. The most challenging part is making every invoice look and feel the same. Using a professional invoicing software can help you create the perfect invoice every time and save time on it.
In this article, we will share some of the best WordPress invoice plugins in the market.
Sounds good? Let's dive in.
Best WordPress Invoice Plugins
Before you start choosing WordPress invoice plugins for your site, you should consider a few things:
One-time and recurring payment collection
Partial payment options
Automatic tax deduction and tax reporting
Single dashboard to manage all invoices and taxes
Credit card and other payment gateways
Payment scheduling and late fee option
Now that we know what to look for in your WordPress invoice plugins, let's dive into our list.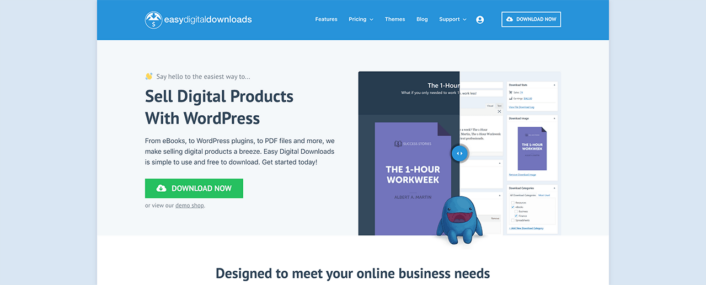 Easy Digital Downloads (EDD) is a WordPress plugin that's designed to sell digital goods. So, if you're looking to sell any digital product and want to set it up quickly, Easy Digital Downloads is your safest bet.
One of the most difficult things to do when you're just starting a new business is dealing with technical issues. This becomes especially hard when the technical issues are related to how you accept money for your goods.
With Easy Digital Downloads, that's never an issue.
Right out of the box, you get integrations for Stripe, PayPal, and Amazon Pay. But that's not all.
You can install extensions for a lot of different payment gateways: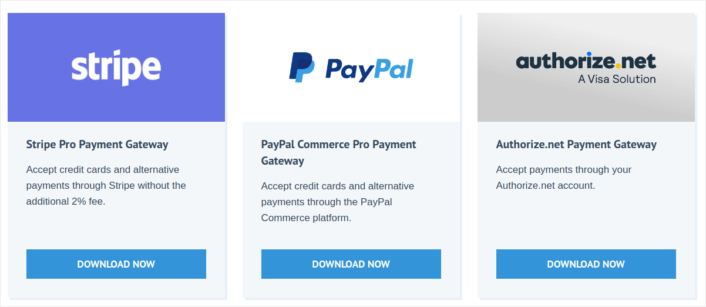 Here's what you get with EDD:
Payment Gateway Integrations
Software License Creator
Recurring Payments
Multi-Vendor Platform
Email Marketing Integrations
Custom Deliverables for Freelancers
Commissions for Affiliates and Vendors
Instant Product Comparisons
And more. If you need a closer look at the features, you should check out our review of Easy Digital Downloads.

WP Simple Pay is exactly what it sounds like. It makes online payments simple on your WordPress site. It's easy to use, highly reliable and requires zero coding to set up.
The best part? WP Simple Pay helps you focus on creating products and selling them without having to worry about accepting payments from across the world.
All customer and payment information is stored on your Stripe account, not on your WordPress website. As a result, the plugin won't bloat your site like other alternatives. WP Simple Pay offers the simplest way to add Stripe payments to your WordPress site.
And setting up WP Simple Pay is super simple.
Here's a quick look at the top features in WP Simple Pay Pro:
Payment Form Builder
Stripe Checkout Payment Pages Builder
Custom Amount Payments
Custom Subscription Options
Discounts with Coupon Codes
Alternative Payment Methods
Customized Payment Confirmation Flow
And more! You can get a closer look at the features in our review of WP Simple Pay Pro.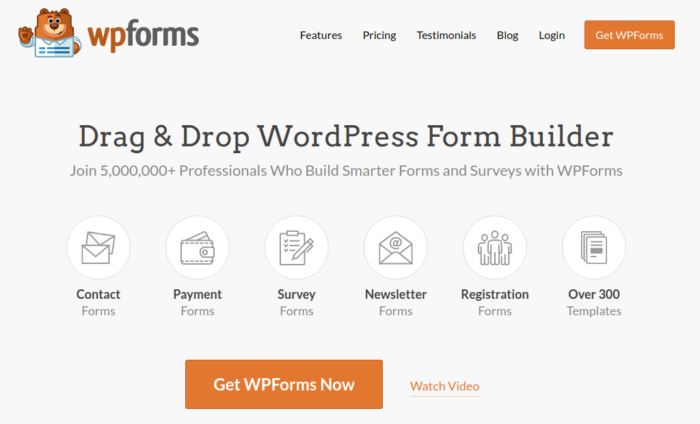 WPForms is the most powerful drag-and-drop WordPress form builder. It's super easy to build a fully custom form for your WordPress site in a few minutes using the plugin.
WPForms can help you create any type of contact form, payment form, survey form, registration form, and newsletter optin form you can think of.
They have over 300 templates in the Pro version that are proven to work. You can instantly import these templates and launch the form in minutes. WPForms is completely beginner-friendly. Anyone can use it to create powerful forms.
The plugin comes only with core essentials. So, if you need more functionality in your forms, you can always install an addon. This keeps the plugin lightweight and simple to use.
With WPForms, you get:
A Beginner-Friendly Form Builder
Multi-step Forms
Email Marketing Integrations
Conditional Field Logic
Form Abandonment Campaigns
Form Landing Pages
And more. The best part is that you can directly create WordPress payment forms that accept payments using Stripe. All you need is a Stripe account and the WPForms plugin to get started.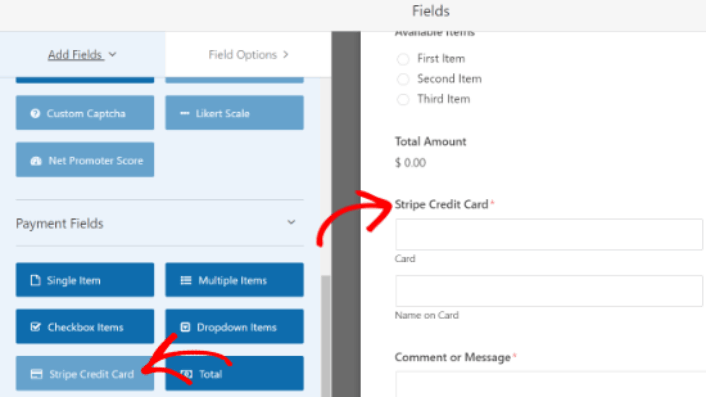 Using WPForms to accept credit card payments is a really great option if you're not running an eCommerce site with a cart. It's perfect for agencies and freelancers.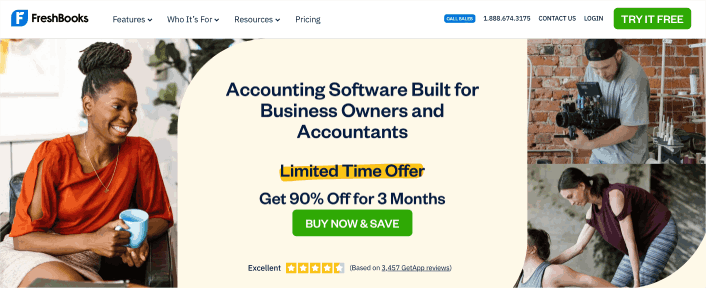 Freshbooks is a super popular WordPress invoice plugin that's perfect for accounting automation in small businesses.  It allows you to create professional invoices in a few clicks. 
You can add your work hours and expenses in the invoices to display a proper breakdown of the payment. It also offers tax collection, preferred currency selection, discount codes, and pre-payment option.
The plugin has an automated system to send reminders to customers for the overdue payments. FreshBooks also charges your clients' credit card securely for recurring payments and sends notifications to you and your customers.
Freshbooks works with all top website builders including WordPress. It is one of the most robust WordPress invoice plugins on our list. But the software is expensive since they charge you based on the number of billable clients.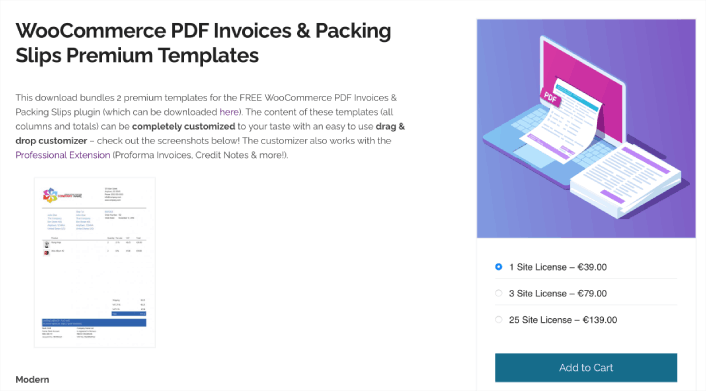 WooCommerce PDF Invoices is a WordPress invoice plugin to send a PDF invoice with every order confirmation email. You get pre-built templates for the PDF invoices. But if you're looking for a more branding options, you can also create your own custom invoice templates.
The plugin automatically creates a serial number for each invoice so that you can keep track of all the payments. Your customers can download invoices from their account page on your eCommerce website. You can also connect a printer with the plugin to print invoices as soon as your customers confirm their order. If you run an online store using WooCommerce, then this plugin can be the answer to your invoicing needs.
This plugin does not work with other WordPress eCommerce plugins. That's why it's the last option on our list. The free version is just not worth it in our opinion. But if you only need PDF invoices, you should get the paid version.
Which of These WordPress Invoice Plugins is Best for You?
Hands down, the best WordPress Invoice plugin is Easy Digital Downloads.
Next, you'll want to increase your traffic, engagement, and sales.
A great way to increase your sales is to create automated push notification campaigns. Push notifications can be a really great tool to increase repeat traffic, engagement, and sales on your site. If you're new to push notification campaigns, check out these incredible resources that will help you grow much faster:
We recommend getting started with PushEngage for your push notification campaigns. PushEngage is the #1 push notification software in the world. So, your campaigns will be in safe hands and you can get super creative with your push notifications. Like this one: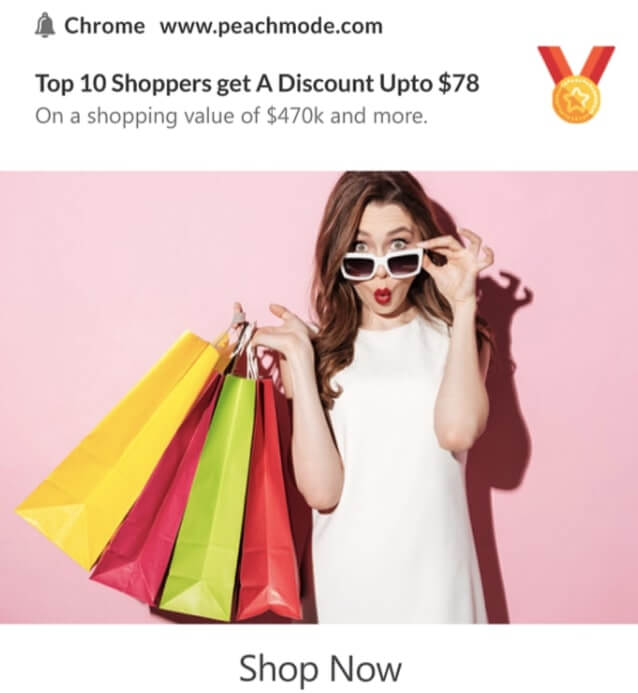 If you're serious about growing your business, you should invest in PushEngage. Get started with PushEngage today!