Looking for the best WordPress contest plugin for your site?
Contest plugins are a great way to explosively grow your traffic and engagement. But which one should you choose? What's the right option for your business?
Most WordPress contest plugins don't give you enough time in their free trial to fully try out:
The right features
An easy to use interface
Templates to kickstart your campaigns quickly
In this article, we're going to look at the 11 best WordPress contest plugins. Then, we'll give you our top recommendation as well.
Sounds good? Let's dive in!

RafflePress is a visual contest builder for WordPress that helps you create and run contests and giveaways for your site. Even the free version comes packed with a ton of amazing features you can use without spending any money.
RafflePress was built to be beginner-friendly. That's one of the biggest problems this plugin solves. There's absolutely zero learning curve. On top of that, you get a library of powerful templates to:
Grow a segmented email list
Build traction with referral marketing
Run a pre-launch contest
Get social media followers
Redirect traffic to your blog
Popular features include:
Beginner-friendly drag-and-drop contest builder
Comes with tons of time-tested contest templates
Social media follow options
Built-in referral marketing options
User-Generated Content for any contest
No code campaign designs
Custom landing pages for contests
Custom contest rules
Email marketing integrations
Easy tracking and retargeting
Contest entry management inside WordPress
Helps reduce spam entries
Mobile-friendly campaigns
We wrote a detailed review of RafflePress. You can check that out for a deeper look at the features. In our honest opinion, RafflePress is one of the best WordPress contest plugins for businesses of any scale. It doesn't matter if you're just starting out or if you're looking to scale. RafflePress has powerful contest options that can help you boost traffic and engagement easily.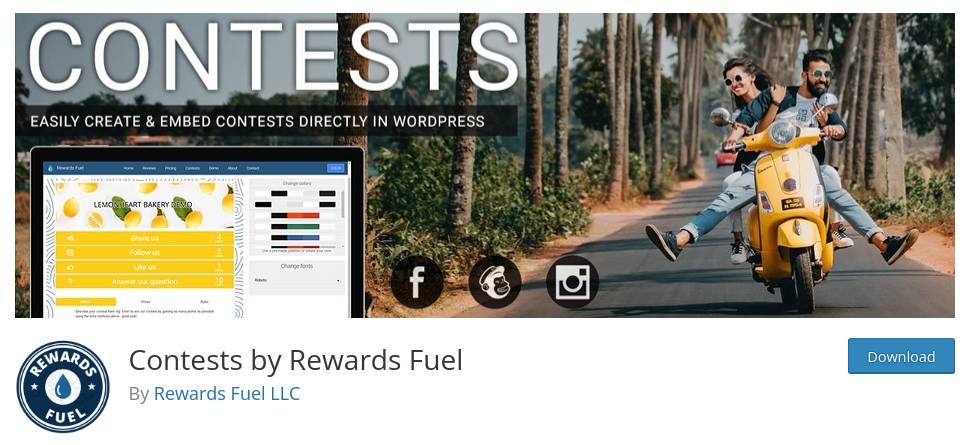 Contests by Rewards Fuel makes it super easy to launch contests and giveaways without having to worry about the technical details. Frankly, that's what makes it one of the best WordPress contest plugins.
Popular features include:
Video contests for maximum engagement
Customizable contest templates from previous campaigns
Easy scheduling for contests
Automated winner selection
Integrations with Google Analytics, YouTube, Twitter, Facebook, and Instagram
Mobile responsive contest pages
Digital downloads as contest prizes
There's a free version for Contests, but we only recommend using the free version for testing. If you're serious about growing you business, you need the paid version.

Agorapulse is primarily a social media management tool that comes along with a Facebook contest tool. Given its pricing, Agorapulse is well worth the investment because you get a TON of cool features. The only drawback of this tool is that you get a WordPress contest plugin only for Facebook.
For this article, we're only going to review the Facebook contest tool. But feel free to check out their social media management tool as well.
Popular features include:
Sweepstakes that include anyone who interacts with your Facebook posts
Quizzes with random winner selection from comments with correct answers
Photo contests
If you're working only on growing your audience on Facebook and you need a tool to manage your social media as well, Agorapulse is a fine solution for you.

Wishpond is one of THE biggest software tools for social media marketing. While Wishpond isn't exclusively for creating contests and isn't just for WordPress, you do get a WordPress contest plugin as part of the deal. You can create landing pages, marketing funnels, and appointment calendars as well.
But for now, here's what you can do with Wishpond's WordPress contest plugin:
Photo and photo caption contests
Essay contests
Coupons
Sweepstakes
Instagram hashtag contests
Referral contest
Pinterest contests
Leaderboard contests
Video contests
Bonus entry for contests
Vote contests
The beauty of Wishpond is the incredible range of industries it can serve with its many solutions. If you're looking for an end-to-end marketing tool, Wishpond is just the thing for you.

Easypromos is a good starter platform to create and manage contests and promotions on your social networks. As the name suggests, Easypromos is super easy to set up and use.
Popular features include:
An Instagram Contest Tool to build contests from Instagram post comments with a random winner generator
Multi-platform contests on Facebook, Twitter, and Instagram for easy organization
More traditional engagement tools such as surveys and polls
100% responsive and mobile-friendly contest design
Easy-to-use WordPress widgets
If you're looking for a simple tool without too many bells and whistles, then Easypromos is the right fit for you.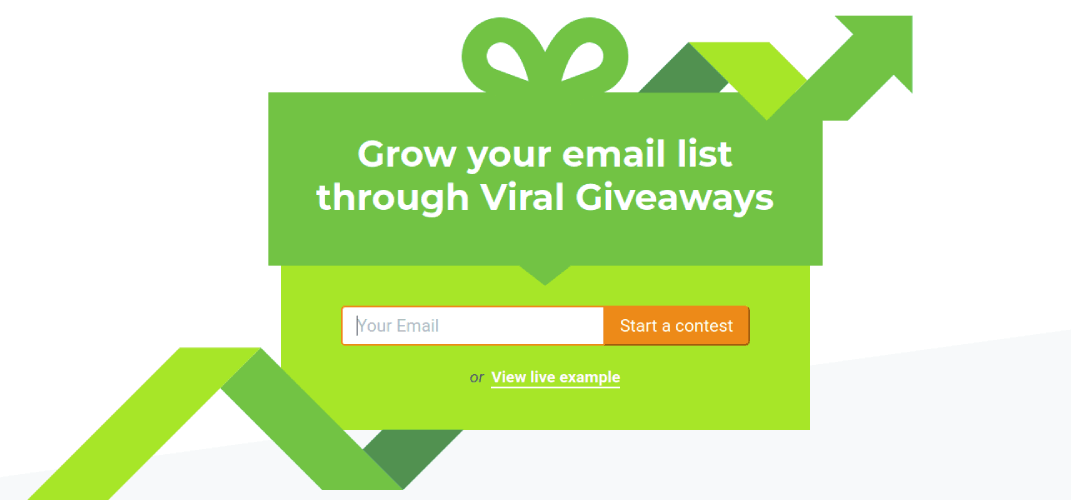 KingSumo was originally built to help AppSumo grow its list of email subscribers through viral giveaways. It turned out to be so good that they started selling it publicly.
Popular features include:
Easy setup on WordPress to create and launch an instant giveaway
Syncs nicely with the WordPress editor
Automated contest scheduling
KingSumo offers only a handful of features in their product. But their core software is really good. You can get started for free or get the paid WordPress plugin license for greater ease of use.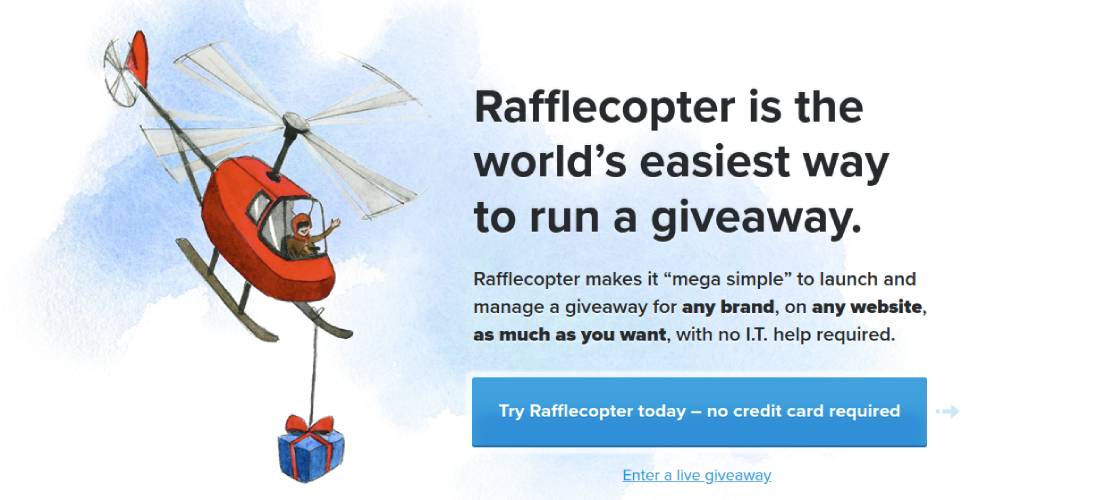 Rafflecopter is one of the best WordPress contest plugins in the market. If you want to get super technical, Rafflecopter offers a web app. So, you can embed your contests using Rafflecopter widgets for WordPress.
Popular features include:
Customizable sweepstakes that are easy to manage
Powerful social sharing options with referral marketing options
Embed codes that you can simply copy and paste into your WordPress site
The flip side of Rafflecopter is that it's quite pricey. Also, you need to know how to embed code snippets in WordPress before you start using it.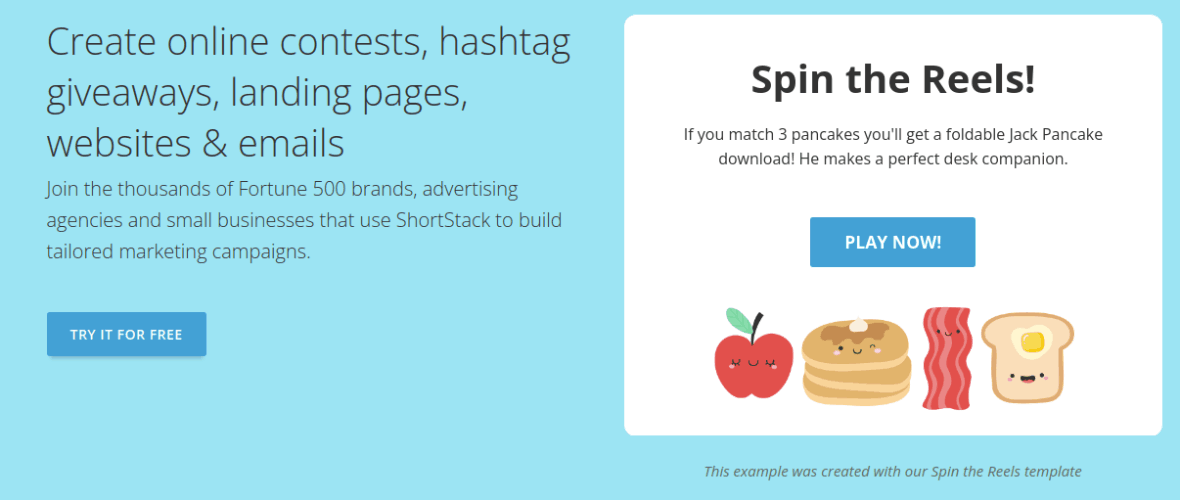 ShortStack is great for quickly creating giveaways and contests. It's a great digital marketing tool that's great for engagement, marketing automation, and gathering leads.
Popular features include:
Spam protection and fraud detection
20+ widgets like forms, polls, newsletters, social media, gallery, and voting
A simple drag and drop contest builder to build instant giveaways
A Random Entry Selector for all types of contests on the most popular social networks
Photo contests with hashtag-based contests
Match your branding by customizing design options by changing size, text, color, and more
Email marketing integrations and autoresponders
Unlimited storage space for leads collected in a giveaway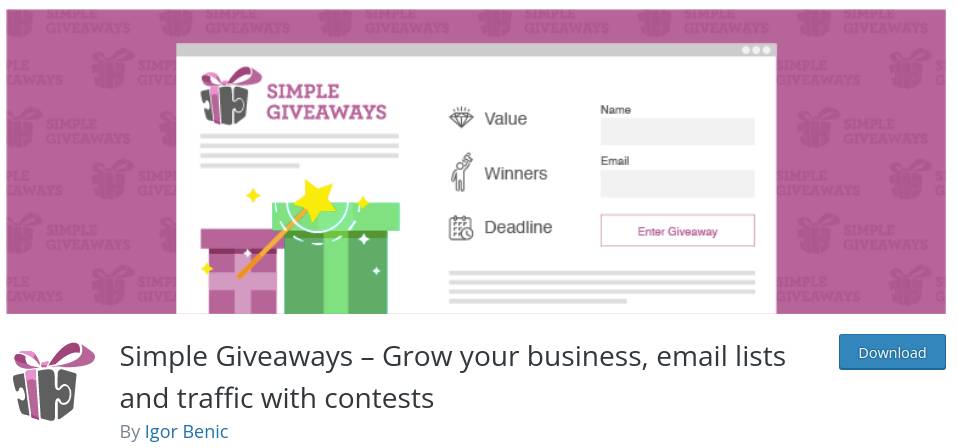 Simple Giveaways is one of the best contest plugins because it's an easy-to-use free software that can help you automate the contest process on your site. It's also super popular.
Top features include:
Google reCAPTCHA to keep your WordPress giveaways secure
Scheduling your contest's start date and times, end date times, and automating winner selection and announcement
Email notifications and autoresponders
Detailed campaign reports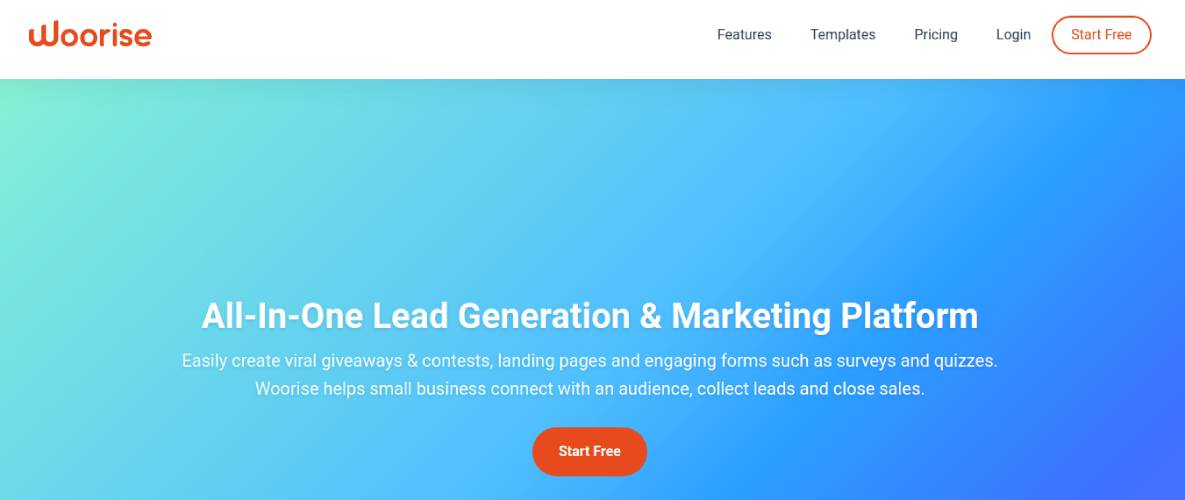 Woorise is definitely among the coolest WordPress contest plugins. But you should most definitely go for their paid plans if you're serious about growing your engagement.
Popular features include:
Email integrations included with the Grow version
Conditional logic to customize the visitor's experience
Fraud detection
1-click random winners
Contests with action buttons such as Facebook likes, YouTube subscribes, Instagram follows, and Twitter follows
Pre-built templates for highly engaging campaigns
Multilingual support
The Premium Grow version includes priority email and customer chat service as well as the other top features. So, if you're thinking of using Woorise, you should get the Premium Grow version.
Which of These WordPress Contest Plugins is Right for You?
Hands down, RafflePress is the best WordPress contest plugin out there.
If you consider how powerful the features are, the affordable pricing, and how easy it is to use, there's no other way of putting it. You should get RafflePress right now if you want to create highly engaging and viral contests in a few clicks.
Speaking of engagement, you should also start using push notifications to increase your website engagement even beyond the contests. We recommend using PushEngage to send your push notifications. PushEngage is the #1 push notification software in the world.
Not convinced? Check out these articles first:
If you haven't already, get started with PushEngage today!