Push Notifications has found its way to most of the online business. You must have seen the chrome push notifications appearing on your browser. The success depends upon the push notification strategy. Though web push notifications are easy to use and execute, they may not offer good results without proper planning. Push notifications are mainly used to update users instantly and are delivered on the browser. You can create multiple campaigns using web push. There are mainly two push notifications use cases:
Revenue Generation
Re-engagement & Traffic
Are you still thinking about whether to use push notifications or not? This infographic has complete details on the benefits of web push. Moreover, the use of web push notification in crisis days has become very handy as compared to other tools due to:
Ease of installation
Supporting integration on multiple platforms
Easy to create campaigns
Reach out to the customer's on-time
Offers better ROI
Minimum requirement of a technical team
Easy to manage
Web Push Notification has gone a lot of changes. With developments in browser technology, push notification providers have also developed many features to handle all the push notification use cases.
Different campaigns based on Push Notification Use Cases
Revenue Generation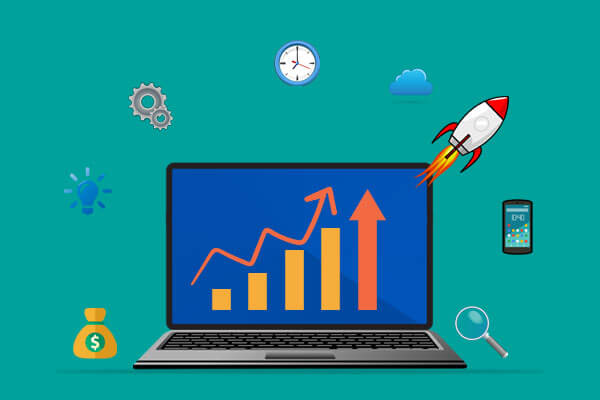 The 1st goal of using any marketing tool is revenue generation. Before buying any tool, every marketer wants to ensure that the new tool is going to add value to the top line and Web Push Notification has a direct impact on the revenue. Below chart compares the performance of push notification with email: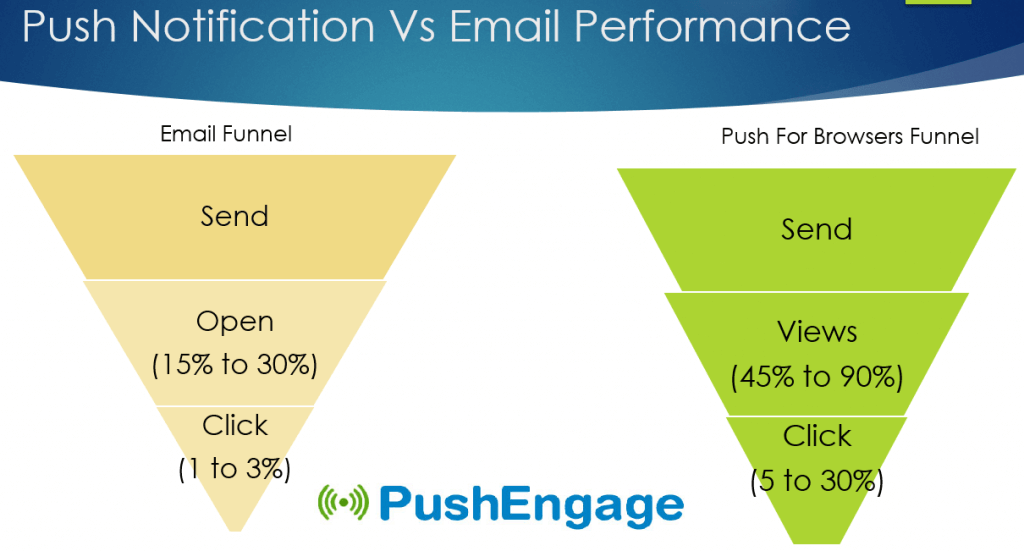 As you can see open rate and click rate is high for web push. This gives you one solid reason, why you should start using web push notification now.
Push Notification Cases for Revenue generation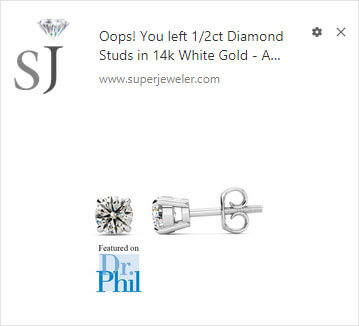 Cart Abandonment: This is the most effective campaign for revenue generation. Customers who have abandoned their cart have a high chance of a conversion. Send automatic push notifications to them with the product link and bring them back to the checkout page. Cart abandonment campaign will send a series of push notifications until the customer converts. Keep a track on your ROI using goal track feature. This way you will know what type of push notification in cart abandonment is getting better results.

Discount Coupon: One of the ways to encourage conversion is to send a discount coupon in a push notification. You can also see so many websites promoting discount code. The reason is customer loves to save extra with a discount coupon.

Sale Promotion: Sale is one big event that increases conversions. You will see sales promotion running during festivals, new year, summer, winter, and more. Use website push notification to Increase conversions during the sale event.

Flash Sale: Time-bound sales or flash sales are designed to increased conversion for a short duration. You must have seen the Amazon flash sale on mobiles. Flash sale runs from 2 hours to 48 hours. Since its time-bound sale, updating users on time is the key to success. Using push notifications you can instantly update users and increase your revenue.

Price Alert: In an online website, the price keeps changing. Customers may be interested in the product but will wait for the price to drop. Using a price alert push notification campaign, you can auto-update the user whenever there is a price drop. The chances of customer converting are very high as he opted to be updated on a price drop.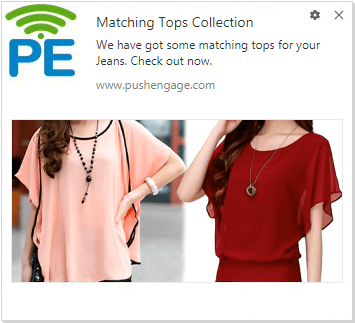 Cross-Sell: Another way to increase conversions is by using cross-sell campaigns. Depending upon what the customer purchase, you can send a push notification of a complementary product. For e.g. if the customer has bought a new mobile, you can send notification of the latest headphones. Since the customer has already made a purchase, the chances of doing another transaction are high.

Upgrade Coupon: Many online businesses have multiple plans. One way to increase revenue is to ask customers to upgrade. Send push notifications to show the benefits of upgrading to a new tier. You can send an upgrade coupon as well to entice users to upgrade to the next plan.
Re-engagement & Traffic
Web Push Notification is one of the best tools to increase traffic and re-engagement. Since it is delivered directly on the browser; it's hard to miss and leads to an increased engagement rate. Another important case of push notification is to increase re-engagement. Re-engagement is the key to increase conversions and brand recall. Ofertia has increased repeat users by 39% using push notifications.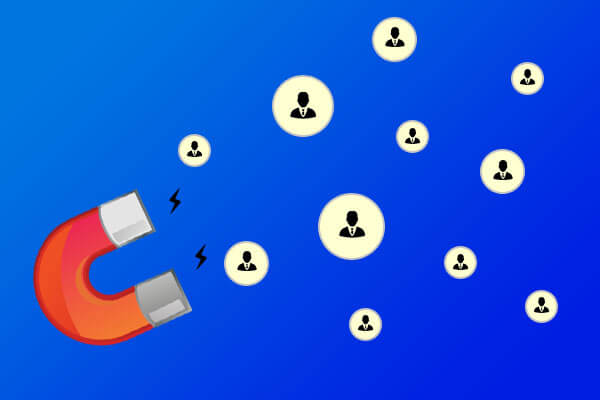 Check out the push notifications cases on re-engagement & traffic:

Loyalty Points: Always reward your customer to maintain long term relations. One way is to reward is through loyalty points. Send push notification to update users about their loyalty points and how they can redeem. This will re-engage users and bring back to the website.

Exclusive Offer: Exclusiveness always increases engagement and drives traffic. Send push notification with exclusive offers for subscribers only.
Welcome Drip: One way to increase repeat traffic is through a thorough welcome drip. Create a series of push notifications spread over a month or more in the welcome drip. Whenever any new user subscribes, they will receive start receiving push notifications. This will keep them engaged in your brand.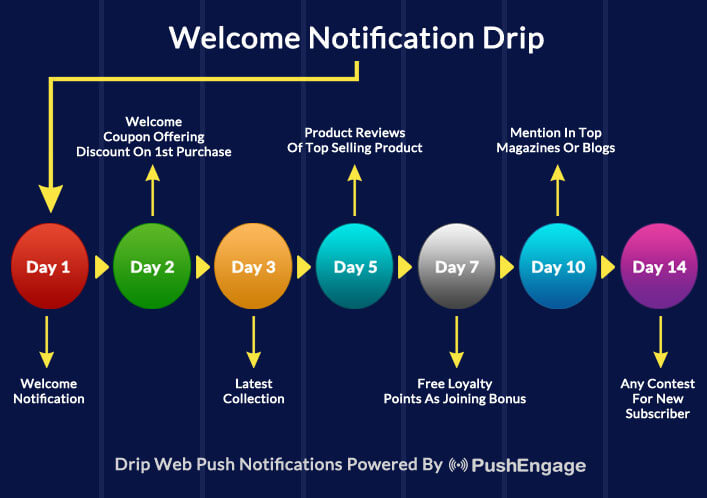 Trust: One of the reasons for not transacting online is trust. Create a series of push notification showcasing the trust value of your website.

Reviews: Customer loves when their opinion matters. Run a push notification review campaign to re-engage users.

Inventory Alert: Many times products go out of stock. Create an inventory alert push campaign to send an auto push notification when the product is back in stock. This will bring the user back to your website.

New Release: Keep the user updated with the latest releases. Send an instant push notification about the new product or article or any breaking news.

Tracking Alert: Customers would love to know where their orders are. Send tracking alert push notifications. They will surely click on tracking alert notifications and come back to your website.
Push Notifications can definitely help you to increase re-engagement which again will increase your repeat traffic and conversions. To get the more benefit of push notifications do use segmentation. It helps to send targeted push notifications which can increase the click rates by 2X. Though push notifications are easy to create, you should focus on writing a good push notification copy. Few important things when writing a copy:
Be Concise: Since there is a limitation of characters, so write a clear and concise copy.
Use Emojis: Add emojis to your push notification to make it more engaging.
Intriguing: Keep your copy intriguing to increase curiosity among subscribers so that they click on the push notifications.
If you haven't used a web push, give it a try. Check the push notification demo and see how it works.