Do you know the reasons why only websites should use push notifications on crisis days? In this article, we will show the exact reasons why online websites should use web push notifications.
We are facing a tough time. Stay home to stay safe. Crisis time like this also teaches us how to be productive with limited resources. Many of the online websites are finding it hard to keep their marketing activities inline due to the shortage of staff. You need an easy to use tool which is effective and have shown promising results. One such tool is web push notifications. Businesses are using push notifications on the web and are getting good results. This is the right time to implement push notifications. As per the case studies shared by push notification users, it has proven to be one of the best tools for customer re-engagement. Even during this period, you can easily increase website traffic using web push notifications.
In these tough times, the web push notification can come as a very handy tool to update users. Here are 6 reasons why Online Websites should use Push Notification In Crisis Days:
Effectiveness of new tool
Before getting any new tool, as a business owner, you would definitely want to know the effectiveness of the tool. Some of the common questions are:
Is this tool really effective?
Are there any other businesses similar to mine are using?
Can I see the data or case studies?
When it comes to effectiveness, it has shown to be far more effective as compared with other tools: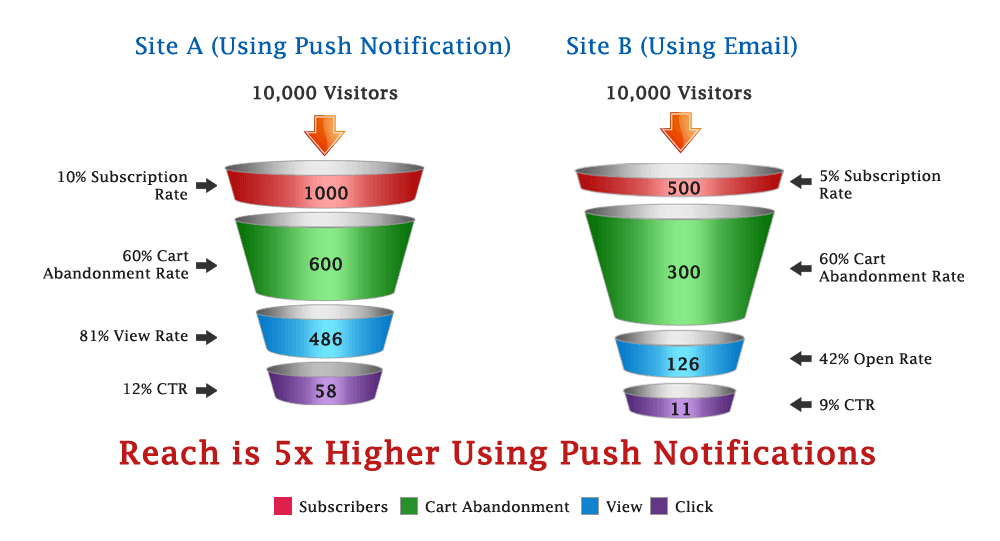 The above image shows the reach of push notification as compared to that of e-mail for a cart abandonment campaign. The reasons for increased effectiveness are:
Single Click Subscription: User can subscribe to push notifications in a single click and offers a higher subscription rate.
Delivered On the Browser: Since push notifications are delivered directly on the browser, it's hard for the user to miss it.
Reach: Users may leave your website after browsing and goes to another site. However, push notifications will be delivered to him even when they are not on your site.
There are push notification case studies showing how the website has benefitted from them:
As a tool, the web push notification is performing very well for online websites. If you are not using it, give it a try. You can also check the web push notification demo to see how it appears on the browser.
Shortage of Technical Staff
For starting any new tool, you will need technical people for implementation. Few tools require time to integrate as it needs more technical integrations. However, in crisis days, getting hold of the technical team may be tough.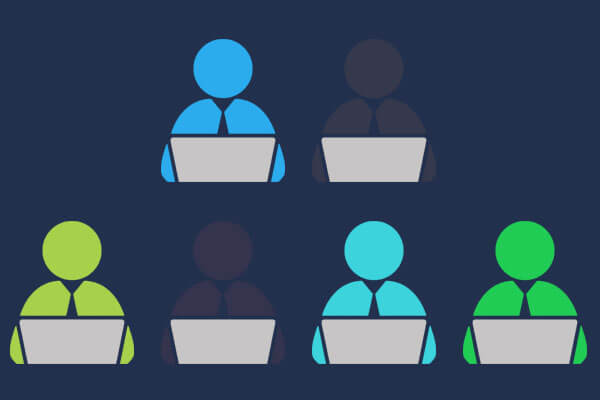 When it comes to installing push notification, it just takes 10 minutes to install. You just have to install two files – Push Notification JavaScript and service worker file. In case your website is based on platforms you can use the plugins.
You can also check the push notification integration guide for installing push notification on different platforms.
Availability of Web designer
Creating any marketing campaign requires a lot of images, copy, and tools. In pandemic times, having all of these is a tough job.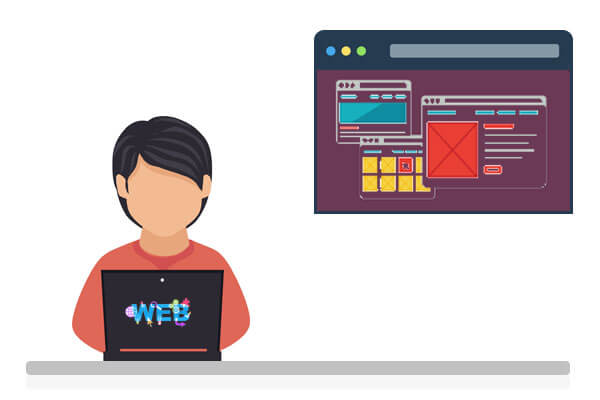 Using web push notifications, you do not have to worry much about designing. It will definitely help but you can still manage when using push notifications. Push Notification consists of 5 elements:
Title: Mention what the push notification is about. For e.g – "50% Off", "48 Hours Sale", "Last Day".
Description: Additional information about the push notification. For e.g – "Use code ABC. Valid till stock lasts".
Logo: Put the company logo so that subscribers can recognize where the push notification came from.
Large Image: It's optional. You can put a large image of the sale event or any other.
Call To Action: Talks about the action you want the customer to take. For e.g – "Buy Now", "Shop Now", "Show Me"
As you can see, in all the above the complexity of creating a good push notification is minimal. Based on the previous campaigns, you can easily come up with the write copy and image which has worked earlier.
Campaign Design
As an online website, you need to run multiple campaigns depending upon your objective. Due to the lockdown, you may not have access to the campaign team. However, you would like to create campaigns to keep users updated and engaged.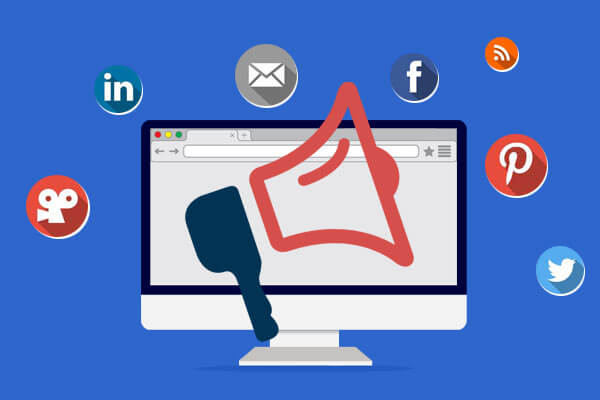 Push Notification platforms not only allow you to send push notification but to create different marketing campaigns as well. All the features in the push notification enable the website to create multiple campaigns. Some of the in-built campaigns are:
Drip: Create a series of push notification to be sent when someone subscribes.
Cart Abandonment: Sends a series of push notification when the person abandons the cart.
Browse Abandonment: Sends push notification to the person who browses a product and leave without buying.
Trigger: Based on the trigger you define, the campaign gets activated.
Segmentation: Allows you segment subscribers based on different criteria. You can then create campaigns around the segment to target better.
Executing any of the above campaigns is very simple. All the above are in-built campaign with pre-defined templates.
Limited available time
During the crisis, time is limited for everyone. Understanding a new tool, integrating, and then creating campaigns using the tool require time. Even customer doesn't want to spend too much time on unnecessary things like checking e-mails all the time.
As mentioned above, understanding, integrating, and creating campaigns using web push notifications is very simple. You do not need to invest loads of time in creating effective push notification campaigns.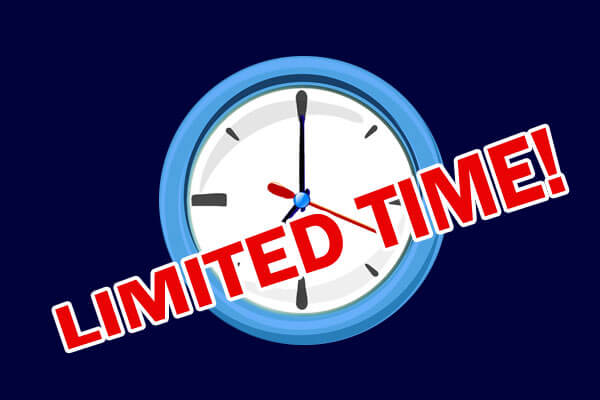 Even for customers, they do not need to enter any personal details. Also, there is no need for customers to check their e-mail and then confirming their subscription. In push notifications, customers can subscribe in a single click. Since this is browser-based; customers do not need to enter any details.
Push Notifications are delivered directly on the browser. So, if you want to send an update to the subscriber, it will be delivered instantly even when the customer is not on your site. This again helps to increase your engagement rate as customers do not need to be on your site to get updates.
Cost Factor
In tough times, when business is running slick, cost becomes one of the major factors in choosing any tool. The ROI on the investment should be high. See the below cost analysis of push notification: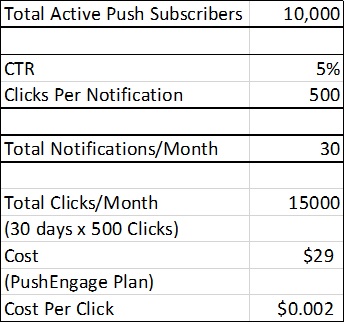 As you can see the cost of using push notification is very competitive as compared to any other marketing tool. The push notification platform is a SaaS-based product. Most of the provider offers plans based on active subscribers. As your subscriber base increases, your price increases.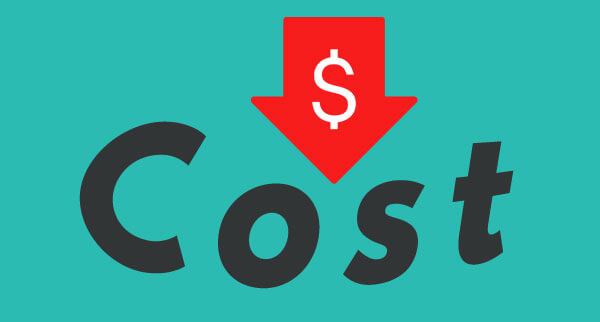 Currently, most of the push notification providers are offering a longer trial period. You can try and see the benefits.