Insider Secrets: How BrandsMart USA Got a Whopping 2.9 Million Views from Push Notifications
BrandsMart USA is a leading consumer electronics and appliance retailer in the USA. They have retail stores that you can buy from and an online store where you buy your favorite gadgets and appliances at attractive prices.
Return on Investment (YoY)
Push Notification Subscribers

Bryan Persad
Director of Email, BrandsMart USA
The Marketing Challenge
Like many eCommerce stores, BrandsMart USA was struggling with two major problems:
Getting more high-quality traffic to their site
Converting their existing and new traffic
In their own words, "We needed a way to drive additional high-quality traffic to our website in order to gain conversions at a higher pace."
And that's exactly what PushEngage helped them with.
How BrandsMart USA Uses PushEngage
When BrandsMart USA first started using PushEngage, they weren't exactly sure how well push notifications would work for them. More importantly, what customer segment would respond the best? Which product categories would get the most clicks?
So, they did something incredibly smart.
A/B Testing
BrandsMart USA tested the waters with a pilot campaign. Using A/B testing, they were able to find the kind of push notification creatives and copy that their audience resonated with the most.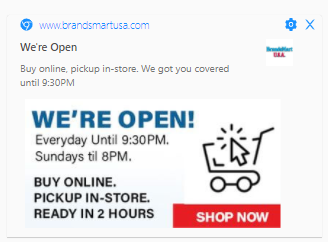 Can you spot the differences between Version A (above) and Version B (below)?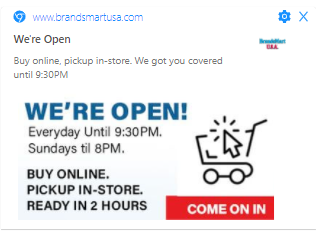 And this is where split testing can be really powerful. It's a great way to understand what your subscribers want to see before sending them automated push notifications.
Weekly Sales with Scheduled Push Notifications
Once they were very certain of their messaging, BrandsMart USA created their first automated push notification campaign.
They created a weekly deals program every Friday with scheduled push notifications.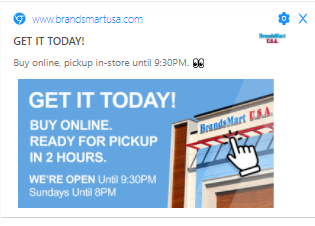 "By automating this program, we've seen huge gains in the business."
Theme and Seasonal Automated Campaigns
The success with weekly sales encouraged BrandsMart USA to create multiple themed and seasonal push notification campaigns. For instance, they focused on promoting Action Cams for their summer campaign. A really cool feature they used here was subscriber segmentation by interest. Creating focused campaigns, in our opinion, helped them generate a lot of repeat traffic and conversions.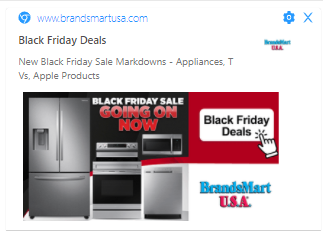 Another really fascinating campaign they used to boost their physical store walk-ins and conversions was to send out a simple "Hey, we're open" push notification broadcast. By using geolocation filtering on PushEngage, they got more than 4% click rates on such a simple campaign.
The Impact of Using PushEngage
BrandsMart USA saw an opportunity to engage with visitors in a new way and executed automated campaigns quickly to get great results:
1200% ROI YoY because of the low cost of sending push notifications
Collected over 661,100 push notification subscribers for high-quality repeat traffic
Generated over 2.9 million views from push notification campaigns
And that's not all. They have a 2.61% CTR across all their campaigns. If you consider how many campaigns they have in all, that's a relatively high CTR.
"We tend to look at the CTR based on the push notifications we build. We also include emotional triggers in our messaging to lead the customer down the funnel. Our current frequency is about 2-3 campaigns a week. We found that sending between 11 am – 2 pm and 6 pm – 9 pm is ideal for us."
BrandsMart USA found that using PushEngage to send push notifications can solve more than one marketing problem. Of course, automated campaigns are the way to go. But building a cadence and split testing different elements of your push notifications can make all the difference in the world.
"We strongly encourage both medium and large-scale organizations to consider this company as a great add-on to your marketing stack. For the cost, PushEngage drives significant value and growth YOY.

If you organize your sending correctly between programs like email and SMS – you can build in a cadence for push notifications for your customer base without annoying them. We built a cadence around the ups and downturns of traffic to our website with different campaigns. That has yielded superior results thus far."

Bryan Persad, Director of Email, BrandsMart USA
That was Bryan from BrandsMart USA discussing the impact of using PushEngage. PushEngage is the #1 push notification software in the world. You can use PushEngage to grow your traffic and engagement with the help of automated campaigns. So, if you'd like to grow your business like BrandsMart USA, get started with PushEngage today!
Engage and Retain Visitors After They've Left Your Website
Increase the value of every web visit with Push Notifications that are hard to miss.
Forever Free Plan
Easy Setup
5 Star Support