Looking for a simple way to enable Google Chrome push notifications?
Browser push notifications help you stay in touch with brands that you love. And you can opt for push notifications pretty easily. But how do you start receiving browser push notifications?
In this article, we're going to show you step-by-step how to enable Google Chrome push notifications.
Sounds good? Let's dive in.
How to Get Google Chrome Push Notifications from Any Site
We'll start with how you can receive push notifications from a site. Every site needs your permission to send you push notifications. All you have to do is go to any site and when the push notification opt-in appears, click on Allow: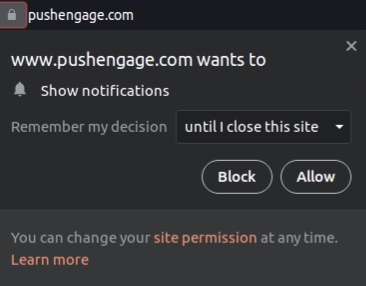 Some sites have double opt-in for push notifications. In that case, after you click on Allow, you'll have to confirm that you really want to subscribe to Chrome push notifications.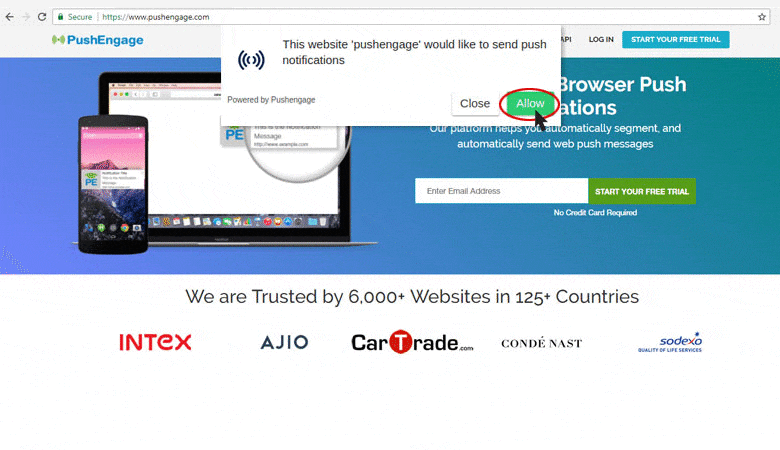 As long as the site has a push notification optin, you can subscribe to their push notifications this way from Google Chrome.
How to Enable Chrome Push Notifications from Security Settings
One major issue with receiving push notifications is that Chrome has push notification settings that can block all push notifications. Of course, that's not the default setting. Many Chrome users simply want to unsubscribe from push notifications and it's too much work to find specific sites to block from a list.
So, if you subscribed to Google Chrome push notifications and still can't receive the notifications, you need to tweak your settings.
Go to the site that you In the URL bar, click on the padlock to select settings, and in the drop-down, you'll see Notifications: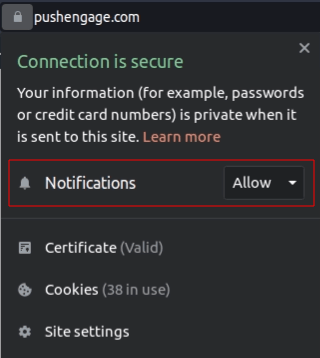 Make sure that the setting is set to Allow. If it's set to Block, then you won't receive any push notifications from that site and you will need to click on the drop-down for Notifications and select Allow.
How to Enable Google Push Notifications from Chrome Settings
You can also enable Google Chrome push notifications from Chrome Settings.
And this method gives you greater control over the push notifications that you actually want to receive. Enabling notifications from Chrome settings is perfect for you if you don't want to get Google Chrome push notifications from every website, and only want to receive push messages from specific sites.
Open Chrome and go to a new browser tab. Then, go to chrome://settings/content to get started.
Head over to Permissions » Notifications: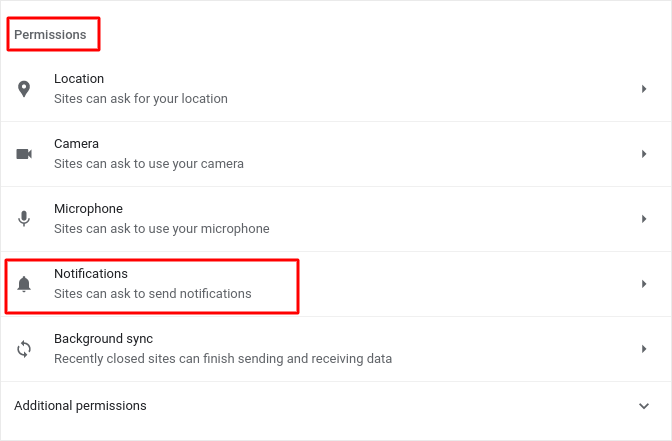 And then, click the arrow next to it. Scroll down to Allowed to send notifications: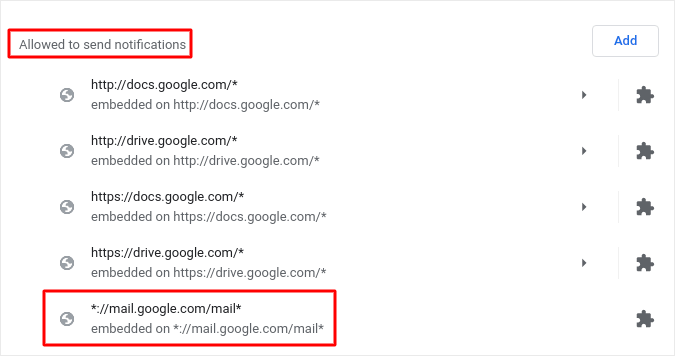 This is a list of all sites that can send you web push notifications. We recommend that you don't deactivate any of the core Google services, such as Gmail. But whatever notifications you're subscribed to will show up here. Find the brand from which you want to receive Google Chrome push notifications.
Click on the arrow next to it and scroll down to Permissions » Notifications: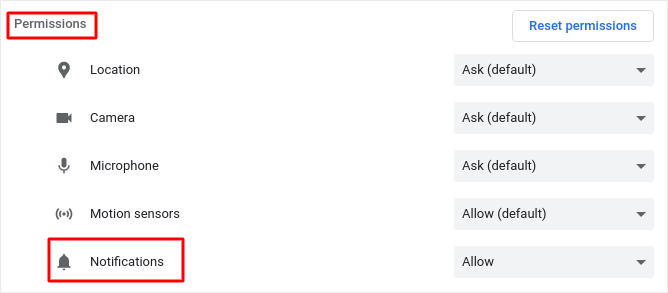 And change that permission from Block to Allow.
That's all! You're done. This method will work no matter what OS or device you use as long as you're using the Chrome browser.
What to do After You Enable Google Chrome Push Notifications
Just because you love the content in the push notifications you receive doesn't mean you should be subscribed to them. Before subscribing to any more push notifications, you should check out GDPR compliance rules and find out if your push notifications are safe.
And if you think Google Chrome push notifications are cool, you should also check out how to get started with push notifications for your business as well.
Push notifications are a great way to organically grow your fan base. And it's really easy to set up push campaigns. Also, if you're new to push notifications, you should check out these epic resources:
We recommend using PushEngage to create your push notification campaigns. PushEngage is the #1 push notification software in the market and your campaigns will be in safe hands.
So, if you haven't already, get started with PushEngage today.