Looking for a simple way to enable and disable Firefox notifications?
Browser push notifications help you stay in touch with brands that you love. And you can opt for push notifications pretty easily. But how do you start receiving browser push notifications?
In this article, we're going to show you step-by-step how to enable or disable Firefox notifications.
Sounds good? Let's dive in.
How to Get Firefox Notifications from Any Site
Let's start by check out how you can receive Firefox notifications from any site.
The first time you install Firefox, you'll get a popup to allow or disallow web push notifications on Firefox. Just click on Options » Allow to receive Firefox notifications: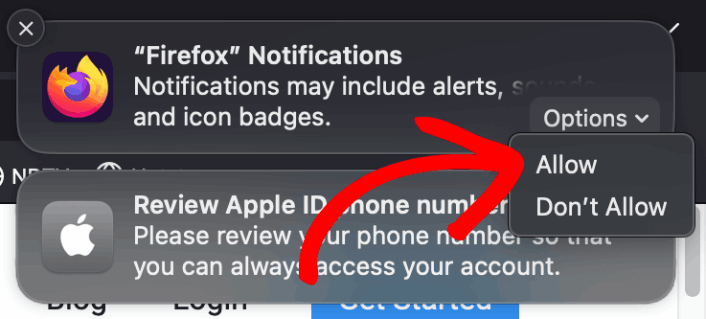 By default, Firefox blocks push notification optins. So, if you want to get Firefox notifications from a site, go to the URL bar and click on the padlock. In the dropdown, click on Connection Secure:

Here, you can set permissions for the site. Go to Permissions, scroll down to Send notifications, uncheck the Use Default checkbox, and click on Allow: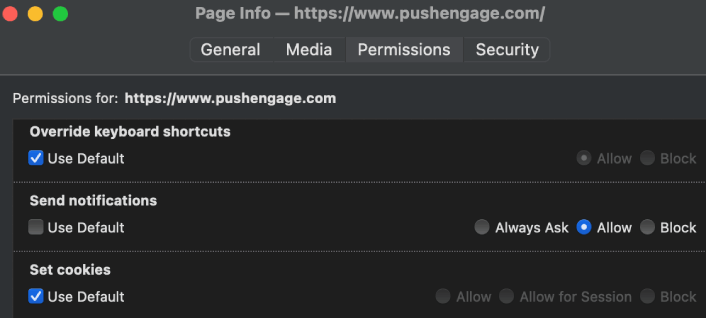 Now, you can get Firefox notifications from that site.
How to Enable or Disable Firefox Notifications
Firefox has settings and preferences built in that can enable or disable push notifications. The simplest way to enable or disable Firefox notifications is to head over to the menu bar and go to Settings: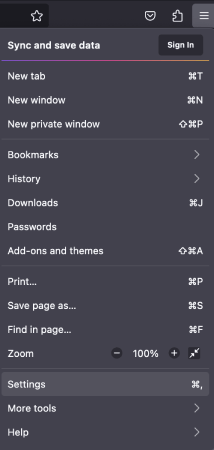 Then, go to Privacy & Security » Notifications » Settings:

Here, you can allow or deny push notifications from any site simply by changing the permission next to the website.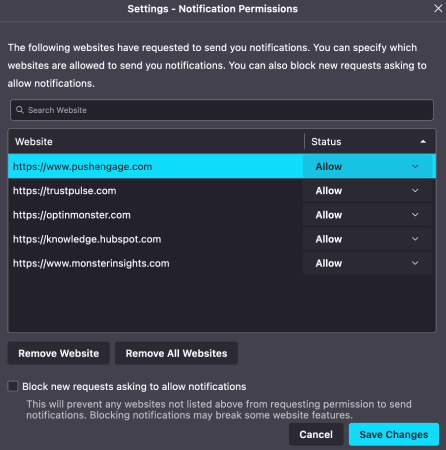 If you want to enable Firefox push notifications from a site, set it to Allow. If you don't want notifications from a site, set the permission to Block.
You can remove all permissions by clicking on Remove All Websites. Or, if you want to remove just one website from the list of approved websites that can send you notifications, you can also click on Remove Website.
What to do After You Enable Firefox Push Notifications
Just because you love the content in the push notifications you receive doesn't mean you should be subscribed to them. Before subscribing to any more push notifications, you should check out GDPR compliance rules and find out if your push notifications are safe.
And if you think Safari push notifications are cool, you should also check out how to get started with push notifications for your business.
Push notifications are a great way to organically grow your fan base. And it's really easy to set up push campaigns. Also, if you're new to push notifications, you should check out these epic resources:
We recommend using PushEngage to create your push notification campaigns. PushEngage is the #1 push notification software in the market and your campaigns will be in safe hands.
So, if you haven't already, get started with PushEngage today.