Looking for a simple, easy way to send automated emails in Shopify?
Email marketing is a great way to increase your revenue, customer engagement, and retention. But it's a bad idea to only rely on email broadcasts. Automated emails will help you scale your marketing processes very easily. But how do you use automated emails in Shopify?
Do you need a developer? Which email marketing service should you use?
In this article, we're going to answer all these questions and more. And we'll also show you how to send automated emails in Shopify.
Let's dive in.
Which Automated Email Service Should You Use for Shopify?
There are so many email marketing tools and services out there. Before you make a choice, you need to consider:
Ease of use: Is the solution beginner-friendly, or does it require some previous knowledge and expertise?
Welcome Sequence: Can you create an automated sequence of welcome messages using the plugin?
Web Triggers: Can you trigger autoresponders from events such as form submission, popup click-throughs, or abandoned carts?
Audience Segmentation: Can you segment your customers into smaller lists for more targeted marketing?
Alerts: Can you schedule messages to notify the subscribers of new products, price drops, and back-in-stock alerts?
Personalization: Can you personalize the message using advanced settings and attributes?
Special Offers: Can you automatically send special offers such as birthday gifts and anniversary presents?
A/B Testing: Can you split test different versions of your messages to boost conversions?
Follow-ups: Can you create custom workflows based on how they interact with previous emails?
Analytics: Do you get a built-in analytics dashboard to track the performance of your campaigns?
We recommend using Constant Contact.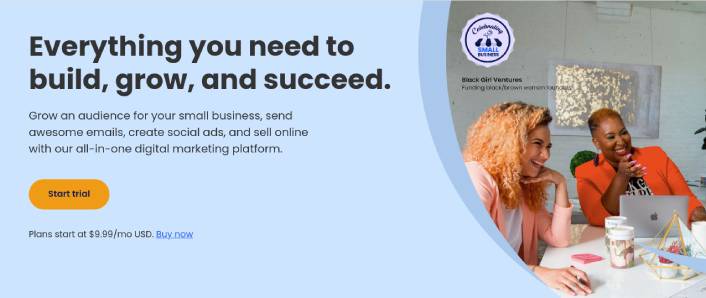 Constant Contact is the best email marketing service to set up autoresponders for your business. It's super easy to use and offers tons of automation features to improve your email campaigns.
Here's what makes Constant Contact such a great choice for setting up email marketing campaigns:
Easy drag and drop builder to create emails
Hundreds of pre-designed email templates
Welcome messages, birthday offers and abandoned cart autoresponders
List building tools and signup forms to grow your audience
Split testing for targeted emails
Integrations with CRMs and third-party services
Excellent support via live chat and phone
Not to mention, Constant Contact has a forms plugin for WordPress that you can use for lead generation. You can also nurture and close your leads with autoresponders.
Get started with Constant Contact!
How to Send Automated Emails in Shopify
Let's get started with sending automated emails in Shopify. Head over to your Shopify Dashboard and click on Apps to search for the Constant Contact Shopify app:

Go ahead and click on the Constant Contact app: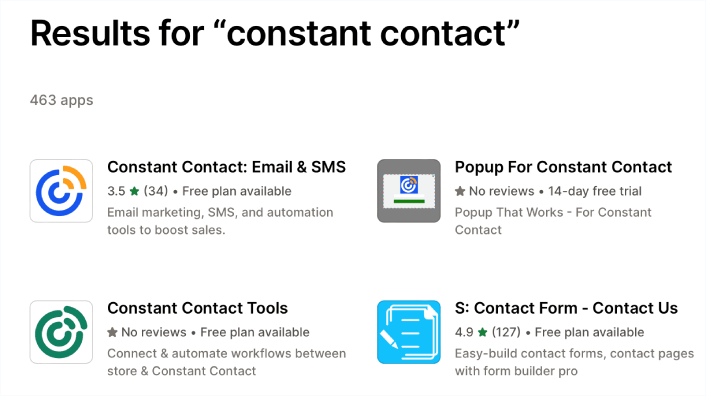 Then, click on Add App:

Give the app the necessary permissions to work and click on Create an account if you don't already have a Constant Contact account:

Once your account is set up, you'll be able to send automated emails in Shopify. Follow the setup wizard you should be done soon enough. Then, click on Create to start creating an automated email for Shopify: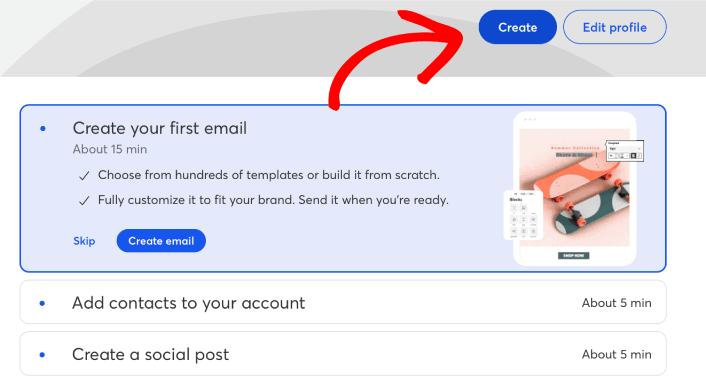 From the popup, select Automations to create automated emails.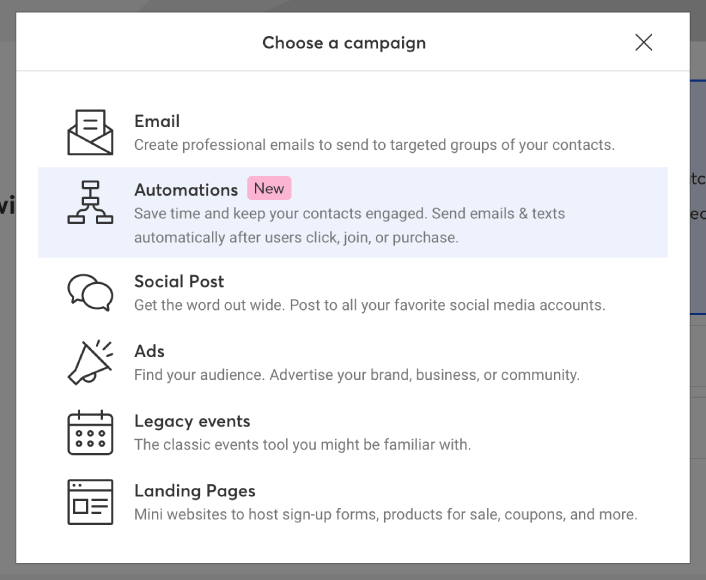 From the list of automations, pick one that suits your needs: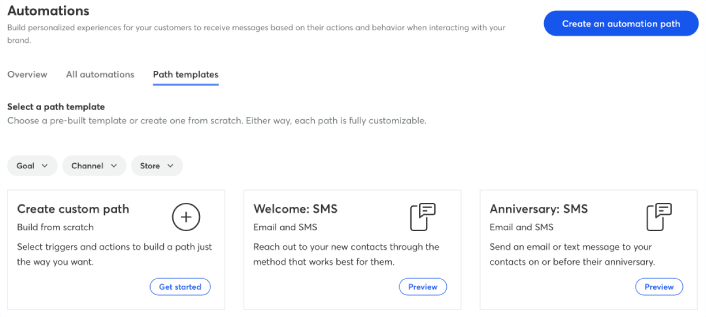 We recommend creating a website welcome campaign. All you need to do is click on the campaign and hit the Create button.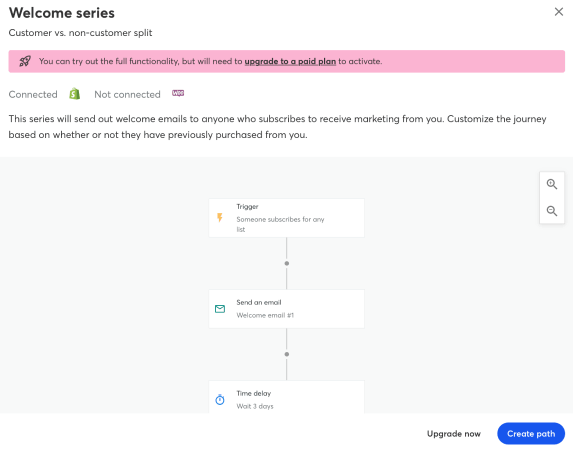 Edit the automation flow and when you're happy, click on Save.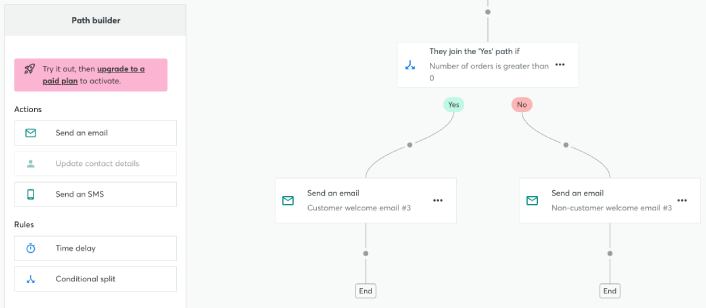 And just like that, you have automated emails in Shopify.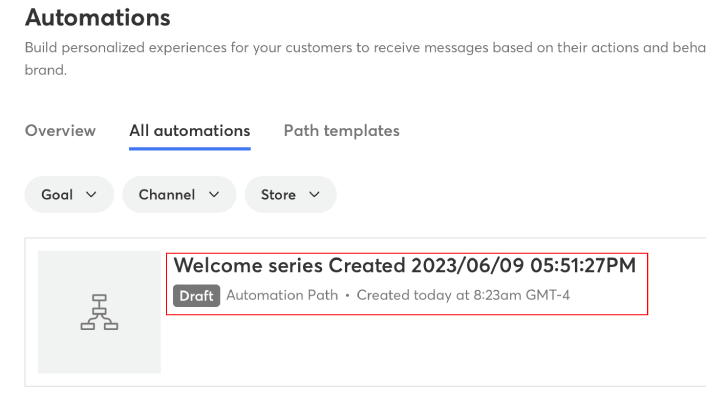 If you like, you can create multiple such automated emails for different customer touch points.
What to do After You Create Automated Emails in Shopify
Once you're done creating your first ever automated email in Shopify, you should create more.
If you're looking for a cost-effective way to increase your traffic, engagement, and sales, you should get started with push notification campaigns. Push notifications are powerful marketing tools that can help any eCommerce business grow quickly.
Not convinced? Check out these amazing resources:
PushEngage is the #1 push notifications software in the world. So, we recommend using PushEngage to create your push notifications and grow your eCommerce business.