Hello, Engagelings!
We've been working on a new pricing model for a while now and it's finally here. This is epic news for anyone who's been thinking of buying a PushEngage plan or upgrading to the next level. Go ahead and take a quick look at the new pricing for PushEngage.
But why the sudden change? What exactly are the changes? Why is this good news? Stick around and we'll tell you all about it.
Why's This Good News?
PushEngage is the #1 push notifications software in the world and we've helped many small businesses grow faster. Our plans are structured in a way so that you can afford it according to the stage of growth your business is in.
And that's exactly why we launched out Growth Plan. It has:
Unlimited Campaigns
Waterfall Campaign
Opt-in Conversion Metrics
Performance Threshold Monitor
VIP Customer Support
So, we've decided to make it even easier for you to level up and super-charge your growth. We're offering a 55% discount on the intro price for our annual plans on our paid packages. This means that you can take this year to grow much faster with PushEngage at a massive discount.
Next year, when you're crushing it with your push notification campaigns, you can pay us the full price to help us grow too.
In simple terms: We'll support your business with a discount to upgrade your marketing and help you grow.
What are you waiting for? Go check out new pricing right now and upgrade your PushEngage account today.
What Does This Mean For Customers Using the Free Version?
PushEngage isn't just meant for giant corporations. Our software is meant to level the playing field for small businesses. We realize that and that's exactly what prompted us to change our pricing plans.
We still have a free plan and we'll always have a free plan for anyone just starting out.
That besides, PushEngage has a new pricing tier: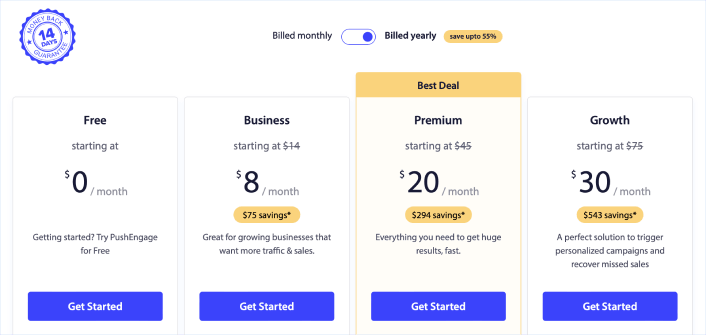 You might notice that the Enterprise plan isn't part of the pricing table any more. We still have an Enterprise plan and we cherish our enterprise customers. But our core focus has always been to help small businesses grow.
With our new pricing structure, we hope that everyone can access to powerful automation features and grow much faster without having to pay huge software fees that end up slowing down growth.
Check out our pricing plans right now.
What Else?
We know that growing a business is hard work. Hopefully, this discount will make that just a little bit easier.
Thank you so much for reading this announcement.
If you have any questions, our Customer Success team is here to help. Just start a conversation on Live Chat or check out our contact page.
And thank you for using PushEngage. Whether you're using the free version or the Enterprise version, you're just as important to us. This discount is aimed to help you succeed and we wish you all the very best.
Let us know your thought in the comments below and if you haven't already, get started with PushEngage today!