Need a WordPress maintenance mode plugin for your site?
We understand. There's a lot to consider when creating a maintenance mode landing page on WordPress:
Designing a maintenance mode can be a pain when you're already stressed about creating your core business
It's not always super clear how to use a maintenance mode to your advantage
Creating a poor maintenance mode offers a very bad experience to first-time users
But that's exactly why we have plugins, right?
The only problem is…
Which one of the 150 WordPress maintenance mode plugins do you choose? And which ones won't break your theme because of compatibility issues with a caching plugin?
No worries. In this article, we've listed out the best plugins in the market and we're going to help you find the WordPress maintenance mode plugin for your business.
Let's dive in.
What Is a WordPress Maintenance Mode Plugin?
A WordPress maintenance mode plugin is a simple plugin that lets you create a temporary page across your entire website or on very specific pages. It's meant to tease the launch of a new product, feature, or your new website. And when the new content is released, the plugin automatically removes the maintenance mode and publishes the new content.
Here's an example of a WordPress maintenance mode page built with SeedProd: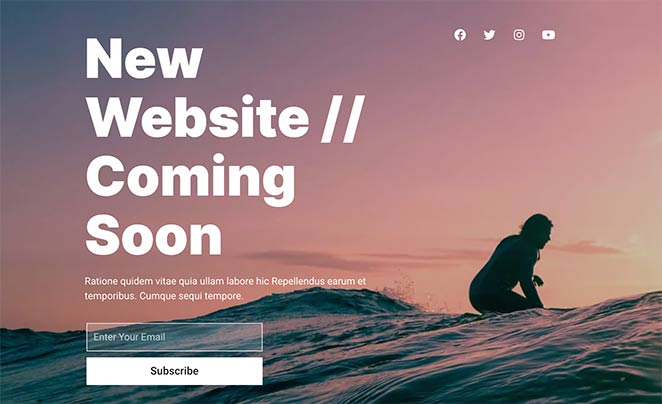 WordPress maintenance mode plugins allow you to quickly create, customize, and deploy pages like this one.
But why would you want to create a maintenance mode for your site in the first place?
Creating a maintenance mode for your site:
Boosts your SEO: Improve your domain authority before you even launch your site
Creates a buzz around your product: Run a pre-launch campaign from a simple "under maintenance" page
Grows your email list: Start a pre-sales campaign to collect leads and even advance payments
From a marketing point of view, maintenance mode is a super effective way to generate traffic and leads when you don't even have a product or service website in place.
Best WordPress Maintenance Mode Plugin
By now, you already understand why a maintenance mode is great. So, let's dive right into our top picks for WordPress maintenance mode plugins.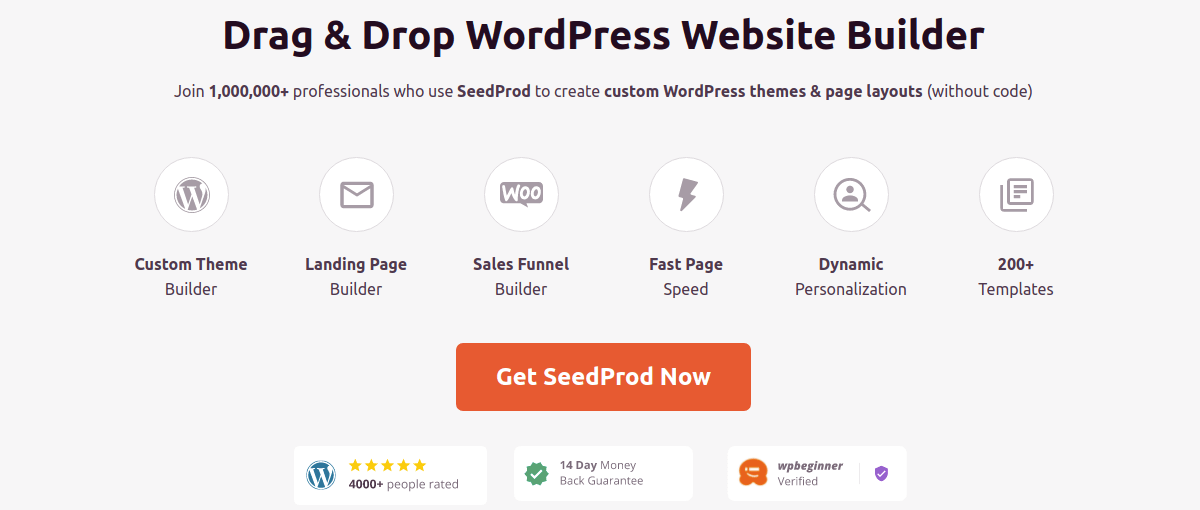 SeedProd is the most popular WordPress maintenance mode plugin. To be fair, SeedProd can do WAY more than just create maintenance mode pages. But if you want to check out everything that SeedProd can do, you should check out our review.
For now, let's focus on why you should create a maintenance mode using SeedProd.
SeedProd allows anyone to create professional and high-converting landing pages without needing any design or coding experience. The cool thing is that you get a drag-and-drop visual page builder with access to 500,000+ free stock images where you can quickly add elements to your maintenance mode notice such as:
Custom text
Headers
Images
Videos
Optin forms
And much more. The plugin itself is lightweight and integrates with a bunch of different marketing software. It's also completely mobile and SEO-friendly. The most popular features include:
Countdown timers for your maintenance page
The ability to add custom logos
Powerful integrations with popular email marketing services like MailChimp, AWeber, and Drip.
Built-in forms (with advanced features such as progress bars and payment gateway integrations)
Built-in email autoresponder
Pre-loaded Google fonts
One-click import SEO-friendly page templates
Referral tracking for the maintenance mode
Social follow and share
You can also integrate eCommerce platforms such as WooCommerce and Easy Digital Downloads with SeedProd to build landing pages for products.
Want to see how it works? Check out this step-by-step guide on how to build a landing page with SeedProd.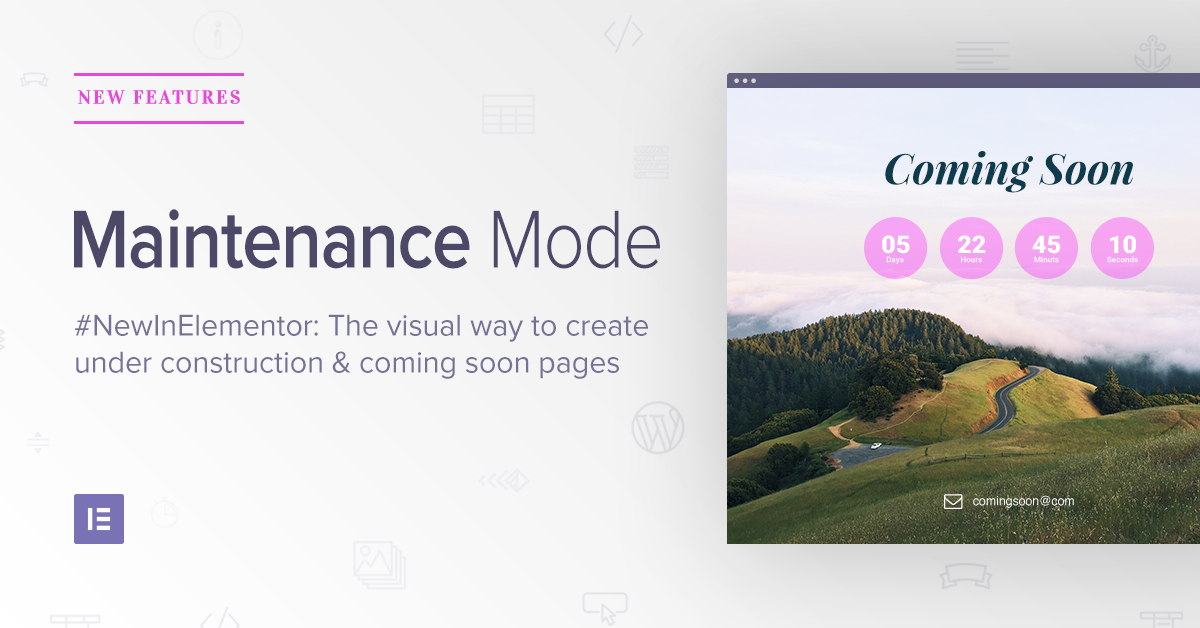 Elementor Maintenance Mode is a feature included in the Elementor plugin. Elementor is a pretty advanced theme builder that loads of websites use. With Elementor Pro, you also get a maintenance mode that allows you to set up a maintenance mode for your site.
The maintenance mode allows you to update your website in the background.
Here's why you should consider using Elementor's maintenance mode:
The maintenance mode automatically tells search engines to not index your site
Elementor comes with design modules, page templates, and widgets
The maintenance mode also comes with a timer after which the maintenance notice will automatically disappear
The downside is that you can only use these features if your site was built in Elementor. If not, then this solution won't be useful for you at all. But if you're running a site built using Elementor, you should upgrade to Elementor Pro to access the maintenance mode.
Get started with Elementor Pro today!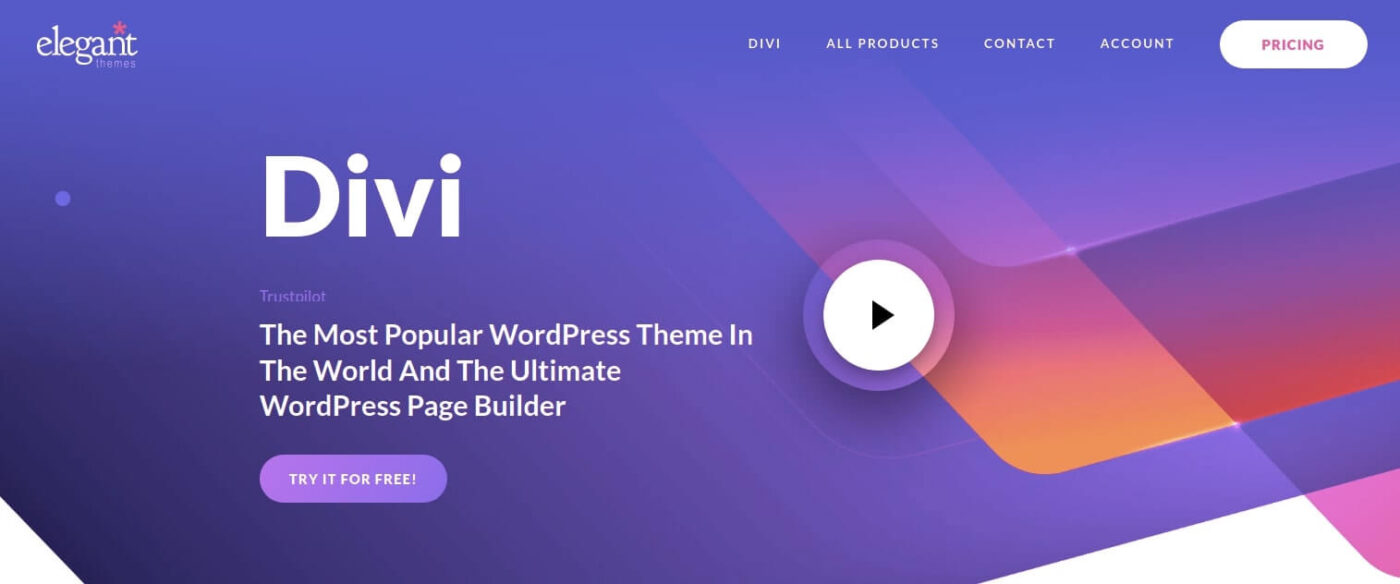 Divi's Theme Builder Plugin is one of the most popular WordPress theme builder plugins in the world. The way in which Divi works is that you get a complete visual builder to build web pages from scratch or using a pre-built template. Divi comes as a complete theme as well as a standalone theme builder plugin that you can use with any theme.
And there are hundreds of pre-built templates in Divi. Of course, that includes maintenance mode as well. Divi is both a WordPress theme and a plugin which means it is a versatile tool. The most popular features include:
A fully functional drag-and-drop visual builder
A marketplace of third-party apps that makes it super easy to extend the functionality
One-click import for pre-built templates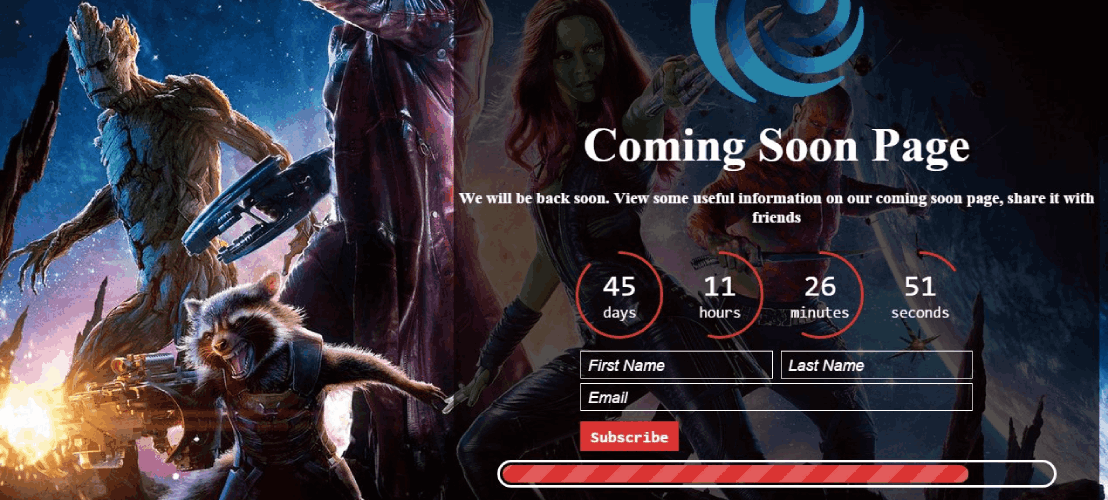 Coming Soon and Maintenance Mode lets you create a coming soon or maintenance page with a background image or video. On the whole, when you compare it to the other contenders on this list, it seems to be a lot… LESS.
And that's perfectly true. While SeedProd, Elementor, and Divi have the capability to generate a WordPress maintenance mode, that's not their sole focus. Coming Soon and Maintenance Mode is a plugin that does only one thing.
But even then, the biggest upsell they seem to have is their ability to create coming soon pages with a background image or video. You can also include a subscription form on your site to collect email IDs. But that's about it.
In terms of value for money, it's not that exciting. But there are no issues with caching or code conflict. So, if you're looking for a simple plugin that gets the job done quickly, this plugin is your best bet.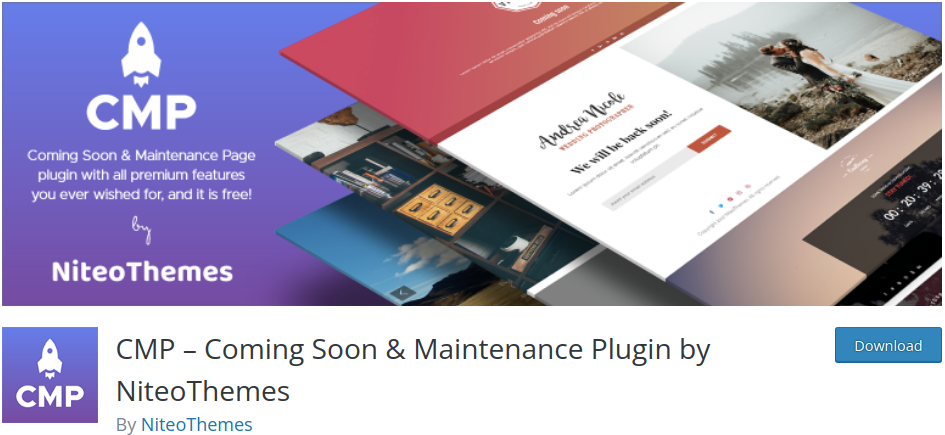 CMP is a fully FREE WordPress maintenance mode plugin that's both fast and user-friendly. For a free plugin, CMP has a lot to offer in terms of features. This includes:
Compatibility with any WordPress theme
100% responsive designs for the maintenance mode
Custom branding for your site
Background images and videos for the under maintenance page
Custom CSS styling options
And more. If you're on a budget and you just need a maintenance mode, you should definitely check out CMP.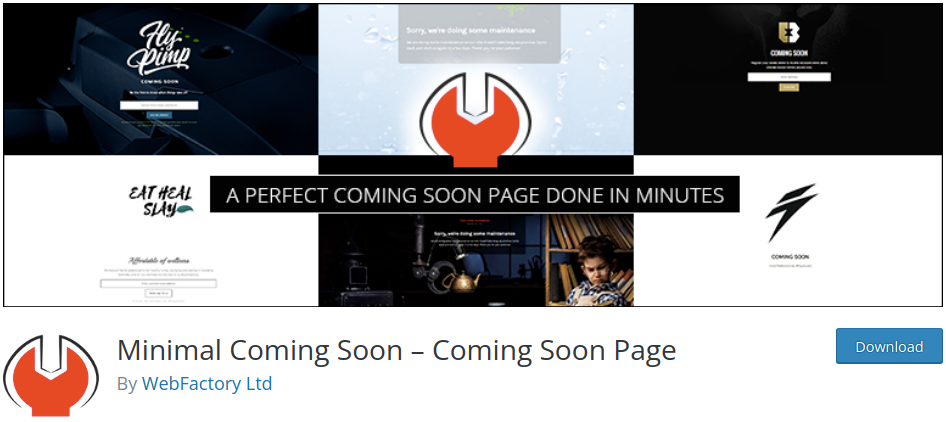 Minimal Coming Soon is a WordPress plugin that does exactly what you think: Create minimal coming soon pages!
Key features include:
A custom drag and drop page builder
Compatibility with all WordPress themes
Animated and video backgrounds
Lead generation forms
Integrations for autoresponders and emailing services
Admin access to edit the website while the maintenance mode is up
We'd recommend this for an agency seeing as they have a lifetime premium plan.
Get started with Minimal Coming Soon now.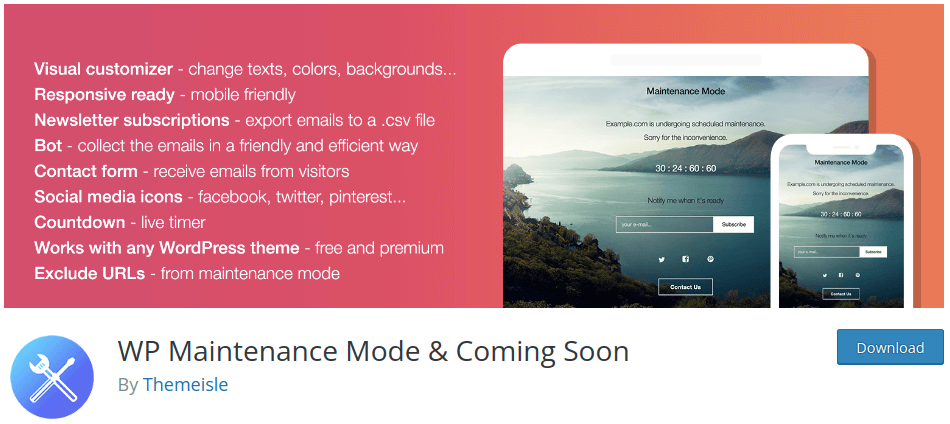 WP Maintenance Mode is a pretty unique WordPress maintenance mode plugin. You get a ton of features from a free plugin, but they have a model where they promote their other premium products within the WordPress dashboard.
A well-known issue with WP Maintenance Mode is that it doesn't work well with cache plugins. So, if you use this plugin along with cache plugins, you'll either have to clear your cache every time you make a change on your site or disable the cache plugin temporarily.
But on the upside, you can enjoy features such as:
Countdown timers
Social sharing options
Subscriber and contact forms
Design customization tools
Advanced admin access features
A messenger bot for your maintenance mode
GDPR compliance settings
And more!
Get started with WP Maintenance Mode right now!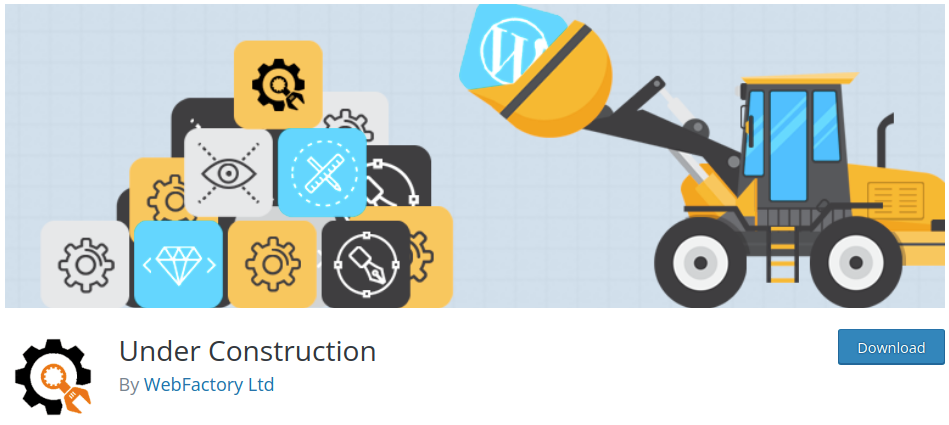 The Under Construction plugin is one of the few WordPress maintenance mode plugins that allows you to schedule coming pages and maintenance modes on your site. You also get some pretty cool features such as:
Easy integration with Google Analytics
Custom CSS for extra styling options
Social sharing icons for your maintenance mode
Whitelisted user roles and users
Sounds interesting, right? Did we mention there's a lifetime license starting at $69?
Get started with Under Construction now!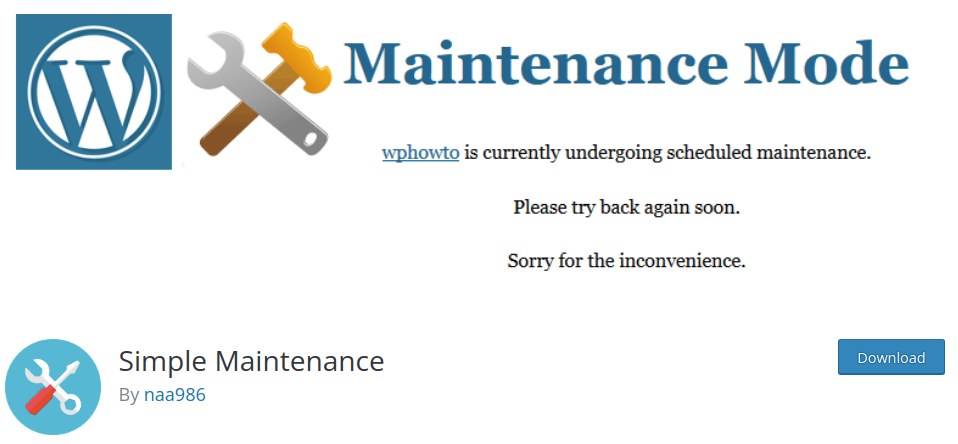 Simple Maintenance is a lightweight plugin that automatically creates a fully responsive HTML5 maintenance mode page. And all you have to do is activate the plugin and maintenance mode.
Some key features include:
A simple and easy to use plugin with a very core focus
Responsive designs for maintenance mode
Awesome HTML and CSS designs that load super fast
Get started with Simple Maintenance today!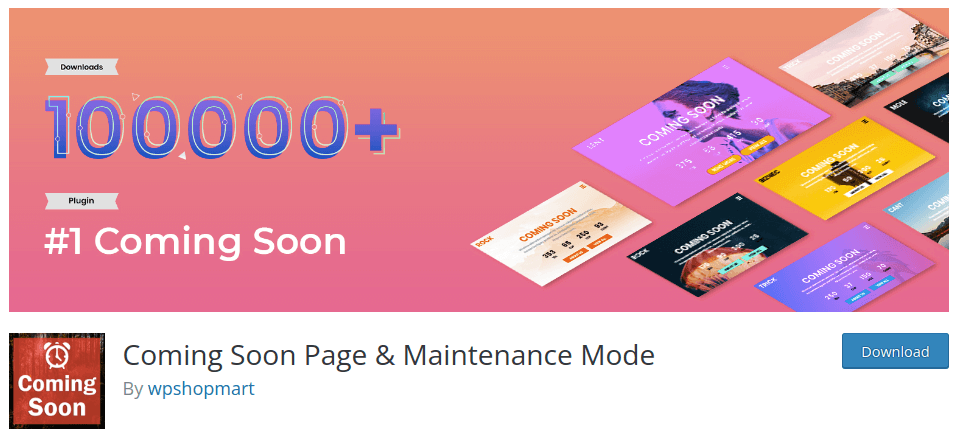 Coming Soon Page & Maintenance Mode is a feature-rich plugin that comes with responsive designs built on Bootstrap 3 and HTML5. It's super convenient and you get a ton of cool features.
Of course, you get a fullscreen slideshow and multi-page content. But you also get access to epic features such as:
Compatible with all WordPress themes
Super fast responsive designs
Easy designing options
Countdown timers for your maintenance mode
Get started with Coming Soon Page & Maintenance Mode now!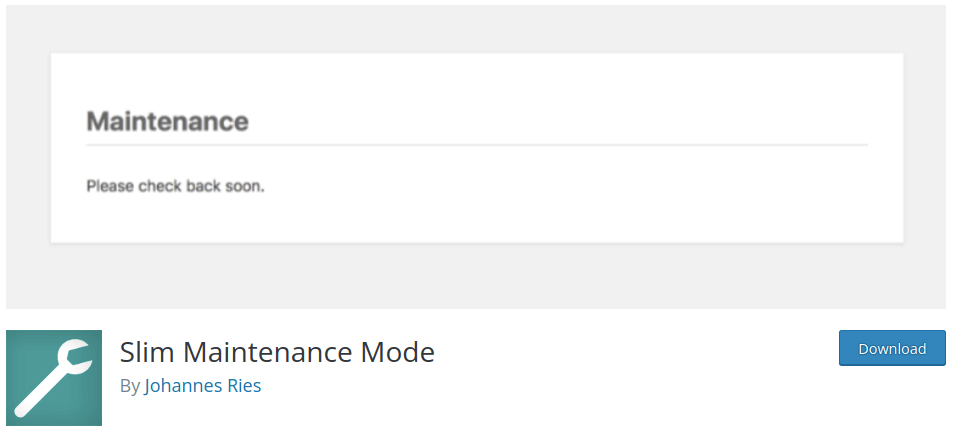 Slim Maintenance Mode seems like a basic maintenance mode plugin on the surface. But there are actually a bunch of great features that you don't get with a lot of other paid plugins. Activate the plugin to enable a WordPress maintenance mode and deactivate the plugin once you're done.
But more than that, you get:
An alert message on your WordPress dashboard when the plugin is active
Full compatibility with any WordPress theme
Support for WordPress caching plugins such as Cachify, Super Cache, WP Rocket, WP Fastest Cache, and W3 Total Cache
A 503 status code for your site so that search engines don't index your content
Get started with Slim Maintenance Mode today!
Which WordPress Maintenance Mode Plugin is Right for You?
That's all for this one, folks!
Hands down, the best of these solutions is SeedProd. For the price, you get a great way to create a WordPress maintenance mode and a LOT more.
Did you know that push notifications come with a lot of automated campaigns? Once you finally launch your site, you'll need a simple and cost-effective way to reach your customers and website visitors.
And if you're just starting out with push notifications, we recommend using PushEngage. PushEngage is the #1 push notification software in the world. So, your campaigns will be in safe hands.