We know how important is push notification. Do you know why mobile push notifications are important? With mobile push notifications enabled, you can instantly update customers directly on their mobile.
We all know what is web push notifications. It appears on both Mobile & Desktop. Nowadays most of the people are active in Mobile. So, you have to devise plans to increase engagement on mobile. Mobile applications' success isn't only dependent on its key components or an app development company's production process but also how well it is marketed, and managed to retain its users. Even the smallest of features can make a big difference – and often times they are the ones less noticed, like mobile push notifications.
What exactly are mobile push notifications?
Much like web app push notifications, a mobile push notification is a message sent to the customer's mobile from your application they have downloaded in their device. Of course, if they have checked to receive messages, you can send notifications about product updates, offers, discounts, and messages pertaining to some important feature updates or regarding some functionality that requires the user's attention.
In a nutshell, push notification allows businesses to deliver messages that help customer's in some way, add value, and keep their interest in your application. Retaining customers through push notification is an art in itself, as it requires a great written copy for these notifications.
CEO & Co-Founder of Hivemapper, Ariel Seidman, said, "It's hard to over-hype the power of mobile push notifications. For the first time in human history, you can tap almost two billion people on the shoulder."
As true as Ariel's statements are, it is imperative not to abuse the power of mobile push notifications. Too much indulgence will drive away from the customers. Moreover, any web app that can be converted into a mobile application will be preferred more by the users – As smartphones have become the go-to devices to perform important tasks.
Keeping this in mind, it is vital to understand how mobile push notifications operate in iOS and Android.
iOS– It doesn't enable brands to send push notifications until the customer manually allows us to receive them.
Android– As for Android users, the operating system automatically opt-in for push notifications until the user manually opts-out.
It is best to further research the push notification behaviors and their effects before diving into a strategy for your application. Either way, mobile push notification's power shouldn't be underestimated, as it provides an application or the brand with many benefits.
Some are discussed in detail to give you insight into the results mobile push notifications provide.
Benefits of Mobile Push Notifications
The benefits may be many, but how you implement your strategies is what it ultimately comes down to.
Retain More Customers
Consider yourself as the user for a second and ask yourself about the times you have opened most of your apps on your smartphone? The answer might be a couple of times, while they take up your mobile's memory far longer than they were made use of.
So how to make sure your mobile app doesn't follow the same route of abonnement? Well by coming with ways to retain your customer base. This is where you can make use of push notifications.
According to the statistics, 90% of the downloaded apps are only opened once, while only 16% of the users will test an app more than twice.
The download rate, however, begs to differ. According to Statista, mobile usage along with app download rate increases exponentially from 2017 to 2018 and is expected to rise in the coming years, as shown below.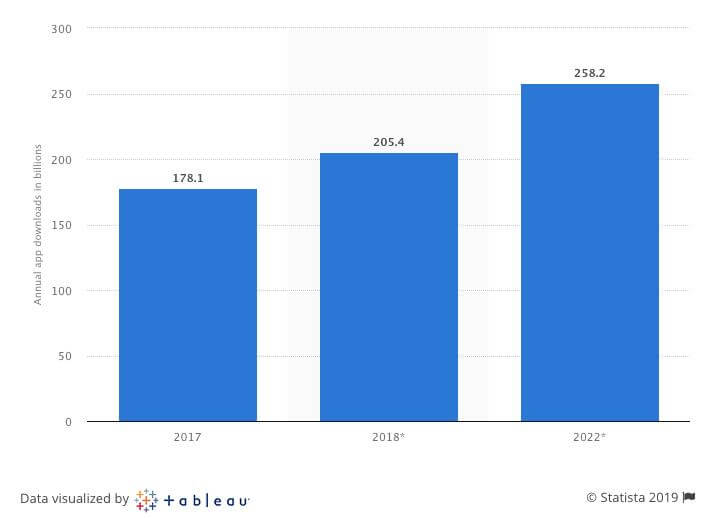 So one thing is sorted, which is the high chance of your application reviewing the good amount of downloads, hypothetically. Now all that is to tackle is customer retention.
Curating engaging, informative, personal, sentimental, and alluring push messages can do wonders. But the trick is not to over-indulge. This might irritate the customers to the point of app deletion, let alone unsubscribing from push notifications.
Drive Conversion
Real-time mobile push notifications not only grab the attention of your users but also gives an urgent call-to-action – which may trigger instant action from the user, like purchasing your application. However, whether they complete the purchase is another story altogether.
What are real-time mobile push notifications?
In case you are unaware of the terminology- these are the messages that the consumer can receive even when they are offline. It is a great strategy to keep the users informed and engaged with various aspects of your application.
Studies show that the conversion rate can be increased four times by sending off intelligent and behavioral-based mobile push notifications.
According to Loyalytics, "Once a mobile push message is opened, only 15% of users who clicked ended up converting, compared to 54% of users who clicked on a segmented mobile push message."
What are segmented mobile push messages?
Think of them as personalized messages. You divide your subscribers into specific boxes according to their interaction behaviors with your app, interests, location, and other tailored aspects coinciding with the goals of your app.
Then, you curate mobile push notifications according to the defined groups. This is what segmented push messaging is about, with a proven track record of being more effective than other types.
So strategize, aim, and hit send!
Increase User Engagement
Seems tricky with mobile push notifications? The trick is to create a balance and avoid annoyance. If you manage to find a good frequency (the number of times you send notifications) coupled with interesting content to push – you are good to go.
Studies show that users receiving less than five notifications per week reduced opting-out of push notifications.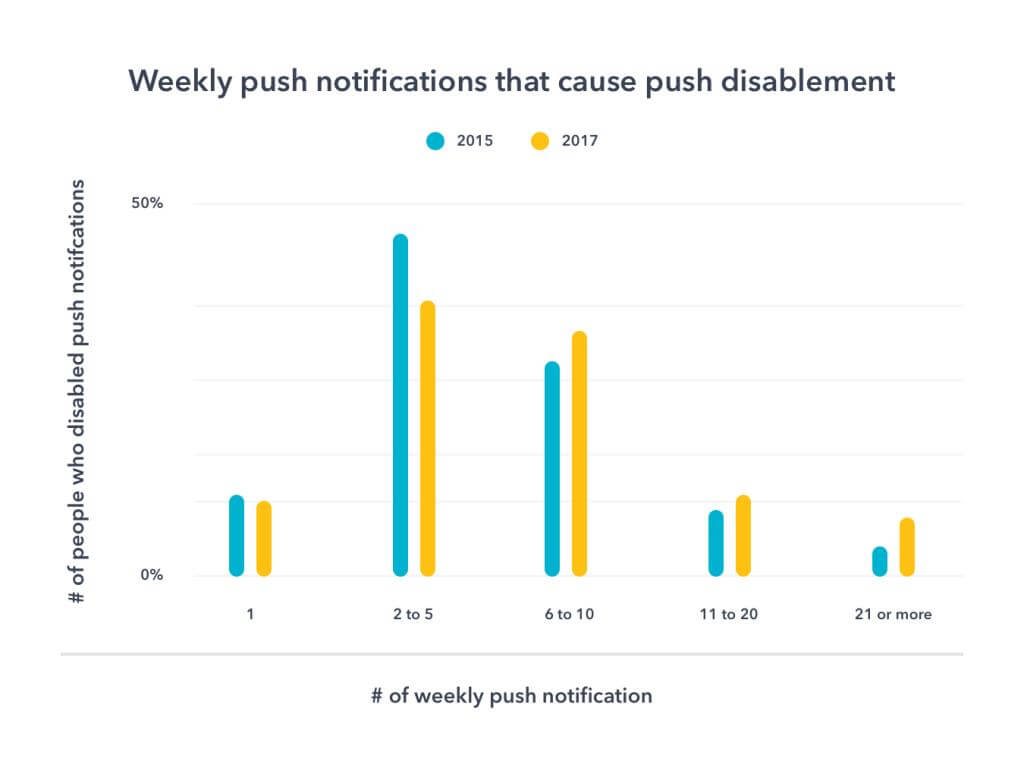 These statistics prove that when the push notification is done right on mobile devices, it can really give desirable results enhancing user engagement. Keep in mind that you are tapping into a device that people are mostly on, so distracting them, and causing annoyance through unnecessary notifications can affect your application's credibility.
Conclusion
These are the benefits you can reap with mobile push notifications. It is crucial to not only be informed about the advantages and effective strategies but also about the types of mobile push notifications there are. Once you are equipped with the necessary knowledge, go ahead and form a strategy to make sure your customers not only start engaging with your mobile app but also convert into purchases.