Are you seeing your push notification subscribers opt out more often?
Don't worry. This is a pretty common problem. In fact, there are multiple surveys that studied why people opt-out of push notifications.
In this article, we're going to break down the major factors and narrow them down to five core reasons why users opt out of push notifications.
Spoiler Alert: We're also going to tell you how to fix it!
The good news is that you're already growing your business using push notifications. Now, it's time to spend a little time and optimize your process.
Are you ready? Let's dive in.
#1. Irrelevant Push Notifications
Sometimes, it can be a little unclear why people don't want to hear from you even when they subscribe to your push notifications. But one reason was incredibly clear, though… Sending irrelevant push notifications to your subscribers will always annoy them.
As a result, your subscribers will opt out. And it will be a real pain to win them back.
So what can you do?
A good way to make sure that you're never sending irrelevant push notifications is to personalize your push notification campaigns.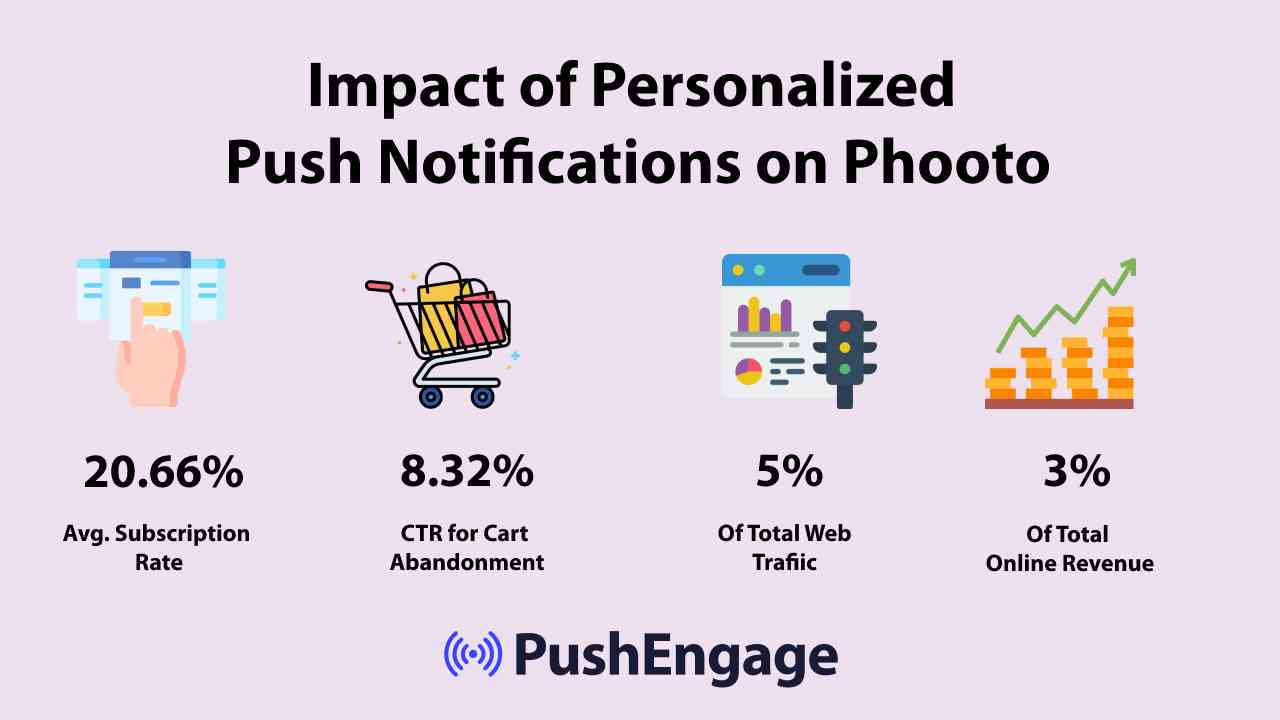 Push notifications are actually really easy to personalize and you can do it in multiple ways. One easy way is to send them abandoned cart push notifications.
It could also be a simple inventory alert: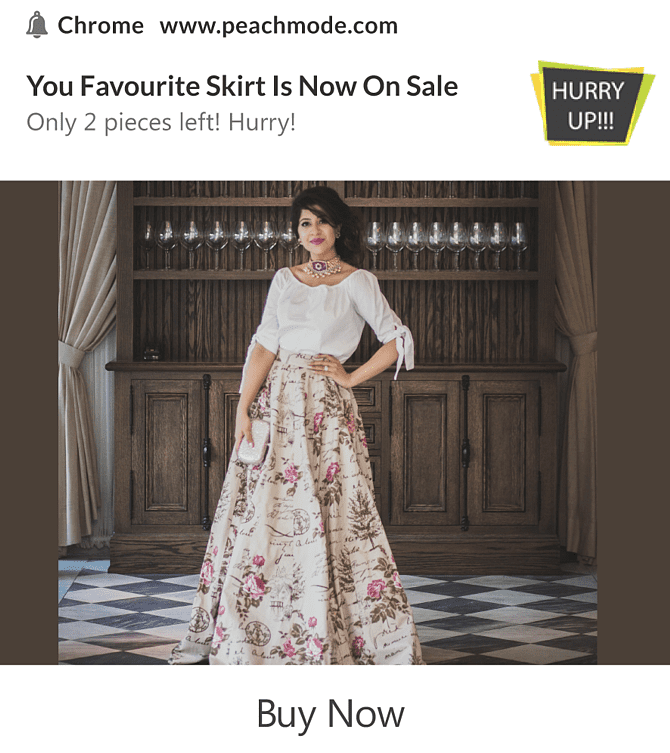 Inventory alerts are incredibly personalized. So, if you haven't already, you should start right now.
#2. No Value Addition from Push Notifications
Value addition is different from relevance.
It's like this…
Let's say that you have a product that your audience needs right now. That makes your product relevant. But that doesn't necessarily mean that your audience will buy from you and not your competitors.
Here's a quick tip: Send them a discount.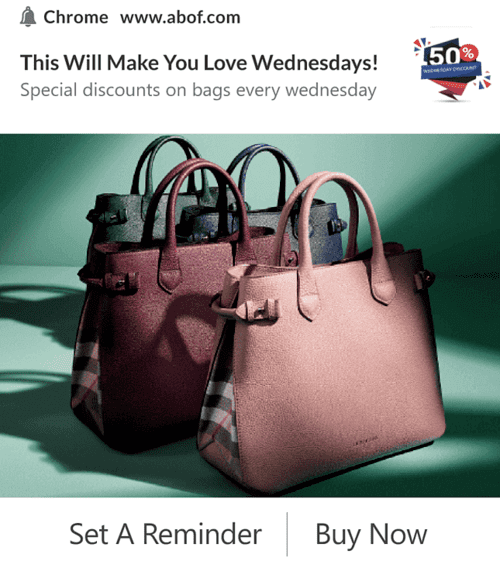 If they're an existing customer, you should also set up a loyalty program so that they feel rewarded every time they buy from you. Adding value can also be in the form of making your customers feel valued.
#3. Too Many Push Notifications
We recently published an article on how often to send push notifications. If you're seeing your subscribers drop off, you should definitely check it out.
The short version is that you shouldn't send more than one notification a day unless you have something truly urgent to announce. One example of urgent push notifications would be weather notifications:

Or, it could be a flash sale like this one: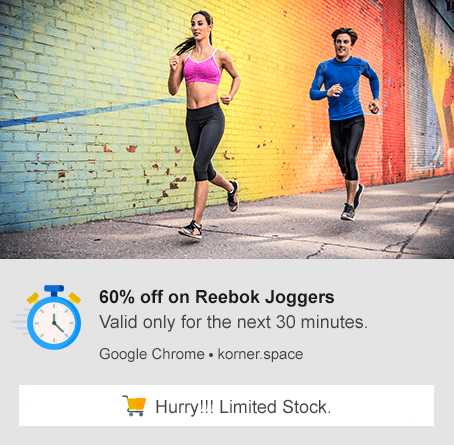 The bottom line is that you should only send out push notifications that your subscribers will be happy to receive. And if you take our advice, you should also consider when to send push notifications very carefully.
#4. Decline Push Notifications By Default
There will always be visitors to your site who decline push notifications simply because they're too exhausted from getting useless push notifications from other brands.
And we'll be honest with you…
There's not a lot that you can do about these users.
It's not as if they're declining your push notifications because they don't like you. They just don't like push notifications. Period.
We don't advise spending a lot of time trying to change their mind. You could improve your messaging on other channels in an attempt to gain their interest, but that's a long shot.
But there's one solid piece of advice that we can give you.
You can try to improve your push notification opt-ins to get higher subscription rates. There's a chance that this segment of your audience isn't opting in because they don't understand the value you have to offer.
And if we're being honest, this is one of our top push notification best practices. So, you should be trying to improve your opt-in rates in any case.
Pro-Tip: Whenever you use an opt-in, you should definitely segment your subscribers when they accept push notifications from your brand. Segmenting your audience helps you send out personalized push notifications that are focused on content that your audience already loves.
#5. No Interest In the Brand
It's never a good feeling to realize that there are people who aren't very interested in your brand. You have an amazing brand. Why wouldn't people care about it?
Well, the harsh truth is that a small portion of your audience won't be interested in your brand.
They may still be customers, but they're not really interested in your brand.
So, what can you do?
You need to start improving your brand messaging across all channels. This way, people who aren't interested in your brand will eventually start engaging with you. And you know what push notifications are best known for?
That's right! Generating audience engagement.
Just take a quick look: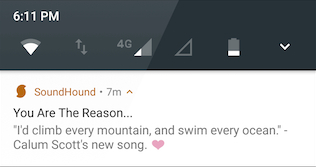 That's really cool, right? You should check out this article on creative push notifications. Go ahead and get inspired!
Wrapping Up
That's all for this one.
We hope you found this article helpful and empowered you to seize control of your campaigns.
And if it did, let us know what you found most helpful in the comments below.
We're really happy that you chose to use push notifications to grow your business. Now, all you have to do is optimize your process. And watch your business grow even more!
If you haven't already, you should try out PushEngage. We are the #1 push notifications software in the market. So, your campaigns will be in safe hands.