Do push notification character limits make a difference?
Short answer: Yes, it does.
You want to make the most use of the advertising space available to you in each notification. At the same time, if you overshoot the character limit, your subscribers won't be able to see a chunk of your message.
But it's a pain to remember push notification character limits across different platforms.
The worst part?
Character limits are different for web and app push notifications. So, you'll probably spend a lot of time drafting notifications that look great on Chrome browser, but look horrible on other browsers.
In this article, we're going to give you a cheat sheet for quick reference.
You may want to bookmark this article.
And then, dive right in.
What Are Web Push Notification Character Limits?
The character limits for web push notifications vary by browser, operating system, and device type. Typically, the range lies between 40 to 75 characters for titles and 50 to 225 for descriptions.
Here's your cheat sheet:
| | | |
| --- | --- | --- |
| | Title Character Count | Description Character Count |
| Android, Chrome | 30 | 65 |
| Android, Firefox | 30 | 65 |
| Android, Opera | 50 | 65 |
| Android, Yandex | 35 | 65 |
| Windows 8, Chrome | 57 | 126 |
| Windows 10, Chrome | 69 | 139 |
| Windows, Firefox | 54 | 200 |
| macOS, Safari | 49 | 103 |
| macOS, Chrome | 43 | 88 |
| macOS, Firefox | 42 | 90 |
Windows 10 web push notifications support a maximum title length of 63 characters. After that, the text gets truncated. The description length limit is 128 characters at most, with or without a hero image.
For Android web push notifications, the ideal character length is 47.
The description length on Android depends on whether you use a hero image for your notification. With a hero image, the maximum limit is 50 characters. Without a hero image, you can go up to 441 characters in the description.
Mac supports different character limits for the title and description for different browsers. It's best if you keep your title to around 40 characters and the description to below 80 characters.
What Are App Push Notification Character Limits?
So, now that we know a little about web push notification character limits, let's talk about app push notifications and their character limits.
For iOS devices, the character limit is 178 before the text gets cut off. This means four lines of text in all. There's no separate title or description.
On Android, the character limits are 65 characters for titles and 240 for descriptions.
Title Character Count
Description Character Count
Android
65
240
iOS
178
NOTE: You'll want to use emojis for your push notification campaigns. But that is going to reduce the number of text characters available for your notifications.
You can use PushEngage to create your push notification campaigns. PushEngage gives you a real-time picture of how many characters you can use: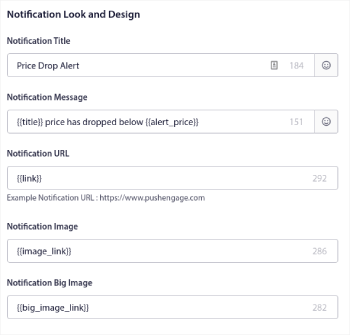 You also get a preview of your notification on multiple devices and operating systems.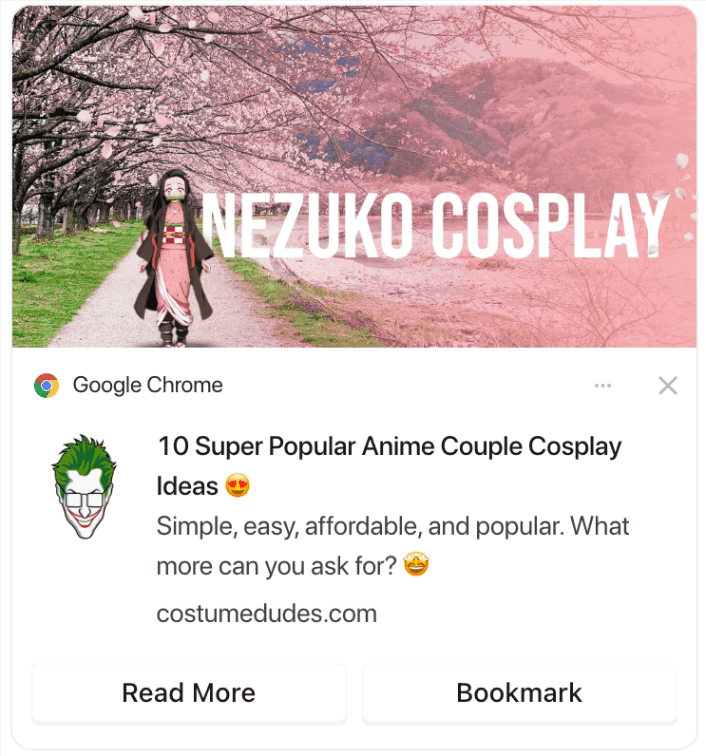 Most apps use notifications for transactional and promotional messages.
So, it's always a great idea to create notifications that don't go overboard with the character count. This is especially true for iOS app push notifications. There's a total of 4 lines of text that you can use. But if you create a notification that huge, no one's going to read it.
So, what makes for a really epic push notification campaign?
That's up next!
What Makes for Epic Push Notification Campaigns?
Every great push notification campaign has to be snappy, pointed, and well-timed.
Pro-Tip: You'll want to create rich push notifications that include rich media such as hero images, GIFs, videos, and emojis. In such instances, you'll get a lot more engagement. But you'll also need to use fewer characters in your notification text.
We cover this in much more detail in our article on push notification best practices.
So, now that you have a push notification character limits cheat sheet, you should check out this article on some of the most creative push notification campaigns.
Now That You Know About Push Notification Character Limits
By now, you have a ready cheat sheet on push notification character limits.
You should head into the PushEngage dashboard now and start creating your own campaigns. PushEngage is the #1 push notifications software in the world. So, your campaigns will be in safe hands.
And if you're running a WordPress site, you can simply use the push notification WordPress plugin to start sending and managing your push campaigns from your WordPress dashboard and post editor.
Check out how to create other automated push notification campaigns as well. Most push campaigns are simple and effective. So, we recommend setting up multiple campaigns for your site. Here are a few great ones to start with:
And if you haven't already, you should get started with PushEngage today!