Looking for a way to improve your product search in WooCommerce?
WooCommerce is an amazing way to build a scalable online store. But their product search is frankly underwhelming. You could be missing out on a TON of sales just because of the default product search in WooCommerce.
So, what can you do? In this article, we're going to walk you through some very simple, easy ways to supercharge the WooCommerce product search without using a single line of code. And we're going to do it in 10 minutes or less.
Sounds good? Let's dive in.
PushEngage is the #1 push notifications plugin in the world. Get it for free!
Why Improve Your Product Search in WooCommerce?
WooCommerce uses the default WordPress search right out of the box. And while WordPress comes with a lot of great features, their search feature isn't really meant for eCommerce applications.
For example, it doesn't consider product attributes, gives you no way to control your search results, doesn't collect any search data, and many more. We recommend using a WooCommerce product search plugin to improve your search engine usability.
With the right search plugin, you can search results from:
Custom Fields (post metadata) including ACF Fields
Ecommerce product details, variations, & attributes
Categories, Tags, Custom Taxonomies
Shortcode outputs
Uploaded documents (PDF, .docx, .txt, etc.)
Custom database table content
And of course, you can also search in the post titles and content as well.
One alternative would be to use a AJAX product search plugin inside your product pages. An AJAX search plugin works like the Amazon autocomplete on your site. But why settle for that when you can create a custom search engine on your site?
When a web visitor searches for something inside your site, they're literally telling you exactly what they want from you. But most WordPress search bars simply can't run deep searches. And they most definitely can't help you understand what your visitors are searching for.
You need to start using a search plugin that can help you build a custom search engine that serves your website visitors with contextual search results.
We recommend using SearchWP.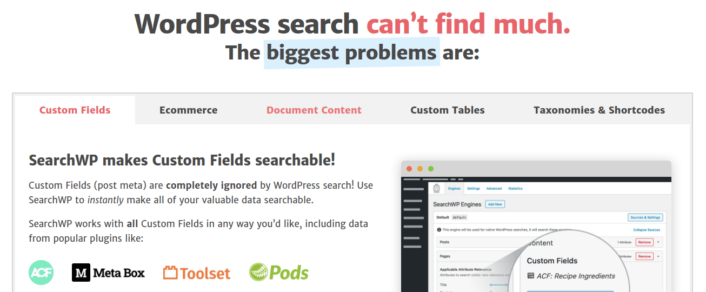 SearchWP is one of the best WooCommerce search plugin we know of.
You get a huge range of features at an affordable pricing. In fact, SearchWP does everything that all the other plugins in the list can do besides creating a product filter.
The coolest bit is that SearchWP tells you exactly what your website visitors are looking for by maintaining detailed analytics. So, it also helps you create content that your site is currently missing and getting more traffic, engagement, and sales on your site.
Go ahead and read our full review of SearchWP and when you're done, go ahead and install the plugin.
How to Set Up SearchWP and Upgrade Your Product Search in WooCommerce
SearchWP is by far one of the easiest search plugins to set up and use. After you download and install the plugin, you get an installation confirmation:

After that, you can head over to Settings » SearchWP to set up your plugin. And then click on the 'License' menu option:

Enter your license key in the 'License' box and click the 'Activate' button: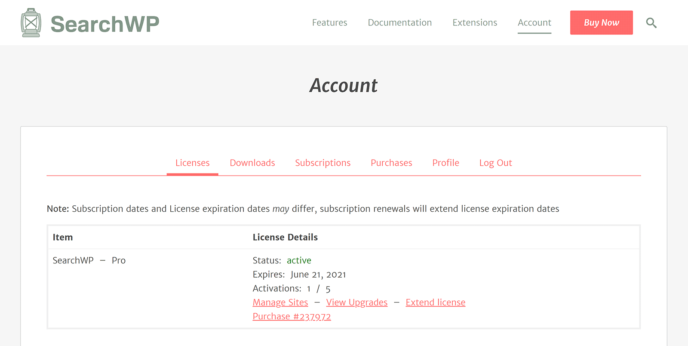 We'll talk more about the settings soon. But that's literally all you need to do to get started.
With SearchWP, you need to create a site-wide search engine before you can customize your search further.
Head over to Settings » SearchWP » Engines: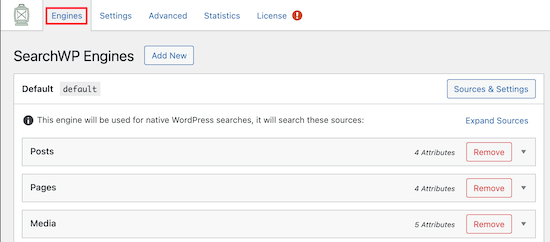 You can adjust your search engine settings by including different content types by clicking on their dropdowns. And you can control how much relevance your search engine attributes to each content type using sliders: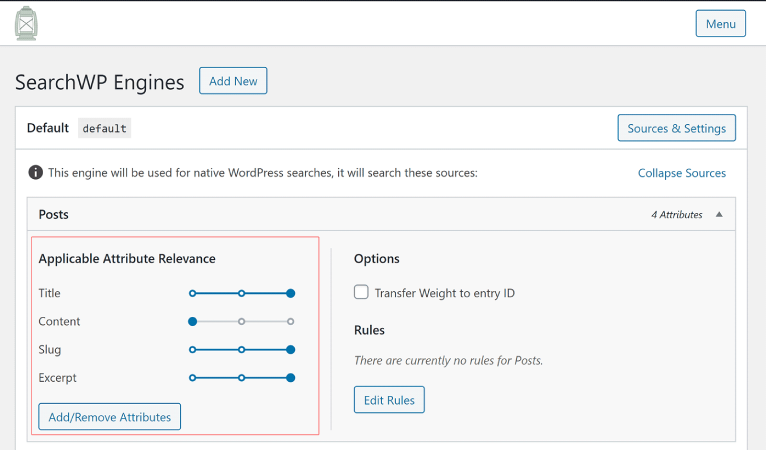 In our example, we're valuing Post Title, Slug, and Excerpt over the actual content in terms of relevance for search results.
Once you're done, just hit 'Save'.
A really cool thing about the search engine you just created is the fact that it uses Keyword Stemming over Exact Search Matches. What this means is that your users can search for your content in any way they like and they will get contextually relevant results even if your content does not include the exact search phrase!
How to Supercharge the Product Search in WooCommerce
Next, let's check out what we can do to improve the product search in WooCommerce.
#1. Restrict the Product Search in WooCommerce to WooCommerce Products
Once you've installed and activated the SearchWP plugin, the first thing you'll want to do is restrict the product search results to stick to WooCommerce products instead of displaying any post type.
To get started, click the Sources & Settings button under Engines.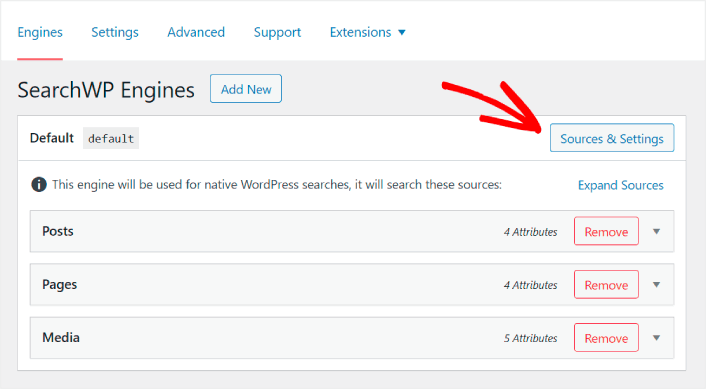 Here, uncheck the boxes next to all search sources except Products.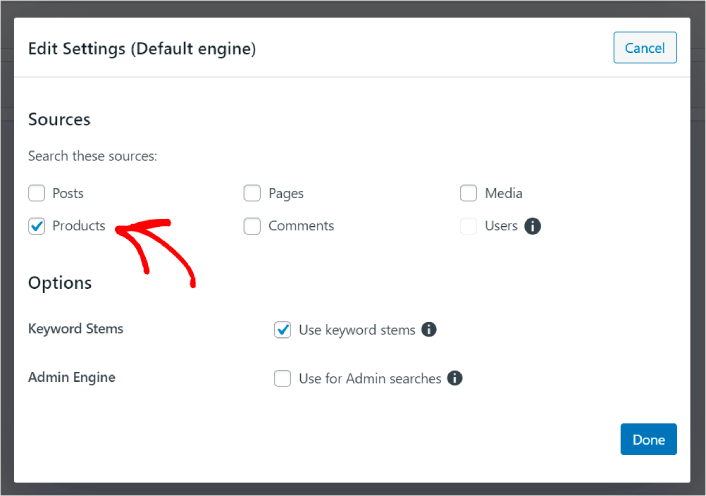 When you're finished, hit the Done button to save the changes. And you're done!
#2. Enable Search by Product Attributes
Let's also make product attributes for all WooCommerce products searchable. WooCommerce stores these attributes as custom fields anyway. We're just going to make them searchable.
You've already set up a search engine for products. So, you can simply continue from the last step. Click the Add/Remove Attributes button to add custom fields.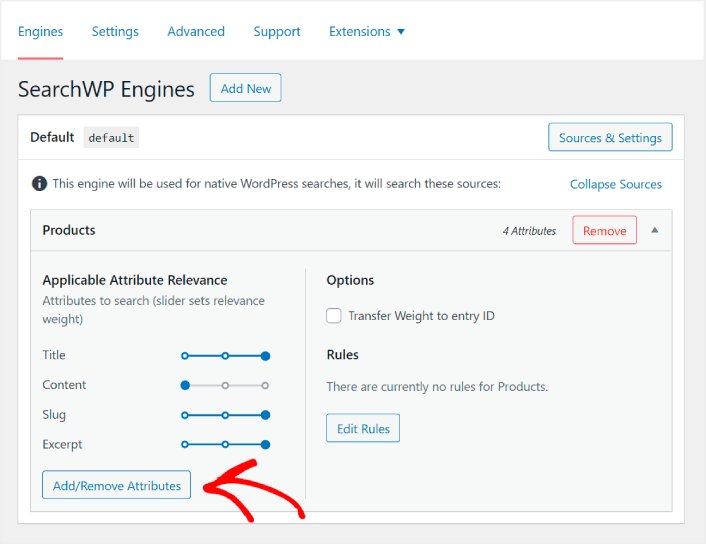 Then, in the Custom Fields dropdown, select the Any Meta Key option.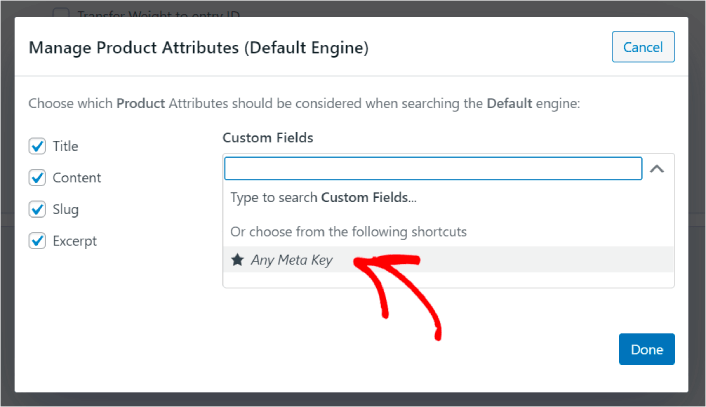 This allows you to automatically make any custom fields searchable. And now, your product search engine can search by custom fields such as product attributes.
#3. Enable Search by Product Category
You've already seen how to make product attributes searchable. But what about categories? What if your customers aren't searching for a product, but looking for something in a specific category?
It's easy. Just keep going from the previous tip. In the same screen under Manage Product Attributes, you'll see another dropdown labeled Taxonomies. Just select Product Categories from the list.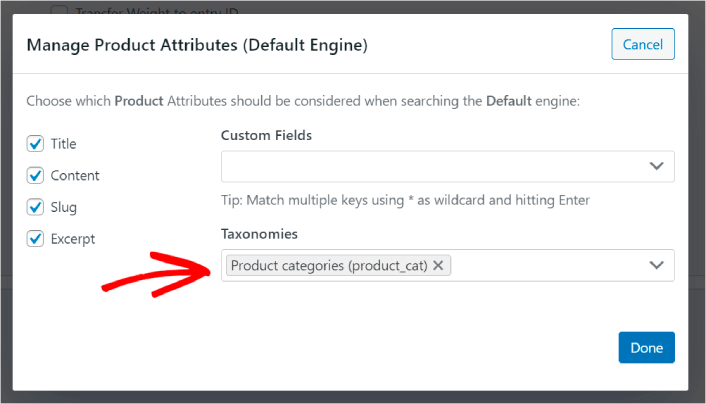 And now, your search engine will allow users to search by category.
#4. Enable Search by Product Tags
You're not done yet. In the same screen, you can add even more taxonomies in the Taxonomies dropdown. What if your customers aren't looking for a product or an overall category? What if they don't know that they want blue and white Air Jordans or even sneakers but they're looking for blue and white sneakers instead?
That's when you need to enable product tag searches.
Under Taxonomies, select Product Tags as well.
Allowing your product search in WooCommerce to also consider product tags gives it a whole new way to search for products. Not to mention, it also helps your customers find what they're looking for much faster.
#5. Make Product SKUs Searchable
Finally, we're going to add one last custom field to the search engine to supercharge it. We'll allow product SKU searches as well. Stock Keeping Units (SKUs) are a way for eCommerce businesses to quickly identify different products or even similar products.
In a retail outlet, the SKU is usually a bar code. This way, you quickly identify the product variant, size, price, color, type, and manufacturer without even looking at the product.
Mostly, SKUs are used for inventory management in WooCommerce. But it's also common practice for dropshipping, affiliate, and retail sites to display the SKU for their products in the product description.
So, to make product SKUs searchable, all you need to do is add another Custom Field into your Product Attributes settings. Just type in '_sku' and SearchWP will automatically take care of the rest.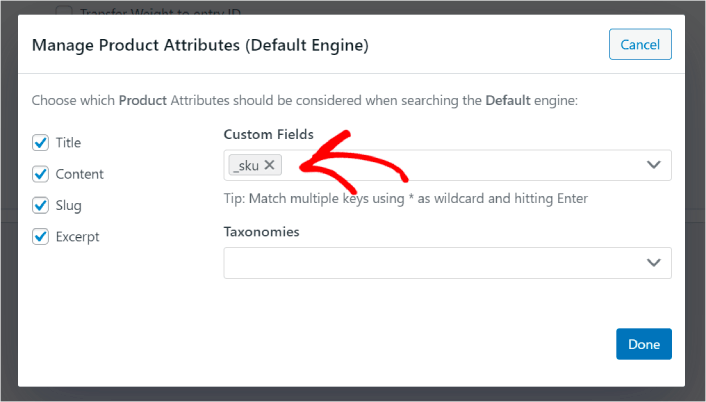 And you're good to go!
What to Do After Improving Product Search in WooCommerce
Now that you've improved the product search in WooCommerce, all your products are ready to make you money. It's time to focus on bringing traffic, engagement, and sales from your content next.
And if you're looking for new ways to get traffic, engagement, and sales, push notifications can be super useful for your site.
If you're not 100% convinced, you should check out these resources on how to effectively use push notifications:
We recommend using PushEngage to create your push notification campaigns. PushEngage is the #1 push notification software in the world. So, if you haven't already, get started with PushEngage today!