Hello, Engagelings.
Exciting news: we're launching a new dashboard.
Why? Because of you!
That's right, we're making the user experience (a.k.a.: your experience) much better. We're cleaning up the entire dashboard and making everything more accessible.
We're also going to make it super easy to build campaigns on PushEngage. Going forward, you'll get prompts on which campaign you should create based on your business requirements. Also, you'll get ready-to-use templates from us that you can simply use straight out of the box.
We're super proud of the new dashboard and we think that you'll love it. And it's a major update, so there's a LOT more to unpack.
Let's dive in.
Instantly Find Everything Important
PushEngage has a LOT of features. Many of these features, you won't even get with other push notification services. With great features, comes the great responsibility of making everything simple and easy to use.
A major part of our focus was making every part of PushEngage easy to access.
Take a look at your new dashboard: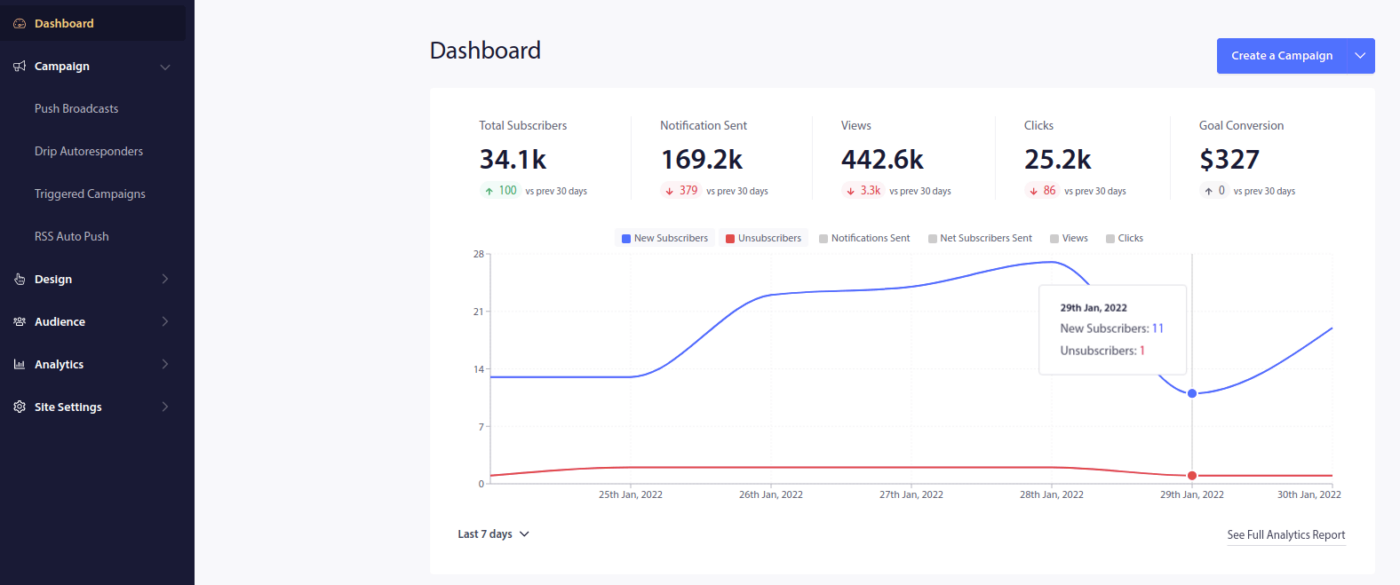 Don't worry if you see some new stuff in the sidebar. We'll get to that soon enough. For now, just take a quick second to check out the new design.
Easy Way to Design Your Optins
You can design your optins in PushEngage. This isn't a new feature. What's new about it is that the design studio has been completely revamped. It's super easy to select an opt-in type:

And then simply get started. The coolest part is that you can now set up multiple opt-ins for the same website to test, track, and grow your subscription rates.
You can also easily set up push notification widgets to either recover lost subscriptions:

Or give your subscribers an easy way to opt-out of receiving push notifications:

If you'd like to create targeting rules for when to show your options, you can do that pretty easily too:

A Fresh Take On Campaign Types
Your journey to massive growth with PushEngage begins with our welcome challenge: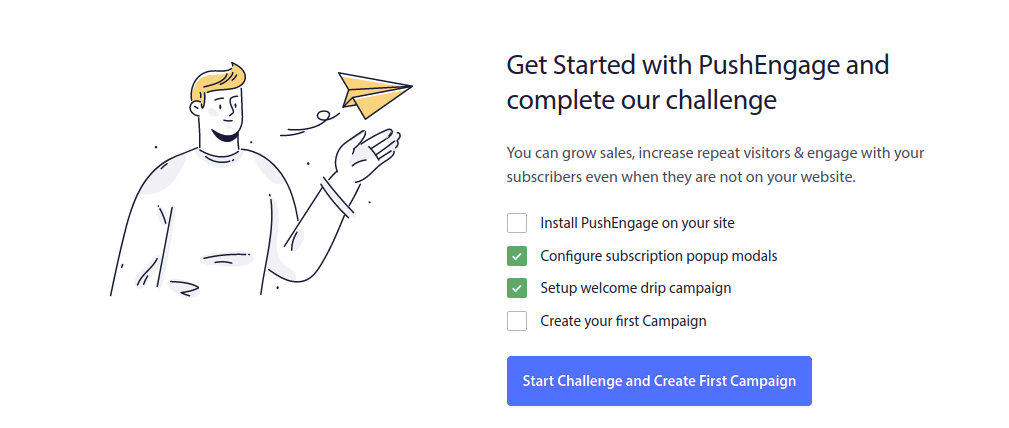 The welcome challenge is designed to help you succeed. As long as you follow along with the guide in the welcome challenge, you'll finish the setup process in no time at all. The challenge even prompts you to create your first campaign.
Speaking of, we're also changing the flow for creating new campaigns. Instead of our previous flow of only giving you different campaign types, you can now create campaigns based on your objective.
This means you now have 4 overall campaign types in the new dashboard.
Let's say that you want to send out a broadcast message for some urgent news to all your subscribers. You can use Push Broadcasts to do that: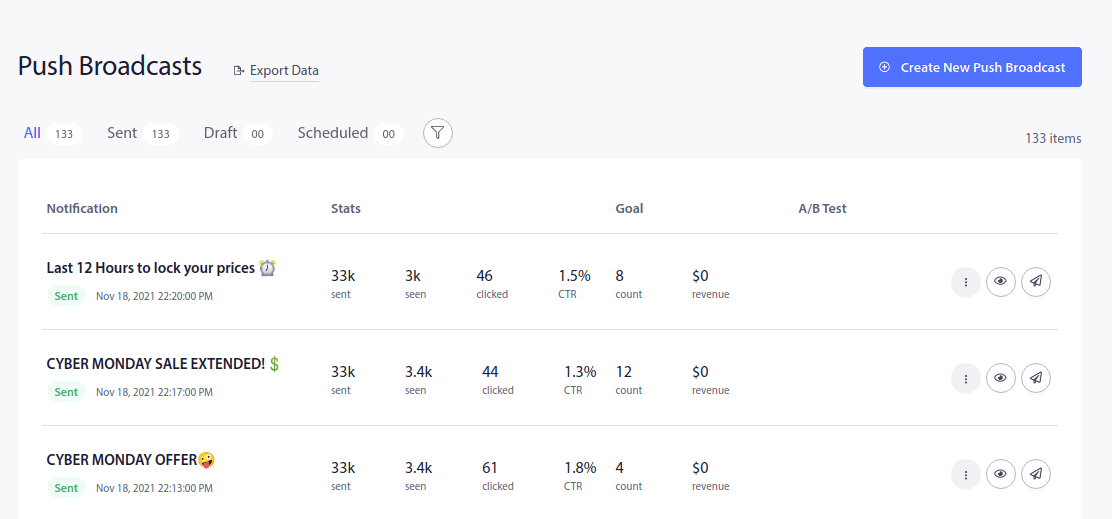 But what if you want to send out a series of automated push notifications? Like, say, a Welcome Drip campaign? Well, then you'd create a new push notification series using Drip Autoresponders: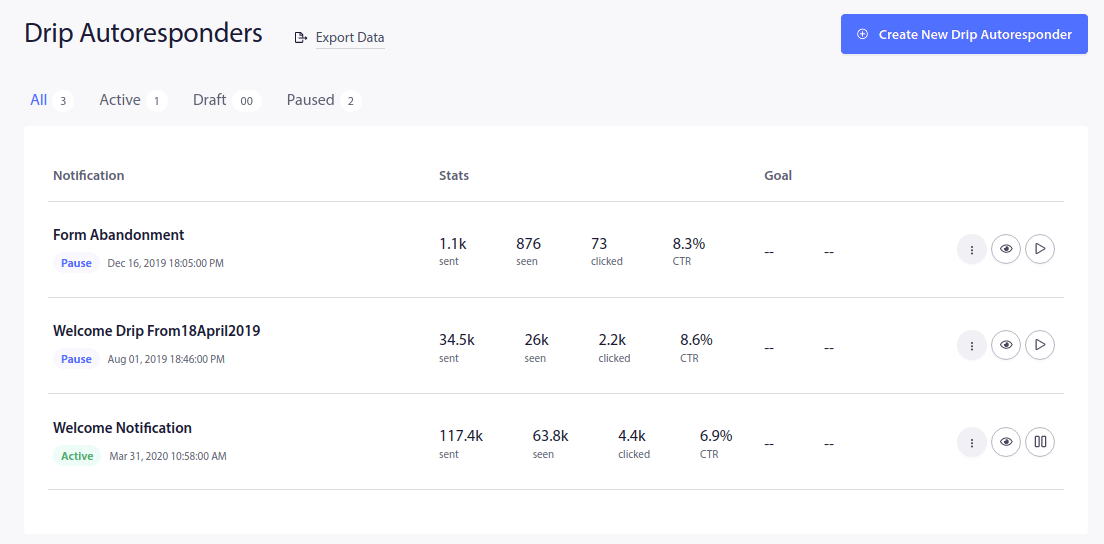 Speaking of Welcome Campaigns, there's been some major changes there as well. The Welcome Notification campaigns are now part of drip campaigns. You can send the campaign as a single notification or you can create an entire sequence of welcome notifications. What's more, is that you get a complete template to create your first notification.
Adding new notifications to your drip campaign will also look different now: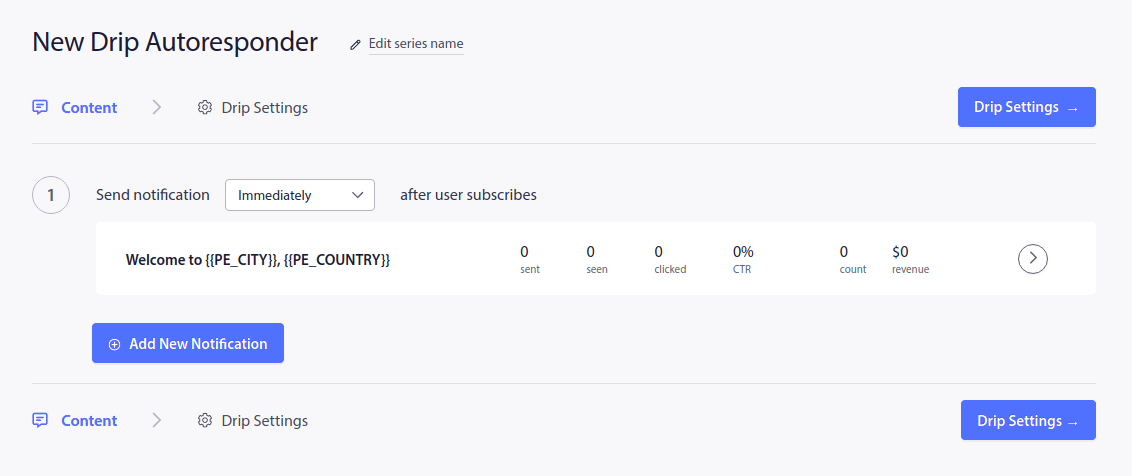 If you're looking to create automated push notifications that are sent out when a specific condition is met, you'd want to set up Triggered Campaigns: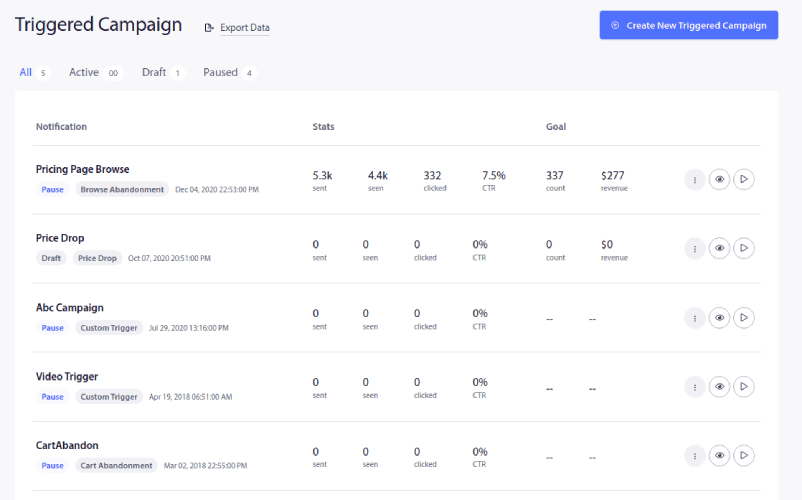 And there's a bunch of pre-built campaign templates for you to choose from, here: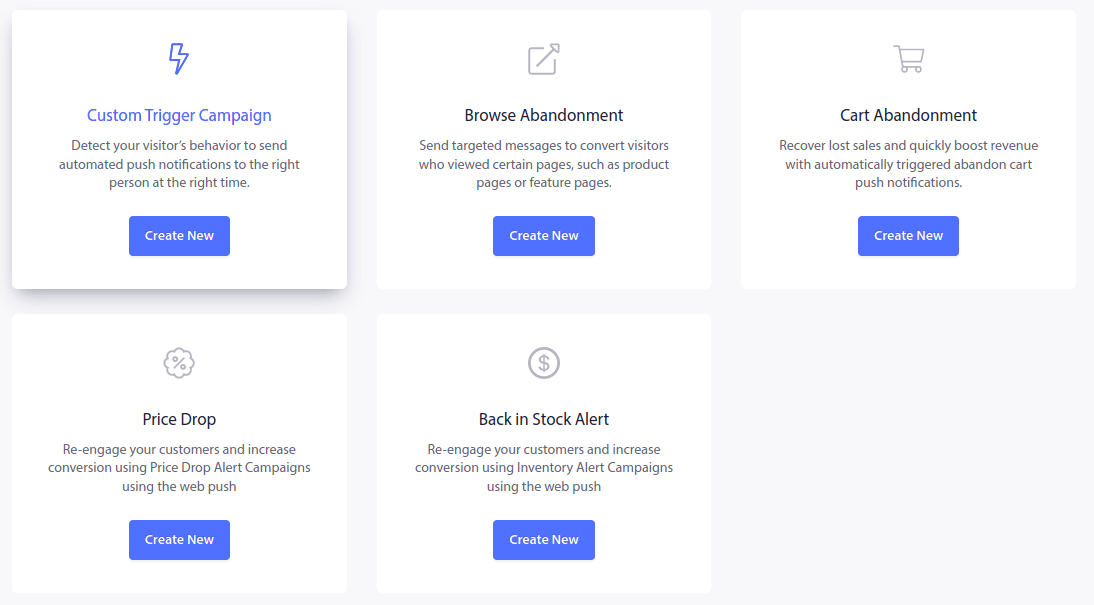 How cool is that?
You can set up some of the most powerful push notification campaigns using pre-built templates. This includes:
Oh, and if you've got an RSS feed for your blog, you can send out an RSS Auto Push too: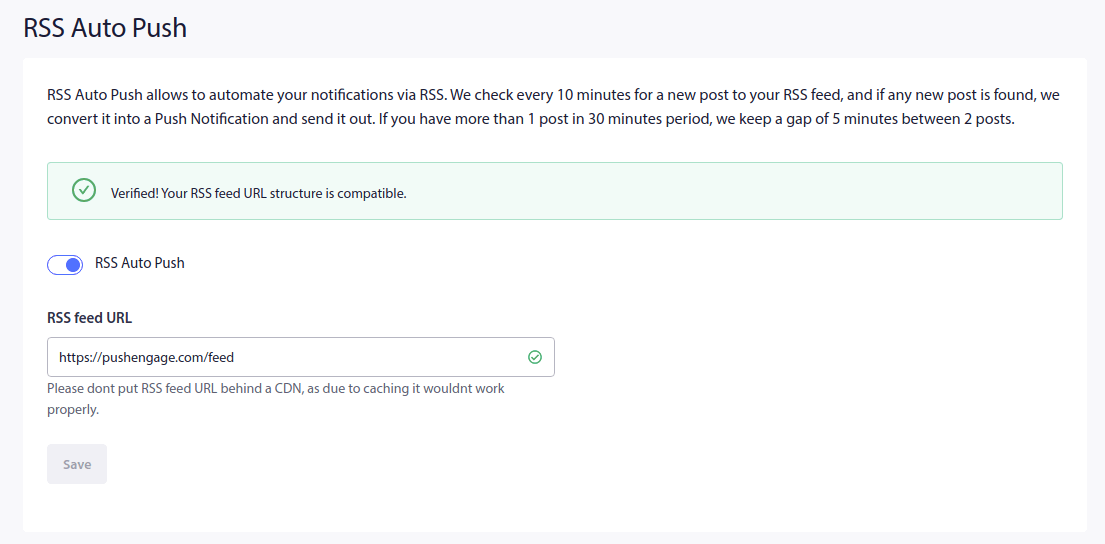 An RSS Auto Push campaign sends out an automated push notification every time you publish an article on your blog. So, no matter what kind of marketing strategy you have, your new dashboard will guide you towards the right type of campaign.
Over time, we'll add even more templates for you to use straight out of the box.
But it's not enough to just create campaigns and optins. You also have to know if they're working well or not. Don't worry, that's up next!
Insights Over Analytics
One of the biggest problems with most push notification software is that there's too much data and not enough insights.
At PushEngage, we're changing that forever.
You can see your most important statistics right inside your dashboard. But if you head over to Analytics, you can check out a complete overview of all your campaigns under Overview: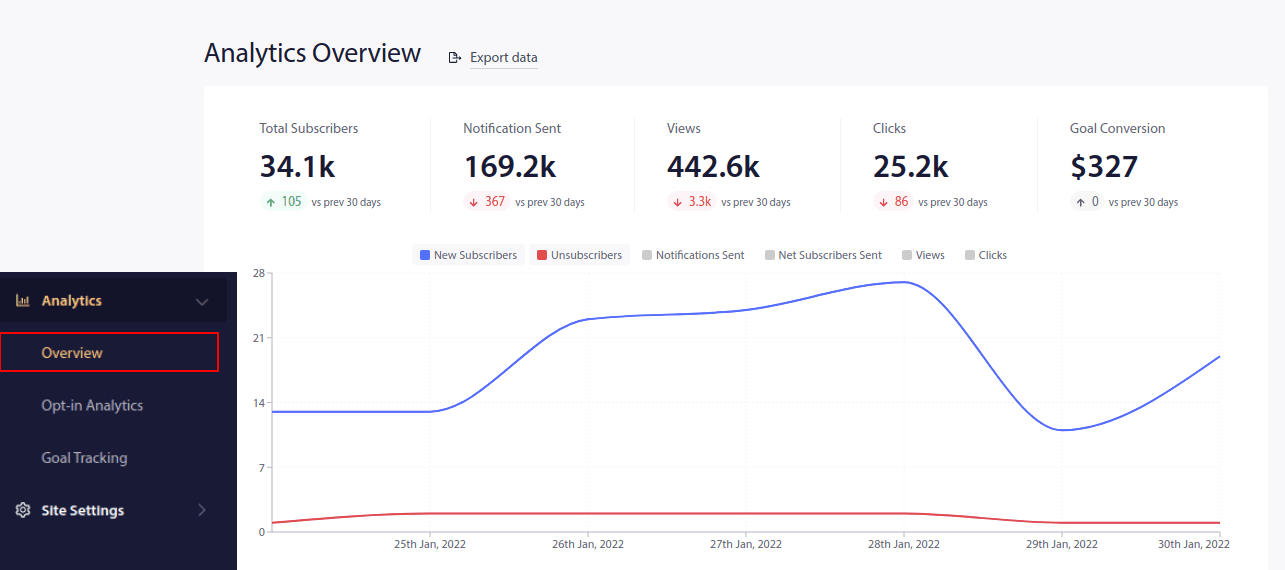 Or, you can check out how your push notification optins are performing so that you can optimize them further under Opt-in Analytics: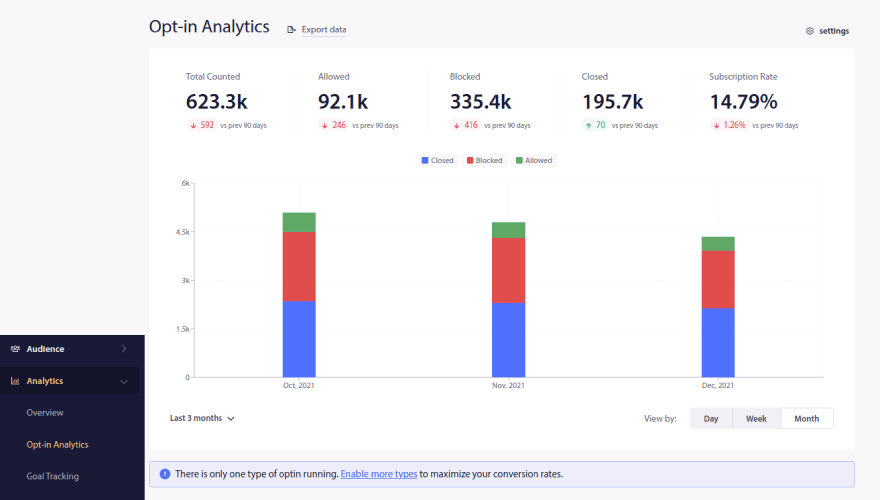 And as you can see, we're also going to give you tiny prompts on how you can improve your performance. Our goal here is to help you get the most value out of PushEngage even if you've never used push notifications before. See what we mean by insights over analytics?
Oh, and speaking of goals, you can set up your own campaign goals for push notifications and track them from PushEngage under Goal Tracking: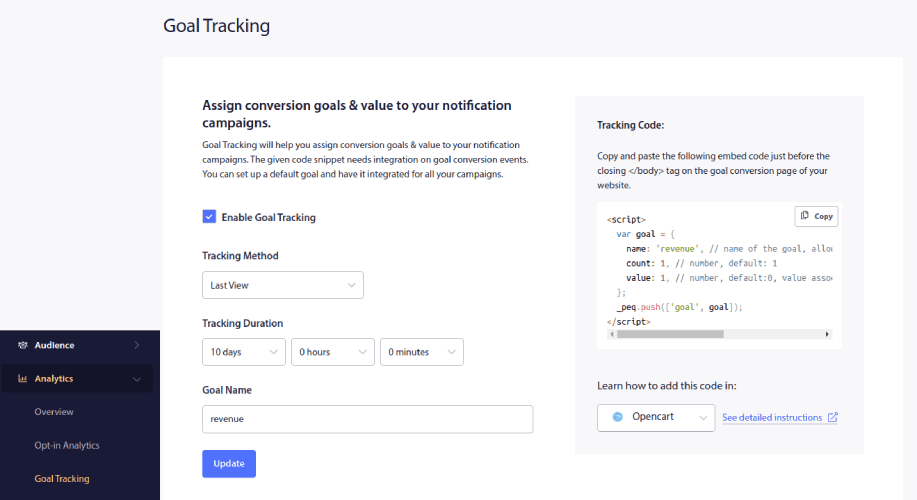 Heads up: Goal tracking requires a little bit of coding knowledge. So, we're also going to give you detailed instructions on how to enable it for different platforms even if you're not a coder. And it's right from the dashboard when you're setting up goals to track.
Very cool!
Understanding Your Audience
Who is your audience? With PushEngage's new dashboard, there's very little guesswork involved anymore. You can see your entire demographic overview in a few clicks: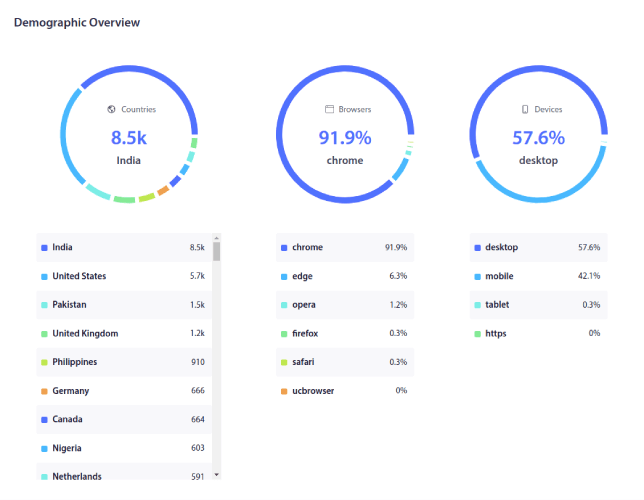 At the same time, you can take a quick look at your custom segments and how well they're performing: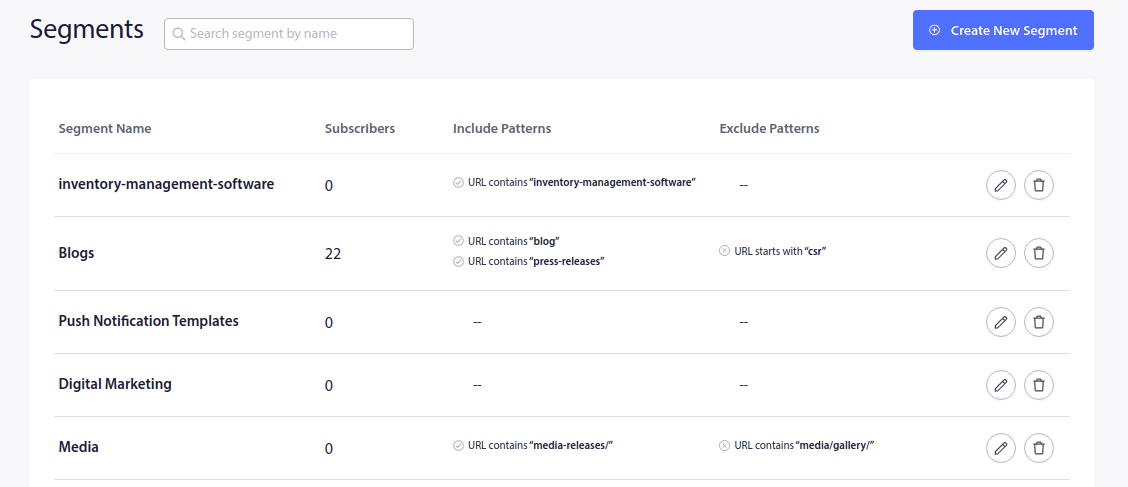 What Else?
We know that growing a business is hard work. At PushEngage, we're always looking to improve our product and your experience. This entire dashboard revamp was done to help you get even more value out of your PushEngage subscription.
Thank you so much for reading this announcement.
If you have any questions, our Customer Success team is here to help. Just start a conversation on Live Chat or check out our contact page.
And thank you for using PushEngage. Whether you're using the free version or the Enterprise version, you're just as important to us. This revamp is meant to help you succeed and we wish you all the very best.
Let us know your thought in the comments below and if you haven't already, get started with PushEngage today!