Looking for the best WordPress push notification plugins?
You can use push notifications to generate more traffic, engagement, and sales. But a quick search will show you that there are way too many WordPress push notification plugins to choose from.
What's the best WordPress notifications plugin out there?
You could just look at star ratings, but that's way too subjective. How do you know what plugin has the right features? Is the one you're looking at user-friendly? Do you have to hire a developer just to use a plugin?
In this article, we're going to compare 7 of the best push notifications plugins in the market.
And then, we'll tell you which one's the best.
Let's dive in.
7 Best WordPress Push Notification Plugins Compared
Let's start things off by clearing the air. We're comparing the paid versions of all the plugins in this article. The plugins listed in this article may or may not have free versions. If you're looking for free plugins to try out, you should check out our article on the best free push notification services.
Let's dive in.
PushEngage is one of the best push notification plugins in the world. Penny for a penny, you get some of the most incredible features you can think of for push notification software.
It goes without saying that PushEngage is our top recommendation. No matter what kind of site you're running, PushEngage will have automated push notification campaigns that are designed to help you succeed. And you don't need a developer unless you're trying to create really advanced campaigns.
PushEngage is:
Super-easy for both beginners and advanced users to set up
Effective on HTTP and HTTPS sites
Loaded with options for campaign scheduling, personalization, and segmentation
Equipped with goal tracking and advanced user analytics
And this is just the start. Check out PushEngage's full list of features before you go any further.
The plugin itself is really easy to set up and use. So, you don't need any experience at all with WordPress, coding, or marketing to get started. With most of the campaigns, you can simply draft and schedule your push notifications and watch them work on autopilot.
But the most attractive part about PushEngage is that you can get started with a forever-free plan. And you can use it to actually grow your business using multiple customization options. Of course, the free version is limited and only allows up to 200 subscribers and 30 lifetime notifications.
Honestly, though, that's good enough to get your business to a point where you can easily afford the paid plans that start at $9/month for 100,000 subscribers.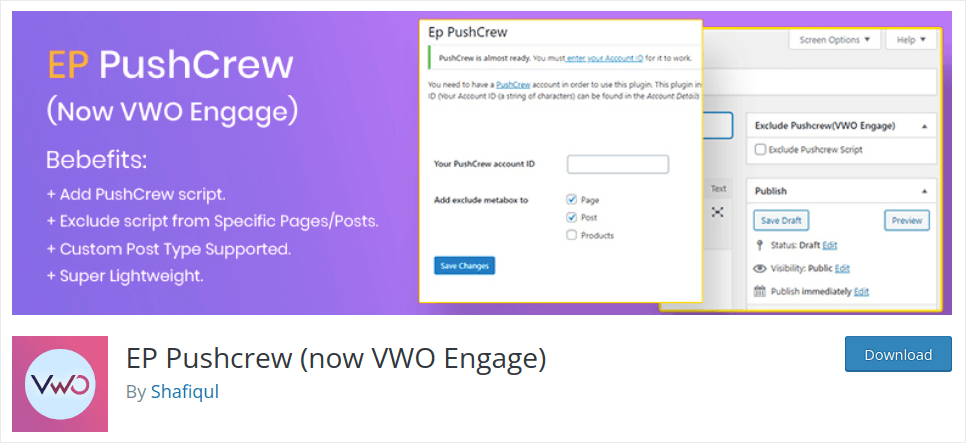 VWO (formerly PushCrew) offers push notifications for both mobile and desktop devices.
We like the simple, clean interface of VWO. The over UX doesn't force you to think at all. Every feature is very easy to use.
You can set up triggered push notifications and that can make a world of difference. For action you can think of, you could set up a trigger that would automatically send out push notifications. and this trigger could be anything from scroll depth to time spent on a page or even a click.
Unfortunately, the triggered notifications are not easy to set up and will require manual coding. So, unless you have a developer on your team, you can't really use most of the automated campaigns.
You also get detailed analytics, subscriber segmentation options, and A/B testing.
The biggest downside in our opinion: The segmentation tools and engagement campaigns are pretty limited.
There's no free version. You get a 14-day free trial (no credit card) and then you get charged $99/month for up to 10,000 subscribers and unlimited notifications. So, it can get pretty expensive as you grow your site.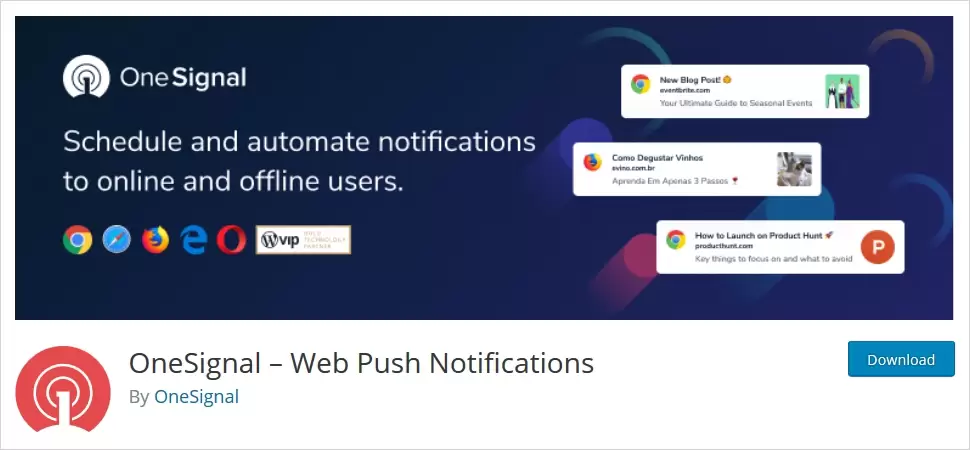 OneSignal is a super popular push notifications vendor.
Let's talk about the good things about OneSignal first.
Just like PushEngage, you get a lot of great features:
And more.
The downer is that the features are way more limited than PushEngage when it comes to advanced campaigns such as targeting, personalization, and automation.
They have a limited free plan that allows you to send notifications to up to 10,000 subscribers, but it's limited in personalization & optimization features. The paid plans start from $12 per month for 1,000 subscribers. But if you're serious about your growth you'll need the plan that starts at $114 per month for 5,000 subscribers which lets you use advanced features.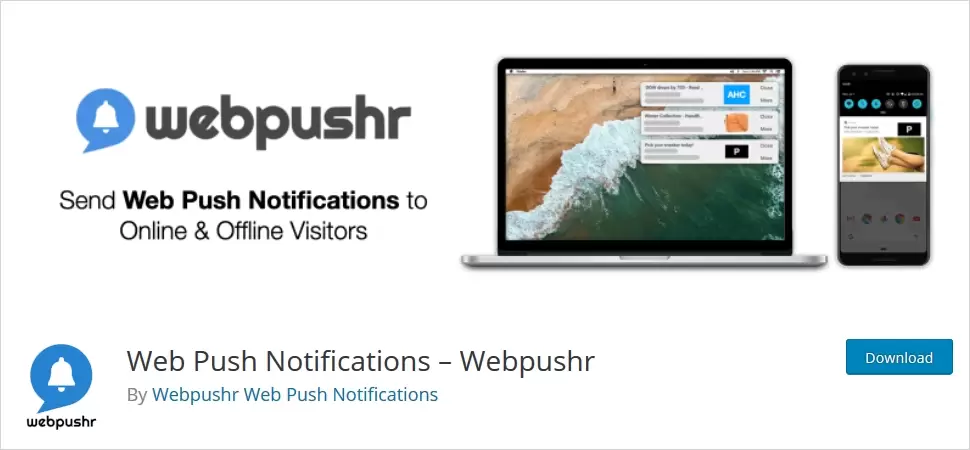 Webpushr tries to balance the powerful features of PushEngage and VWO's simple interface.
It's very easy to use and you get advanced targeting and personalization tools. Of course, you get seamless integration with WordPress and WooCommerce as well. So, no matter what kind of WordPress site you have, they have features that you'll like.
Unlike most push notification plugins, Webpushr gives you all features on all plans including their free plan. The only difference is how many subscribers you can have.
The obvious shortcoming seems to be the price for the paid plans that start at $29/month for only 50,000 subscribers. The free plan supports up to 10,000 subscribers, though.
Well, you can't really blame them. They do give you access to all the features.
So, it's a pretty good option if you're open to paying a little extra.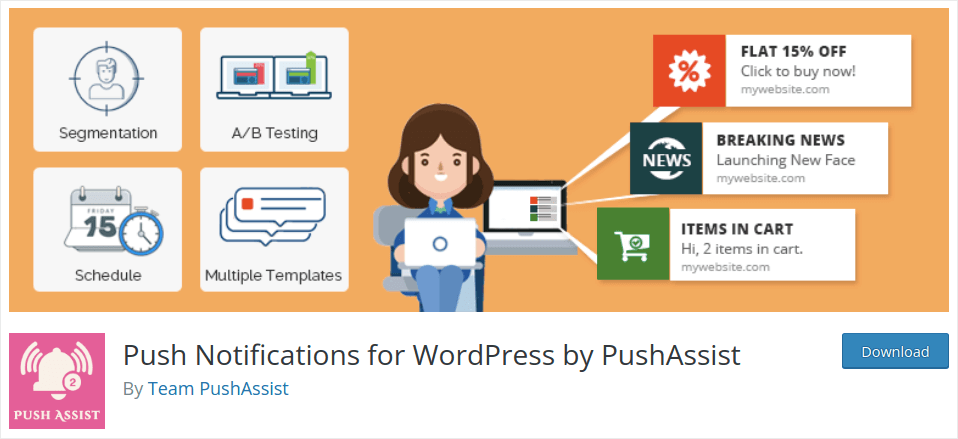 PushAssist is a reasonable WordPress push notification plugin.
We say reasonable because there's nothing over the top about the plugin. You get pretty standard features and for a more or less reasonable price. PushAssist supports all major browsers and you get segmentation tools, push notification scheduling, personalization options, and advanced analytics.
Like PushEngage, you can also sign up to be a publisher partner to show ads using push notifications and monetize your blog. The free plan gets you 3,000 subscribers and unlimited notifications.
The bad part about the free version is that you can't remove PushAssist branding from your push notifications. You'll have to at least buy the Business plan and that starts from $25/month for up to 3,500 subscribers.
We'd say that PushAssist is more for publishers than regular businesses based on their pricing.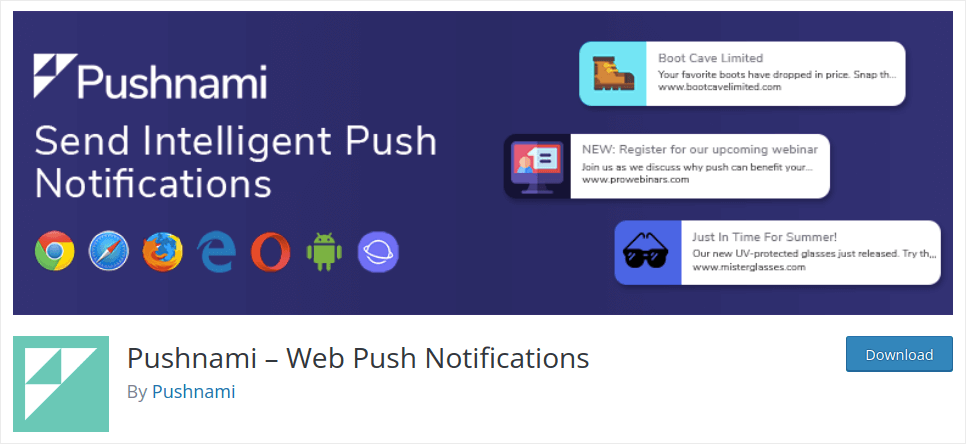 Pushnami is most DEFINITELY meant for big publishers.
Like PushEngage, they have active partnerships with advertising platforms such as Taboola and Outbrain to serve relevant ads. And they seem to cater mostly to partner publishers who get to use the Pushnami push notifications for free.
They have a very dynamic pricing model: You either pay $0.01 per subscriber/month with a discount on a high volume of subscribers, or you pay nothing and become a partner!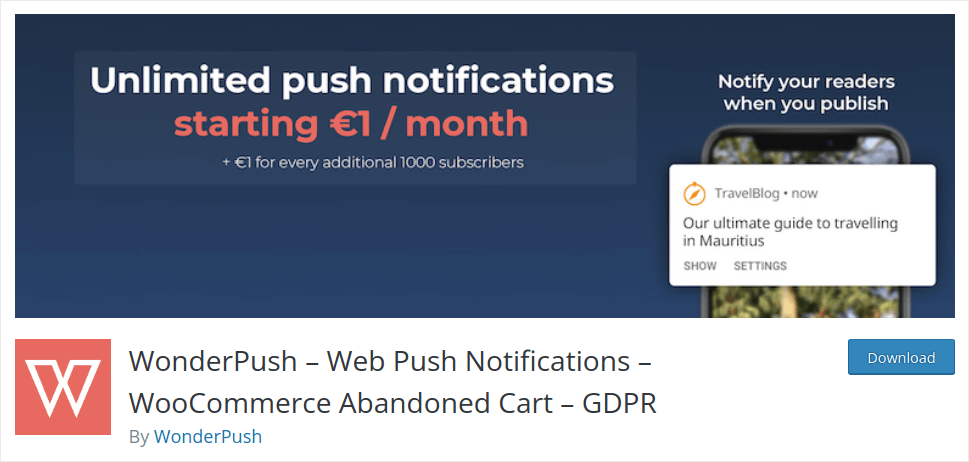 Wonderpush is a fairly new WordPress notifications plugin.
The standout feature for us was their eCommerce push notification campaigns. They have some really nice options to create cart abandonment campaigns. And you can add unlimited members to your dashboard. That's a great way to collaborate on push notification marketing.
You also get the standard options to personalize your push notifications.
And like Webpushr, you get all the features for all the plans.
But you don't really get a free plan. But you get a 14-day free trial (no credit cards needed) for their paid plans that start at €1 per month for up to 1,000 subscribers, then it's an extra €1 for every 1,000 subscribers after that.
So… it's a free trial for REALLY expensive push notifications after 14 days.
Final Verdict
Hands down, PushEngage is the #1 push notification software in the market.
As far as free options go, there's very little contest here. PushEngage is the only push notifications plugin that has enough range of features to support blogs and eCommerce sites alike while still being affordable for a small business.
PushEngage empowers small businesses to compete with big brands. So, it's a good fit at every stage of growth whether you're looking to start, grow, or scale your business.
If you're just getting started with push notifications, check out some of these articles:
And if you haven't already, get started with PushEngage today to get to the next level!