Looking for the best Gumroad alternatives?
Gumroad has been one of the best platforms for creators to monetize their content, digital products, merchandise, and services. But ever since Gumroad started charging a 10% fee on all sales, creators have been looking for a better solution.
You already have different government taxes to deal with. On top of that, if you also have to pay a commission on each sale, that's difficult to sustain. Especially considering that Gumroad lacks most common retargeting features. You can't even cross-sell or upsell different products and services.
Not to mention, Gumroad doesn't really have any LMS (Learning Management System) in place. So, while you can sell memberships on Gumroad, you don't get a lot of flexibility in terms of features.
But which Gumroad alternatives are worth considering? It's difficult to make a choice without using the alternatives yourself.
So, we went ahead and tested the best solutions for you.
In this article, we're going to take a look at the best Gumroad alternatives to grow your business. We'll even include a few free options so that you don't have to put up with huge switching costs.
Sounds good? Let's dive in.
The 7 Best Gumroad Alternatives
Let's take a look at the best Gumroad alternatives to grow your eCommerce business.
Before you dive in: Not all of these will help absolutely everyone. Our recommendations are based on very specific needs because there are many types of eCommerce solutions out there.
Let's get started.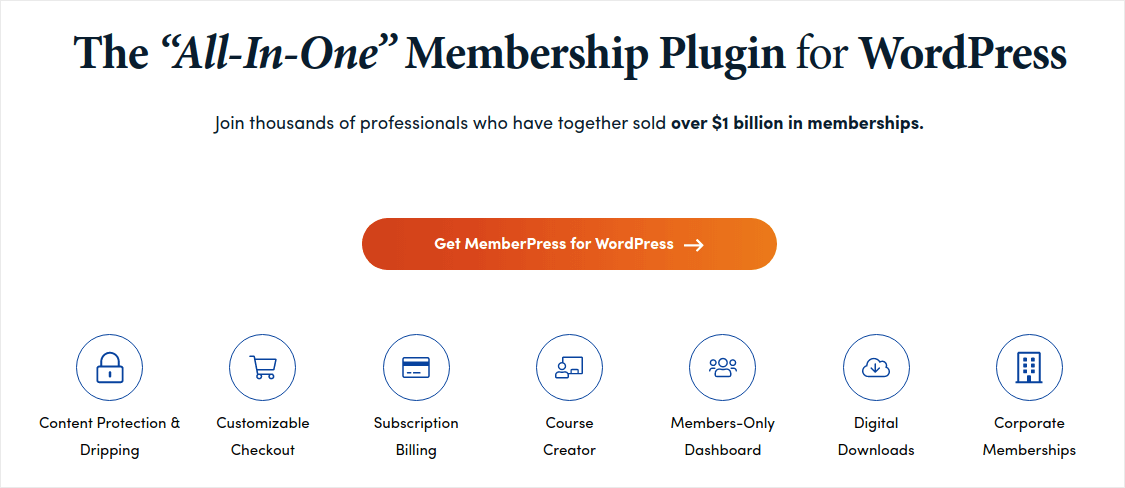 MemberPress is one of the easiest WordPress membership site plugins to use. It also comes with an entire suite of great features to help you grow and monetize your members' community.
To get started all you need to do is:
Install the plugin
Configure your payment gateway
Create different membership levels
Add perks to each membership level
Add some products
And you're good to go! After that, it's a matter of inviting people to join your membership program.
You can also restrict access to different pages, post types, tags, and categories based on your membership levels. The best part is that you get a course builder as well. So, if you're thinking of creating courses for your members, you can do that without having to install any other plugin.
Click here to get started with MemberPress.
#2. Easy Digital Downloads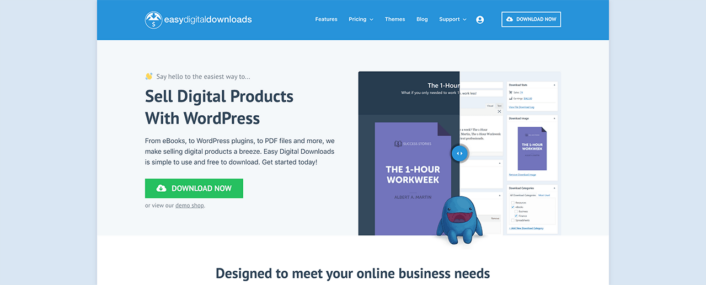 Easy Digital Downloads (EDD) is designed to sell digital goods. One of the first questions that we had, and that a lot of other people have is why can't you just use WooCommerce for free? It's simple. WooCommerce wasn't created with digital products in mind. On the other hand, physical products are more of an afterthought with Easy Digital Downloads.
So, if you're looking to sell any digital product and want to set it up quickly, Easy Digital Downloads is your safest bet. We'll talk about how easy it is to set up EDD later in this article, but it's important to understand that it was created to be a simple, easy-to-use software.
And if you ever need more advanced features, you can simply install an add-on. Most of these features will cost you a LOT of money in WooCommerce. But you can get these add-ons as part of your EDD plan.
What's even more incredible is the fact that Easy Digital Downloads is 100% compatible with any WordPress theme. With WooCommerce, you would need themes with eCommerce compatibility. In any case, if you need a theme to get started with, EDD offers free themes you can use as well.
Get started with Easy Digital Downloads today!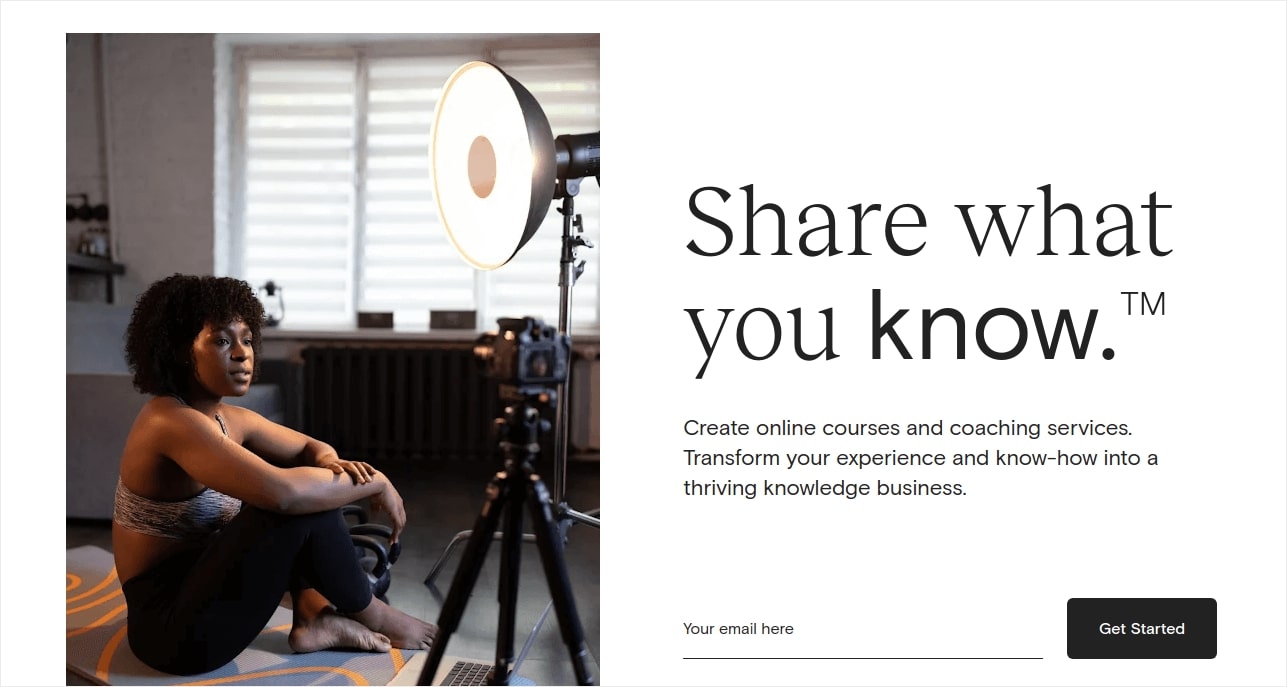 Teachable is an all-in-one course-building platform that helps you create and sell online courses with a few simple clicks. Technically, you don't even need a WordPress site to sign up for Teachable. But just in case you already have a WordPress site that's drawing a lot of monthly visitors, then you can simply install the plugin and get started.
With Teachable, you can also create community pages and landing pages using a drag-and-drop page builder.
But that's not really the core focus of Teachable. Instead, you should check out a powerful landing page builder like SeedProd to create your landing pages.
What's really cool about Teachable is that you can automate a lot of marketing and management tasks. This includes emails, push notifications, and even progress tracking for your students.
Click here to get started with Teachable.

WooCommerce is a free and open source eCommerce plugin built for WordPress. WooCommerce was designed to build robust online stores for digital and physical products. So, naturally, you get a ton of great features such as:
And so much more!
Since WooCommerce is built on WordPress, it's super easy to extend the features and functionality of your store using plugins.
Need a custom look and feel for your design? That's super easy to do as well. You can use a theme builder such as Divi or Elementor to design your store. Or, you could use a landing page builder such as SeedProd to instantly create a single product website.
Get started with WooCommerce today.

MemberMouse was built with creators in mind. To be more specific, it was built to be super easy to set up and use even if you know nothing about development. You can easily monetize a community with membership levels and sell digital products, merchandise, and even services.
It's completely hassle-free and lets you create membership levels straight out of the box. That besides, you also get:
Shortcode library
Easy to configure checkout
Time-release/drip content
Single-click upsells
Automatic downsells
Split-testing
Prorated upgrades
Keep in mind, though, MemberMouse is getting obsolete very quickly and the interface is also quite dated. So, in terms of usability and features, there are other options on this list that may suit you much better.
Click here to get started with MemberMouse.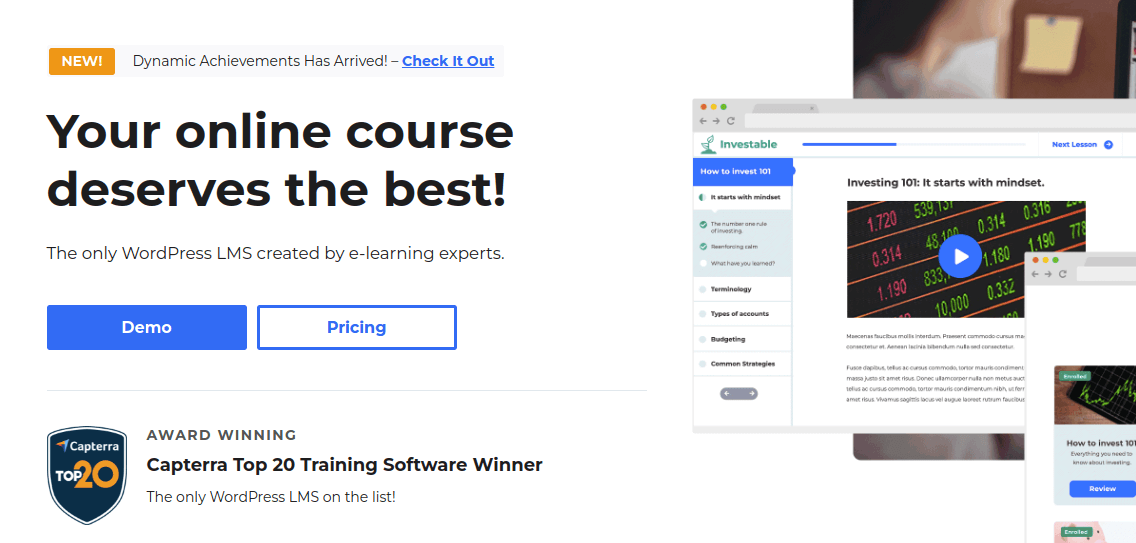 LearnDash is probably the world's most advanced learning management software. It's also a tool to build a paid community around digital courses. You get complete control over who gets access to your courses and for how long.
LearnDash also has a drip-feed feature that allows a user to view the next module only once they complete the current lesson. You can use this feature along with several other gamification features to measure, track, and nurture your community of online students.
You can even curate courses and exclusive perks to create packaged deals and membership plans. So, as soon as someone signs up as a member, they'll instantly get access to every course that's associated with the membership plan.
And if you want to take your membership to a whole new level, you can even integrate LearnDash with other membership plugins such as MemberPress to unlock even more powerful features.
Click here to get started with LearnDash.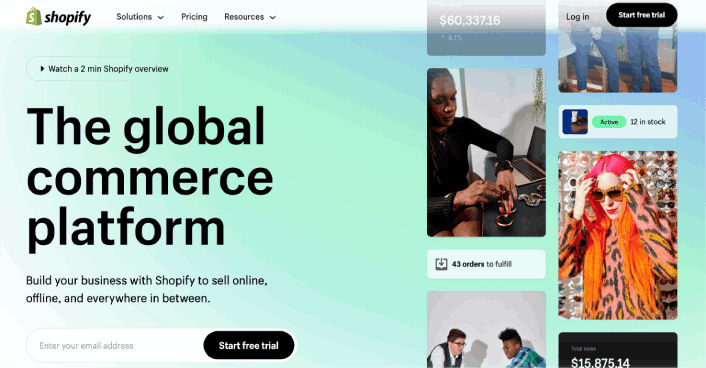 Shopify is one of the most powerful eCommerce platforms in the world. With Shopify, you don't need to think about hosting, security, backups, updates, and caching. You can add Shopify apps to instantly start growing your business. All you have to do is create products and sell them.
If you're dropshipping, then you won't even have to create products in many cases. You can simply start selling after importing products from a vendor app.
Shopify offers pre-built themes that you can use to set up a store. Plus, it's super easy to manage inventory and accept online payments from a single platform.
Unlike the other solutions on this list, you can set up absolutely any type of eCommerce shop you like. So, it's not a specialized or focused solution. But it's significantly more expensive than the other solutions.
You can get started for $1/month for the first three months. After that, you get a monthly billing of $29/month. But that's exclusively just for Shopify services. So, the more automation and apps you ad, the higher the average cost turns out to be. If you want low transaction costs and advanced features, then there is an Advanced plan that'll cost you $299/month.
Get started with Shopify today.
Which of These Gumroad Alternatives is Best For You?
That's all for this one, folks!
Which of these Gumroad alternatives did you find suitable for your business? We recommend using MemberPress for paid memberships, Easy Digital Downloads for digital products, and LearnDash for selling courses.
Also, here's a pro tip for you: You should consider using push notifications with your eCommerce shop. Most of the plugins on our list come with automated email campaigns to engage and retain members. But we recommend using push notifications to grow traffic, engagement, and sales on your memberships alongside your email campaigns.
Did you know that push notifications come with a lot of automated campaigns as well? Take a look at a few that could help you grow your memberships quickly:
And if you're just starting out with push notifications, we recommend using PushEngage. PushEngage is the #1 push notification software in the world. So, your campaigns will be in safe hands.