Building an online e-commerce store seems to be crossing everyone's mind nowadays. However, there are a lot of things that need to be put into perspective before building and running a successful store. One of them is choosing a powerful platform that can handle all your store's needs. Platforms like Shopify and BigCommerce and WordPress e-commerce are some of the best platforms that can give you the need to run a successful store. The best thing about WordPress e-commerce platforms is that they give you complete control to run your store. These platforms also offer SEO optimized e-commerce site.
Below are the six best eCommerce Services that offer exuberant services in running an e-commerce website.
WooCommerce
Of course, you must have heard of WooCommerce, even if you haven't thought of running an e-commerce store. This plugin is a powerhouse when it comes to running online stores. It has all the necessary features to help you manage your e-commerce website effectively. This nifty plugin can easily turn your WordPress blog into a fully functional e-commerce store. It offers the best solutions for store owners to make their online ventures lucrative. You can even use the WooCommerce Push Notification plugin to re-engage customers effectively.

Back in 2015, Automattic acquired WooCommerce from WooThemes (its creators), and since then, its popularity increased tremendously. Automattic is the organization that operates WordPress. The WordPress plugin for e-commerce websites allows you to create a simple store of five products or to go for a collection of the different enterprise-level store if you want. If your hosting can handle and infrastructure can handle it, WooCommerce is willing to provide is services freely.
For every e-commerce, customer interaction is very important. You need to need to keep the customers engaged. Using the PushEngage plugin you can send web push notification to your customer. Installing web push notifications WordPress plugin is simple.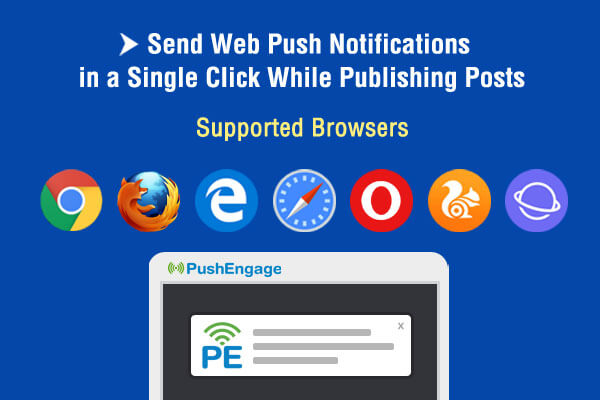 Some of the exclusive features for e-commerce business are:
Cart Abandonment Campaign: Many times customer abandons their cart. Using PushEngage you can send automatic push notifications to your cart abandonment users.
Segmentation: Using PushEngage you can segment your subscribers based on their actions. You can then send targeted push notifications to your subscribers.
Drip Push Notification: To increase customer trust, you need to keep them engaged. Once a customer subscribes to your push notification, you can send a series of auto push notification using the Drip campaign.
Price Drop Alert: Another important campaign for e-commerce is the Price Drop push notification campaign. Whenever there is a price drop on a chosen product by the user, the system will send automatic price drop push notification to the user.

Easy Digital Downloads (EDD)
If you want a WordPress plugin that offers a simple, intuitive way for managing and selling digital products on WordPress, then what you are searching for is Easy Digital Downloads (EDD). WooCommerce supports this plugin, but EDD has more features focused on digital sales, and its interface is much cleaner compared to WooCommerce.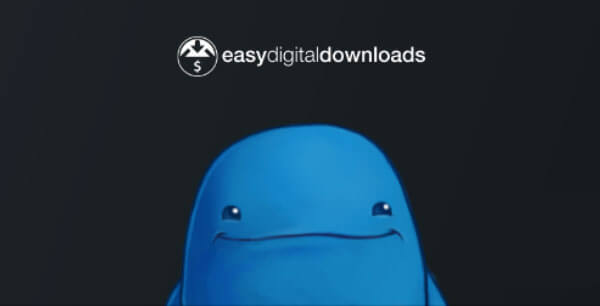 This plugin offers a great solution if you are dealing with a non-physical product such as eBooks, PDF files, or audio clips. What contributes to EDD's success is that it offers its core solution freely. All you need to do to benefit from this plugin is to install it on your website, and you can instantly start selling your digital products.
The WordPress plugin for the e-commerce website has features for discount codes, file access control, and activity tracking. The plugin also has several themes to choose from and you can easily make galleries from them. The system sends an email with a download link once a visitor purchases your digital product.
Cart66 Cloud
What you are going to like about Cart66 Cloud is that how it's smartly built to cater for everyone's needs. It has taken the minimalistic approach by reducing the number of add-ons needed for the plugin to work seamlessly, since a lot of add-ons may slow down your online store. Most of its features are built to improve your website's efficiency. Cart66 Cloud is pretty easy to configure, it enjoys a positive review from current users.

Although WooCommerce has set the completion bar so high, Cart66 Cloud has a solid niche to cut through the completion and thrive. If you are not a developer, you will find this plugin quite handy. What is unique about this plugin is that it offers its users their own marketplace of vendors, which offers a great way to spread the word about your products.
Overall, comparing Cart66 to WooCommerce which is more suitable for developers who want to develop complex e-commerce stores, this store is perfect for those who don't have technical skills. Although its core features are freely available, the premium version offers advanced features for $49 per month (with a free trial of 14 days).
WP EasyCart Shopping Cart and eCommerce Store
One of the less known yet powerful plugins for an e-commerce business is WP EasyCart Shopping Cart and eCommerce Store. It can be installed in new as well as existing blogs and websites. Once installed, it will create three pages – front, cart and account page. You can customize the default language and currency for your store.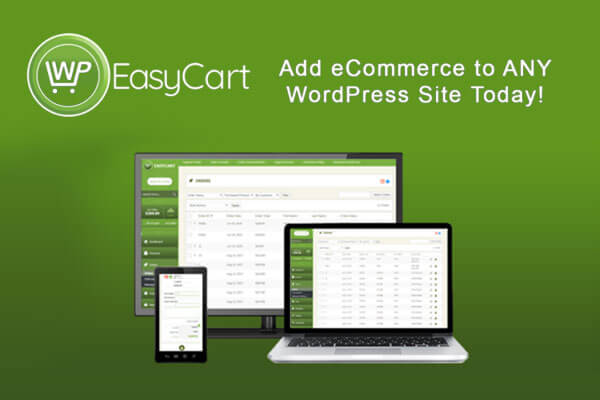 Take your store next level by selling products on social media. It also offers integration to sell directly on Facebook & Instagram as well. It offers stripe, Apple pay, Google pay and other checkout integrations for your store.
It's a single plugin which does all the job. You can sync your store with QuickBooks, tax cloud, Mailchimp and more. You can choose from free, professional as well as premium edition.
Ecwid Ecommerce Shopping Cart
What you are going to like about Ecwid Ecommerce Shopping cart is how it is set up to look like WooCommerce. However, the two e-commerce plugins are quite different. One of the differences is that Ecwid is used on any website you'd like. You can operate from any platform, including Drupal, Tumblr, Facebook, WordPress, and other platforms. On the other hand, WooCommerce is only built to work on WordPress websites. So, if you are on another website, you can't set up a WooCommerce store.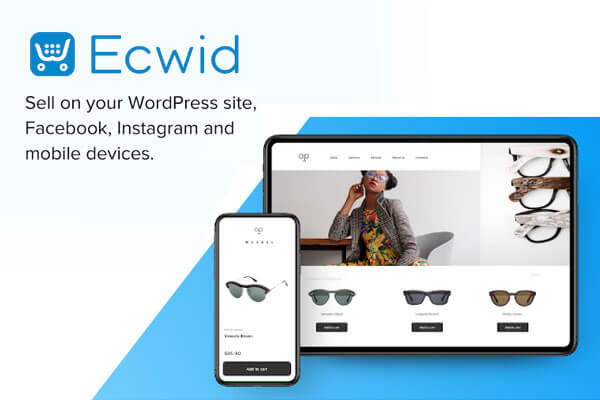 Ecwid is more affordable compared to other plugins since it offers a reasonable monthly payment plan. It also provides more built-in features instead of a library of add-ons. If you want to enjoy the free version, you need to have not more than 10 products. The premium version offers support for 100 products at $15 per month, 2,500 products for $35 per month, or unlimited products for $99 per month.
Conclusion All these WordPress plugins give you an excellent opportunity to turn your store into a money minting machine. However, maximize sales, you need to choose an e-commerce plugin that integrates with other services and suites your store's needs