We produce a lot of data on a daily basis.
According to Forbes, internet users create 2.5 quintillion bytes of data every day, and the better half is content that we upload on social media, on websites, blogs, forums, etc.
Businesses put a lot of content online to promote products and services. Content also works as a medium for communication between a business and its customers and is one of the influential factors in creating a positive customer experience.
However, creating content on a regular basis won't guarantee lifetime marketing success. No matter how good of a quality your content is, it can still get obsolete.
Why?
SEO optimization needs frequent revisiting. Google comes up with SEO updates quite often and doesn't hide that SEO optimization is rapidly changing. One of the examples of these changes is user intent that slowly but surely replaces initial keyword optimization tactics.
Backlinks and internal links can be broken. Links are used for SEO optimization. However, when a backlink or an internal link breaks, it might go unnoticed. If the link doesn't work, your content 'loses points', helping it rank better on Google.
Content can become irrelevant. Sometimes the topic covered by content loses its relevancy, which is why your content may perform worse and lose engagement. In this case, marketers often repurpose such content by adding it to guides, updating it, or turning it into a different content type.
All these points imply that the high performance of your content can be short-lived. That is why it is important to frequently do the content audit for SEO optimization, to check broken links, and to generally fix content that is lagging behind in performance.
Good news for you here – you don't have to individually pull every single article or other content you've created to audit its performance and engagement. Luckily, there are plenty of content audit tools to help you with that.
So, here are our top 7 content audit tools suggestions to keep in your web content inventory.
MySiteAuditor
Characteristics: lead generation and sales tool
Availability in multiple languages: yes
Pricing: $39/month for a basic plan, $79/month for a premium plan
Free plan: yes, first 10 days upon subscription
MySiteAuditor was created specifically for businesses that sell SEO, web design, and online PR services. It analyzes website content and helps optimize it to generate more leads, increase sales, and manage website traffic.
What are the features of this content audit tool?
Page performance checker. MySiteAuditor analyzes every page on your website and generates the report regarding the content that needs improvement.
General website performance checker. The tool also checks your website's loading speed, its size, the number of internal and external links, and their quality.
Content management dashboard. This feature allows you to set the objectives needed to improve the performance of your content. These objectives will be updated every time you make progress.
Apart from the above-mentioned features, MySiteAuditor also allows you to add a tool to your website, with which your visitors can check the SEO score of every website, which SEO service providers are especially interested in: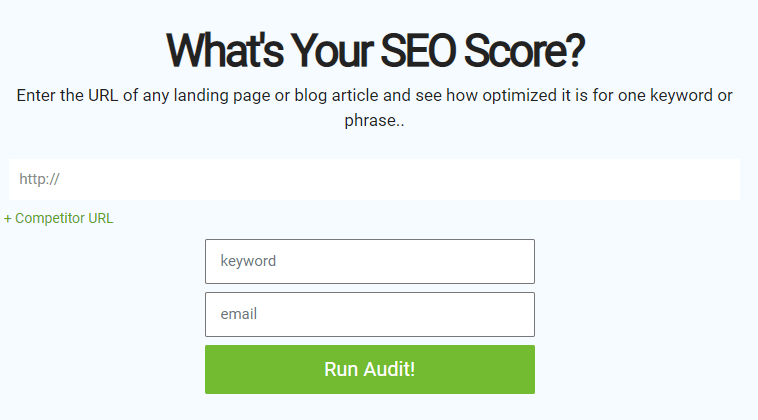 This extra feature on your website will provide more value to your website and boost its performance apart from monitoring your engagement rates.
Google Search Console
Characteristics: website traffic and performance analysis
Availability in multiple languages: yes
Pricing: Free to use
One of the most common tools used by marketers, Google Search Console allows its users to measure your website's general performance and traffic to find issues that need fixing.
Apart from measuring the general performance of your website, Google Search Console also analyzes content on every page of your website to find broken links and other issues that may affect Google ranking. To get started with SEO, google search console tool is the best place to start.
To start using Google Search Console, you should first select property type – either a domain or a URL prefix: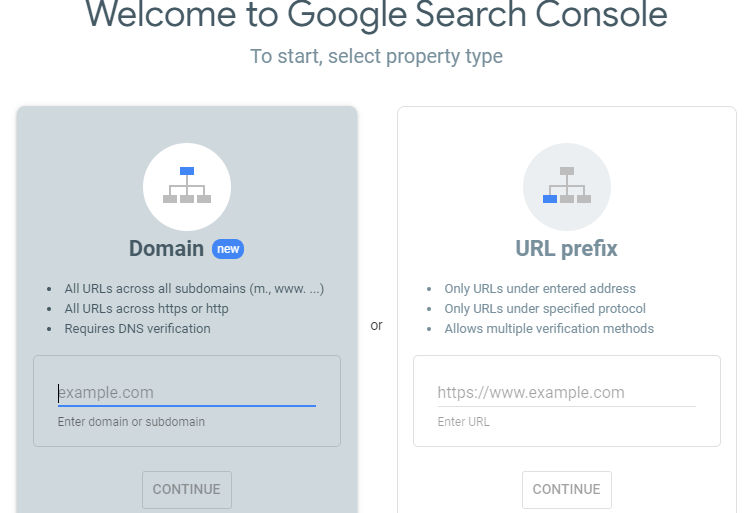 After that, you'll receive ownership verification, which will open access to Google Search Console's analytics tab.
This dashboard will allow you to:
Submit your sitemap so that Google could start crawling your website to analyze content.
Navigate issues and errors found after the content audit.
Receive the list of keywords for which your website is ranking, their position, click-through rate, and impressions.
Google Search Console also checks the performance of tools, integrated with your website, including content management tools, like TrustMyPaper and GrabMyEssay, or the above-mentioned MySiteAuditor tool.
Site Analyzer
Characteristics: a comprehensive SEO analyzer and content audit tool
Availability in multiple languages: yes
Pricing: Prices range from $28/month to $330/month depending on the plan
Free plan: 14-day free trial
Besides analyzing overall performance, the content audit also involves competitor analysis. Site Analyzer, standard content analytics tools, includes competitor research and analysis similar to the tool that Ahrefs has to measure your competitors' SEO performance.

In general, Site Analyzer includes the toolkit necessary for the complete content audit, namely:
tracking keyword ranks and identifying keyword opportunities to optimize both old and new content
doing page-by-page optimization
SEO check-up, including broken links, metadata analysis, website speed optimization
generating daily, weekly, and monthly reviews of your website's performance
Another important feature of this tool is the backlink checker. This tool allows you to check the quality of the links that you plan on inserting in your written content by measuring these links according to three parameters – the domain influence, the page influence, and the spam rating.
ContentLook
Characteristics: website analysis and content audit app
Availability in multiple languages: no
Pricing: $29.99/month for one website plan
Free plan: a free account available upon subscription with limited features
For e-commerce business owners and companies that sell their products through websites like Shopify, ContentLook is a good choice, when it comes to content audit. On Shopify, this app works similarly to WordPress plugins, where users download it to create and track marketing campaigns. This is one of the must-have tools for e-commerce business if you want to beat your competitors.
In terms of the content audit, ContentLook offers the following tools:
metrics for each page on your website
active guidance from SEO experts on improving your content's SEO
weekly health and performance audits of your content
integration with tools like Slack, Trello, and Google Analytics
ContentLook also allows collaboration, so you can create and assign tasks to any team member, and also update the status of the task, leave notes, and comments.
SEOptimer
Characteristics: website audit with recommendations
Availability in multiple languages: yes
Pricing: from $19 to $59 a month depending on the plan
Free plan: 14-day free trial
SEOptimer is one of the few tools that offer real-life assistance apart from generating regular reports on the performance of your content. SEOptimer's dashboard also offers an interactive content audit experience, where it grades the overall performance of your website: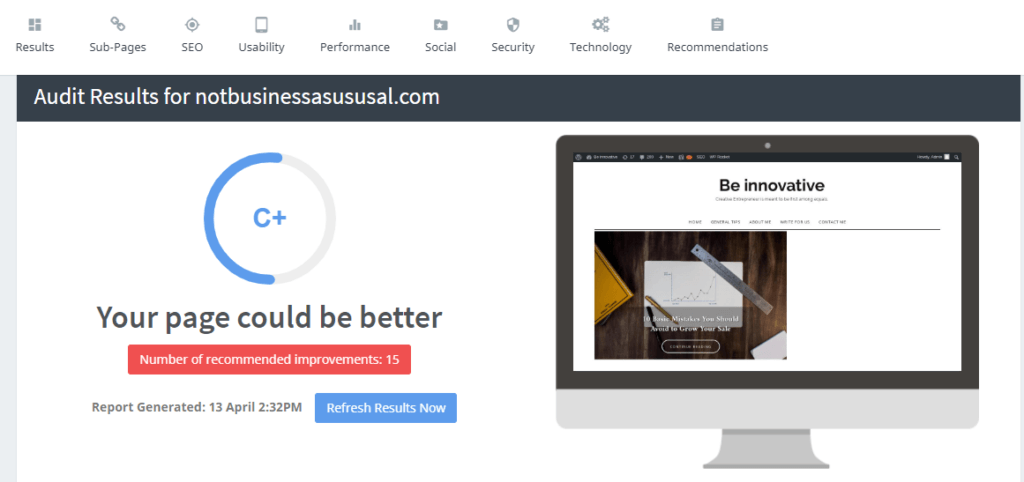 Apart from that, it grades individual aspects of content performance, namely, SEO, usability, performance, social, and security:

You can refresh the results as often as you want, and SEOptimer also allows you to download the full content audit as a PDF file.
Upon the completion of the content audit, you get the recommendations from the SEOptimer team on the issues that need your attention, with additional support and guidance available after you purchase a monthly plan that suits your needs.
SEOptimer also works as a browser extension. You can set up this tool for regular updates on the content audit status.
Yoast SEO
Characteristics: WordPress content audit and search engine optimization plugin
Availability in multiple languages: no
Pricing: $89/year for a premium version
Free plan: the limited free version of the plugin available
Similar to ContentLook on Shopify, Yoast SEO is one of the most popular tools for WordPress users to evaluate the SEO strategy and audit the content on their website.
Yoast SEO offers standard free content audit toolkit, including:
keyword optimization – 1 keyword or key-phrase analysis
page indexing
Google preview optimization
content readability check
duplicate content check
Premium version, apart from the above-mentioned features, also allows users to:
receive internal link suggestions
turn on ad-free access
access to 24/7 customer support
Premium version also allows integration with other WordPress plugins and extensions, like Grammarly, Studicus, and Edit Flow. You can also integrate your WordPress website with your company's social media accounts for better search engine optimization.
Yoast SEO keeps up with Google Algorithm updates to make sure that your content follows the latest SEO trends. That is why Yoast SEO remains on top of the WordPress plugin ranking for website management, SEO optimization, and content audit.
SEOmator
Characteristics: website crawl and content audit tool with a focus on SEO optimization
Availability in multiple languages: no
Pricing: from $20 to $179 depending on the plan, $5 one-time use option available
Free plan: free 7-days trial available
When it comes to the content audit, it is important to conduct in-depth technical SEO analysis. SEOmator can help website owners track the performance of the content together with monitoring the SEO.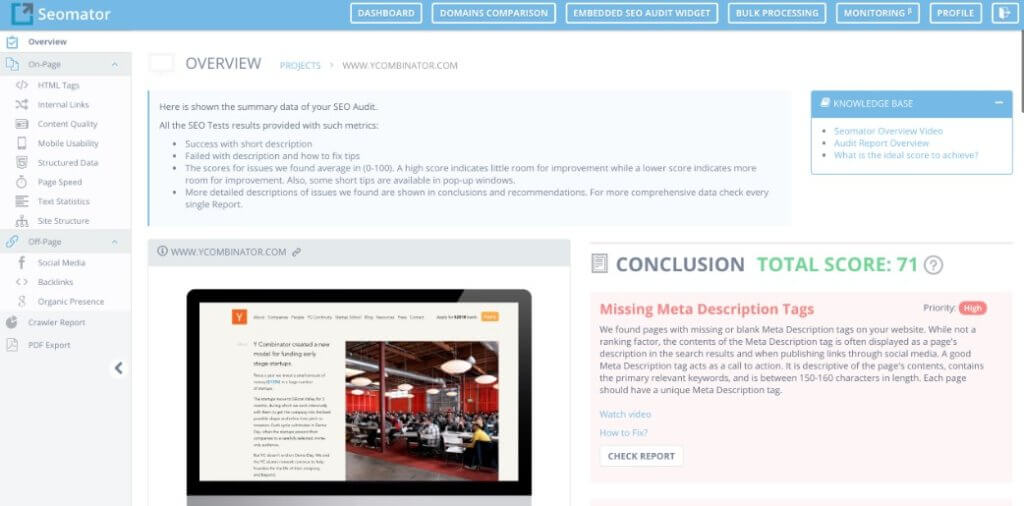 SEOmator reviews your content on an ongoing basis, meaning that you will receive updated reports throughout the day. In them, you will get the following information:
Crawler Report: broken links, canonicalization errors, too long URLs, mixed content error, etc.
HTML tag issues: duplicate title tags, duplicate meta descriptions, missing title heads, header tag length issues, etc.
Internal link issues: broken internal links, too many internal links, weak link text, etc.
Content quality: thin content with little or no value, duplicate page content, too long ALT attributes, etc.
The tool is cloud-based, meaning that all the reports will have duplicates kept in the safe cloud storage. You will also receive tips and recommendations on how to fix content-related issues.
Equip Yourself with Content Audit Tools
Doing the content audit manually can be a very daunting job to do. You'd have to go through every page on your website, check every link, and every keyword or key-phrase performance manually.
Content audit tools, however, automate all this work for you, not only helping you do SEO optimization of your content but also checking the overall performance of your website to generate more leads and increase sales.
Every tool that we listed in the article fits a specific purpose, from e-commerce businesses on Shopify, to WordPress websites, and companies providing SEO services. Whatever your business offers your clients, in our list of content audit tools, you will be able to find the one that matches your needs.